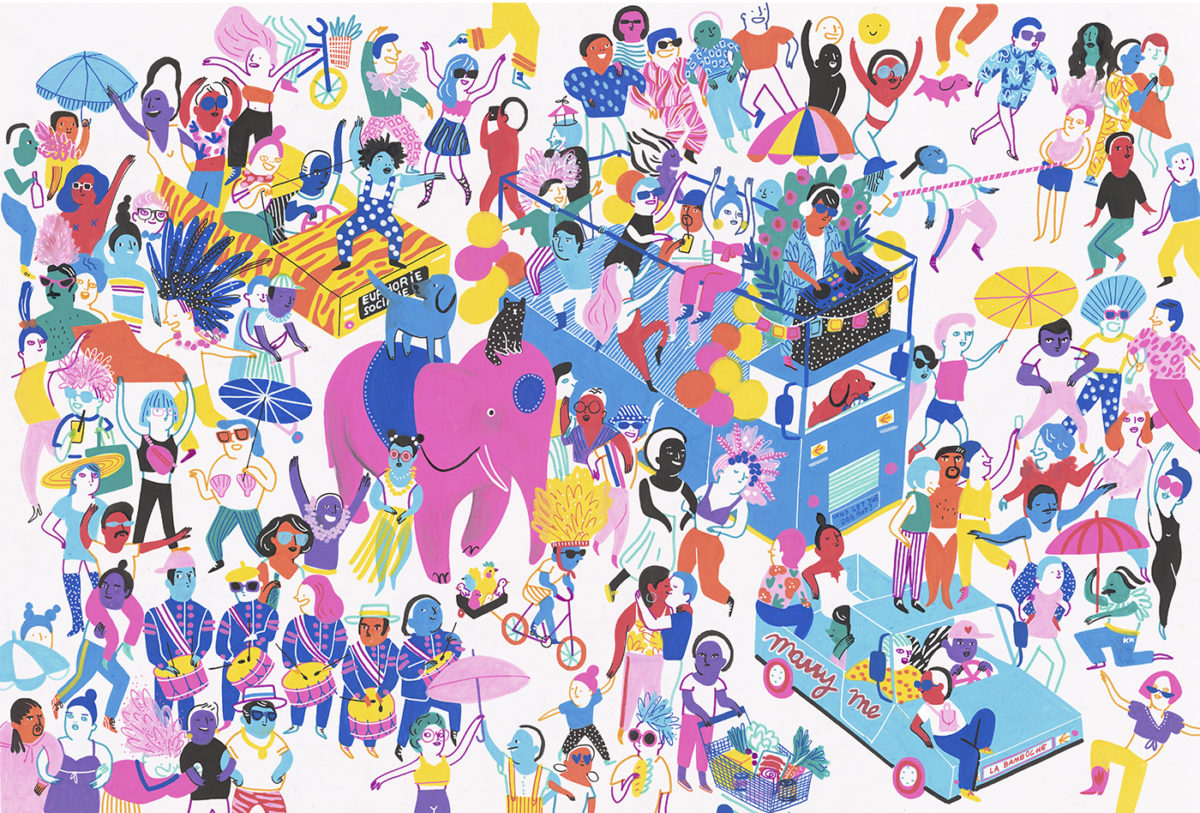 I like to ride motorcycles, draw motorcycles, draw men in underwear on motorcycles, with dogs.
Camille de Cussac
ART . August 25th, 2021
[Interview en Français à la fin / Interview in French at the end]
If you were a dog, what breed would you be?
I love so many diffferent dogs, that's a tough question, but at the moment I run with the Cocker Spaniel team, like my old dog Apple, who is 16 years old now, big kisses to her if she reads me.
Who are you?
My name's Camille de Cussac, I'm a freelance illustrator living in Paris. I like to ride motorcycles, draw motorcycles, draw men in underwear on motorcycles, with dogs. My characters are of all colors, I draw with felt pens, on many different supports.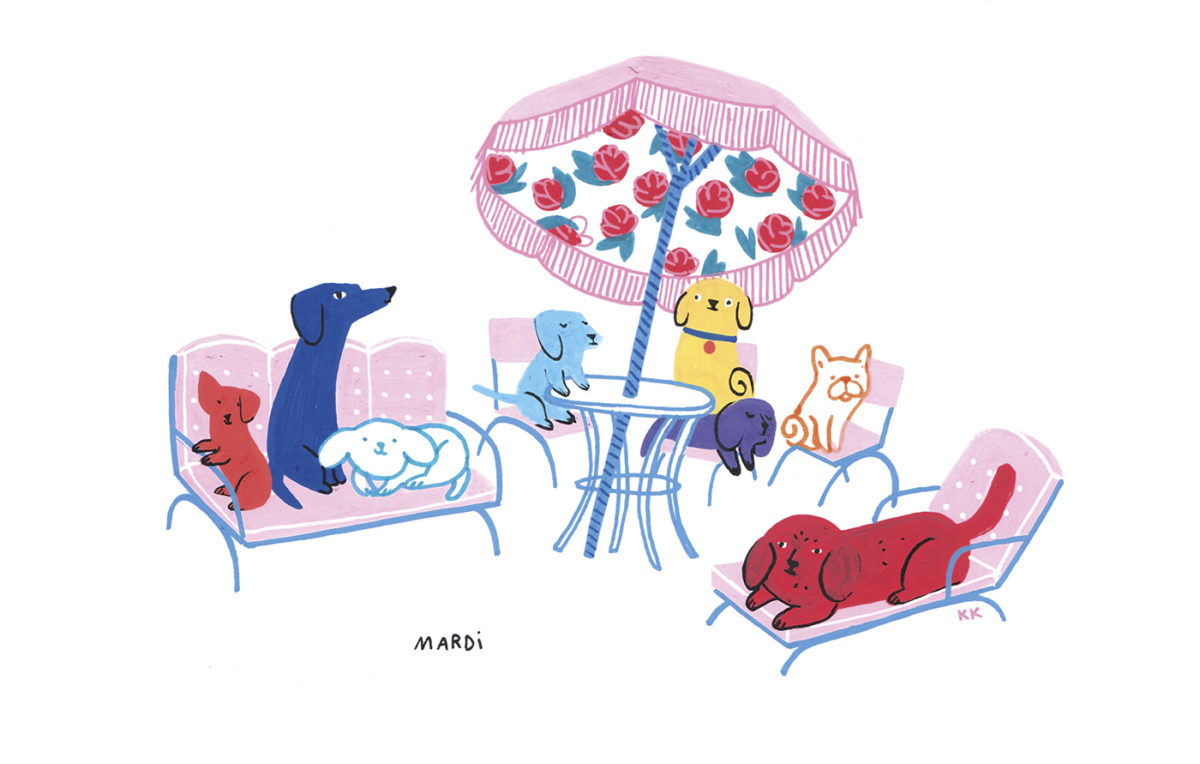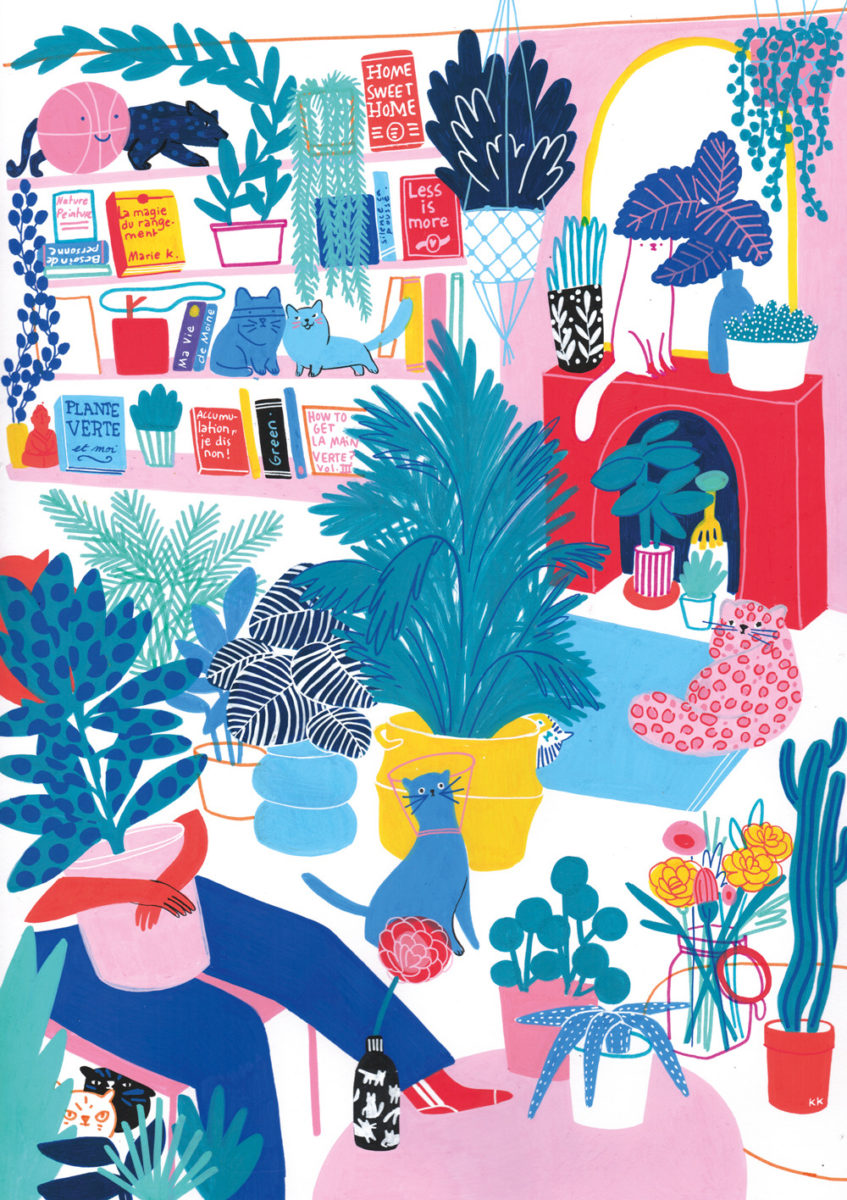 What can we find in your head?
Mess. My mess, everything that inspires me, it's for example a mix of villages festivals, traditional costumes, Belgian expressions, pop culture, dogs, motorbike, underwear, colors, beer, moustaches, vehicles, jokes, the 80's, cinema, french music, …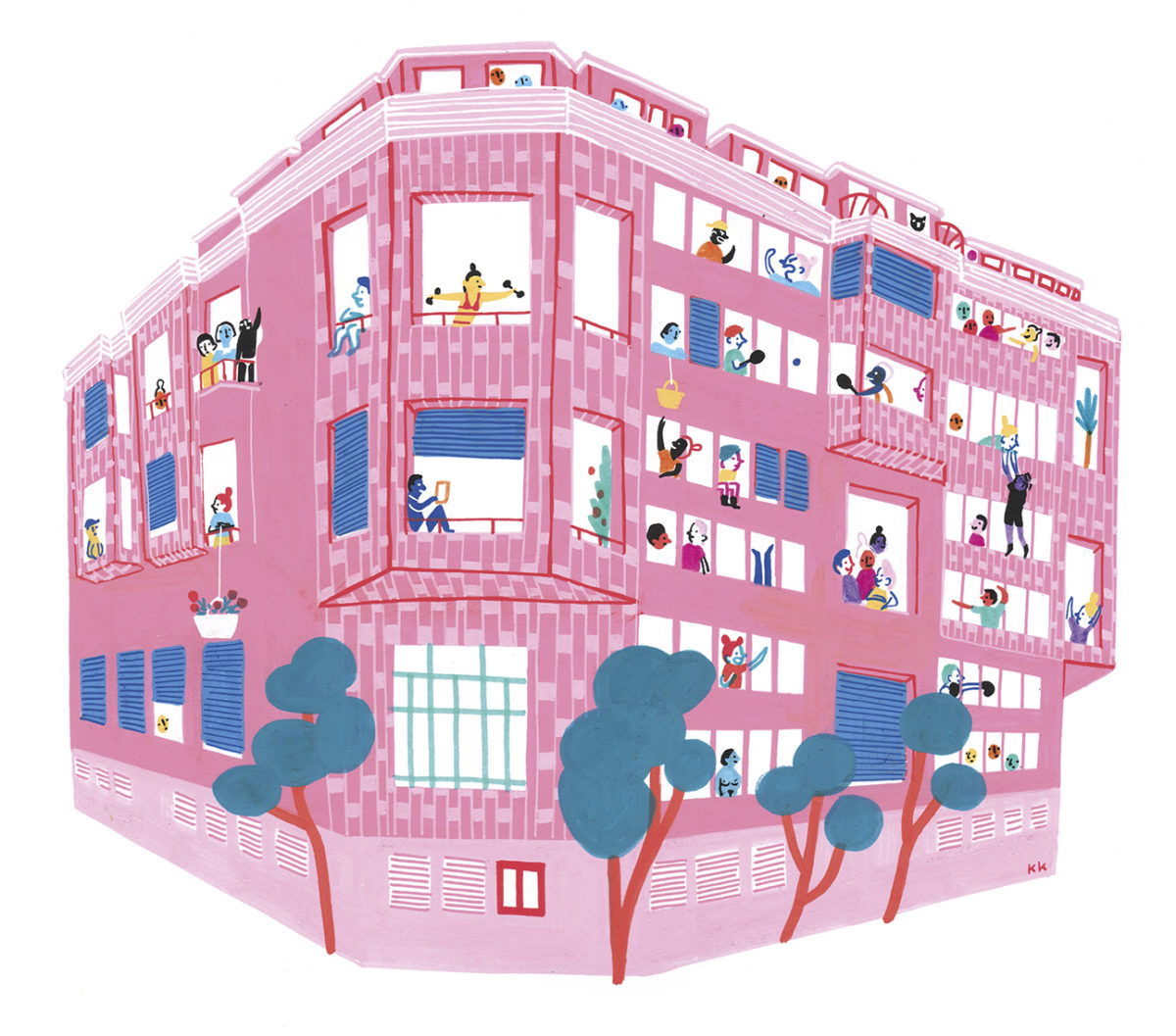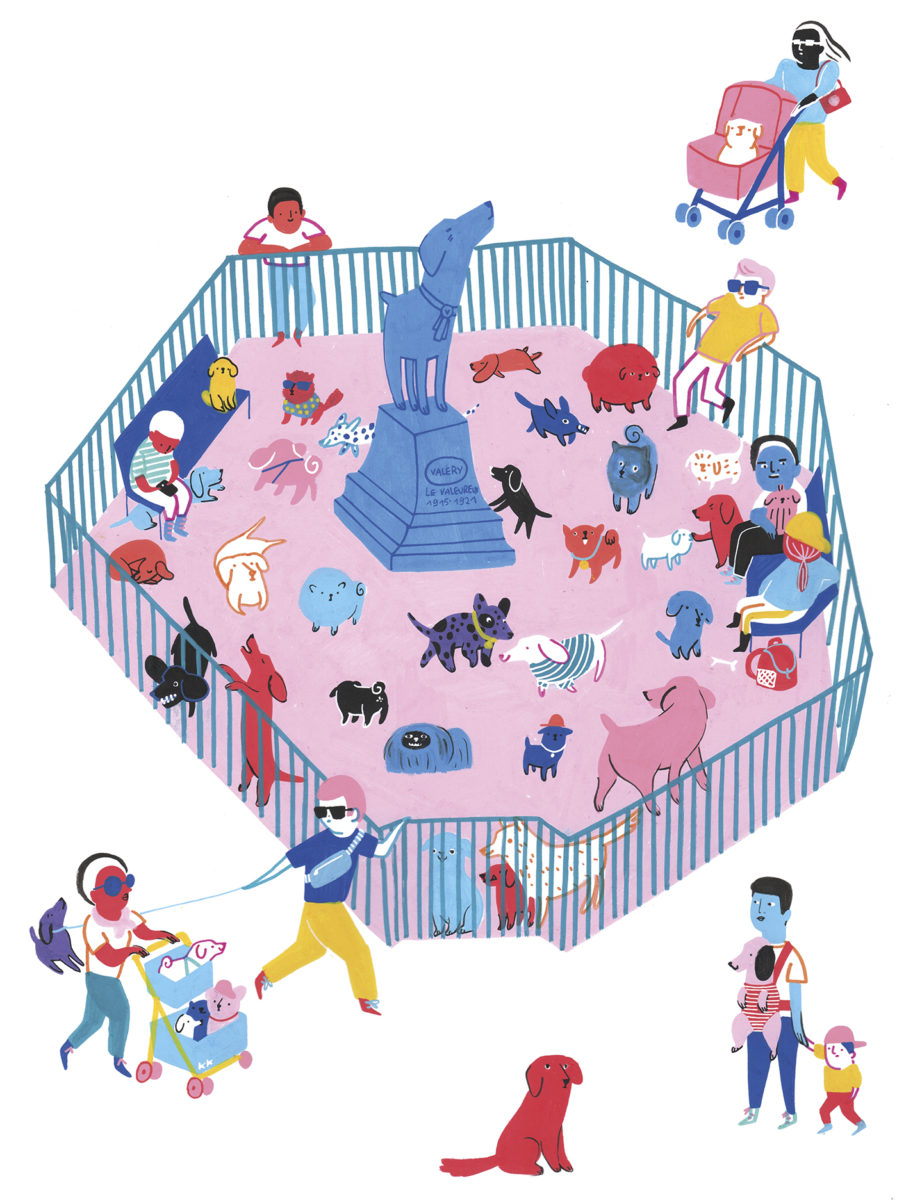 What's your background?
I studied at the Ecole de Condé in Paris, I went in thinking I wanted to do advertisign, I quickly realised that it was drawing that I liked the most. At that time, they had just opened their illustration section, so I rushed in. This is where I met my pig friends from my collective Yellow Pig.
When did you realised that you could make a living out of your art?
It was at school that I realised that being an illustrator could be a profession. I didn't think at first that I could make a living from it. After my graduation, I worked for a lady artist, and I also took on all the little projects that came up, from friends of friends, competitions, I was trying to take part in lots of things. And after a while projects became more regular, and it was really great!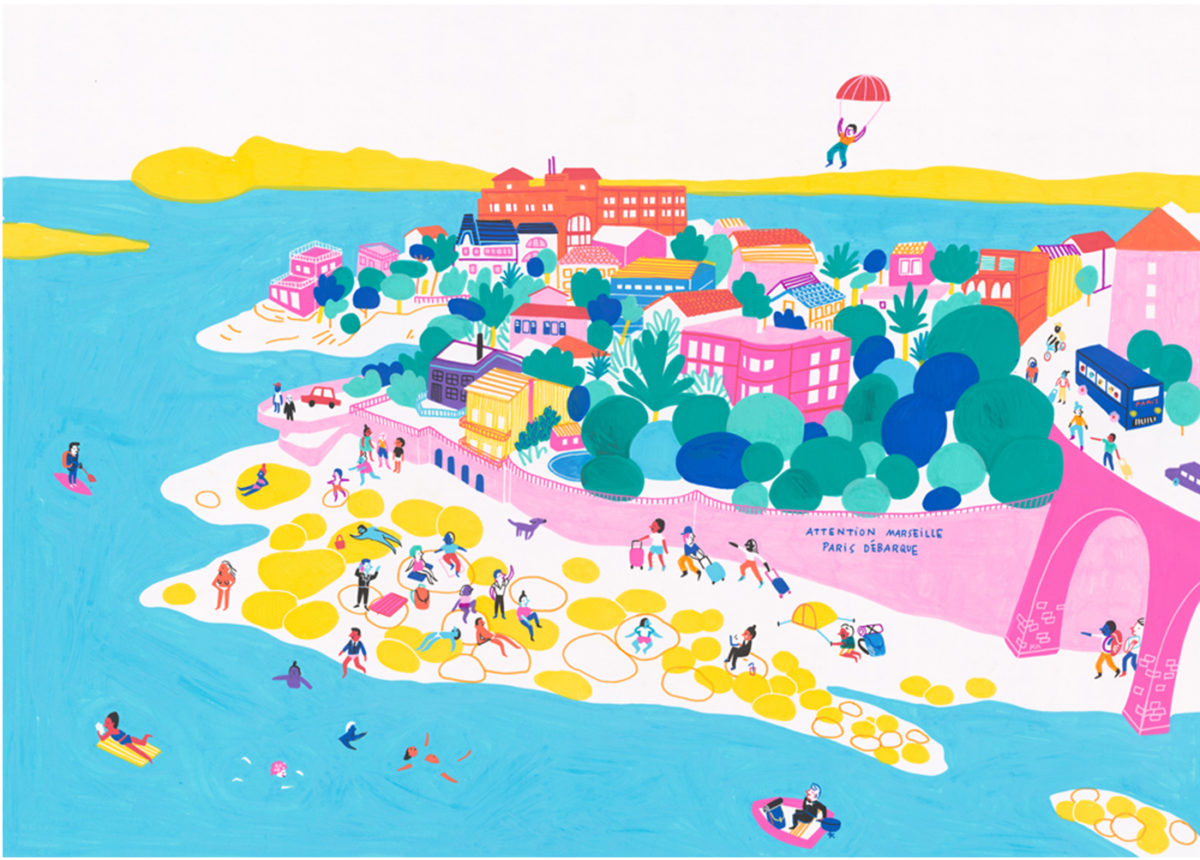 Can you guide us through your creative process, from the first idea to the final result?
So for example for "Attention Marseille, Paris débarque" (see above), I started from the fact that all of Paris was going down to Marseille more and more regularly. Everyone fell in love with the city, the Calanques (typical creeks of region), the sun, it makes you want to settle down.

So I wanted to make a drawing for my exhibition "Les Folles Années Folles" at the Slow Galerie (https://www.slowgalerie.com/fr/). I looked for some images of Marseille, with the city, the sea and the rocks, and I prepared a first sketch, at scale, in pencil. I add a mess of Parisians, coming in from all sides, taking the city by storm. Once my sketch is done, I go to colour, on another clean white sheet, with a light table.
Did it take a while to master Posca so well?
I'm not sure to really master it yet, I still have stain accidents or pens barfing, but the accidents often create good surprises, so I'm fine with that.
Is there something you hate to draw?
Children, I make them too scary and I'm often asked to start over.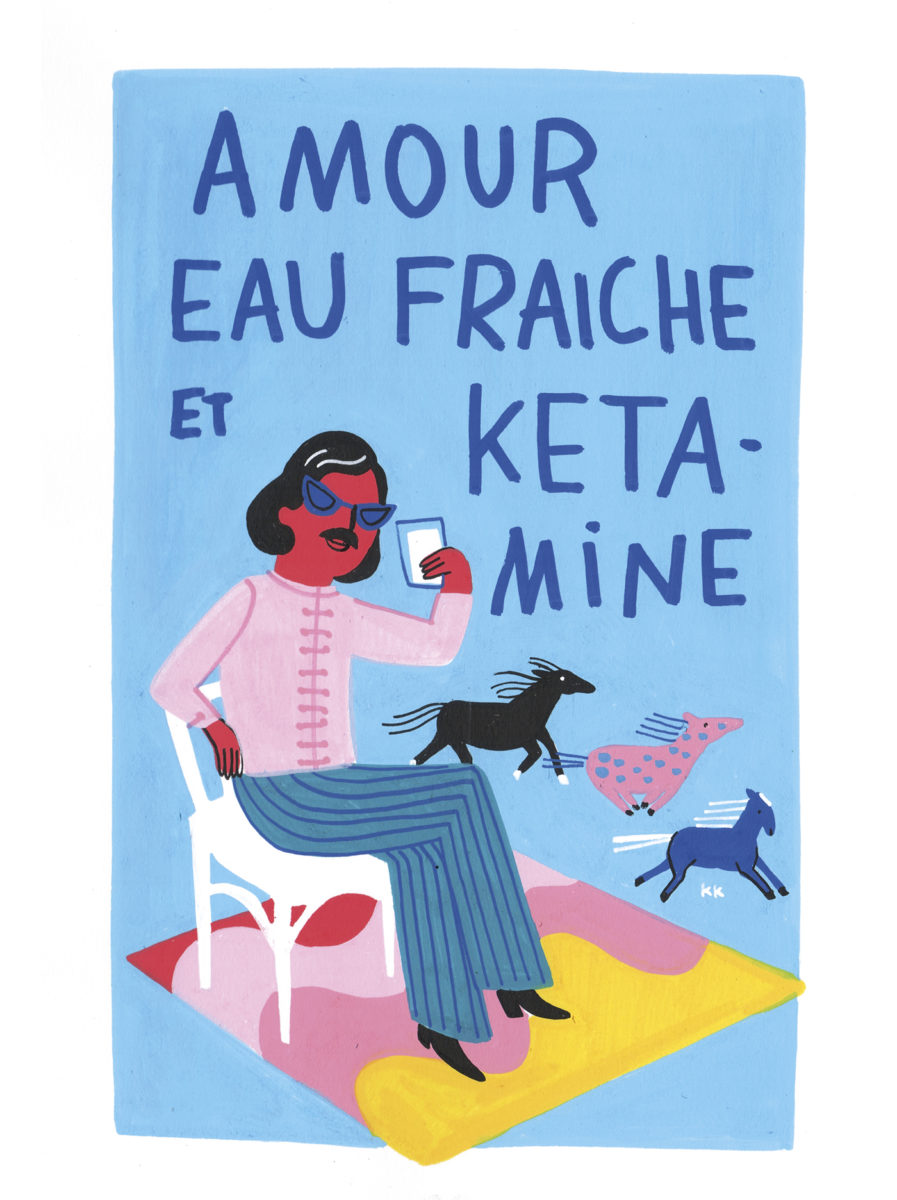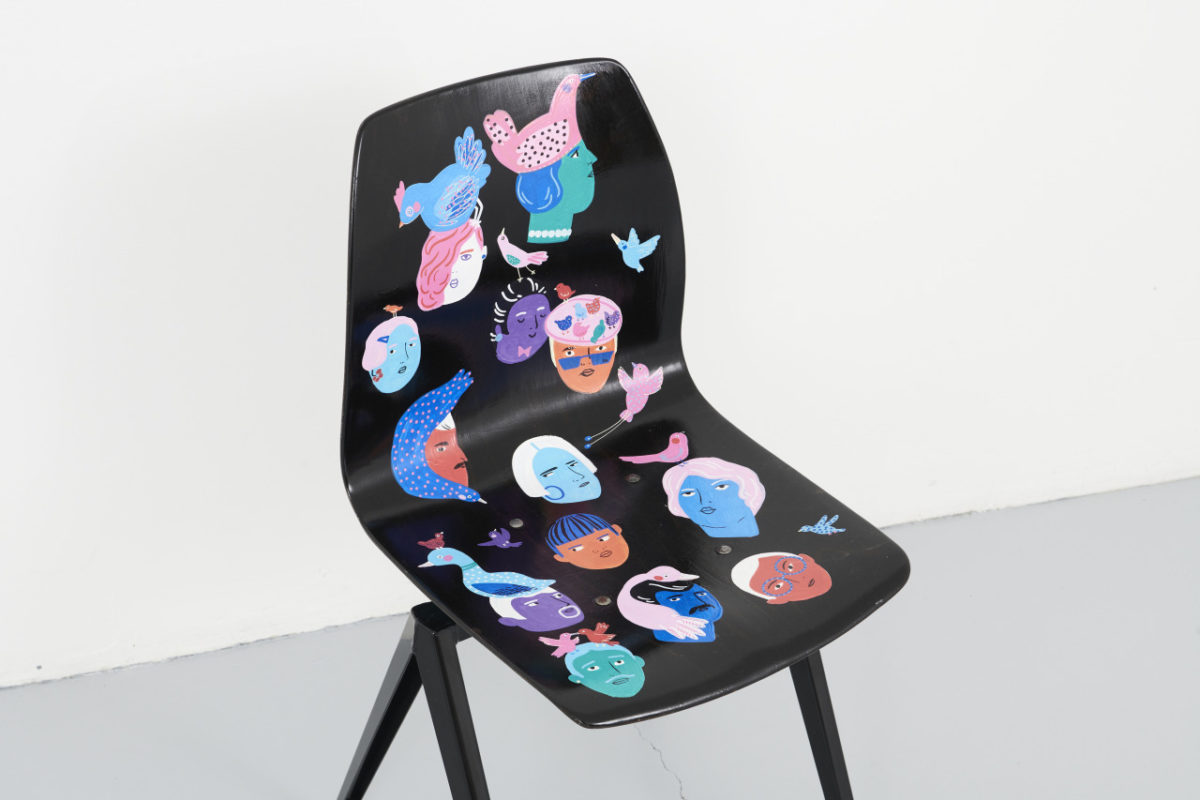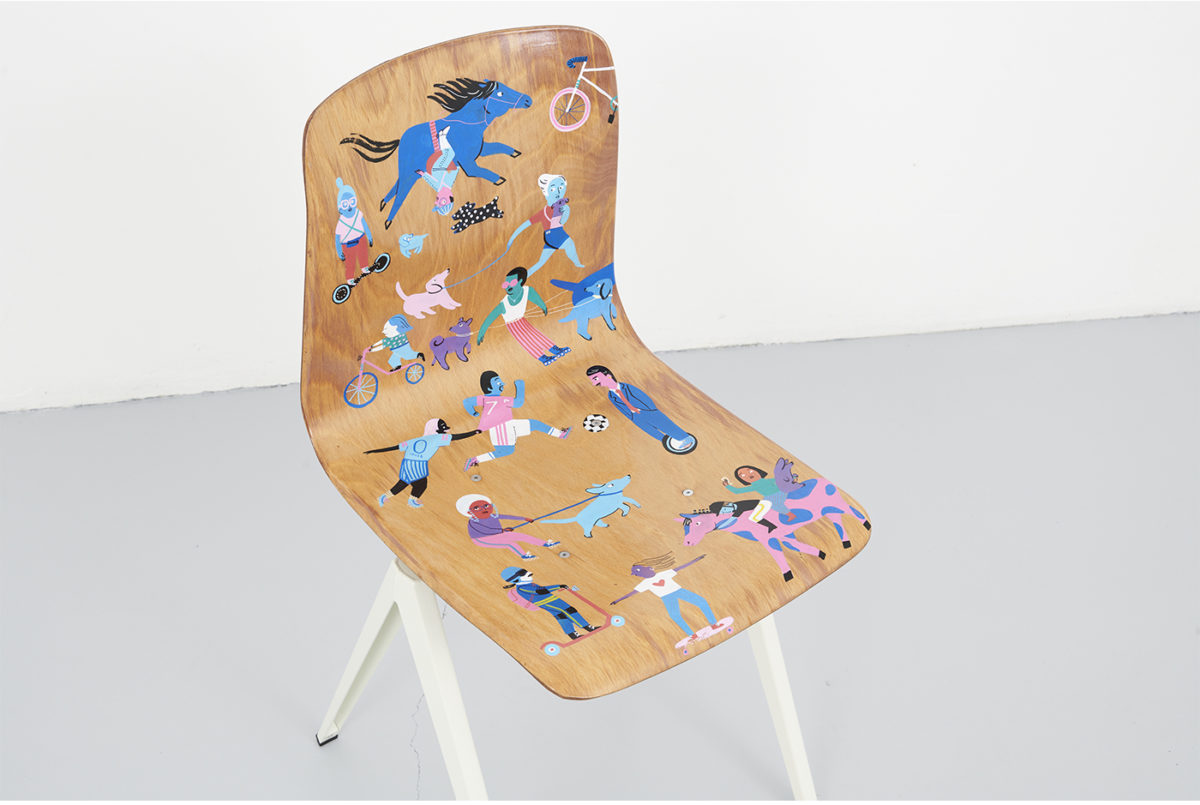 Doesn't it annoy you a litttle to know that people are going to put their butts on your drawings?
On the contrary, I'm delighted.
Ceramic, wood, fabric, motorbike helmet, is there a medium you haven't explored yet?
A car! An old mazda, cadillac, mustang, if you find it for me?
Show us the first drawing you were proud of.
(that snap moment when you say to yourself, ha! this is it!)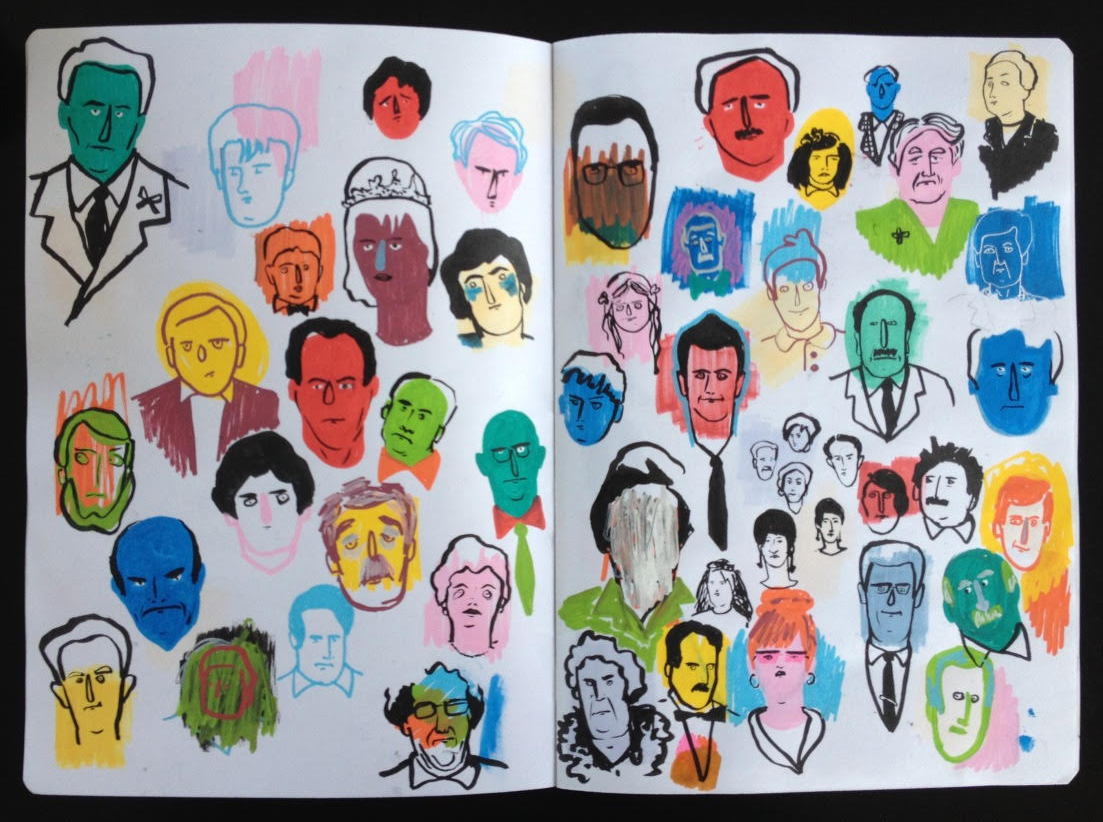 Can you tell us about it?
It's a drawing from a notebook, which is my favorite medium, the first time I really let myself go with color. I used to draw with a pencil, I was always erasing my ugly lines, I was quite frustrated not to be able to integrate color in my drawings, whereas my universe is very colorful in my head. I had to fill in an experiment booklet for school and, the day before school started I had a few a pages left to finish it. I took all the markers on my desk, and I made a head, then another one, then another failed one, one on top of it, small ones, ugly ones, I filled all the space on my double page, without asking myself too many questions, and I loved it. I needed spontaneity, which I found by drawing directly with a felt pen.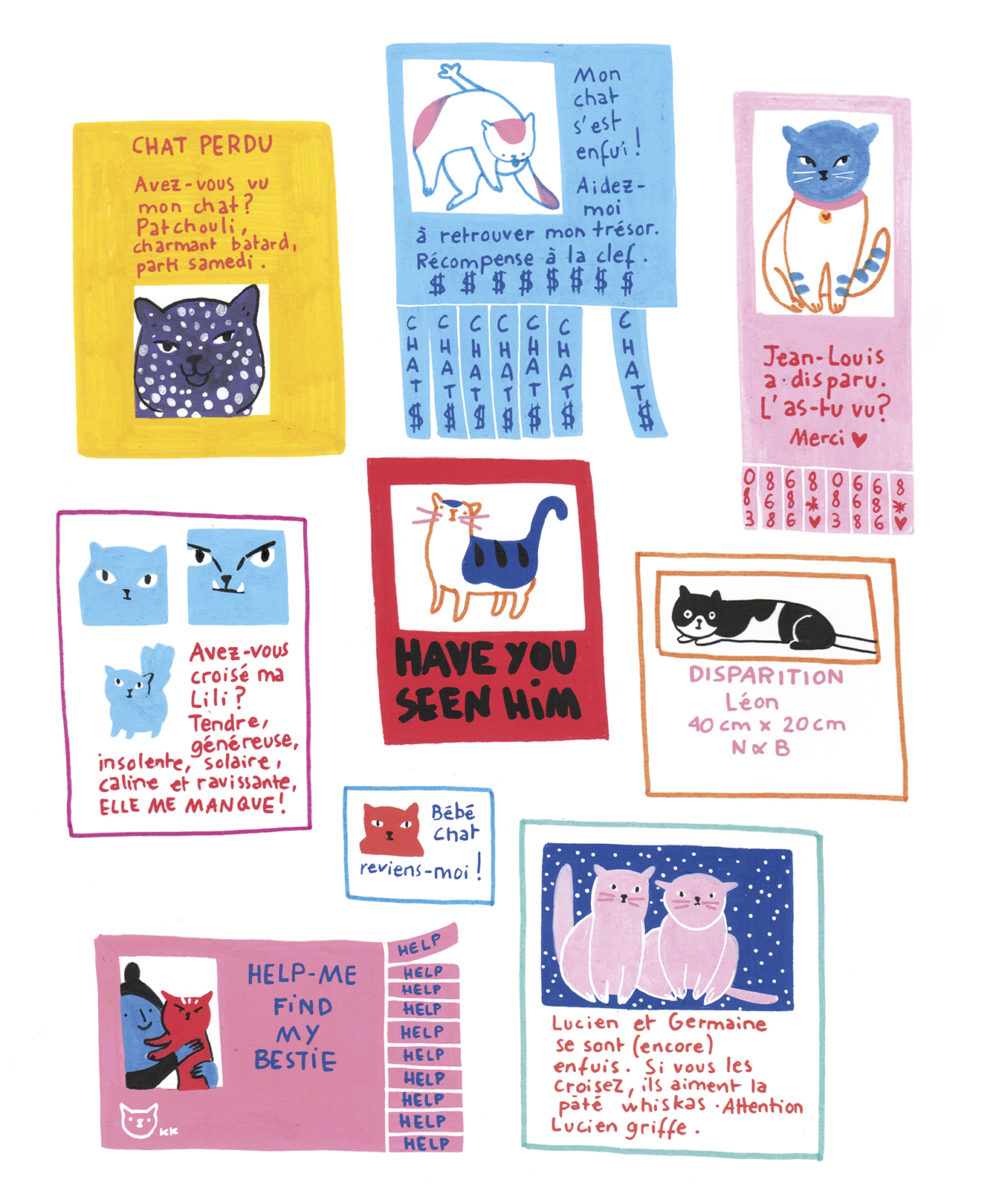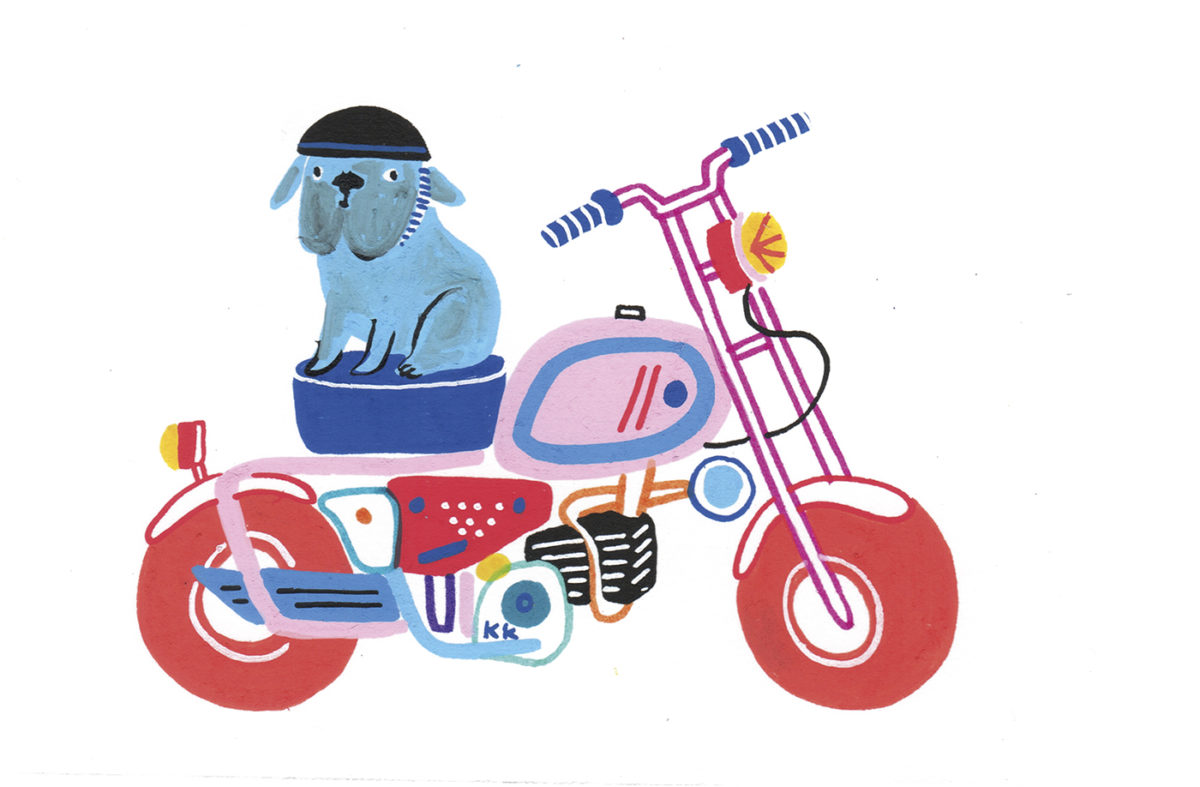 Have you ever had a revelation when discovering an artist's work?
I discovered Yayoi Kusama at the Centre George Pompidou (a modern art museum in Paris) for her exhibtion a few years ago. There was a room full of mirrors, weights, lights, I could have stayed there for hours.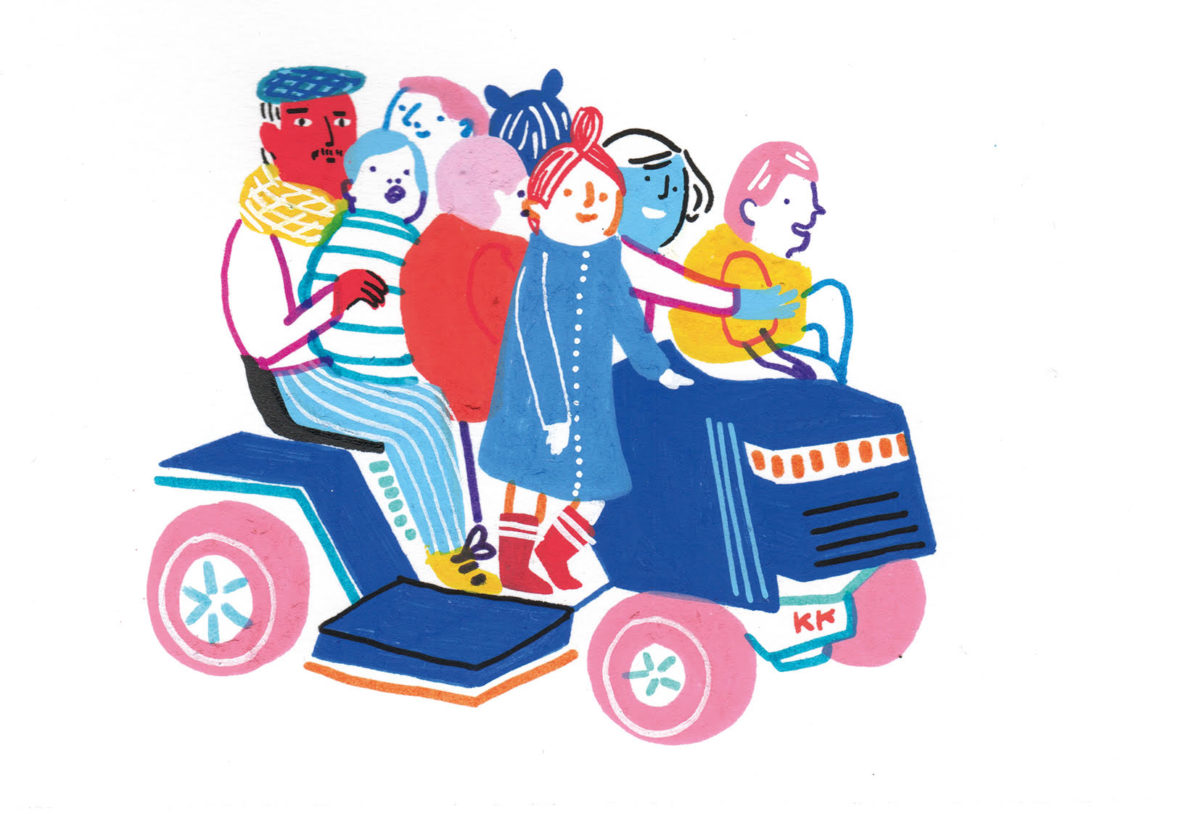 What's this big mower story?
My grandfather in the country used to make us ride the mower with my cousins, there were quite a few of us and we all wanted to ride at the same time, it was really the attraction, along with the evening walks with torches.
Is there something on earth that you find hilarious?
Letting your face mask hand down over your ear while having lunch on a terrace.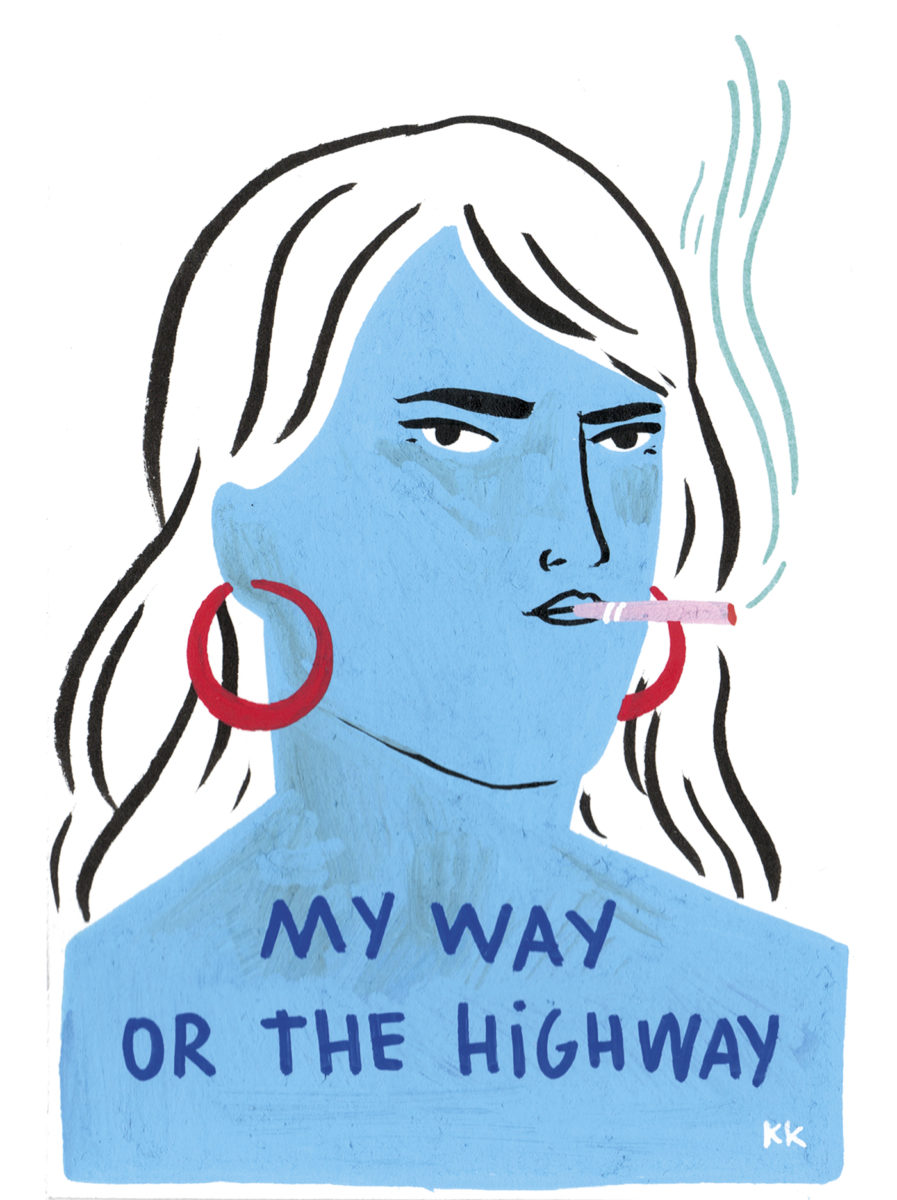 What are your plans for the future?
Children's books to be released in the autumn and hopefully lots of surprises to show you.
What are you going to do just after having answered to the final question?
Make myself another coffee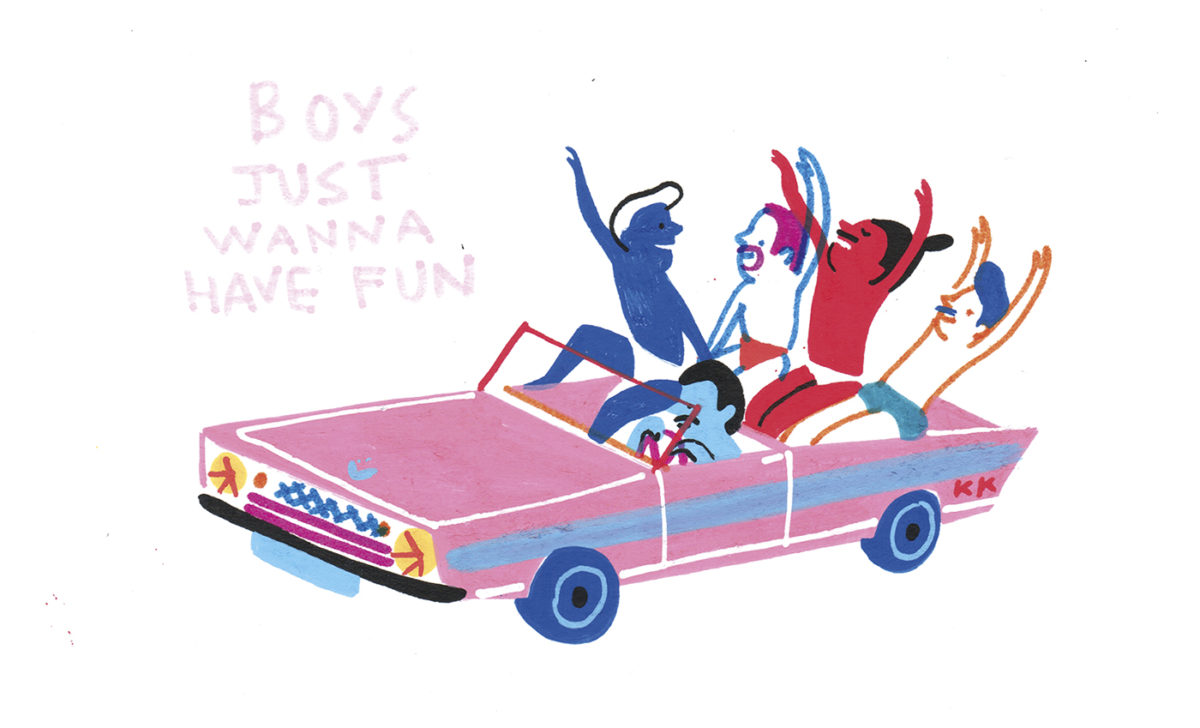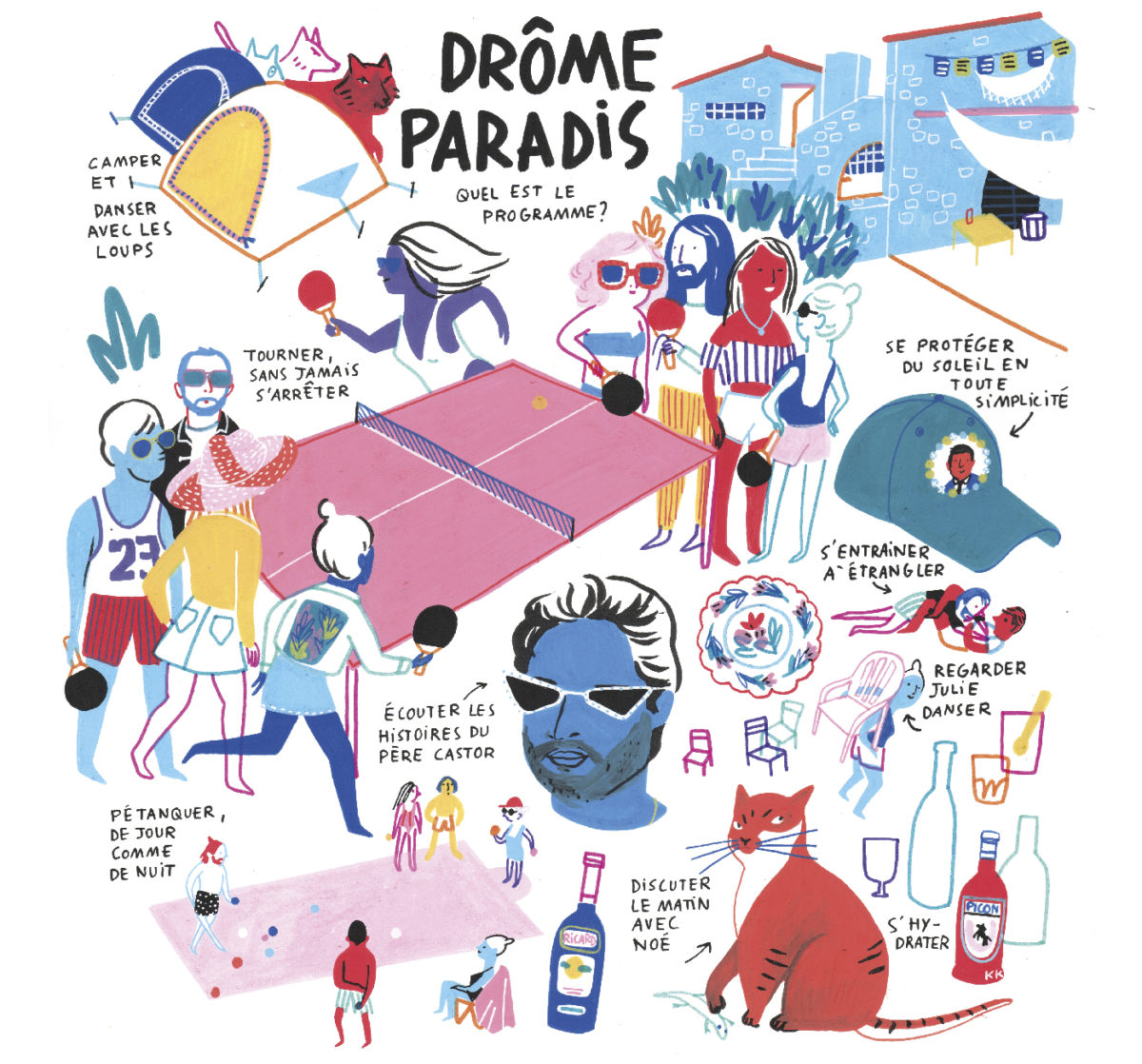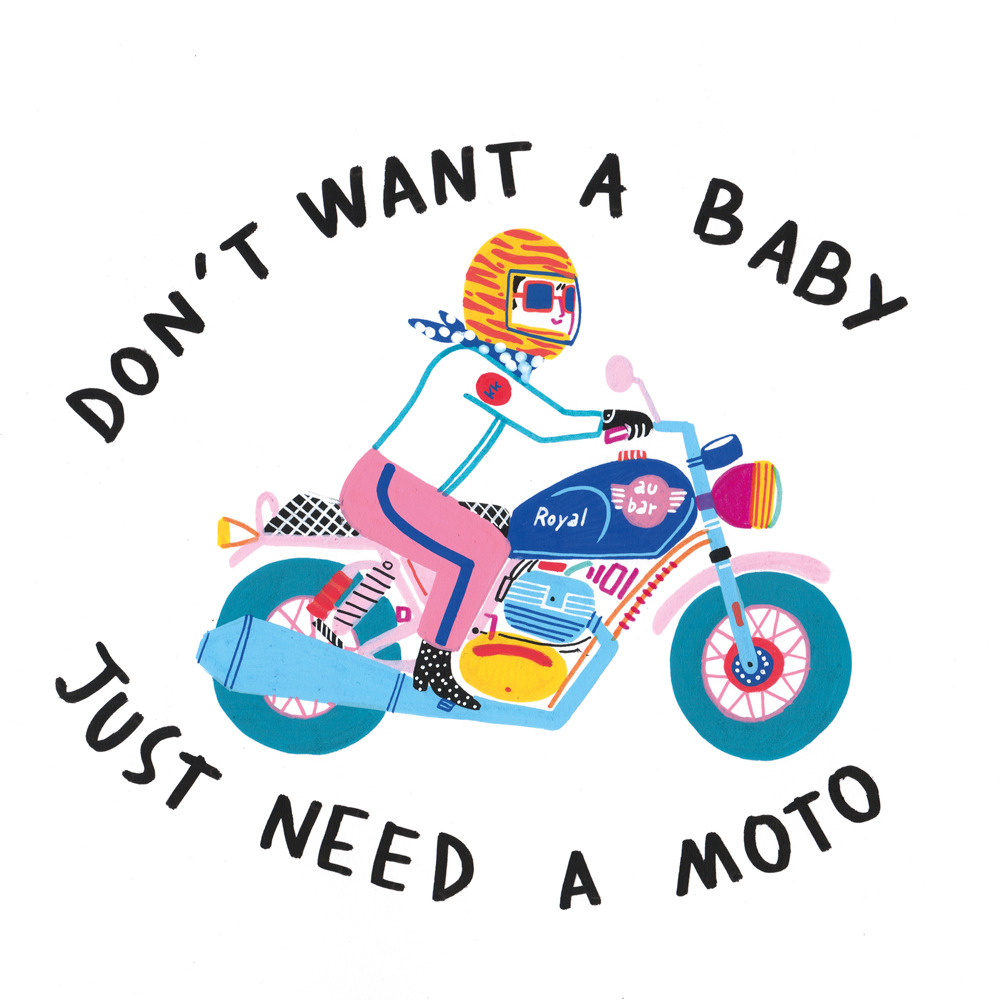 Camille de Cussac is a french artist based in Paris, you can find her work on her instagram or tumblr account.
_________________________________________________________________________
INTERVIEW EN FRANCAIS / IN FRENCH
Si tu étais un chien, tu serais quelle race ?
J'aime tellement de chiens différents, c'est une question difficile, mais en ce moment je suis team cocker, comme ma vieille chienne Apple, qui a 16 ans aujourd'hui, gros bisous à elle si elle me lit.
Qui es-tu ?
Je m'appelle Camille de Cussac, je suis illustratrice free-lance et j'habite à Paris. J'aime faire de la moto, dessiner des motos, dessiner des hommes à moto en slip, avec des chiens. Mes personnages sont de toutes les couleurs, je dessine au feutre, sur plein de supports différents.
Qu'est-ce qu'on peut trouver dans ta tête ?
Du bordel. Mon bordel, c'est tout ce qui m'inspire, c'est par exemple un mélange de fêtes de villages, costumes traditionnels, expressions belges, pop culture, chien, moto, slip, couleurs, bière, moustache, véhicule, blagues, années 80, cinéma, chanson française …
Quel est ton parcours ?
J'ai étudié à l'Ecole de Condé à Paris, j'y suis rentrée en pensant vouloir faire de la pub, je me suis vite rendue compte que c'était le dessin qui me plaisait le plus. Ils venaient d'ouvrir à l'époque leur section illustration, je me suis vite engagée la dedans du coup. C'est là que j'ai rencontré mes copains cochons de mon collectif Jaune Cochon.
Quand as-tu compris que tu allais pouvoir faire de ton art ton métier ?
C'est à l'école que j'ai compris qu'illustrateur pouvait être un métier. Je ne pensais pas au début que je pourrai en vivre. Après mon diplôme j'ai travaillé pour une dame artiste, et je prenais aussi tous les petits projets qui se présentaient, d'amis d'amis, de concours, j'essayais de participer à plein de choses. Et puis au bout d'un moment les projets sont devenus plus réguliers, et c'était vraiment génial !
Peux-tu nous guider dans ton processus de création, de l'idée jusqu'au résultat final ?
Alors par exemple pour « Attention Marseille, Paris débarque », je suis partie du constat que tout Paris descendait de plus en plus régulièrement à Marseille. Tout le monde est tombé sous le charme, les calanques, le soleil, ça donne envie de s'installer. Donc du coup je voulais en faire un dessin pour mon expo « Les Folles Années Folles » à la Slow Galerie. J'ai cherché quelques points de vue de Marseille, avec la ville, la mer et le rochers, et j'ai préparé un premier croquis, à l'échelle, au crayon. J'y rajoute des parisiens en pagaille, débarquant de tous les côtés, prenant la ville d'assaut. Une fois que mon croquis est terminé, je passe à la couleur, sur une autre feuille blanche et propre, avec une table lumineuse. Et puis je colorie.
Cela t'a t-il pris beaucoup de temps de maitriser si bien le Posca ? (aplats parfaits, superpositions, ombrage, …)
Je ne suis pas sure de bien le maitriser encore, j'ai toujours des accidents de taches ou de feutres qui dégueulent, mais les accidents créent souvent de bonnes surprises, alors ça me va
Y'a t-il quelque chose que tu détestes dessiner ?
les enfants, je les fais trop effrayants et on me demande souvent de les recommencer
Ca ne t'énerves pas un peu de savoir que des gens vont poser leurs fesses sur tes dessins ?
au contraire, j'en suis ravie
Céramique, bois, tissu, casque de moto, y a t-il un support que tu n'as pas encore exploré ? une voiture !
Une vieille mazda, cadillac, mustang, si vous me trouvez ça ?
Montre nous le premier dessin dont tu as été fière. (ce moment de déclic ou tu te dis, ha ca y est !). Tu peux nous en parler ?
C'est un dessin de carnets, ce que je préfère comme support pour dessiner, la première fois où je me suis lâchée vraiment avec de la couleur. Avant je dessinais au crayon, je gommais pas mal mes traits moches, j'étais assez frustrée de ne pas arriver à intégrer de la couleur dans mes dessins, alors que mon univers est très coloré dans ma tête. Je devais remplir un carnet d'expérimentation pour l'école, et la veille de la rentrée il me restait quelques pages pour le terminer. J'ai pris tous les feutres sur mon bureau, et j'ai fait une tête, puis une autre, puis une autre ratée, une par-dessus la ratée, des petites, des moches, j'occupais tout l'espace de ma double page, sans me poser trop de questions, et j'ai adoré. Il me fallait de la spontanéité que j'ai trouvé en dessinant directement au feutre.
As-tu déjà eu une révélation en découvrant le travail d'un.e artiste ?
Yayoi Kusama que j'ai découverte au Centre George Pompidou pour son expo il y a quelques années. Il y avait une salle, remplie de miroirs, de pois, de lumières, j'aurai pu y rester des heures.
C'est quoi cette histoire de grosse tondeuse ?
mon grand-père à la campagne nous faisait faire des tours de tondeuse avec mes cousins, on était assez nombreux et on voulait tous monter en même temps, c'était vraiment l'attraction, avec les balades le soir en lampe de poche
Y a t-il un truc sur terre que tu trouves désopilant ?
laisser son masque pendouiller à son oreille en déjeunant en terrasse
Quels sont tes plans pour la suite ?
des livres pour enfants qui sortiront à la rentrée et j'espère plein de surprises à vous présenter
Que vas-tu faire juste après avoir répondu à cette dernière question ?
me refaire un café