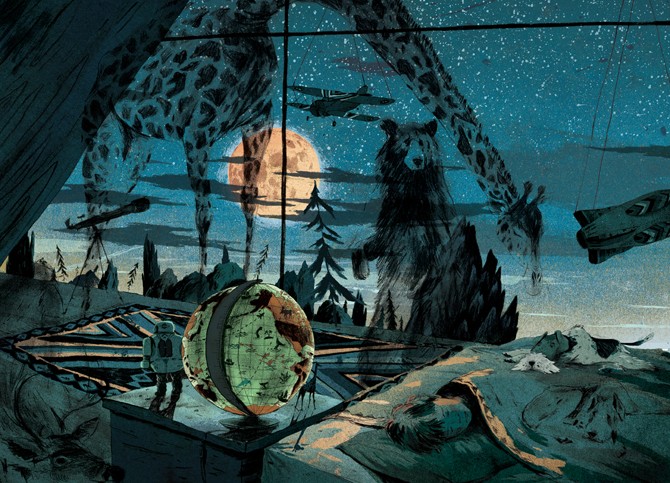 First off, can you introduce yourself ?
I'm a 22 year old illustrator, currently living in a not-that-utopian-looking suburb in the north of Antwerp.
Now, give us a song that we can listen when we're looking at your drawings :)
I could give you many, but one album that-for me-reflects the right atmosphere of my work is the Lp The Soft Bulletin by The Flaming lips. To pick one song: The spark that bled.
It has that feeling of a weird, cosmic, optimistic and warm summer's eve and a sort of nostalgic atmosphere.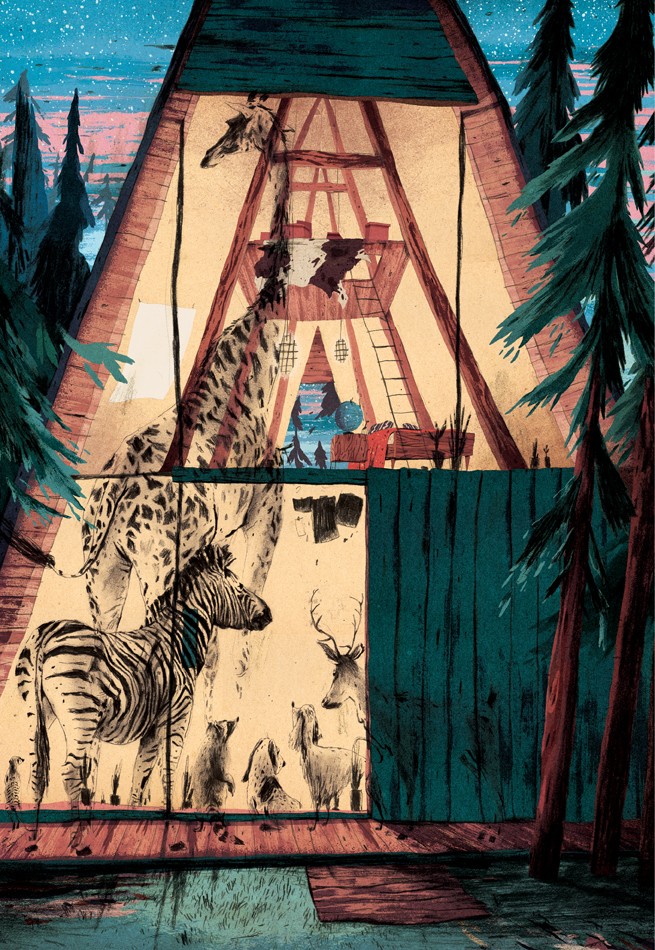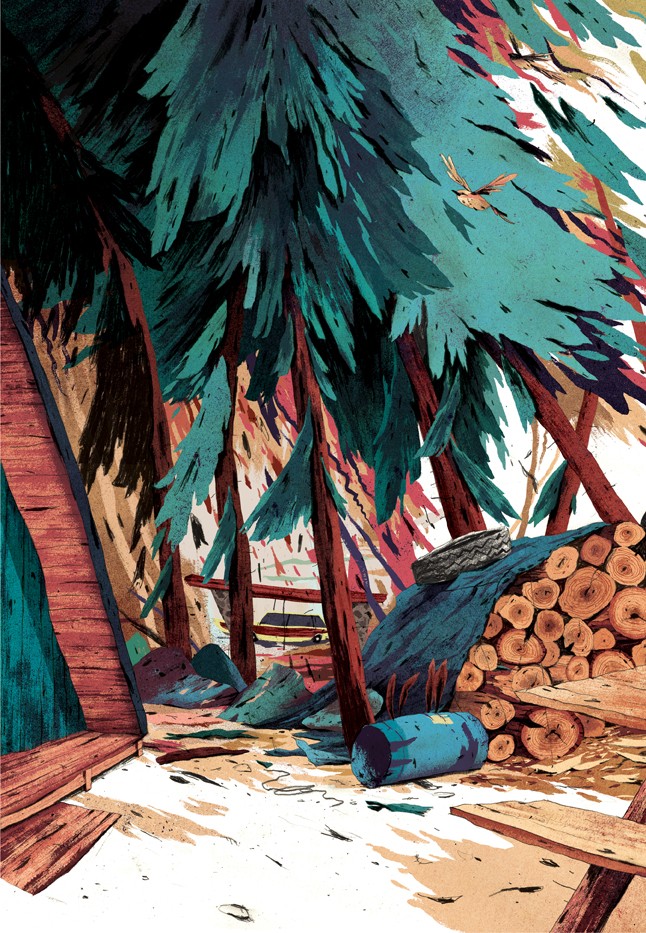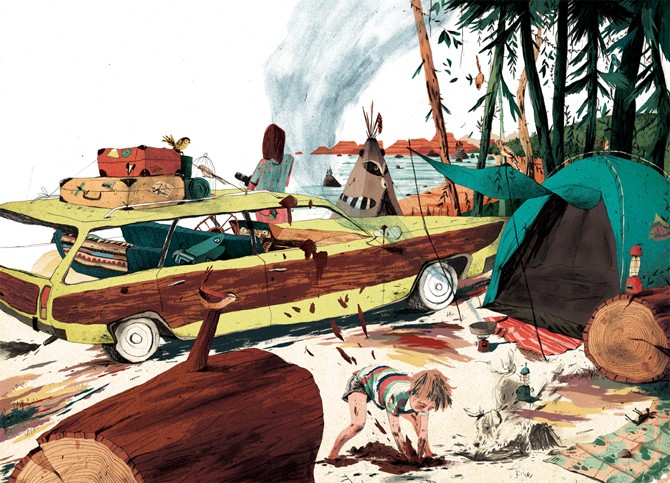 So, how did you get into illustration ? and what were your studies ?
Ever since I was a kid I've been drawing and fantasizing about these imagined worlds… So I guess it all went quite automatically. I haven't really thought about it.
It seemed to be the only option.
After finishing art school I studied 'Illustration' at Sint-lucas Antwerp. I graduated in 2012.
What activities you loved to do when you were a child ?
Apart from drawing and building huge lego-citys I spent much time outside. Together with my brother I did like to make my own bow and arrow and chop (small) trees in the little forest of our grandparents to make roads. I also remember myself being over-enthousiastic when visiting the zoo. Maybe that hasn't changed that much…
By the age of 16 the only thing me and my friends did was making skate movies, like everyone else at that time.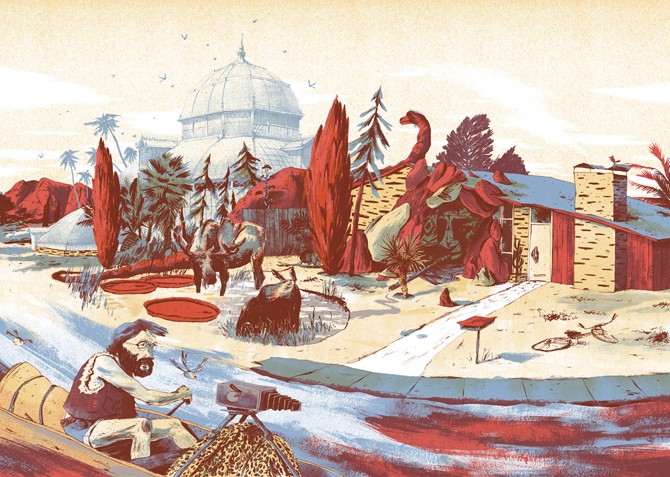 Can you explain to us your process of creation ?
If it's about making a bigger work, mostly the idea needs to swim around in my head for a while. The biggest part of the finished work is already in my head before I start drawing. I like to search for documentation and the right atmosphere. It's an important part in the process of making something.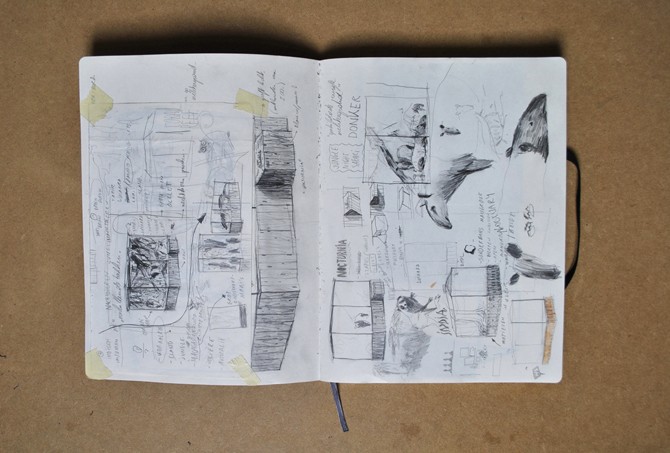 Next I make a pencil drawing that get's scanned in afterwards. the coloring process is digital, but I work with scanned-in structures I make by painting, various print techniques and found papers. If it's a big project, these structure's are made specifically for that.
To make the different layers and parts of a work I put the pencil drawing on a lightbox and trace all organic shapes like clouds, trees, shadows… These get scanned in aswell and put underneath the pencil drawing.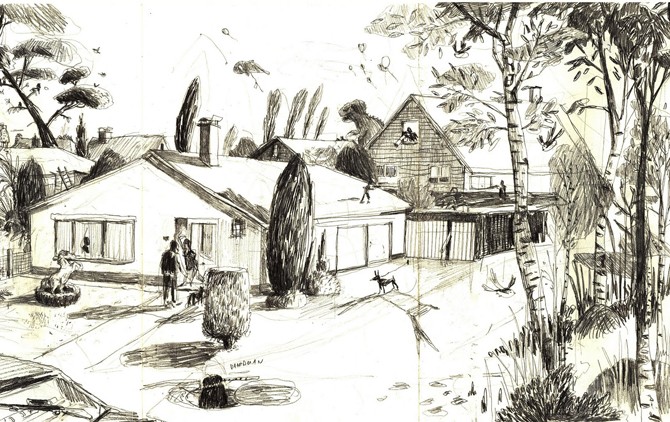 On all your works, which project have you found the most interesting ?
I haven't done that much projects, but Memoires of a Suburban Utopia – a big concertina – is the one I find most interesting. It was the first time my visual language went into a more specific direction I liked. It opened a lot of possibilities for myself. That and it being my first published project ever make it the one I'm still the most proud of.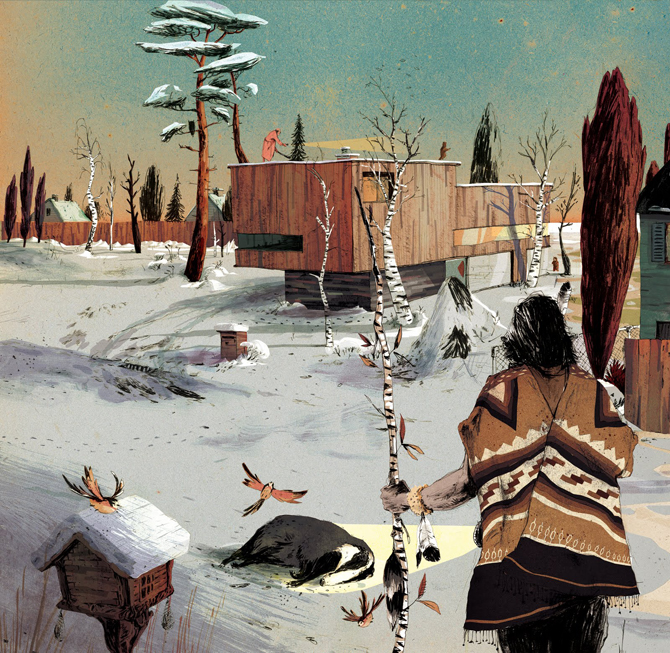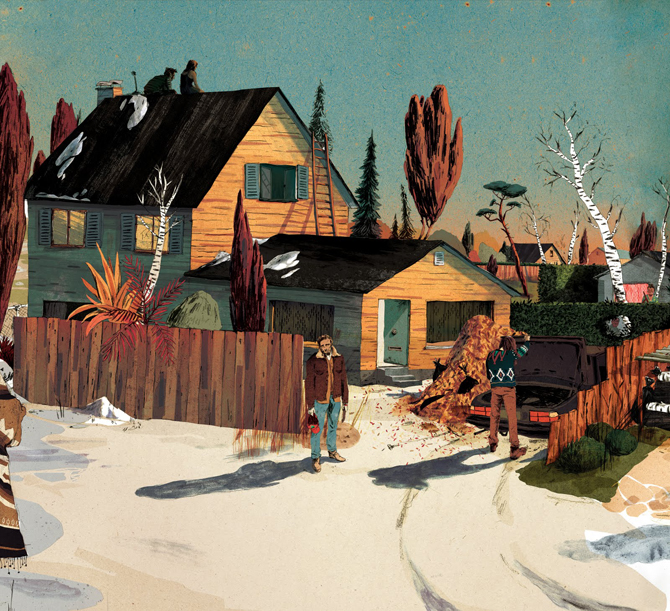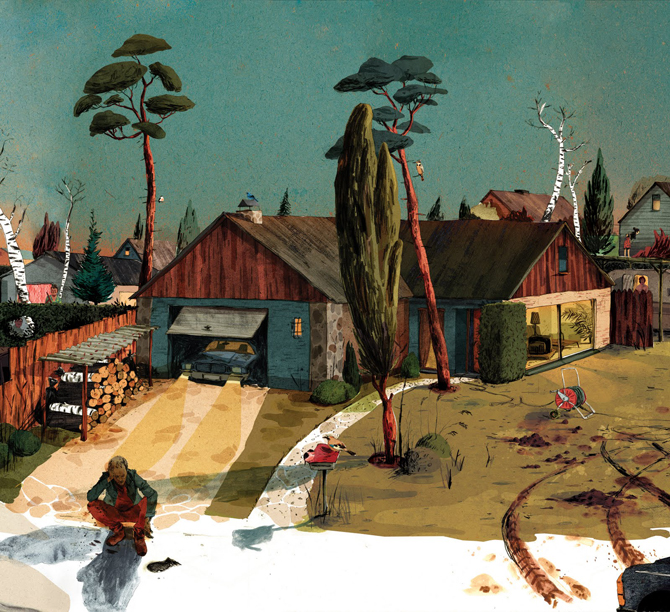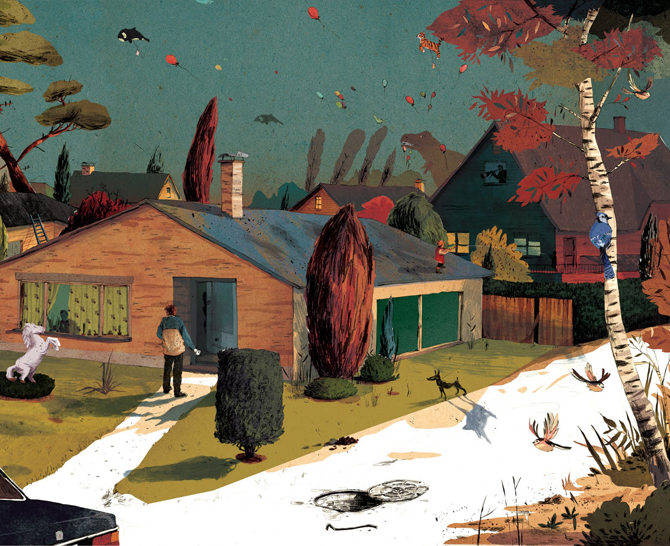 Where do you find all these colors ?
I like a warm and bold color palette. Sometimes people say they're a bit 'retro', or nostalgic. I don't know, I change them until I'm happy with the result and just end up with these I guess.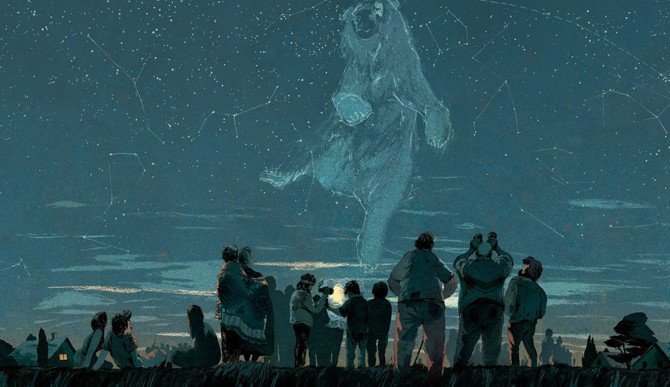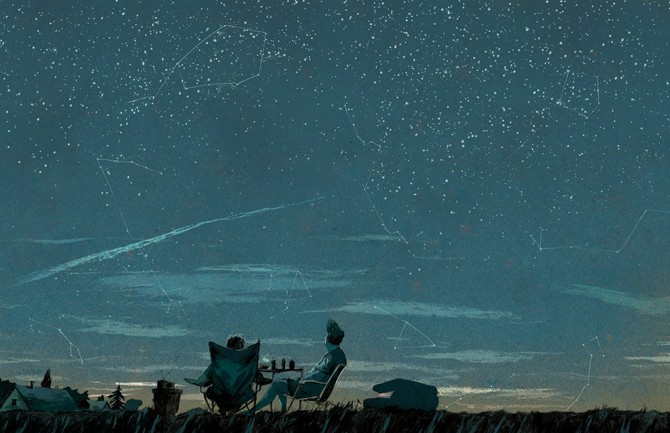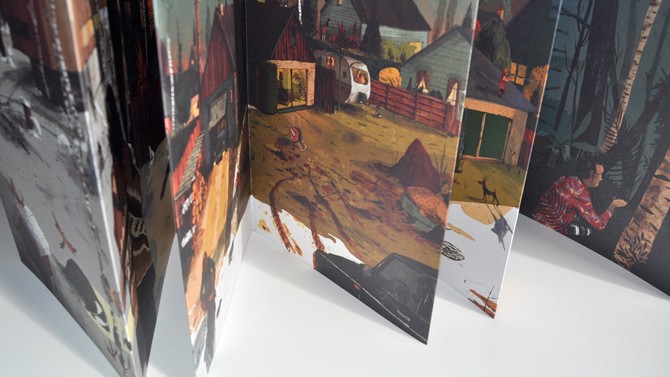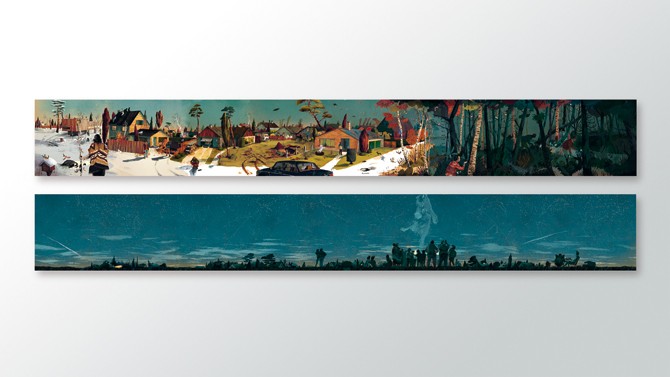 Do you have current projects or plans for the future ?
I'm busy making a series of prints about diorama's you'll find at a museum for natural history. The one's that are filled up with stuffed animals.
I've always been attracted to these. They have that 'ideal representation of a certain place or time' I like. Also they have this beautiful painted backgrounds.
It's gonna be about India, Nocturnal jungles in Africa and some stuff I haven't decided yet.
Now's the moment to put on C.W. Stoneking's Jungle lullaby.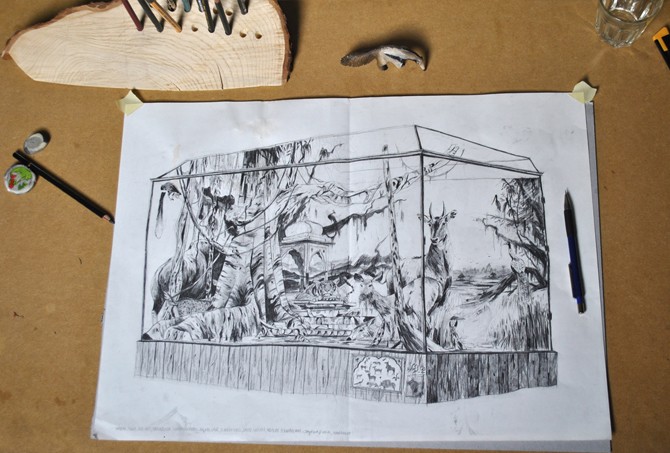 What are you going to do after having answered this last question ?
Draw the Indian jungle I mentioned in the question before.
Thanks a lot for these words Anton. I'm really happy to have found you !