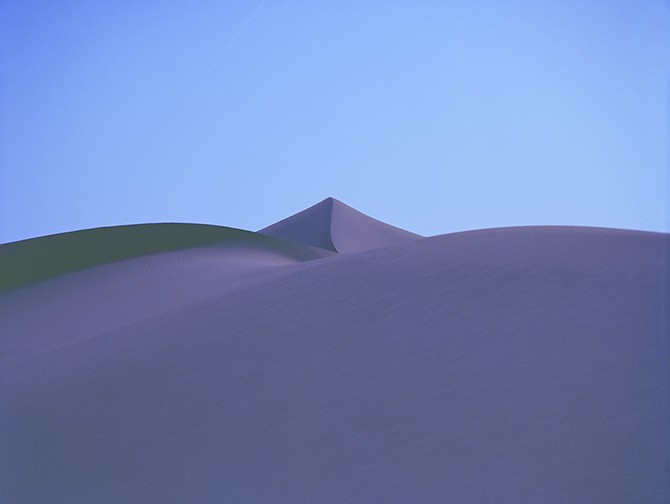 Between the 2 images from your last series, did you really waited in the desert for the sunset to come and the colors to change?
Yes that was it. The second is an early night shot which is possible to do when its full moon. I do it often but usually choose one of the two, but this time i had the feeling they could look well together if hanged next to each other.
How long did it take and how was this experiment?
Roughly first shot was around 7pm while the second around 10pm. It took no longer than 4 hours to complete which is quite normal for what i usually do in my trips. It s really a part of what i do when i travel for pictures. When i find a place to which i feel good aesthetic sensations i just roam around in it and look at it changing in the cycle of light/darkness. This thing is clearly evident if you watch the two images together.
About the wait is not really a wait in terms we usually think about waiting in our daily life. When i m there i m already in another kind of space and time, where i got the feeling of a different and more simple rythm. Four hours on a dune can pass by incredibly fast; the only breaks in this contemplative suspension of thoughts are the technical needs of photography (keeping track of exposure, films and which lens to use) and to eat or drink something at times. Apart from this, if i think back to that moment now, i only recall a vivid and ever changing light shift on dunes as if my mind could put together his own time lapse. In that flowing, at a certain point, i know i gotta decide to take the shot. Maybe a little change in tone or angle of the sun makes me, rather unconsciously i guess, decide to photograph. Shooting film and large format of course keeps me away from doing options of the same shot and luckily saves the magic of the moment in which you release the shutter.
When everything is over it s just about packing things, headlight on, and back with gps to the car. And it's always amazing how different the place looks and feels in darkness compared to light
The whole series is shot between Merzouga and Ouzina in Morocco during last summer.
_________
Luca Tombolini – Italian photographer / itw on wertn