Hi Tom,
So first of all : who are you, what are you doing?
I'm a visual artist and architect living in Parkdale, Toronto.  I'm also a Lecturer at Daniel's Faculty of Architecture, Landscape, and Design at the University of Toronto and a Project Designer at Moriyama and Teshima Architects.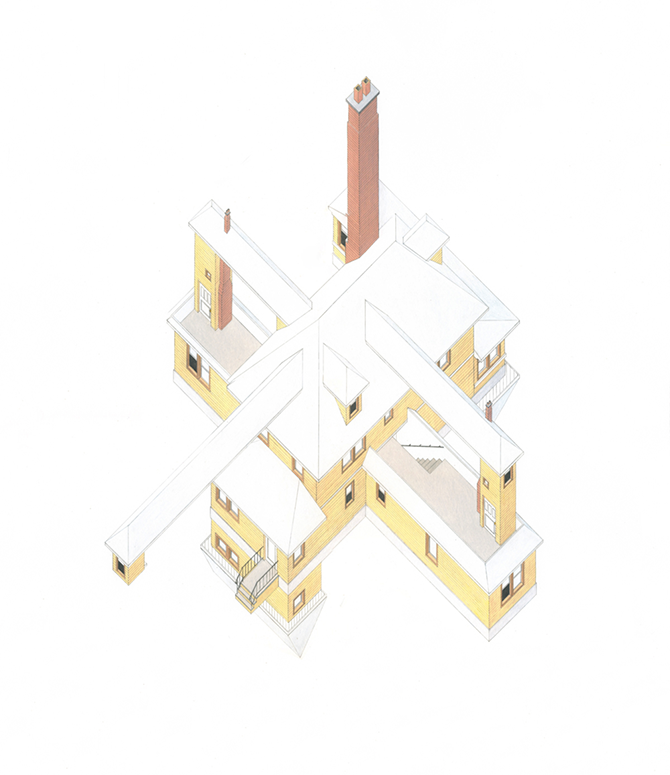 How did you start creating axonometric illustration?
I studied architecture at Carleton University, in Ottawa, and there they put a real emphasis on hand-drawing.  During review season there were always the wackiest drawings in all sorts of mediums pinned up on the walls.  That energy and environment had a real impact on me.  My first piece was actually for a school art auction and I've kept it up since then.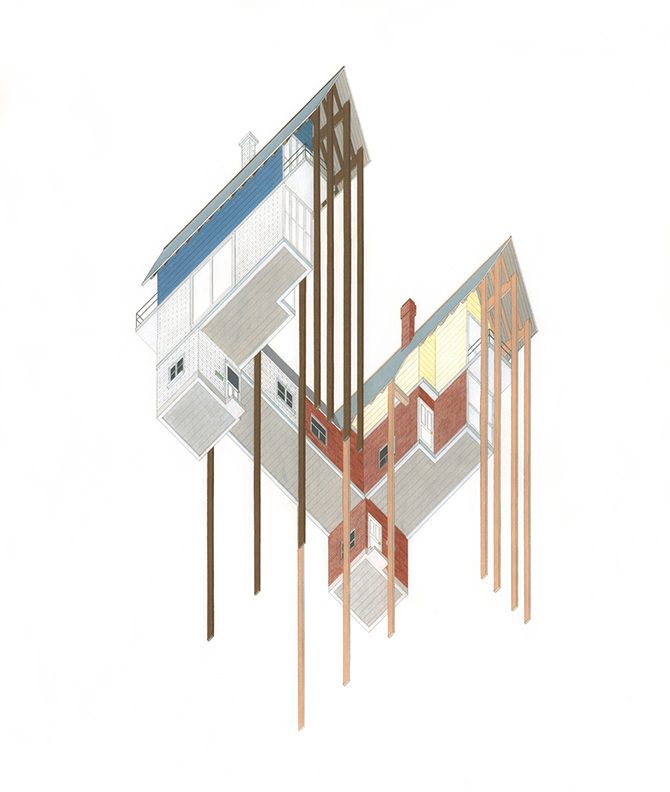 Can you show us what your drawing station looks like?
This is my station.This is my high school drafting table and it's made it's way school, 5 different studios and still going strong.  For the larger drawings I have the 4'x 7′ board or I draw on a set up directly on the wall.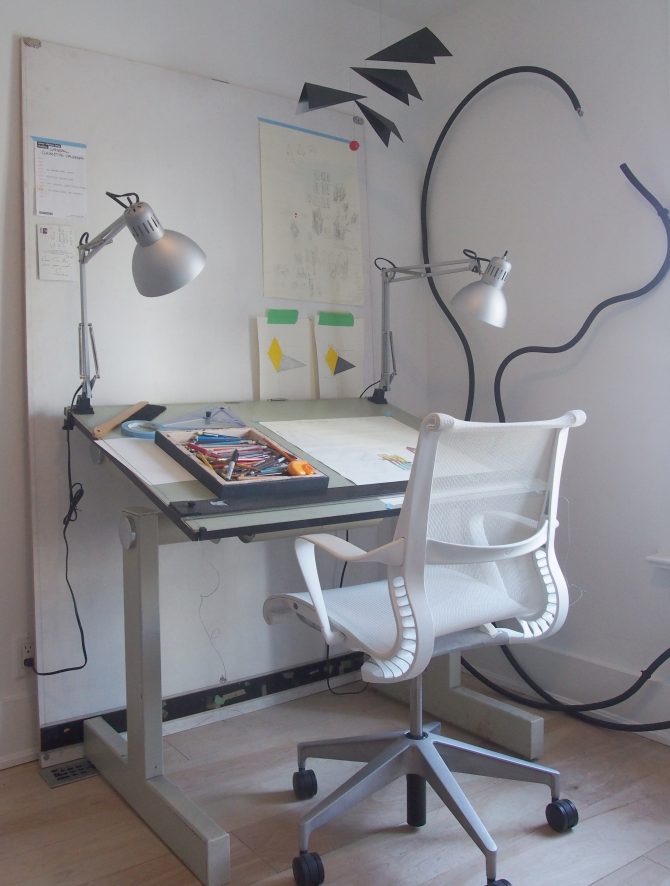 You also work in an architect studio… How much time do you keep for your art?
I try to do an hour or so each day in my studio but it really depends on what i'm working on.  When there is a hectic time at the office – i'm there, but if I have an upcoming exhibition, project, or collaboration i'm working on I'll up late in the studio.  I don't have a rigid Corbusian work schedule – it's whatever I have going on.
How does the place where you are inspires you ? Is there something of your city, Toronto in your work?
I gave a talk recently in which I paralleled the themes in my drawings to the architectural spectacles fin Niagara Falls, Ontario, where I grew up.  In that city, odd buildings were common place, and it wasn't out of the ordinary to drive by a funhouse or castle of dracula.  In fact, at my first architectural job working for an architect in that city, one of the projects in the office was a freefall skydiving space / hooters restaurant housed housed within a steel framed pyramid. I'm not even making this up.  If you're ever in Niagara Falls, drive down Stanley Ave towards the Falls.  You can't miss it.  Needless to say, you can see some relevant themes between that and the work I do now.
Let's check this out…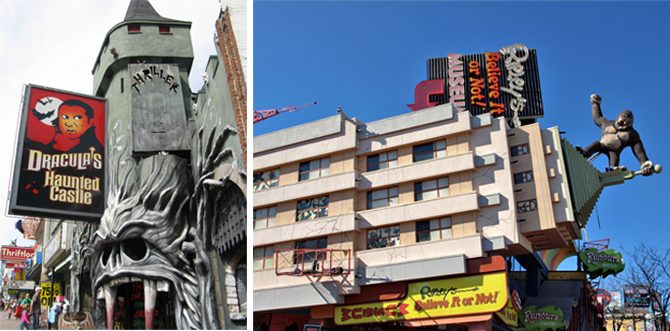 Ok.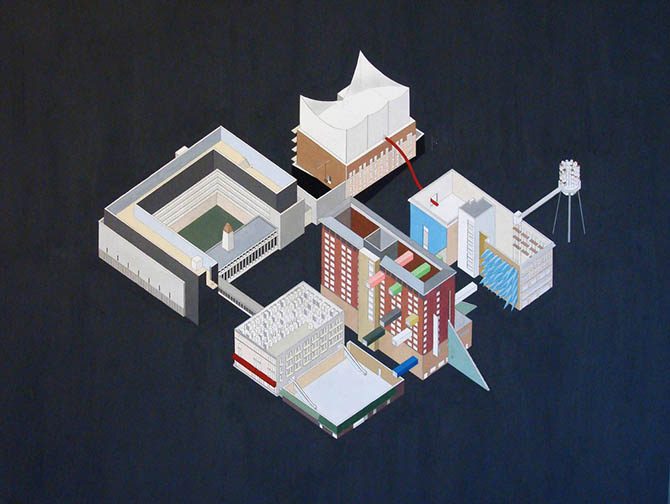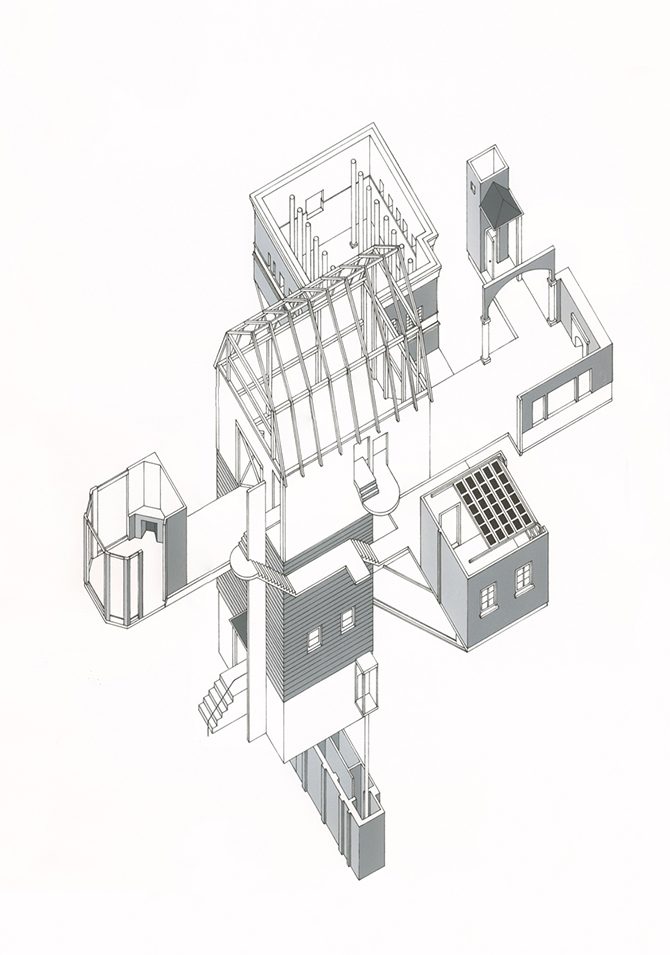 The systems you imagine may be absurd, sometimes it seems like you somehow had a designer approach… Like, do you imagine how it could work, what function could it have?
Yes, absolutely. For me, I treat function as a medium.  As much of a medium as graphite on paper or gouache.  I'm constantly designing and tweaking the buildings in my drawings and imagining how someone might occupy or use the spaces depicted.  Sometimes the spaces have a clear purpose, other times it's open-ended but i'm almost always playing around with functionality in my drawings.
A good example of this is my piece entitled 'Minotaur'.  It's a structure which is comprised entirely of circulation.  More specifically, it imagines a maze as a staircase and takes its name from the Greek myth.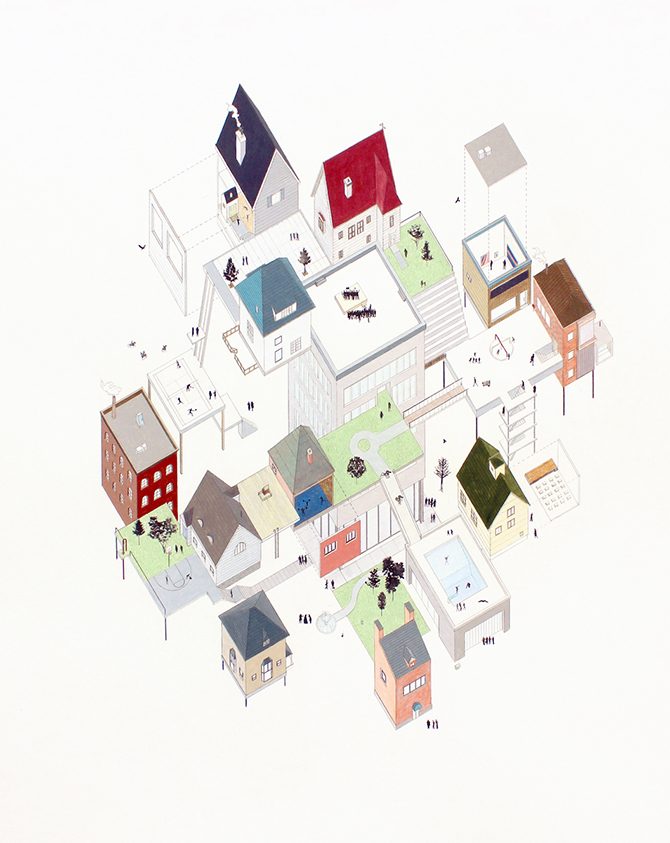 How's daily life in CRUCIBLE-PERFECT COMMUNITY?
I imagine life there being pretty good. This was a piece that was commissioned for a publication and was accompanied by text of visions for a perfect community.  The drawing on the right is "The Crucible' which was the first iteration and it focused on density and diversity creating a thriving ecosystem. The drawing on the left is 'Perfect Community' which was the 3rd iteration past 'The Crucible.'
You also did art installations…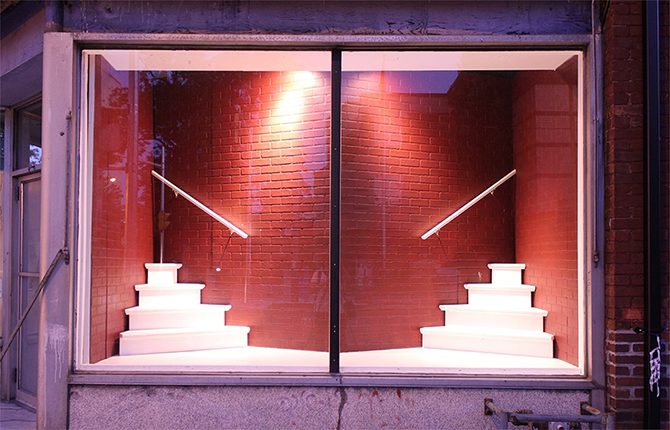 Where is this and how did you make this piece ? What is behind this project ?
This house is a window gallery space called 'Convenience' here in Parkdale, Toronto. This work is entitled 'Fortress'.  With this piece I really wanted the installation to be site specific and take cues from the building it was housed in.  At the time I was really focused on the theme of redundancy in architecture and the intent was to neutralize the building.  The installation is made up four 8 foot tall faux brick walls which intersect a set of stairs rendering it useless.  I wanted the viewer to accept the inaccessibility of the space and appreciate the architectural elements as sculpture.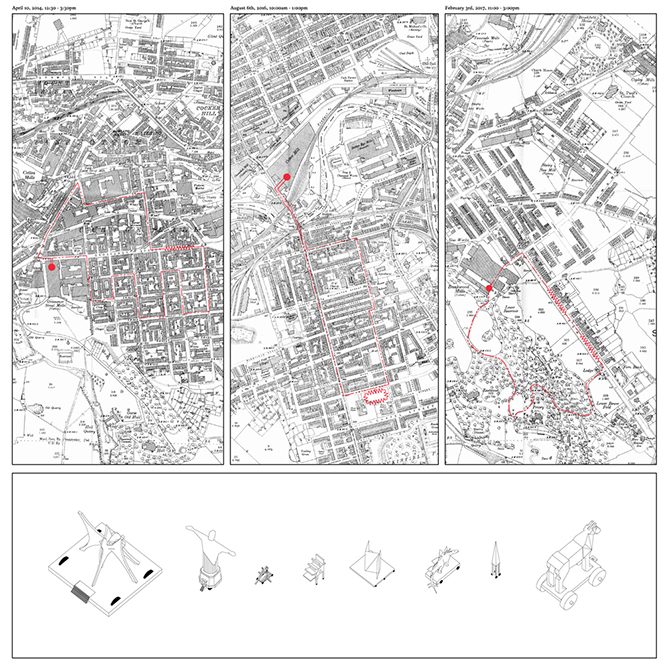 What is this map for?
This map was created for an open call to an exhibition at the Museum of Canadian Contemporary Art imagining the future of art museums.  Here I propose that the art museum of the future is a parade. Above is a proposal for three different parade routes and below are examples of potential parade floats.   I like idea that the art begins to map the city. The piece is called 'Event Museum.'
To finish this interview, would you share with us one (or a few) of your favorite piece of art?
Works that have had the greatest impact on me:  Van Doesburg's Counter Constructions and Exeter Library by Louis Kahn.  I also like anything by David Milne, Micah Lexier, and Kanye.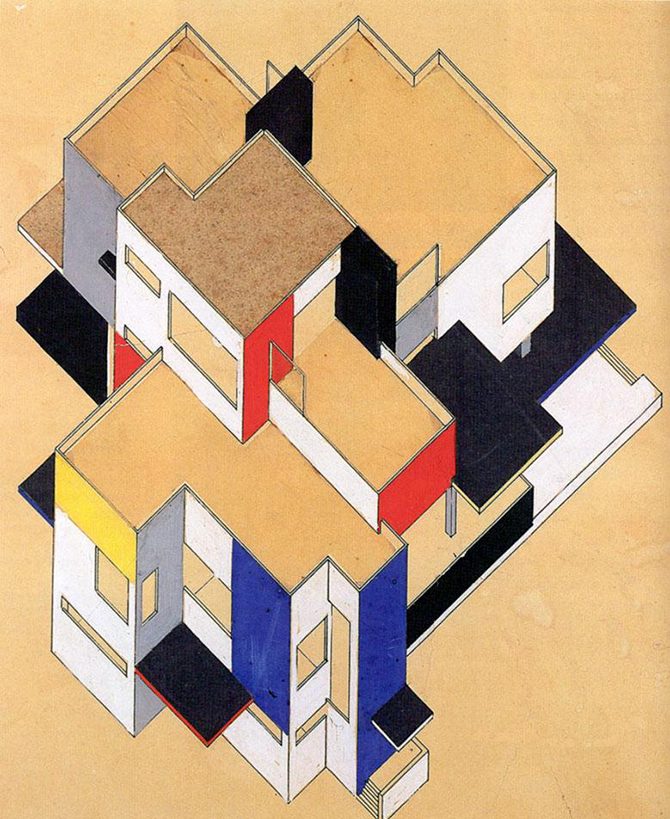 Van Doesburg's Counter Constructions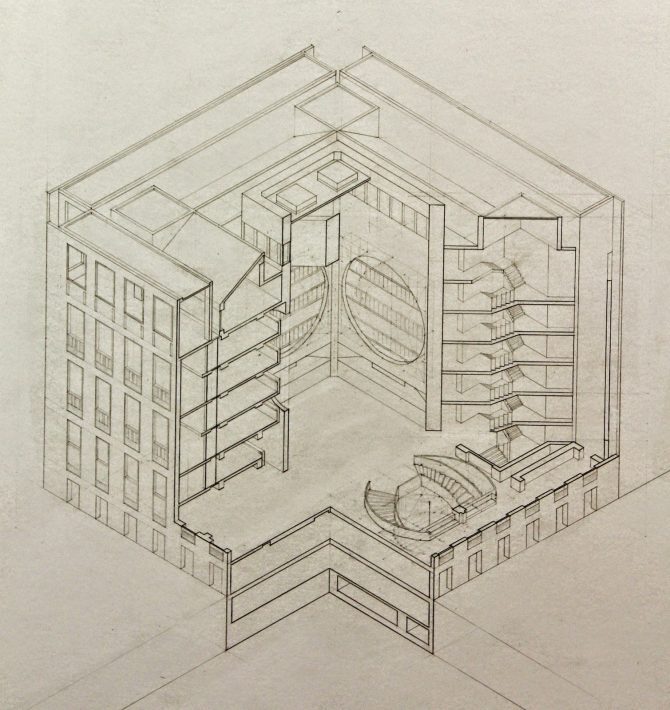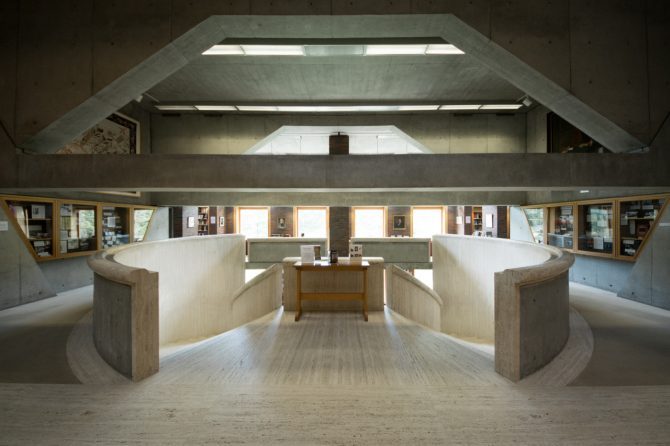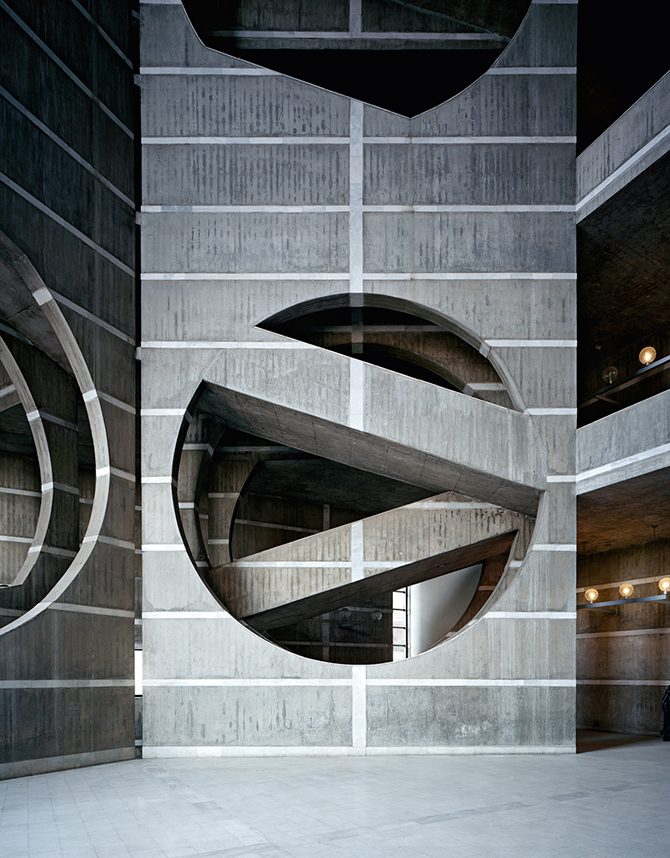 Exeter Library by Louis Kahn
> more of Tom's works :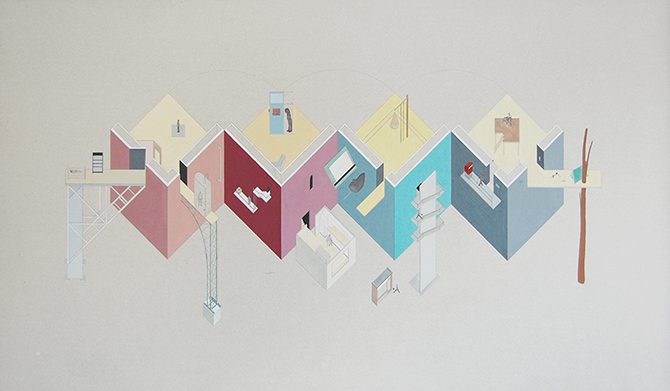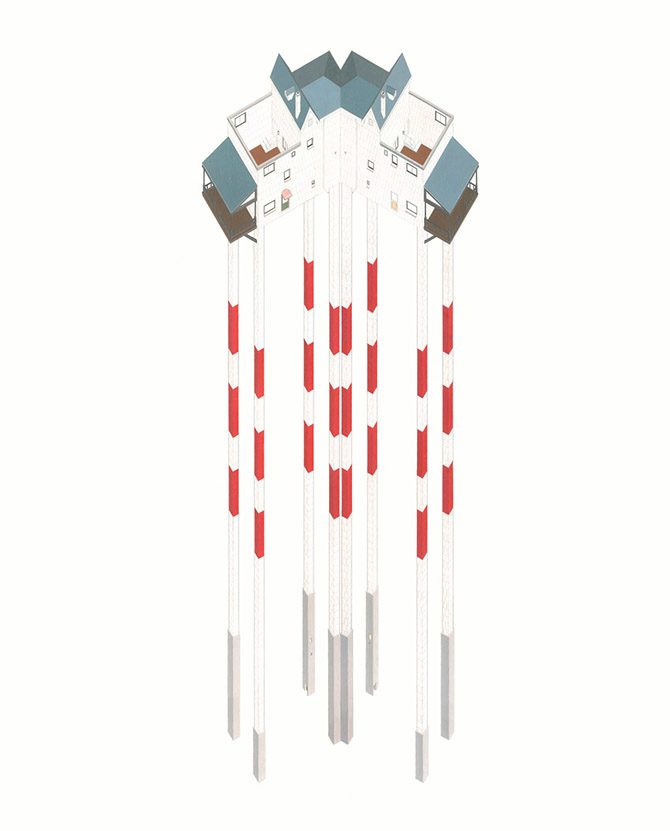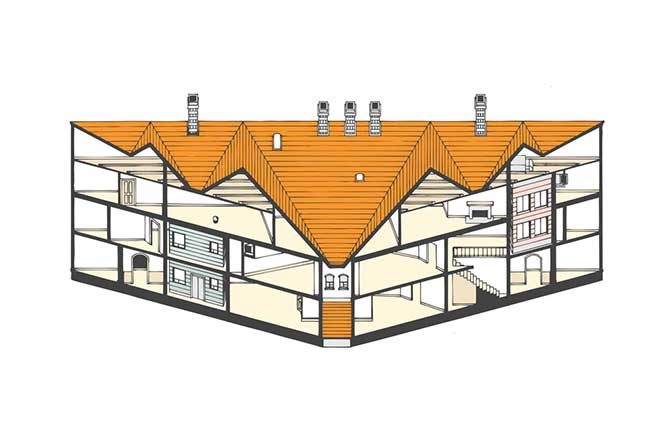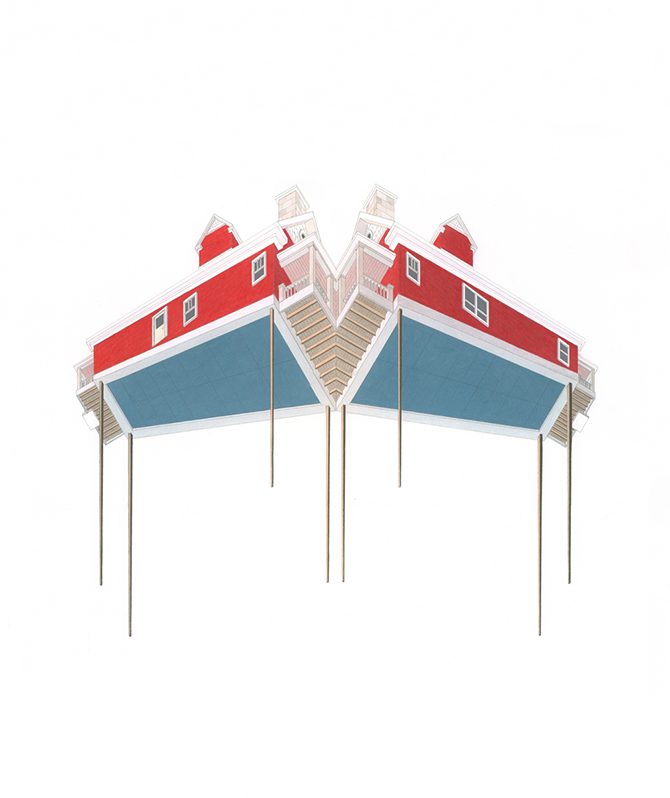 Tom Ngo, visual artist and architect.
+ tomngo.net