Who are you Maxime?
I'm a french Graphic designer/Illustrator based in Paris since three years. I grew up in the south of France: In Toulouse and I'm really proud of it! Like many illustrators in France, I'm graduated from the Art Décoratif Strasbourg's school in Graphic Design option! To finish, I'm really fond of sport.
I love this cover you did for Welcome to the Jungle. What was the part of freedom in this commission? (see below)
It's interesting because I did it with Violaine et Jeremy in Artistic Direction. They used to work with illustrators. I was totally free during this cover except the size cause to the composition of the cover ( title, topic etc…). By the way, the size is a bit original here. It was a nice challenge, I really liked to work on this cover.
So we started with some sketches and we choose the idea together. Then I Inked the sketch and to finish…colorized it. I remember it was uneasy. Finally They started to go with the pink/blue and violet colors and we find the electric green pantone together. My girlfriend told me it was one of my best work about colors. That's a good thing because she is very hard to convince but that's also a shame because I didn't really choose the colors!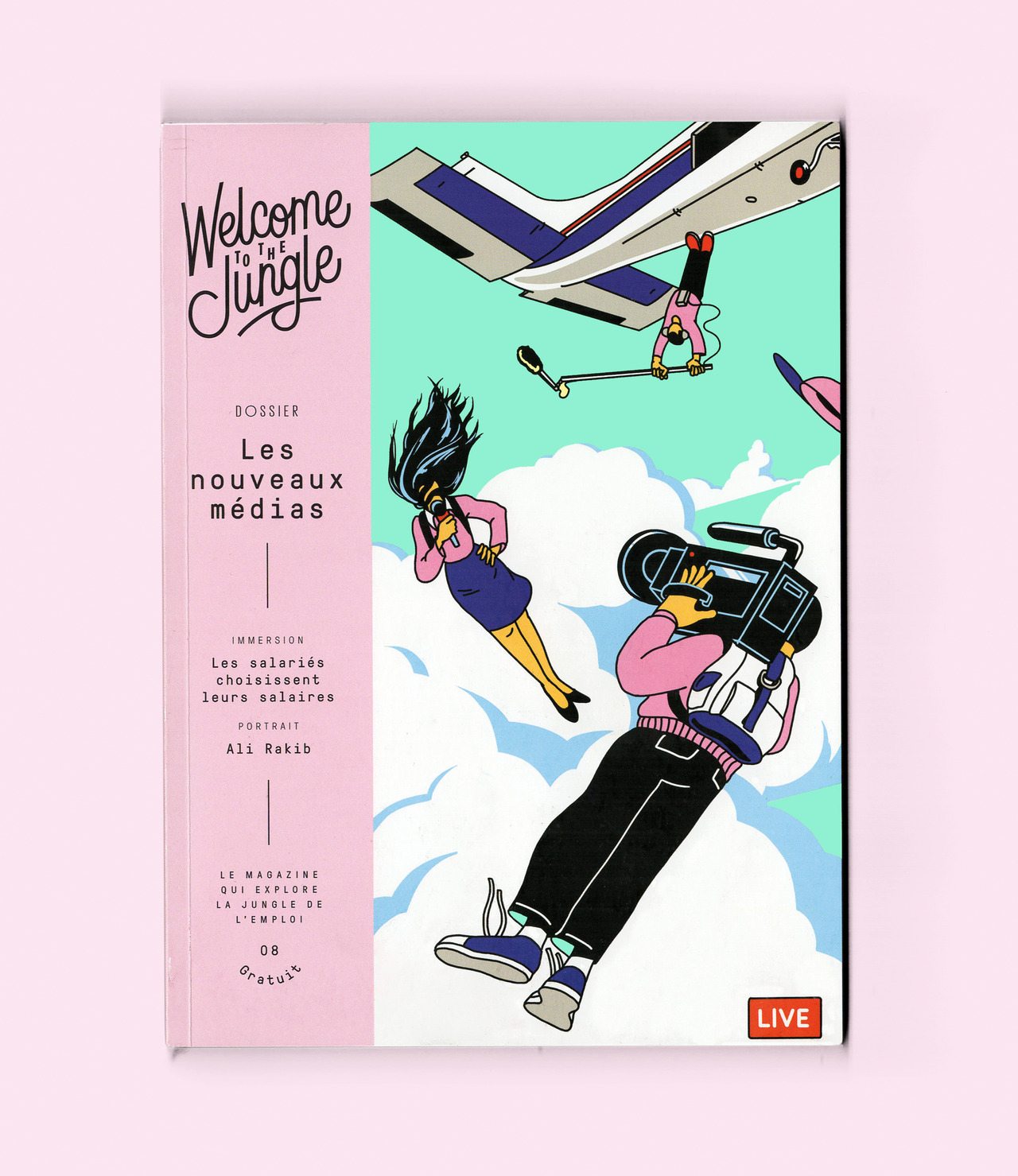 You worked with a lot of nice french medias recently (les echos, l'éléphant, dada magazine, society, …).
Which project has been the most interesting?
Everyone I think. When I was in school, I used to draw many illustrations about Sport. The topic of my thesis and diploma in graphic design was about Sport too. Thanks to these medias, I discovered a different univers.
For example, My First « important » publication was with Télérama. The topic was politics, a strange univers where I'm totally lost… The difficulty was to draw something which is not engaged politically and absurd at the same time (see below). You can see the evolution compared to my lasts illustrations but I still really like the idea.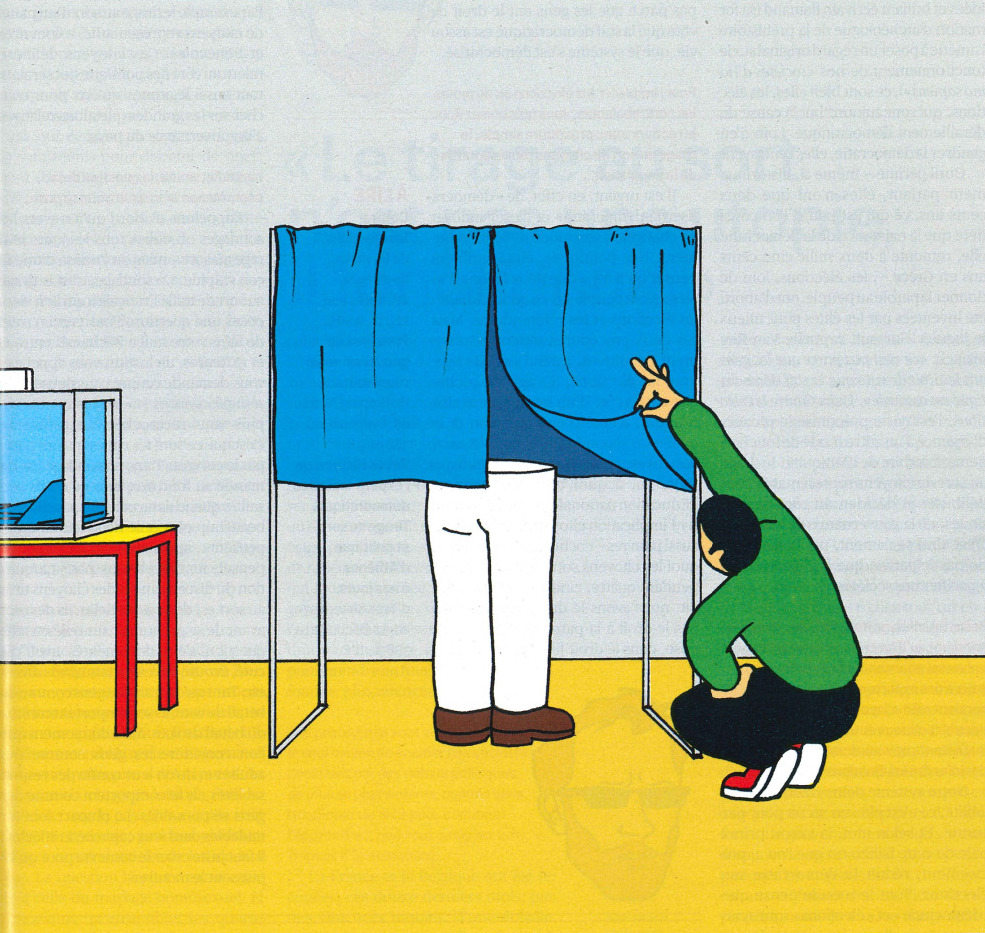 Do you still have time for personal projects?
It's weird, because I have the impression that this kind of project is as personal as an other typical personal project. I like to start a project from a demand. I use to work like this in Graphic Design. I'm trying to progress in each article: style, idea etc… In the future, I would like to draw "something" more personal.
Your colors selections are always right on point, with kind of a retro-modern feeling. Do you have a specific palette that you use through all your works or do you start from scratch for each project?
That's a good question. During my firsts publication, I was limited with the primary colors. Now I'm trying to test different colors because it's very important for the narration. So yes, I start from scratch for each project. Personally, I love the grey color. When you have some grey on your illustration, the other colors are more powerful!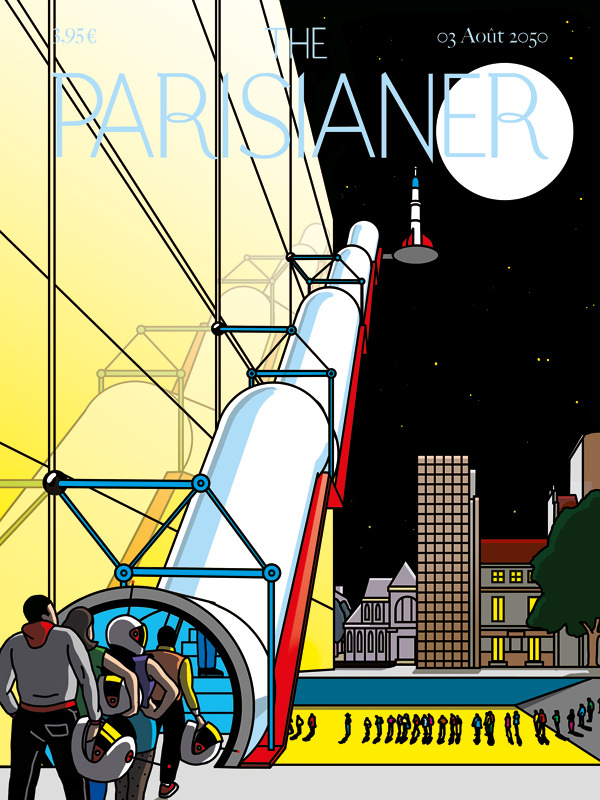 How was it to work for The Parisianer and what's the background of this illustration?
It was a bit stressful because in my mind, I had the impression that It was as important as the cover of the New Yorker. The topic is not easy. I spend a lot of time to find the idea. Three or four months ago, I did three illustrations for a cover of an edition published by The Centre Pompidou :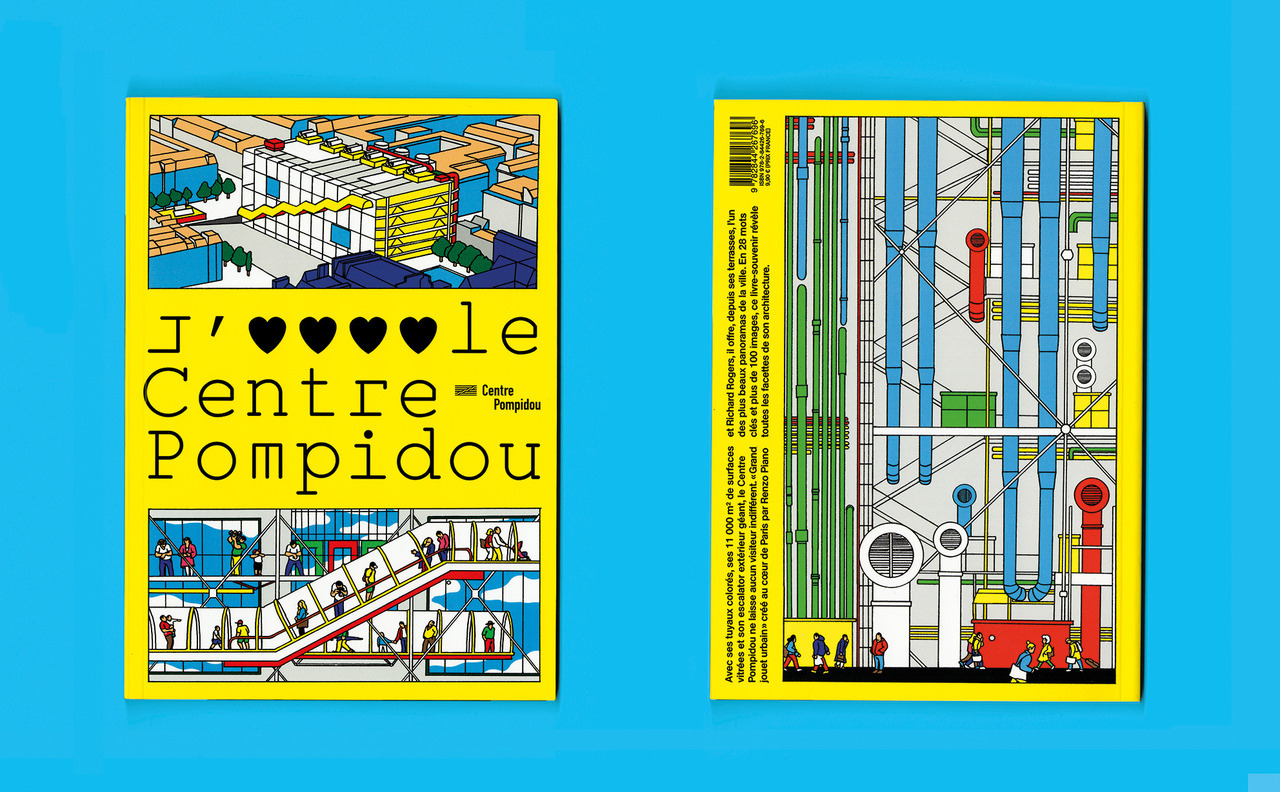 I was really inspired by the architecture of the museum, not original though. One day, when I ran out of ideas, I walked around the street and stumbled upon a library. I flick through François Schuiten's book and suddenly I saw a very inspiring frame of Beaubourg in the futur. I get the frame back, add the space rocket, people and the moon, remove some escalators which he drew, compose with the title « The Parisianer » and the cover was here.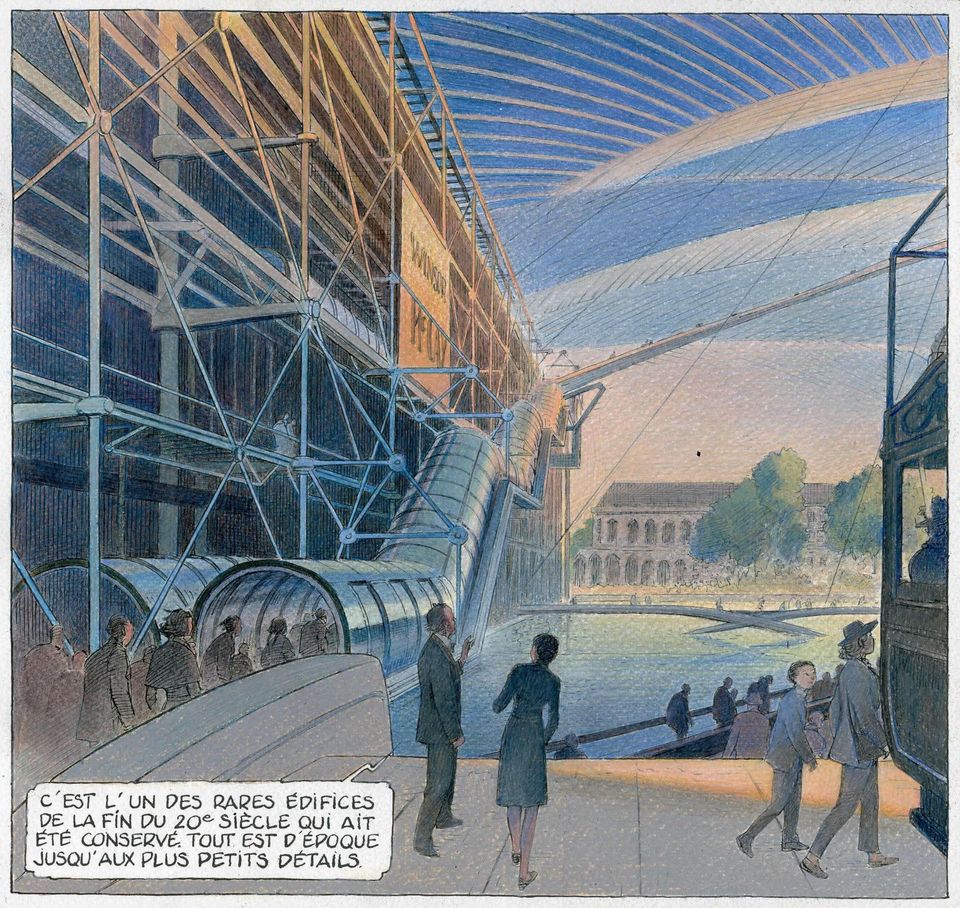 How do you define the style of humour we can find in your illustrations? Do you have other artists in mind who use the similar curious, quirky humour in their works?
A lots of illustrators make me laugh such as Steven M. Johnson with is futurist-absurd cars. I love the Crumb's and McCall's cover for the New Yorker I read a book two weeks ago about them, the background of their stories is so cool. I also really like the sensitivity of Chris Ware to tell a story in one picture. I'm impressed by the narration and the dynamic frame of Harrison Pushwagner and his book Soft City etc…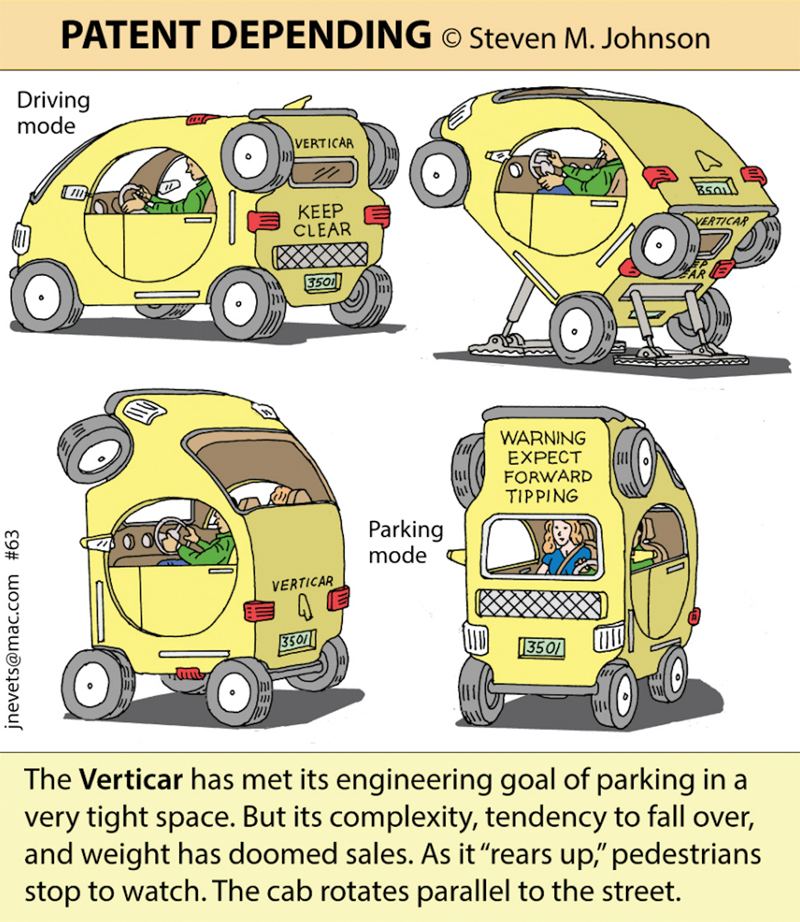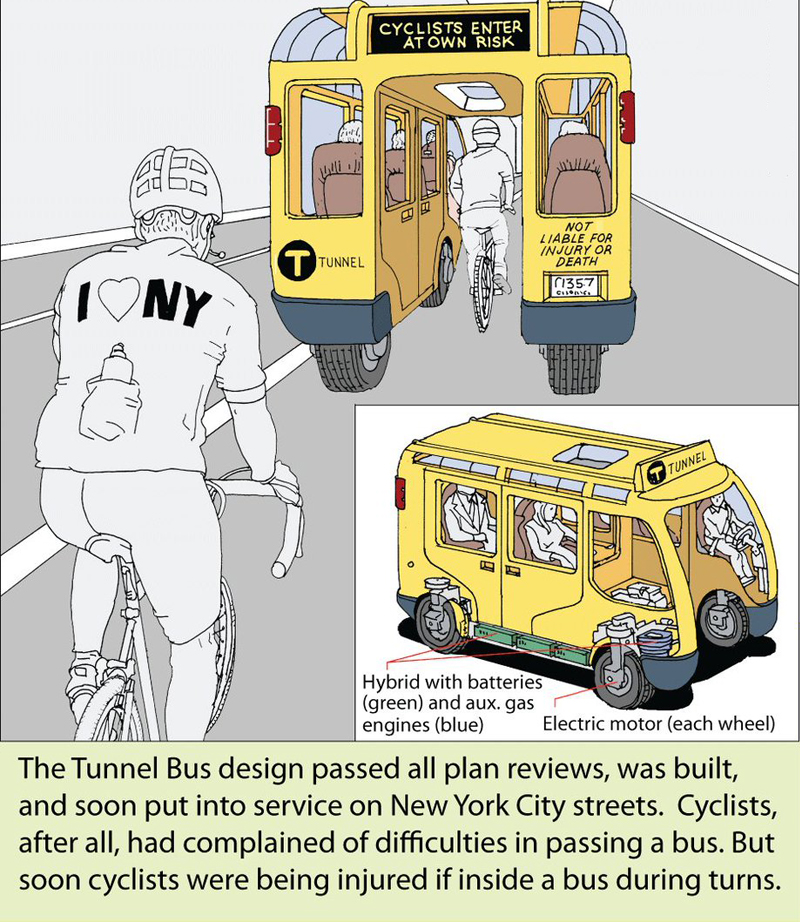 Can you walk us through your creative process from the idea to the final visual?
Ideas easily accessibles are very important for me. In general, If I spend too many time to find an idea, that's not a good sign. Sometimes, the combination between two or three elements could be funny and also metaphoric. With the illustration, I like to show an idea from another angle.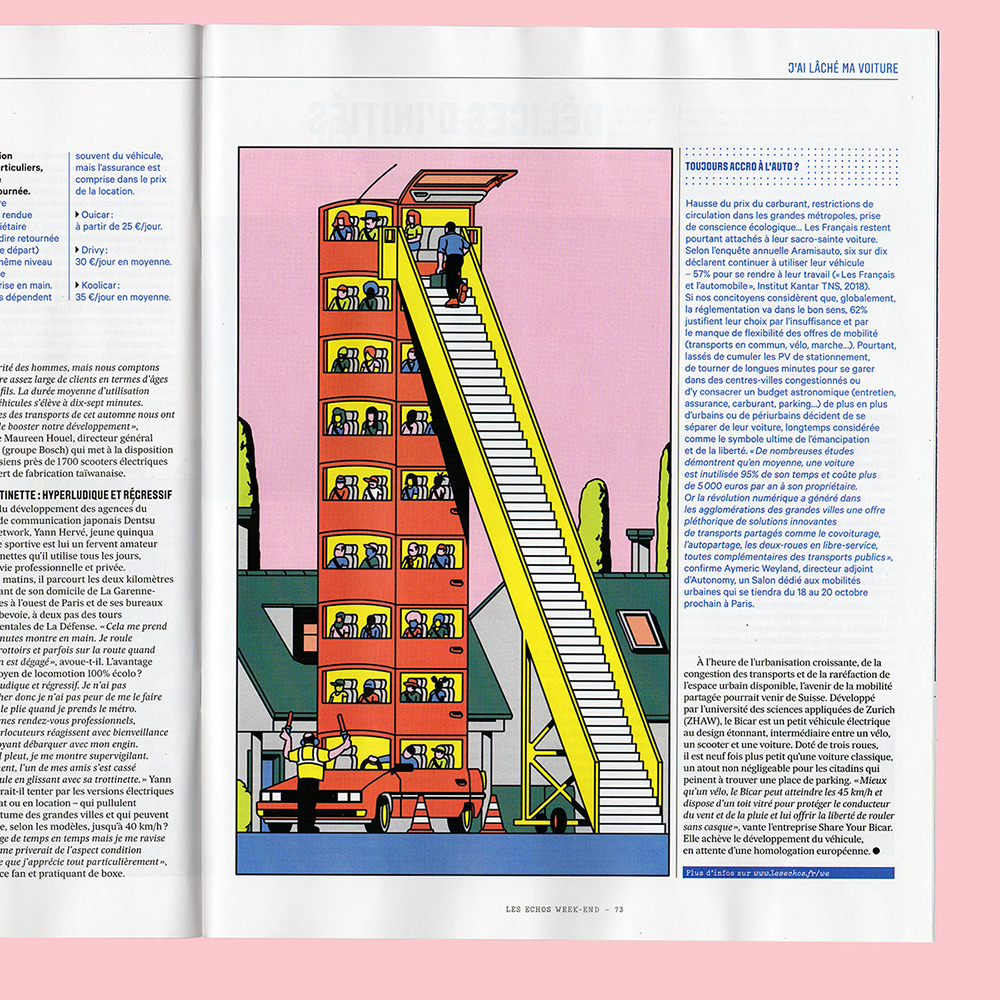 Here, the purpose of the illustration is to represent the increase of car sharing. To show this reality, I draw a metaphoric car with multiple floors. Like this, many people could go to work with just only one car. To be absurd, I didn't draw a bus but a crowded and very high car. I make also a reference to the airport with the guy and the mobile stairs to be even more absurd.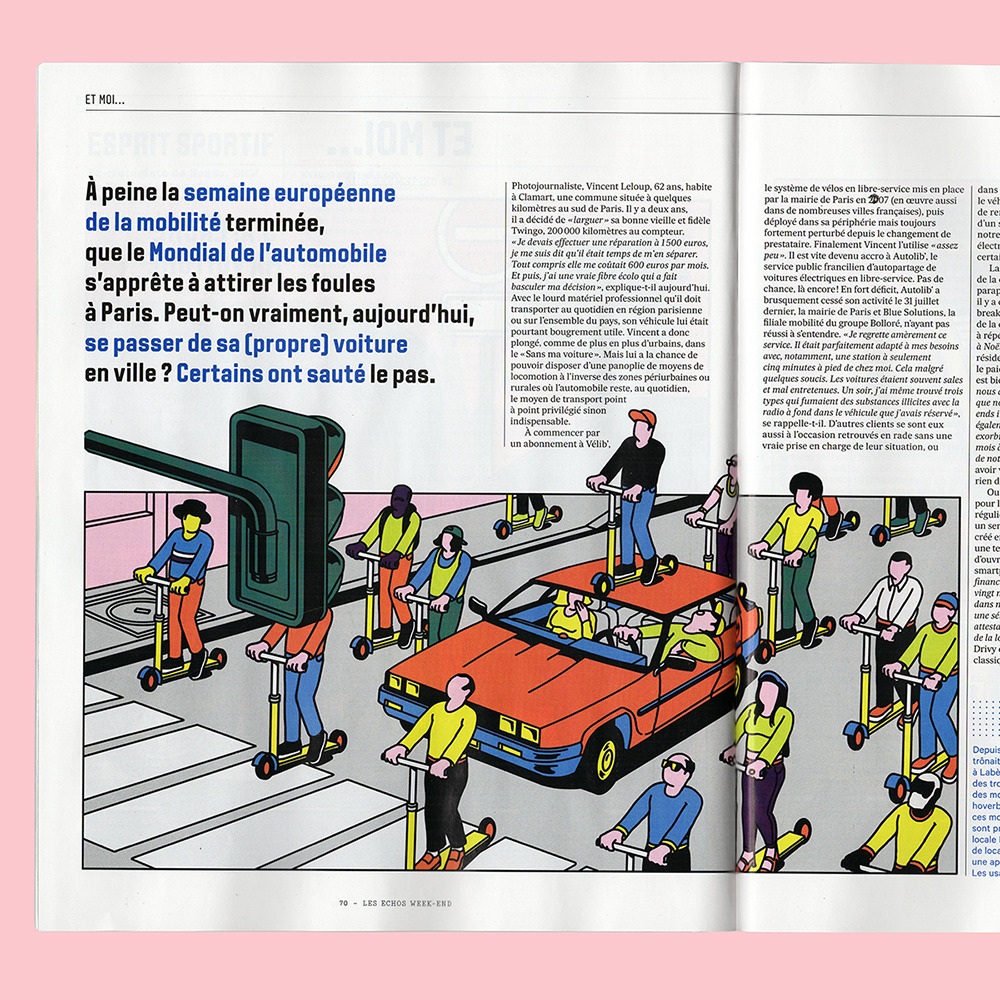 What's next for you?
I'm working with a computer programmer on a strong personal website ! Hope it will be ready next January. I really want to show my Graphic Design and Animation project next to the Illustration. At the moment, I'm drawing a personal font. I want to make my own poster with it. And make a lots of collaborations again with the press and other funny clients. I really want to make an other mural paintings too… But many projects are coming very soon… Particularly one with Le Fooding which is very cool !
What are you going to do just after having answered to this final question?
Maybe watch a resume of a match because It's very important for me.
Merci Maxime !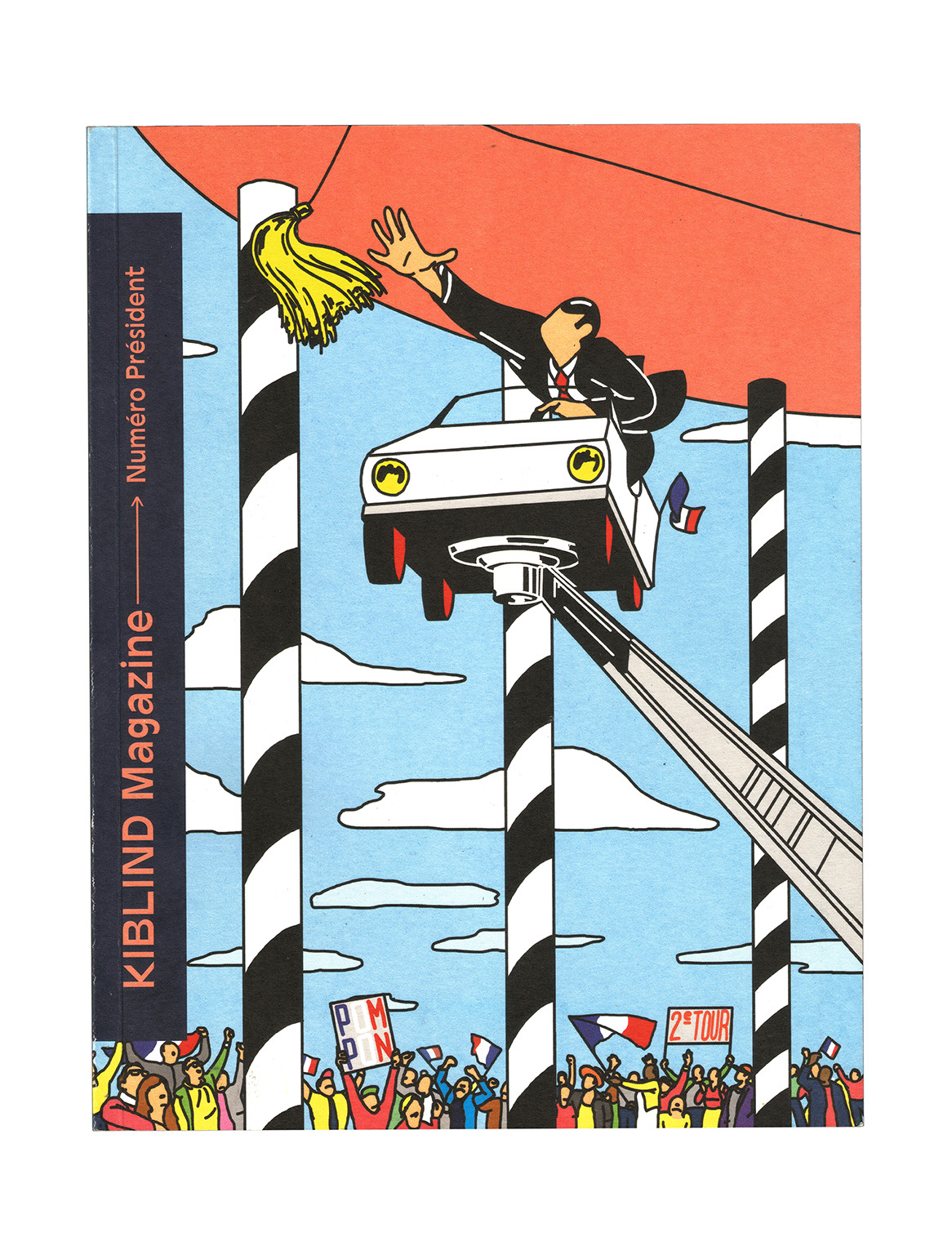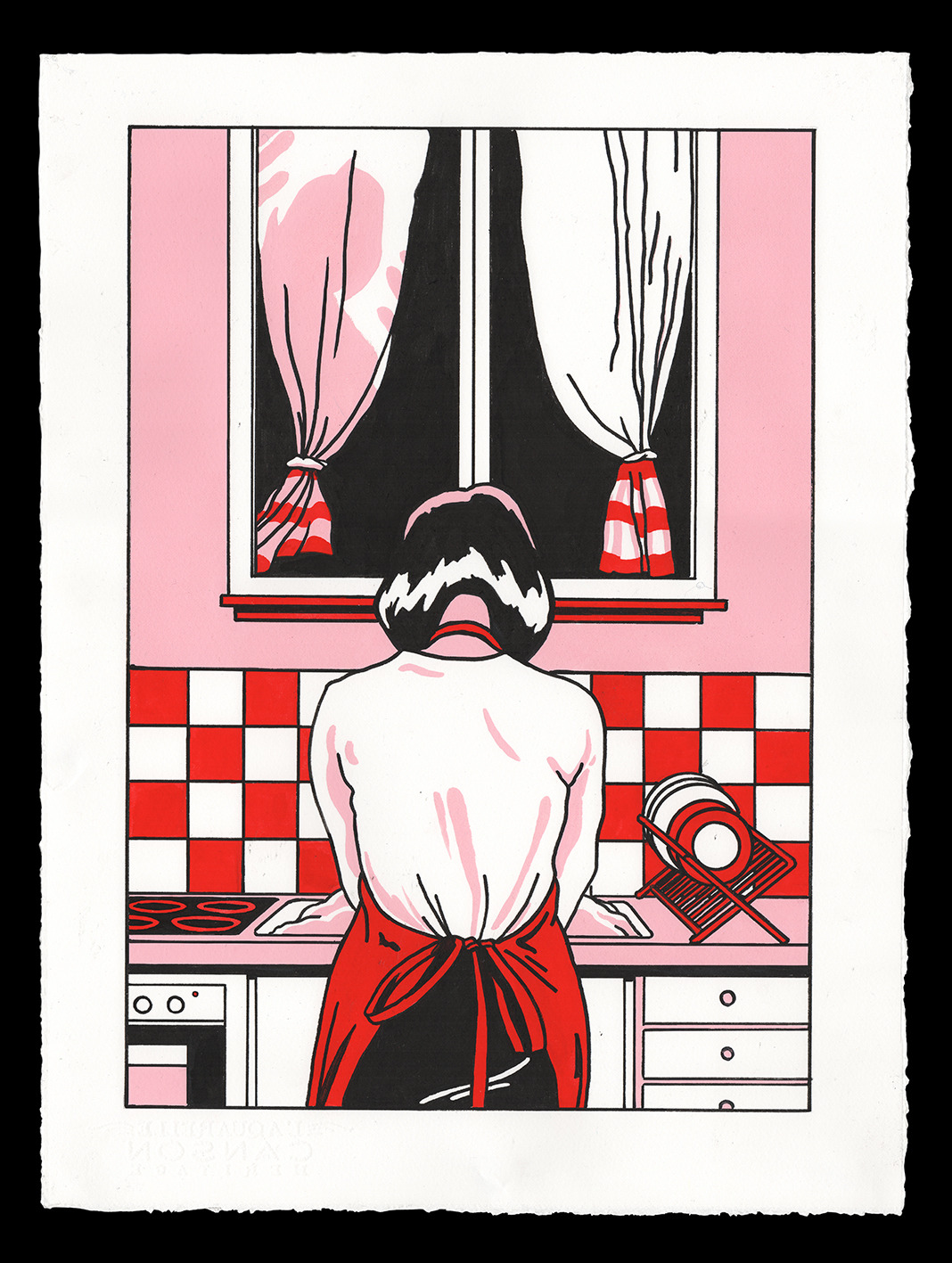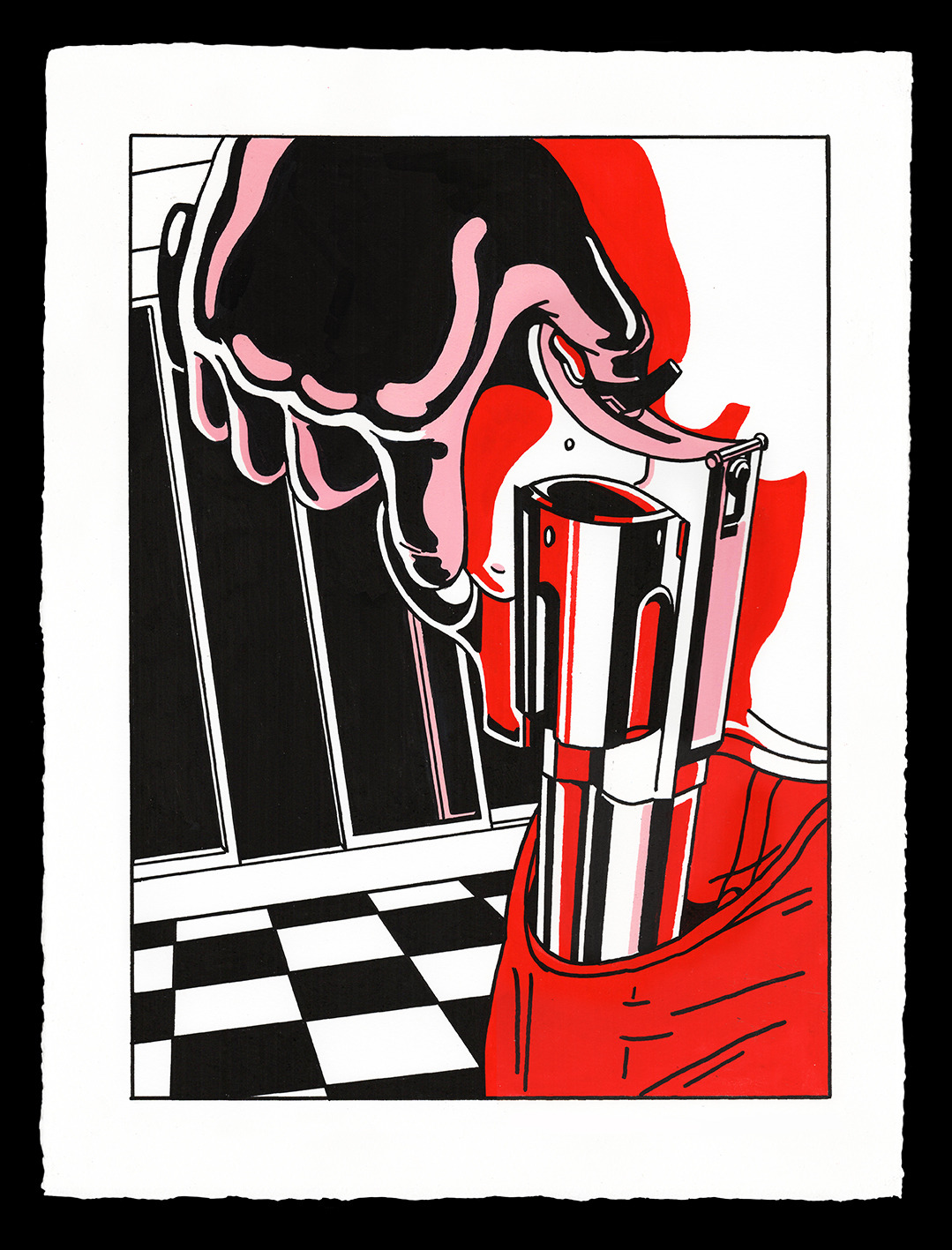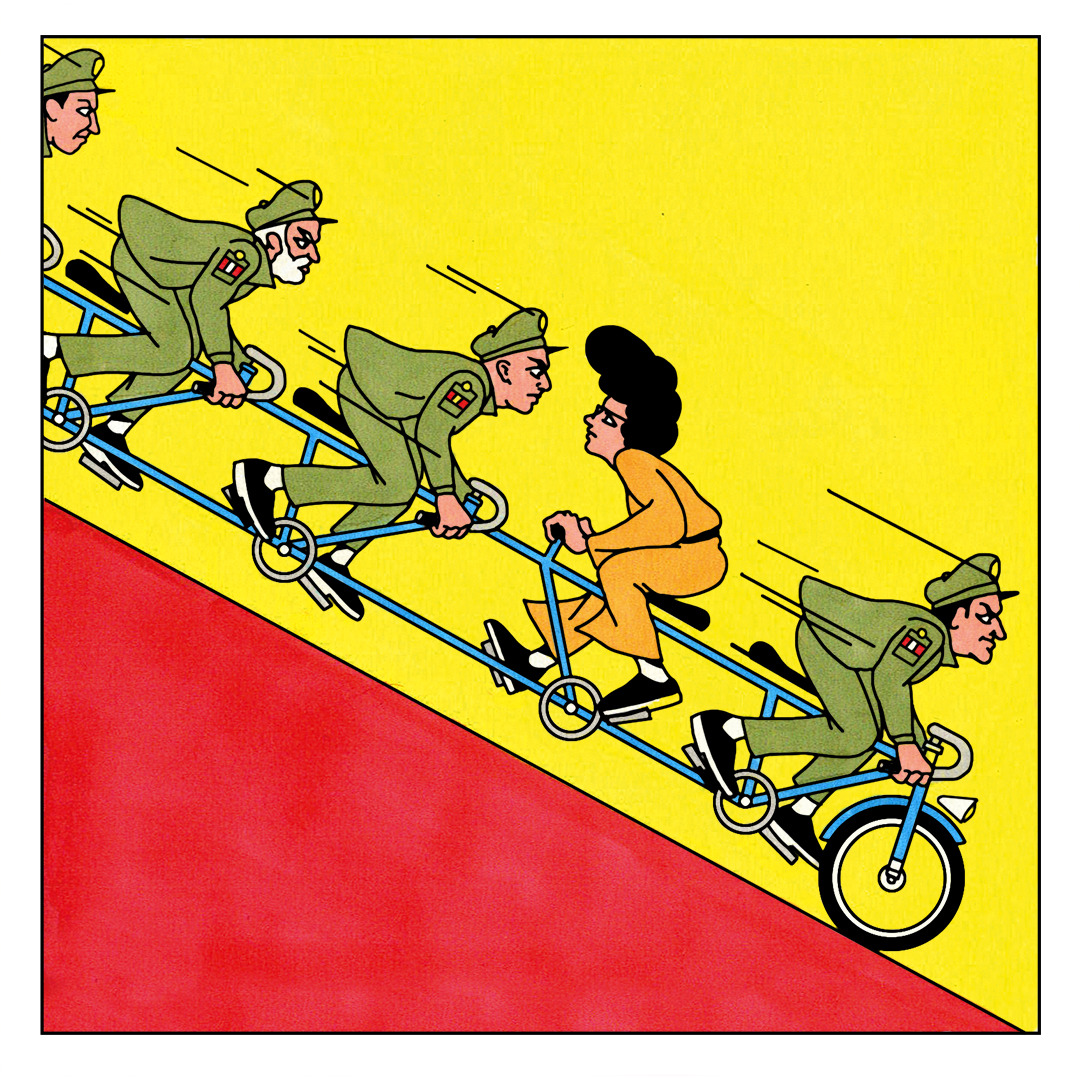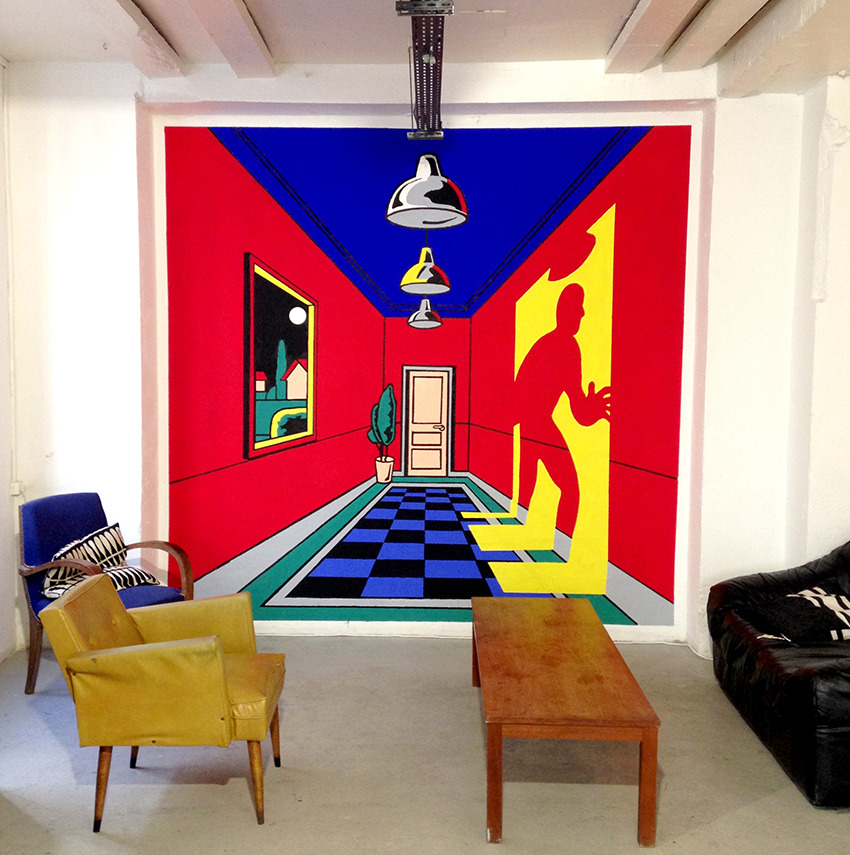 Maxime Mouysset is a french illustrator living in Paris – you can find his works on instagram and tumblr