Hi Calling Marian,
You released you third EP today, Pisces, which is genius, and which I am listening to while doing this interview, so I might get a little excited… First of all, can you tell us about Marianne and Calling Marian?
Marianne is my birth name. My project is called Calling Marian because of this song I love in both versions I know : Marian by The Sisters of Mercy (and covered by Nouvelle Vague.) I love that these two versions are really different, and yet the same song. I think it reflects well my dichotomy between melodic music and dark spirited beats. I grew up in Montpellier, in the south of France. My father was – still is – a record seller. I started to play the guitar around 10, influenced by the grunge and trip hop cds of my brother. at 14, I started to record covers and remixes on Garageband, and even if I didn't know that at the time, it wrote the beginning of my musical journey. At 21, I entered university, section musicology. I did three years there, shared between super interesting XXth century music and super boring Middle Ages music. Then I moved to Lyon where I discovered techno parties and started to DJ, almost by accident.
How would you describe your music?
It's hard to define oneself. I think I'm a melting pot of influences, techno of course but I also like texture, harmony, acid, drums…
I only do instrumental music because I like how, compared to a music with lyrics, you can make your own perception and interpretation. A bit like a book, compared to the cinema. But I also love listening to very different styles, and sometimes I think I'm more influenced by ambient music, pop, house, trip hop…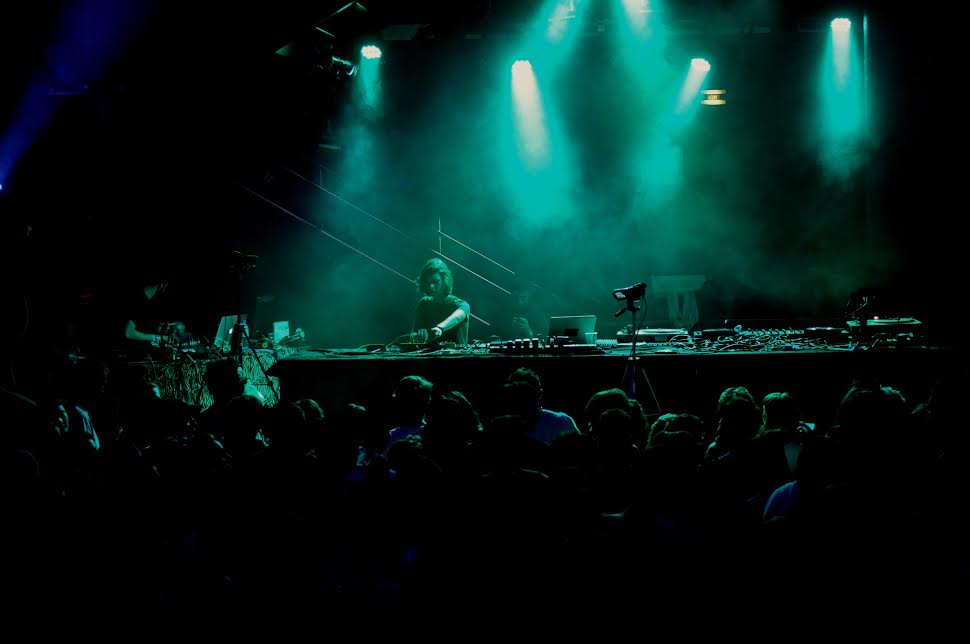 Pisces just makes me want to go clubbing. What's you favorite context to play?
In fact you have a point, I imaginated Pisces as a personal DJ tool, so that's pretty much the intention I had, make people want to go clubbing. I love DJing for dancing people more than anything, but I also like other aspects of performance, like concerts and live sessions.
And your favorite environment to compose?
I usually work at home, during day time to have a 'normal' schedule, but I think I'm most efficient at night. No distractions, and It's easier to lose track of time. And the place I love the most is in the train. I always bring my computer. I'm focused, I have a deadline, and by extension, am very efficient in composition.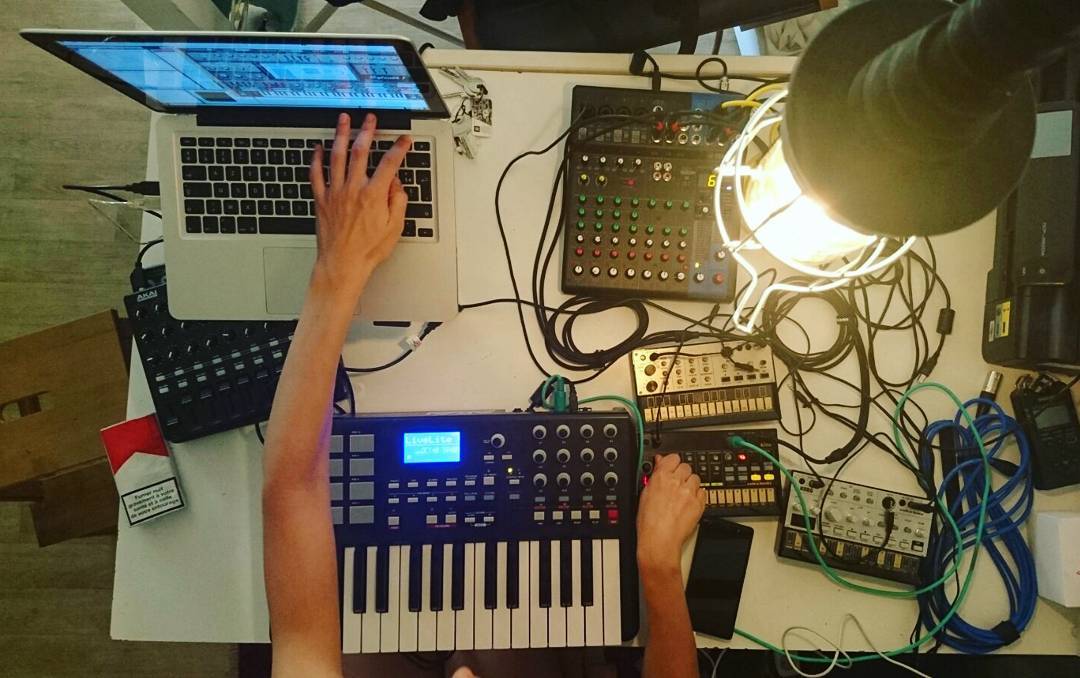 Seems like you are more and more involved in the queer party scene in France, am I right ? Does it naturally happen through your friends and connections, or is it on purpose?
Actually, it started there. Some of the first parties I played were 'La Chatte' (aka 'The Pussy' a lesbian party we created with friends), Garçon Sauvage (a big dragqueen party) And 'Wet For Me' (biggest Lesbian party of France). It was for both reasons, my friends and network were there, but also I think that when it comes to party – among many other fields – LGBTQ+ are always a step ahead. Also, I affectionate the political side of queer parties, we are still fighting for our rights, celebrating our existences.
How do you shape the overall EP ? I mean, do you give yourself some special constraints so that each track fits with the others?
Most of the times, yes. I force myself to use similar sounds, plugins, intentions and energy, so the EP will have consistency and will be coherent. But I also compose very different things, and if they don't fit the mood, I keep them for later.
I was curious to see if you were going keep up with that acid vibe… I can now hear that you did ! Would you highlight some evolution, changes, from your last EP, The Parade, to this one?
Yes, it's different from The Parade. In Pisces, I postponed a bit the melody in favor of the rhythm. More beats, instruments and drums of all kind. Also the tracks are longer I think, I took a chance to create a bigger evolution for each track.
Do you listen to a lot of acid techno ? And super different stuff?
These are six songs I really love, they probably inspired me a lot. I always have them with me when I DJ :
Felt – Fabrizio Rat
Telepath – Geinst
Return Ticket – Anetha
Cosmic Radiation – Boston 168
Bibimbap – Aera
Been – Berni
Wow the drop at 6:36 of Detune is brillant. How did you learn to work that change of rhythm, that makes people crazy in clubs?
I like this process where you mess with the brain, and it's not rocket science. I think the drop is something I like because it's terribly effective on a crowd. Creating a tension and releasing it is my (humble) power as musician / DJ.
Can you tell us about Maze and their remix ? Is it someone you've worked with before?
Maze is an analog techno band that I really like. We released an EP in the same label (JFX LAB) so that's how we met, also they have a very cool studio in Paris where we did some electro jams. Lucas from Maze did the mixing and mastering on Pisces, and I think it was obvious they do a remix and have it along my songs on the EP.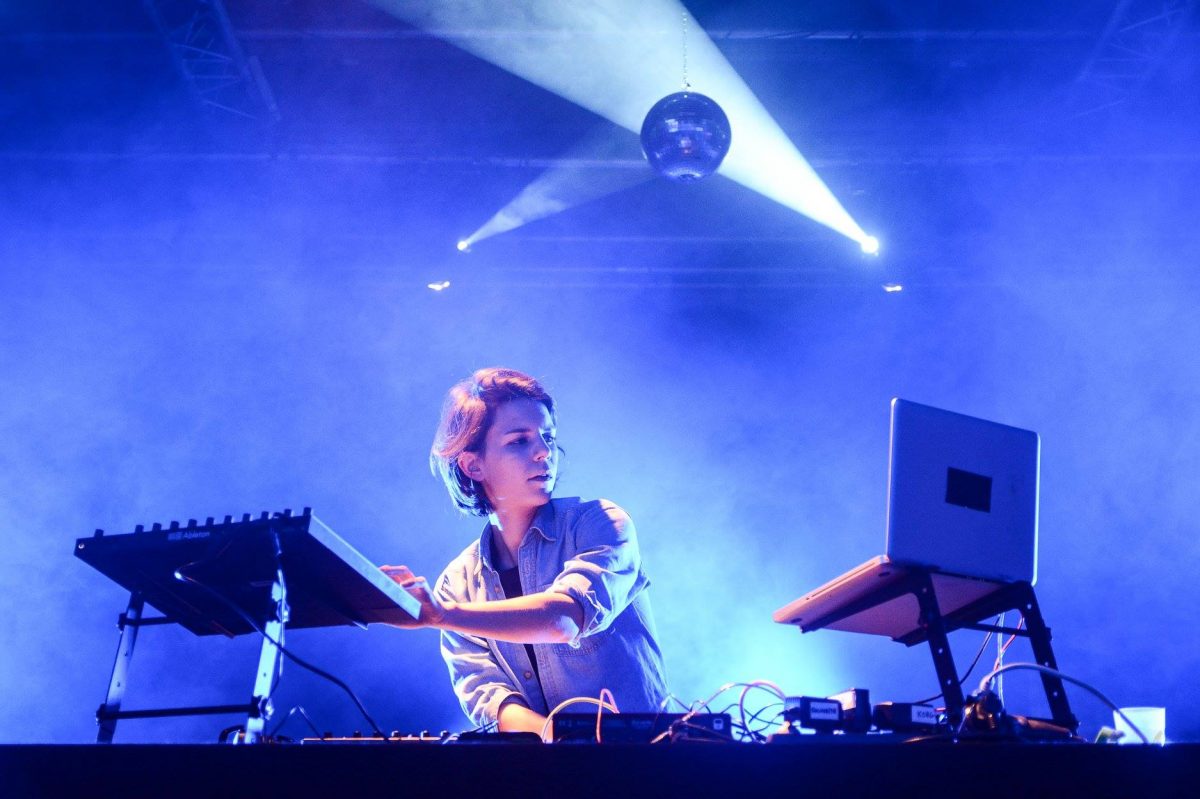 That leads me to ask, are there some artists you'd dream to work with or are you more of a loner?
I am more of a loner that's for sure, I don't exactly feel comfortable in a band. But I love to do collaborations and remixes ! I admire Chloé and Maxime Dangles a lot.
For example you recently did music for the short movie, Chemsexeur. Can you tell us about that project?
I knew the director of Chemsexeur, we worked together on a previous project so things came naturally. It's was a great experience, quite challenging but I learned a lot. I think the subject in these videos is very important, it's great for me to be able to participate in prevention activities, and doing it in my field is a plus. I would love to do it again in the future.
For the first time you are also releasing that EP on cassette. Is it just for the nostalgic fun or do you actually use cassettes when you're DJing?
It's mostly for the nostalgic fun, but I think cassettes are underrated ! I have some friends who have cassette labels, I think it's great because they're cheap to produce and easy to carry – opposite to the vinyl – and you still have merchandising to propose. I'm pretty certain the cassette is going to do a come back anytime soon. I don't DJ with cassette but I know some guys who do it and it's so classy, however I plan on using cassettes as an ambient/drone background for my live sets
Now that Pisces is out, what's next?
I'm back to work! I have different projects : A short movie I composed the music for is coming, and another EP is on preparation!
Thank you for that interview, and thanks for that awesome EP, I did a lot of head dancing and hopefully I'll hear live soon!
Calling Marian is a french DJ and producer.
+ https://soundcloud.com/callingmarian
Credits : Photo 1 – Marie Rouge, Photo 2 – BabArt Redux, Photo 3 – Calling Marian, Photo 4 – Unknown