Who are you Amy?
I am an artist and a married mother of two young boys. I grew up in Maine, the northeastern most state in the US and went to University of Hartford and then The New York Academy of Art. I am represented by Richard Heller Gallery in Santa Monica, CA, Miles McEnery Gallery in NYC, and Galleri Magnus Karlsson in Stockholm.
One really distinctive and impressive part of your process is that you create real miniature 3D models which serve as a basis for your paintings. These fictional rural landscapes are huge and very detailed. How does it help you? What's the idea behind?
Thank you. I prefer painting from life – observing light hitting objects and I prefer how my paintings look when painted from observation rather than my imagination. However, the subject of my paintings is imagined. In searching for an approach to make narrative paintings, I worked first from dolls and then dollhouse furniture and eventually discovered the world of model railroad miniatures. I have been working at that scale, or even smaller, for the past 15+ years. For each painting I create a miniature 3D model to serve as still life and a stage on which I develop narratives.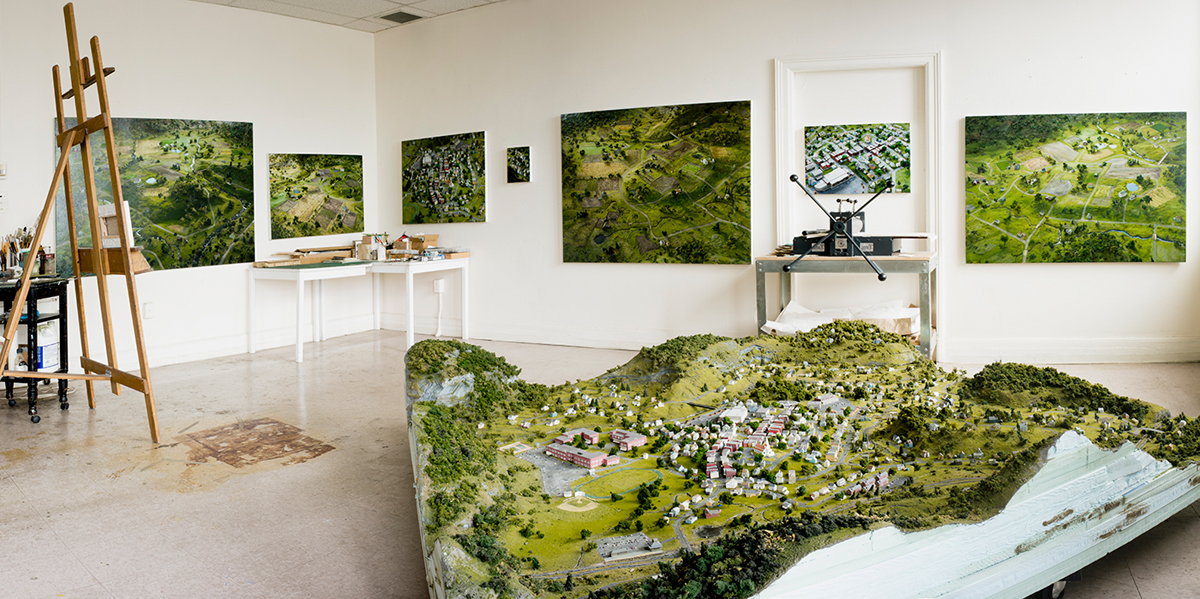 Do you know precisely how the diorama will look like at the end when you start it?
Typically I don't know exactly how the model will look in the end. It's a feeling out process to try to get something that exists only in the imagination (and is sometimes quite murky) into the real world. There is a lot of exploration and play. I don't do any preparatory sketches – for me, the 3D model is the sketching process.
Can you tell us more about the production process to create these miniatures landscapes from nothing?
I construct model houses and interiors using cardboard, foam, wood, paint, and glue.I carve landscape out of thick sheets of foam using a "Surform" tool or a heated wire cutter and sprinkle dyed foam for grass, earth, etc. I make most of my own trees by twisting wire, filling in the gaps with caulk and paint, and adding dyed foam for foliage.
For my 1/500 scale model landscape & town that my "Small Changes Every Day" series was painted from, I made everything, including the cars, which are about as long as a grain of rice. But that tiny scale is forgiving. A lot can be suggested through size and shape and painting. Ho scale (1/87) is larger and has more detail so I buy vehicles and figures. Preiser makes the most naturalistic figures. I can cut them up, re-glue them the pose I want, and paint them.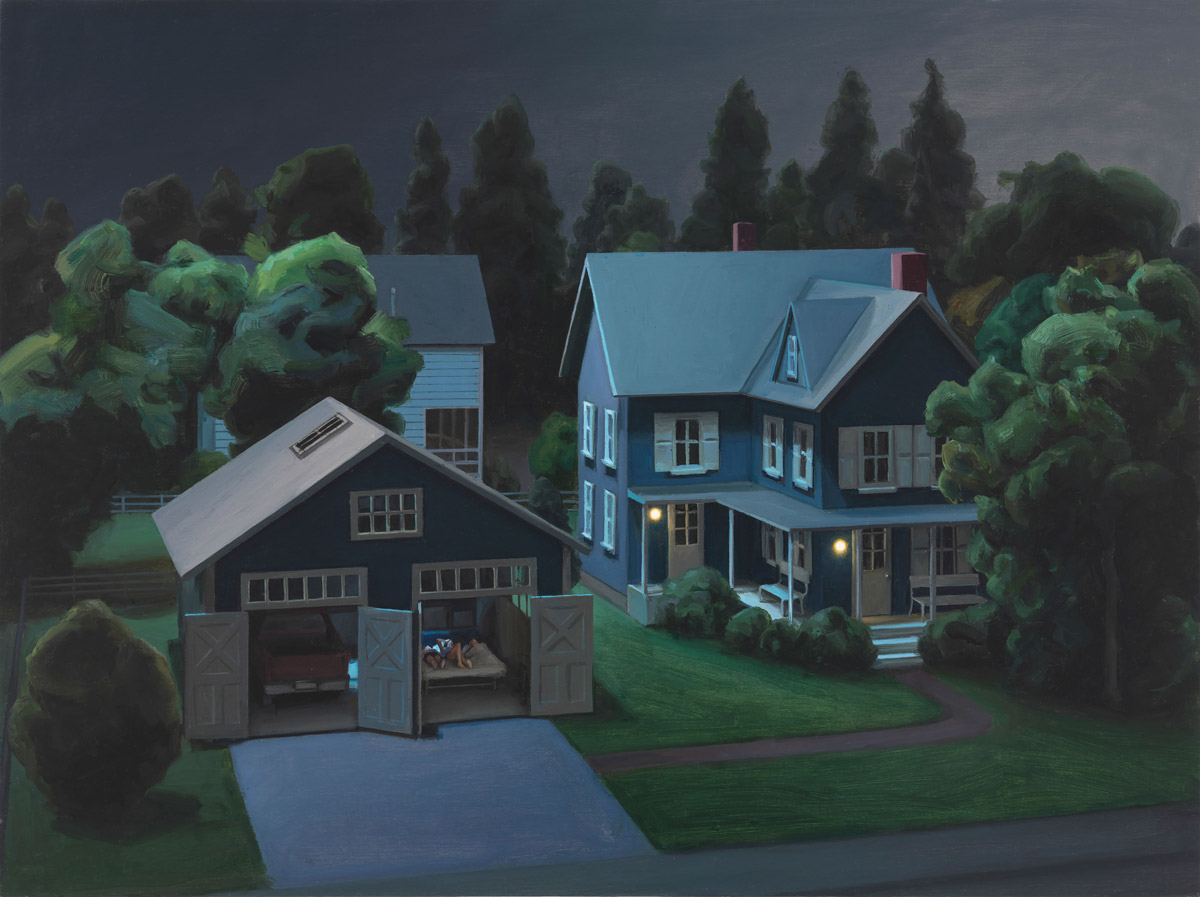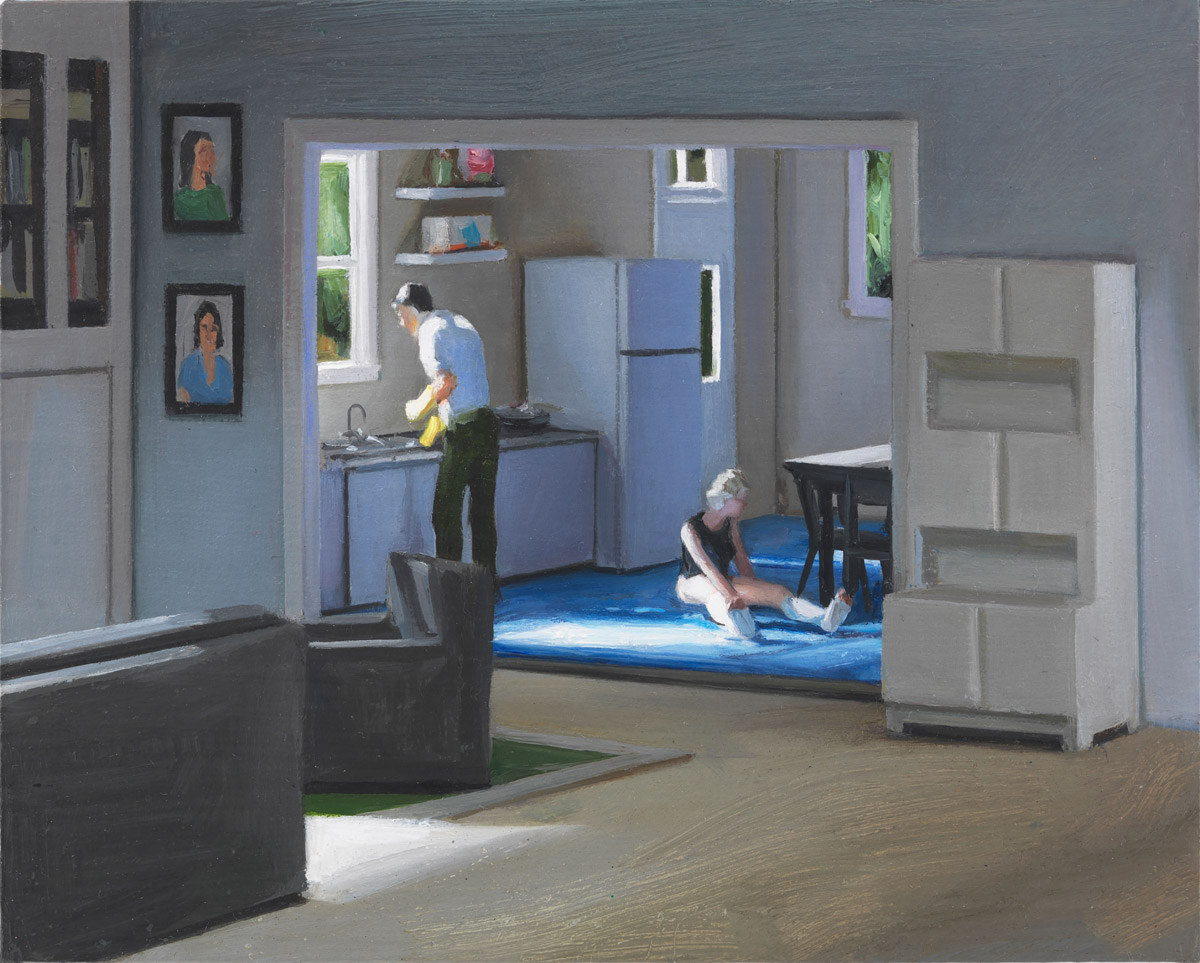 Do you do everything only by yourself?
Because the model is helping me recreate an image that exists in my mind, I work alone. It's a personal and introspective process so I can't imagine having someone else involved; however, I use a lot of ready made materials when they suit my needs so I can spend less time model making and more time painting. Increasingly, though, I prefer to make my own elements.
Do you use pre-built props (houses, cars, trees, …) and, more specifically, how do you deal with the characters?
I have a few trays of tiny figures and props that have accumulated over the years. When I have an idea, I usually have a specific pose or type of person in mind so I sort through all of my standing women or whatever to find the one that best resembles my idea. It feels like a casting process.
Could you introduce your last series 'Nuclear Family'?
Six years ago, my family and I moved from NYC to the very small town of Cold Spring, New York. This bucolic setting and the families who live in this close-knit community have provided inspiration for my most recent series, "Nuclear Family". I have painted scenes of suburban home life in the past but they were more related to themes of isolation and voyeurism.
Now that I am entrenched in suburban family life myself, my perspective has shifted. "Nuclear Family" is more concerned with the vulnerabilities and anxieties of parenthood and marriage. The series presents a complex depiction of family life, considering both the joy of having a family as well as the trials involved in raising children, and maintaining a committed partnership.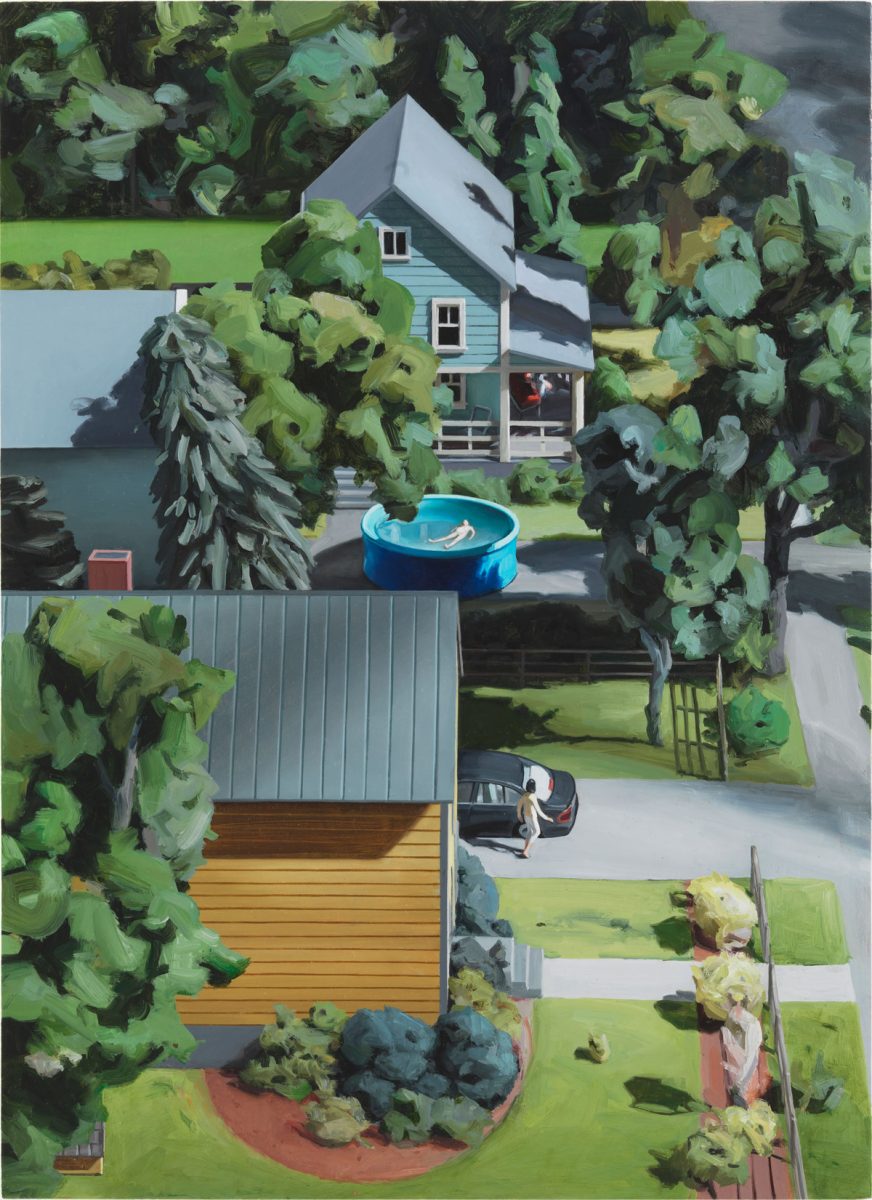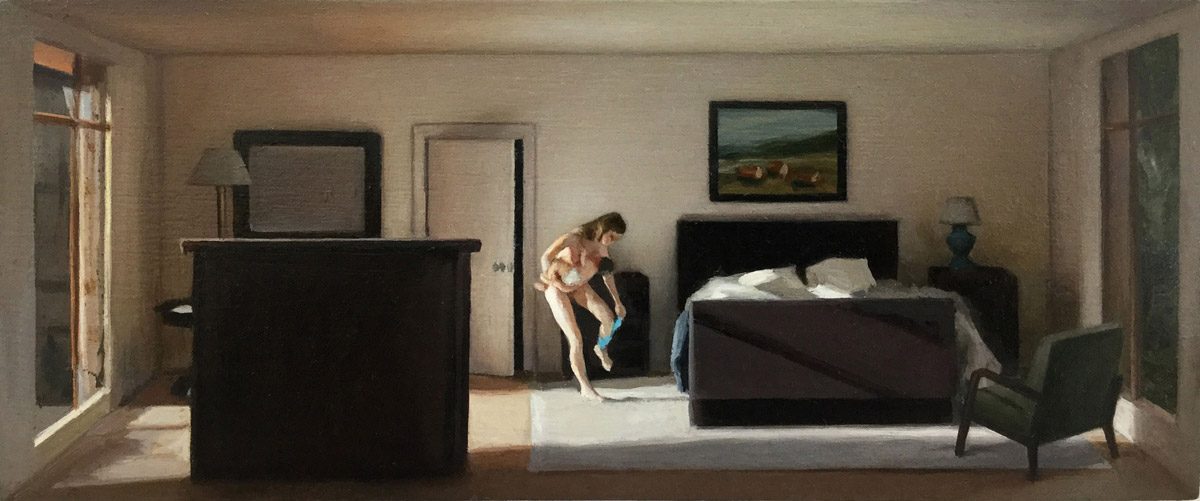 Do you think about the fictions/stories of the characters while creating the miniatures or during the painting?
Usually I think more of the single scene I am creating and don't usually develop elaborate backstories beyond the moment at hand. Often something more complex is developed through repeated depictions of the same house or character who might appear in the background of other paintings.
Now, can you guide us through the painting process? Is there room for freedom or do you exactly represent parts the miniatures?
After playing with the arrangement of the model and lighting, I decide on a vantage point and paint from observation like a still life painter. I try to make a first pass of the entire image before making too many changes or details. Establishing the lighting and contrast is essential to the mood and is therefore, my top priority. I try to keep the paint feeling loose and fresh even at a tiny scale. It is difficult to be precise but not overwork the brushstrokes. I love transparent passages, particularly in shadows and depictions of natural forms.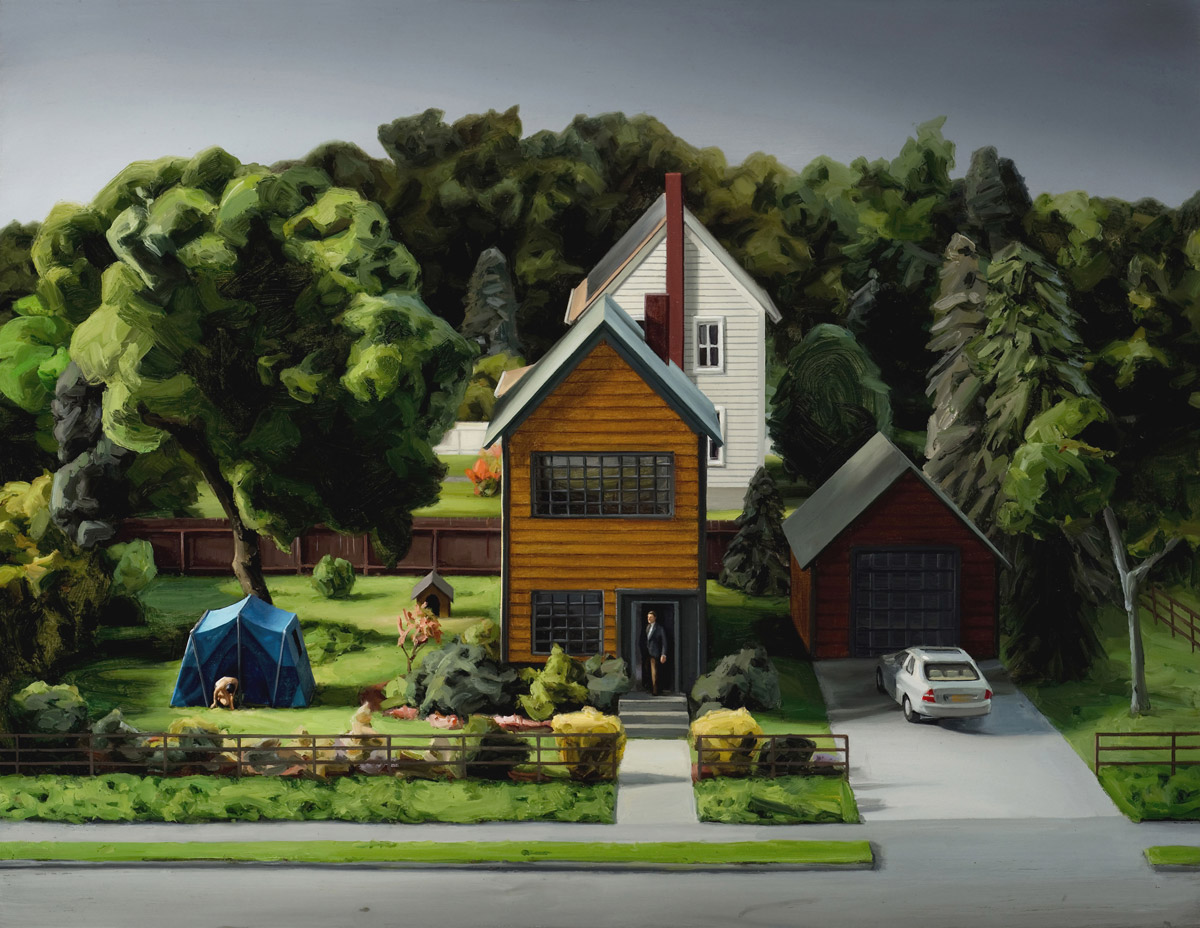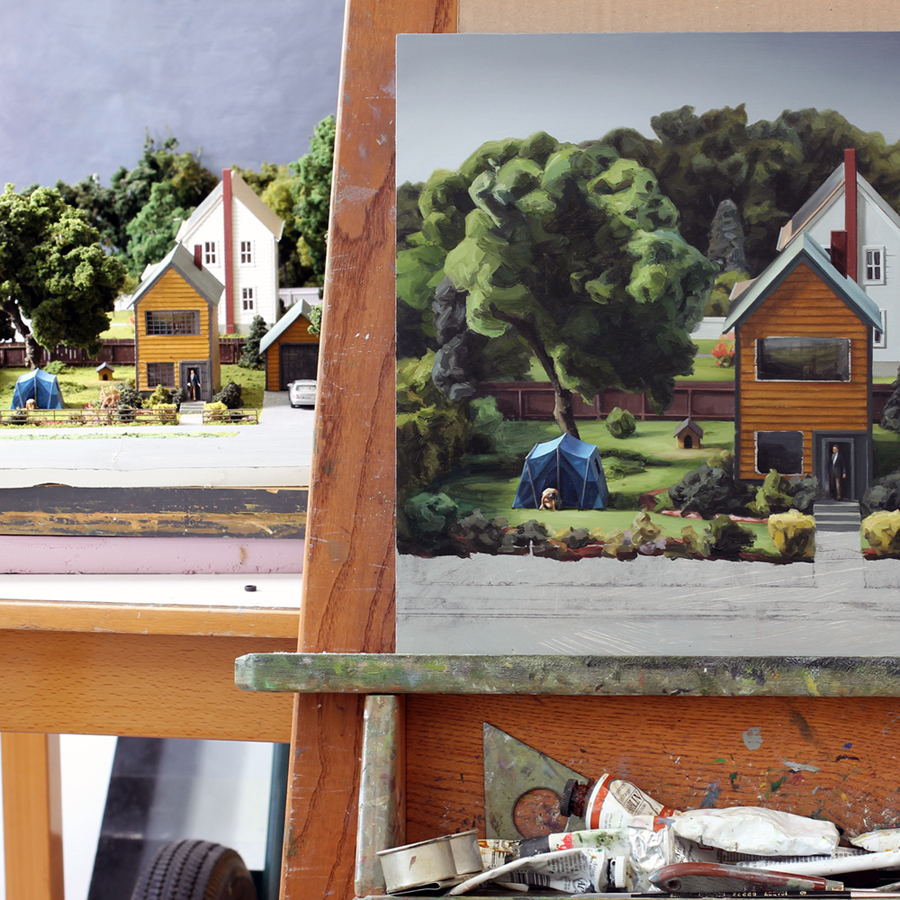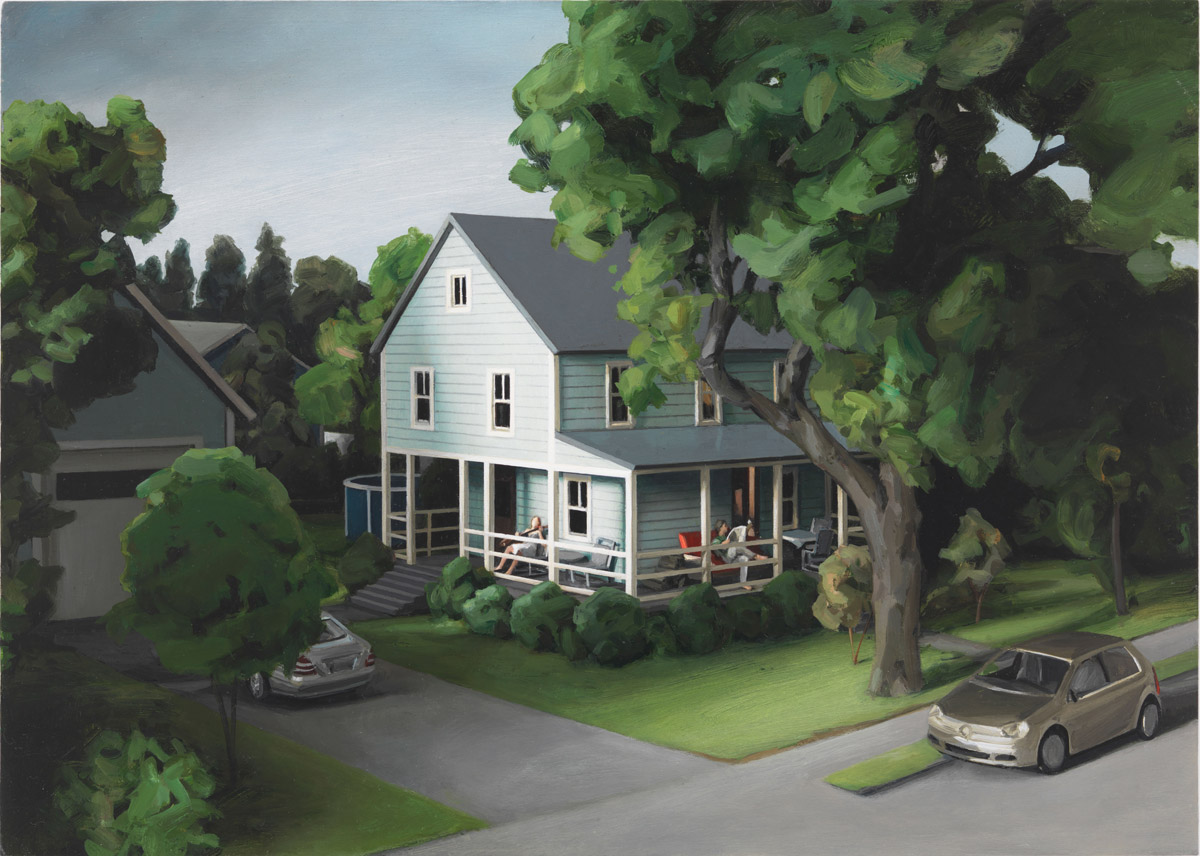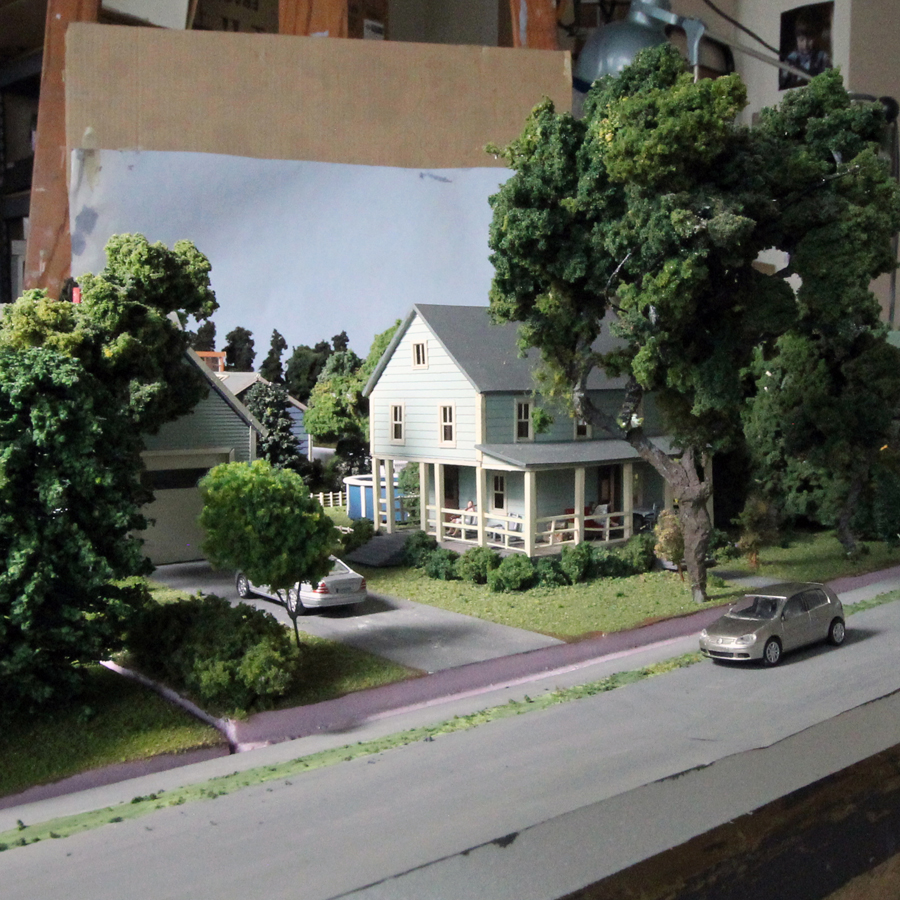 If we take this painting for example [see above], how long would it take firstly to create the actual 3D miniature environment and then to paint it?
It's hard to say exactly but I spent maybe a week making the model and another month or so making the painting.
Do you consider these dioramas as pieces of art by themselves or do they purely serve as a technical tool for you?
Could you exhibit your paintings alongside their models?
I have exhibited my models in the past, but only in groups shows that focused on dioramas such as "Otherworldly" at The Museum of Art & Design in NYC or "Downsized" at The Bruce Museum. I think of a model as a still life. I don't want to be too precious with them because they are a tool I use and re-use, repainting and reconfiguring/reconstructing as needed. I don't want to waste time over crafting for presentation's sake when I could be painting.
Which project are you the most proud of and why?
Hmmm… In terms of model making, I'm proud of my Small Changes Every Day landscape, because it was my most ambitious model to date and I made every aspect of it myself, all 500+ structures. But as far as paintings go, which is what this is all about, I'm proudest of my most recent series, Nuclear Family, because I hope it mines some truths about parenthood and marriage.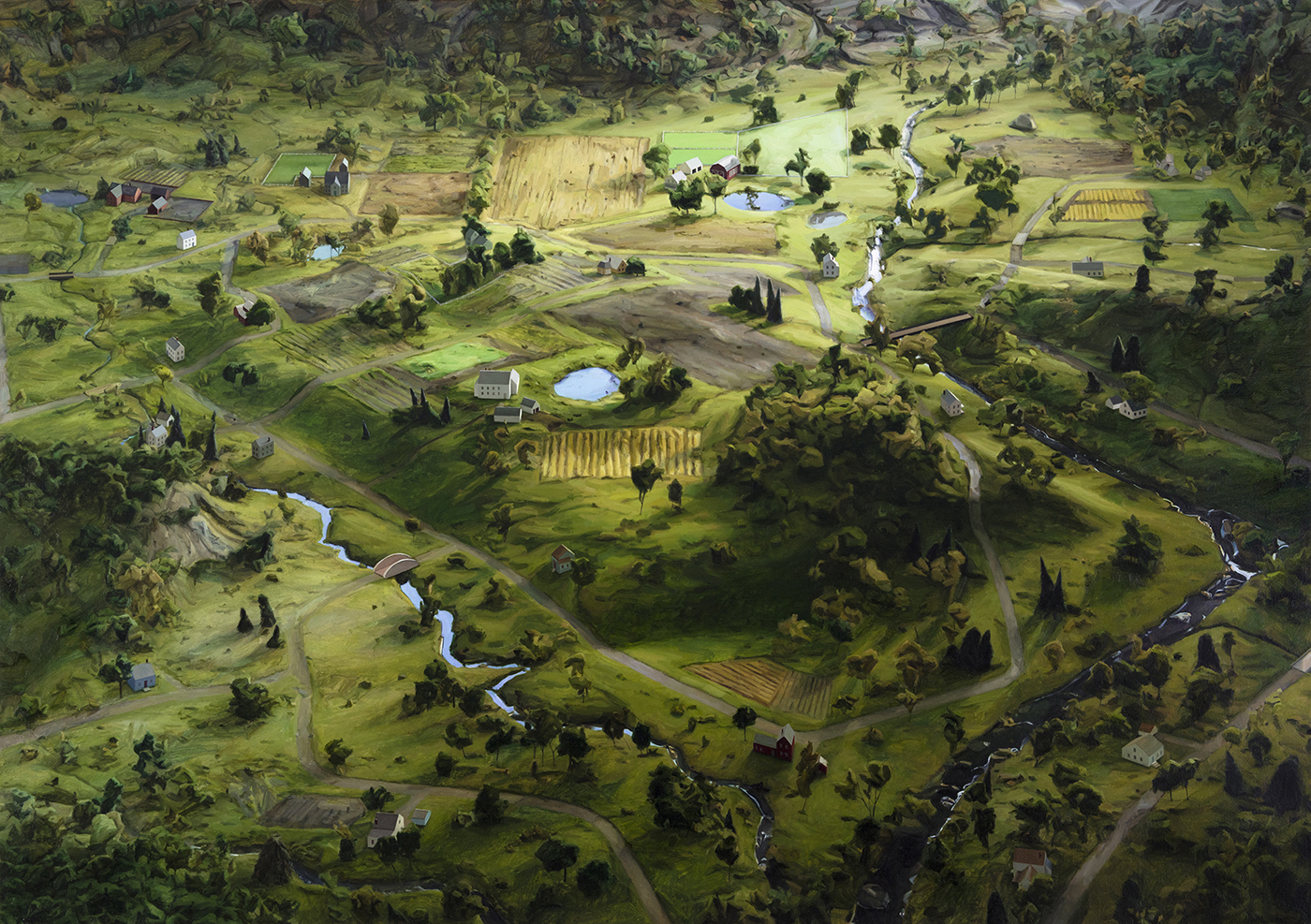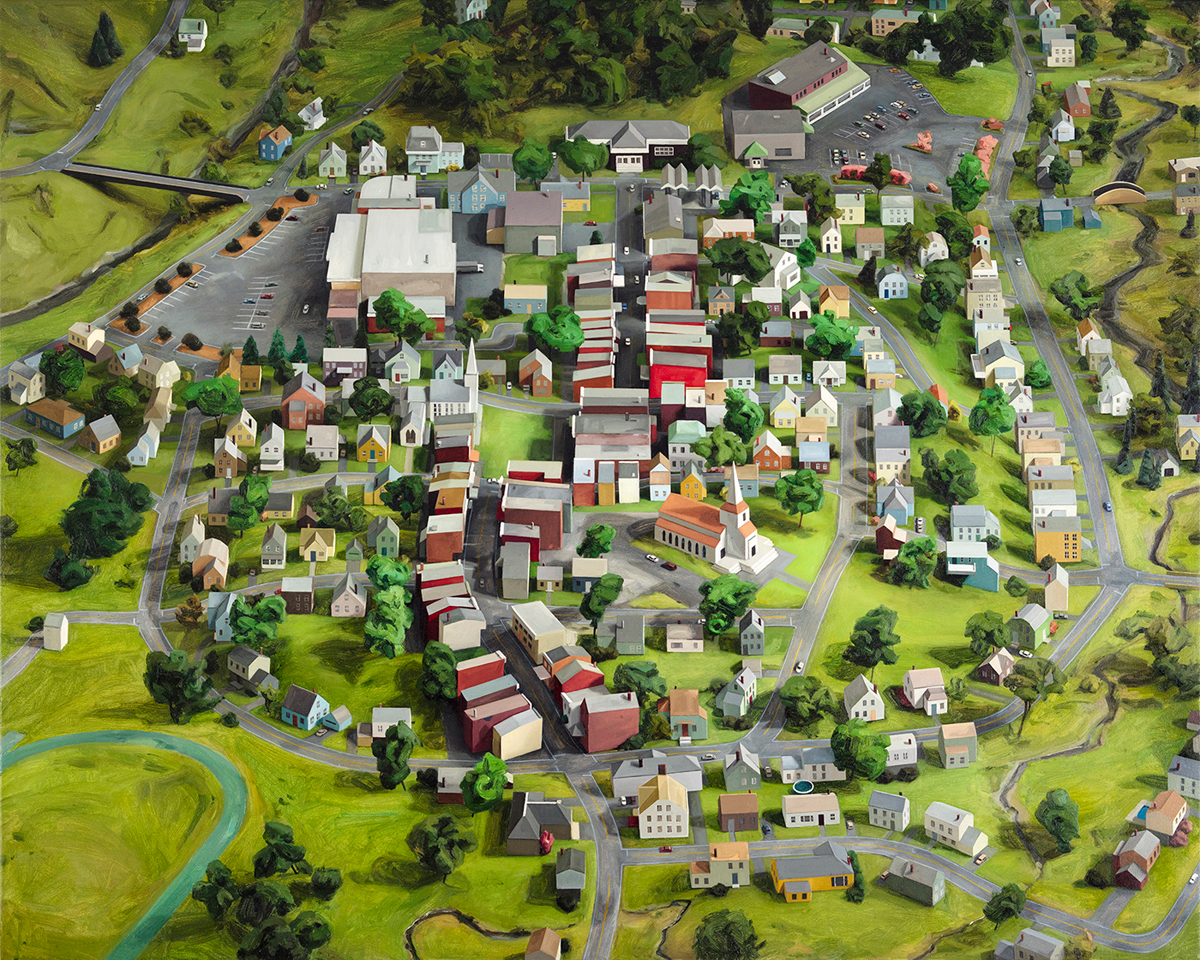 Did you play SimCity or similar city-building games?
No. I played with 1970's Fisher Price town/people components: house, school, barn, garage, etc. And I role played with Barbies. The way I was playing with 3D worlds as a kid is the same way I make art now.
What are you trying to convey to the audience with your art? / What would you like us to feel when we look at your paintings?
Empathy.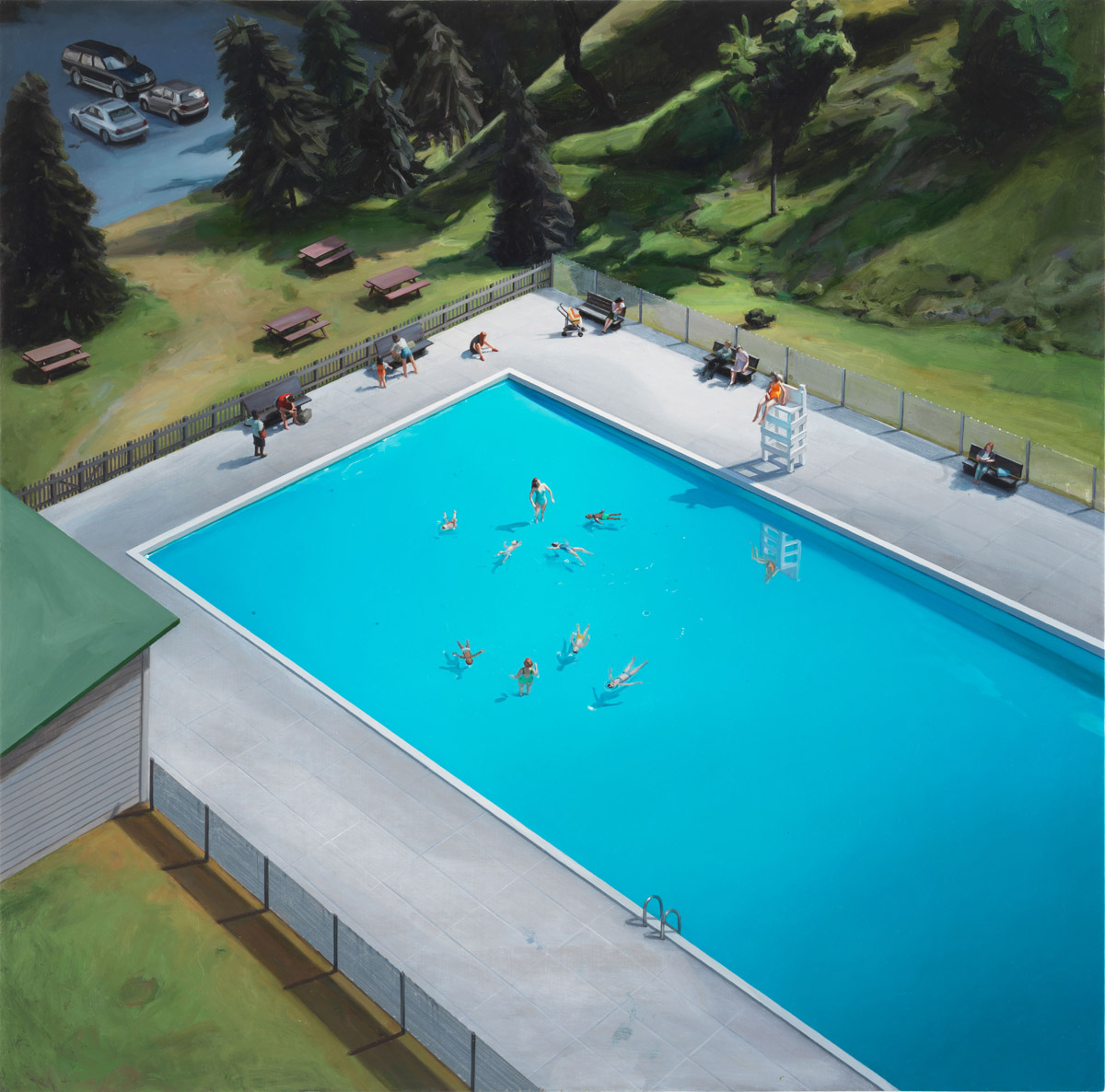 The environments you depict are typical from US suburban neighbourhoods, they seem universally familiar for so many people in the world, that's why we can easily identify and project ourselves in them. However, would you like to represent scenes from different parts of the world?
My work is very personal so it is challenging enough for me to make work about what I know. It would be even harder for me to make work about someone else's experience. And for now, I'm very rooted raising my kids. Many many other people are, as well, so it's a valid and rich source of inspiration. Right now my own backyard is enough.
What's next for you?
I'm finishing my last painting for my show at Miles McEnery Gallery in NYC opening July 11th. I intend to take a little time this summer to paint outdoors. When I'm wrapping up a show I usually start feeling anxiety about running out of ideas, but life keeps happening!
What are you going to do just after having answered to this final question?
I'm going to pick up my kids from school and daycare and watch them play outside a bit. It has been a rainy spring in New York, and the sun is finally shining.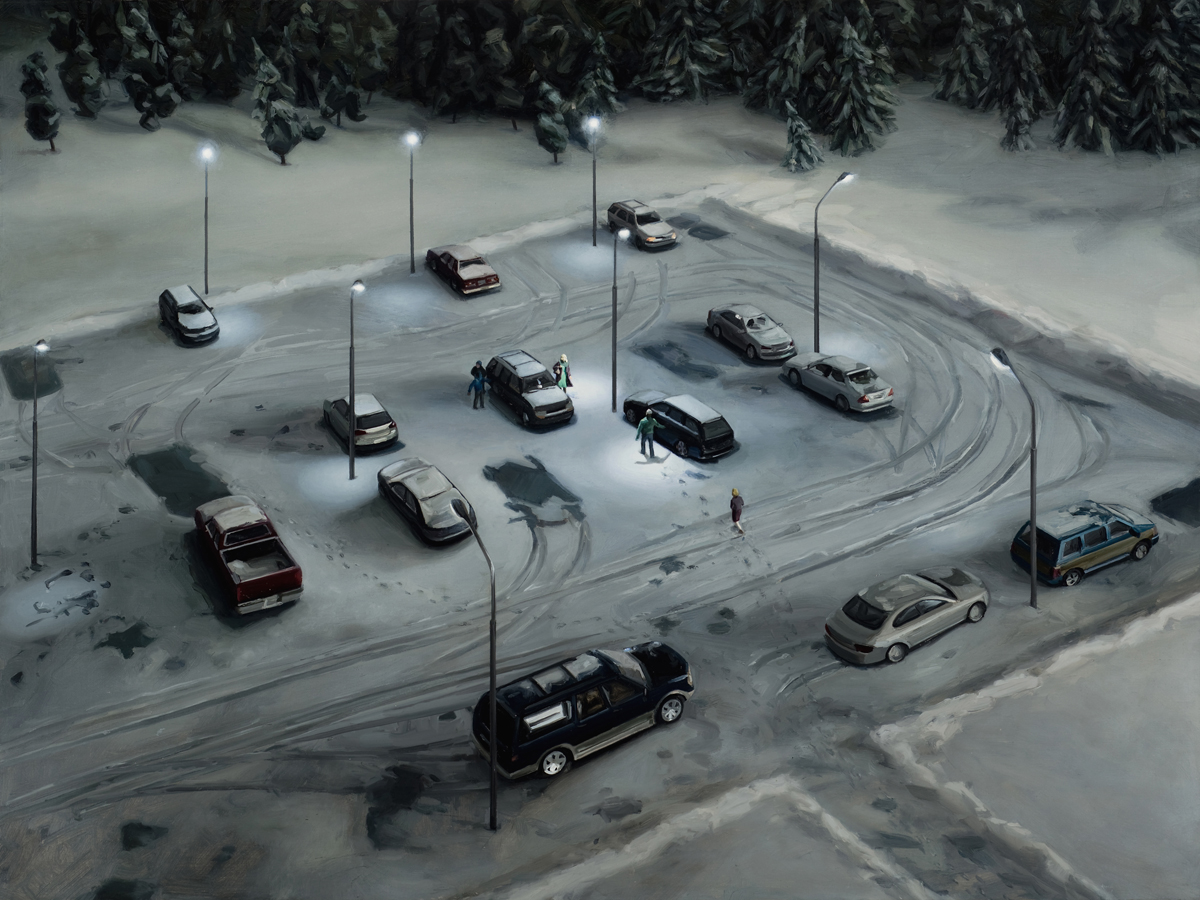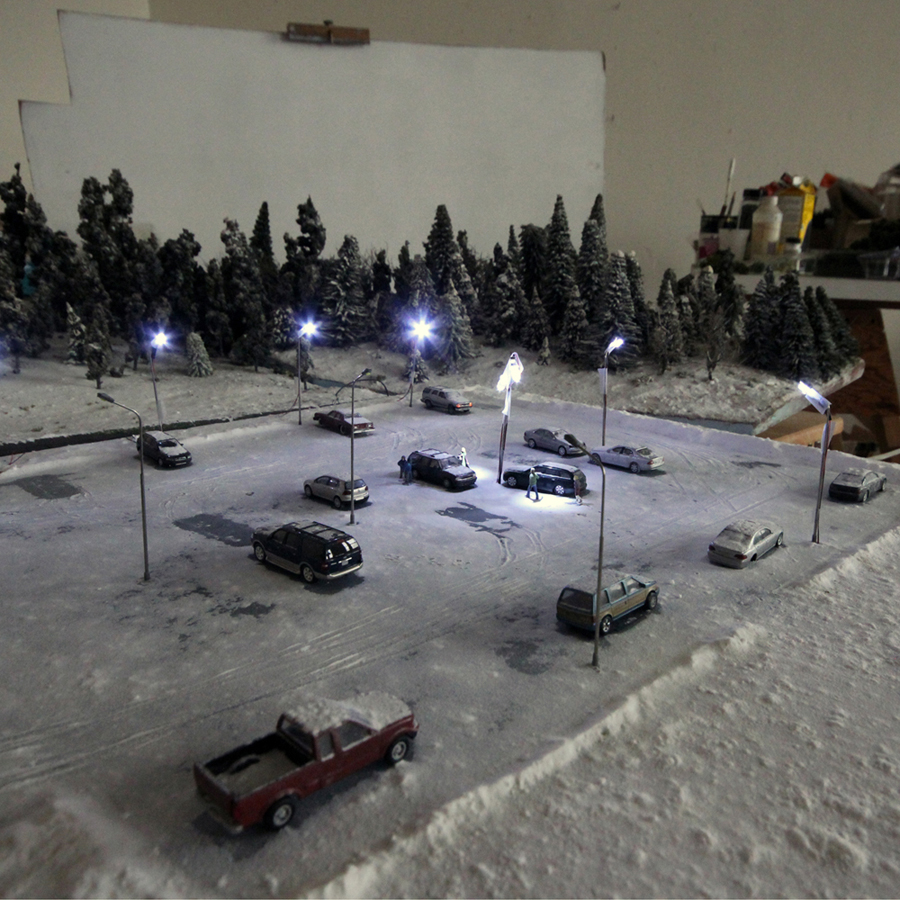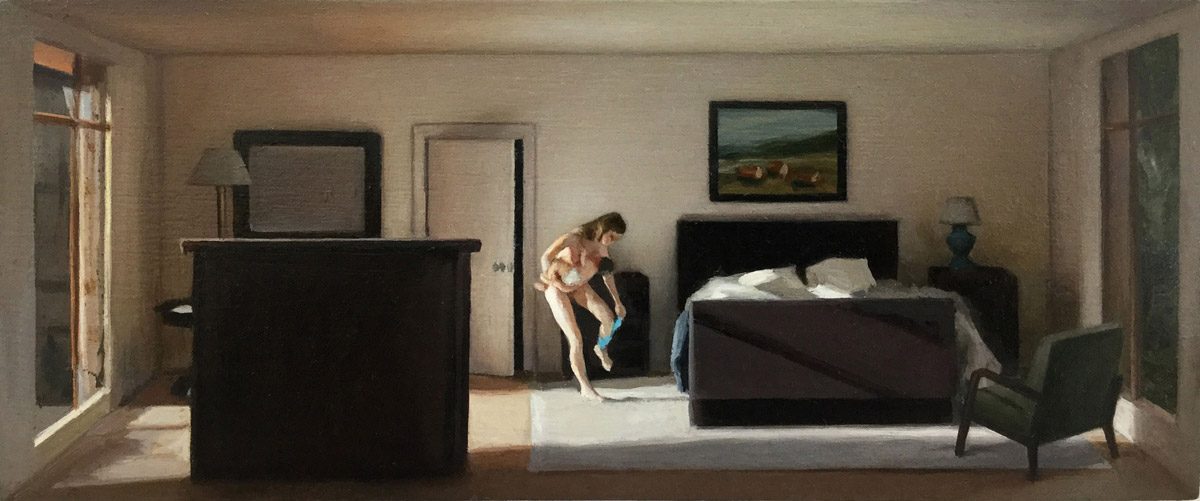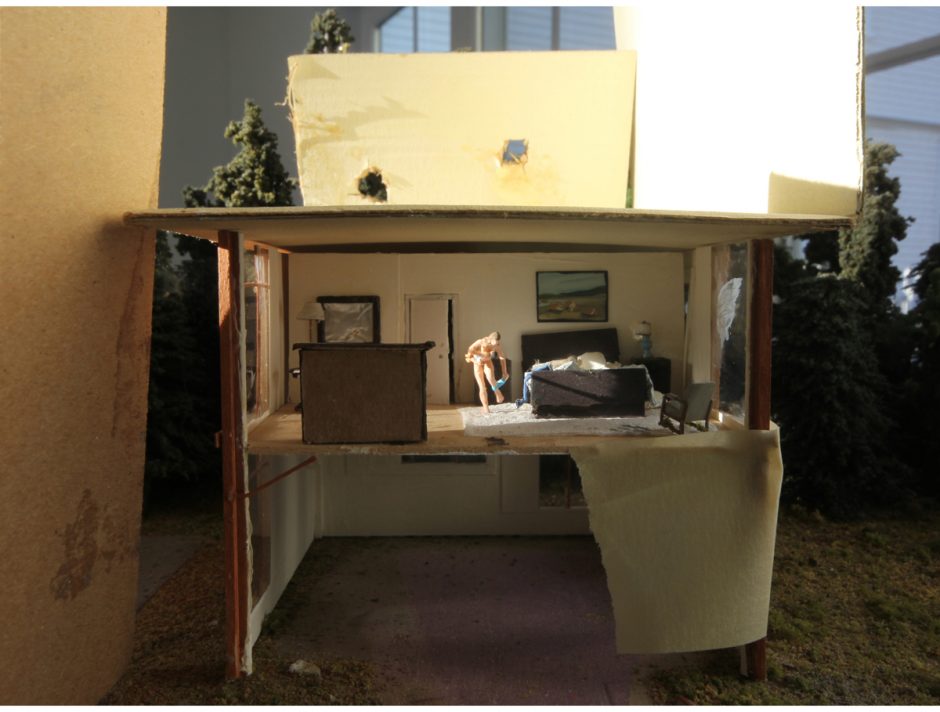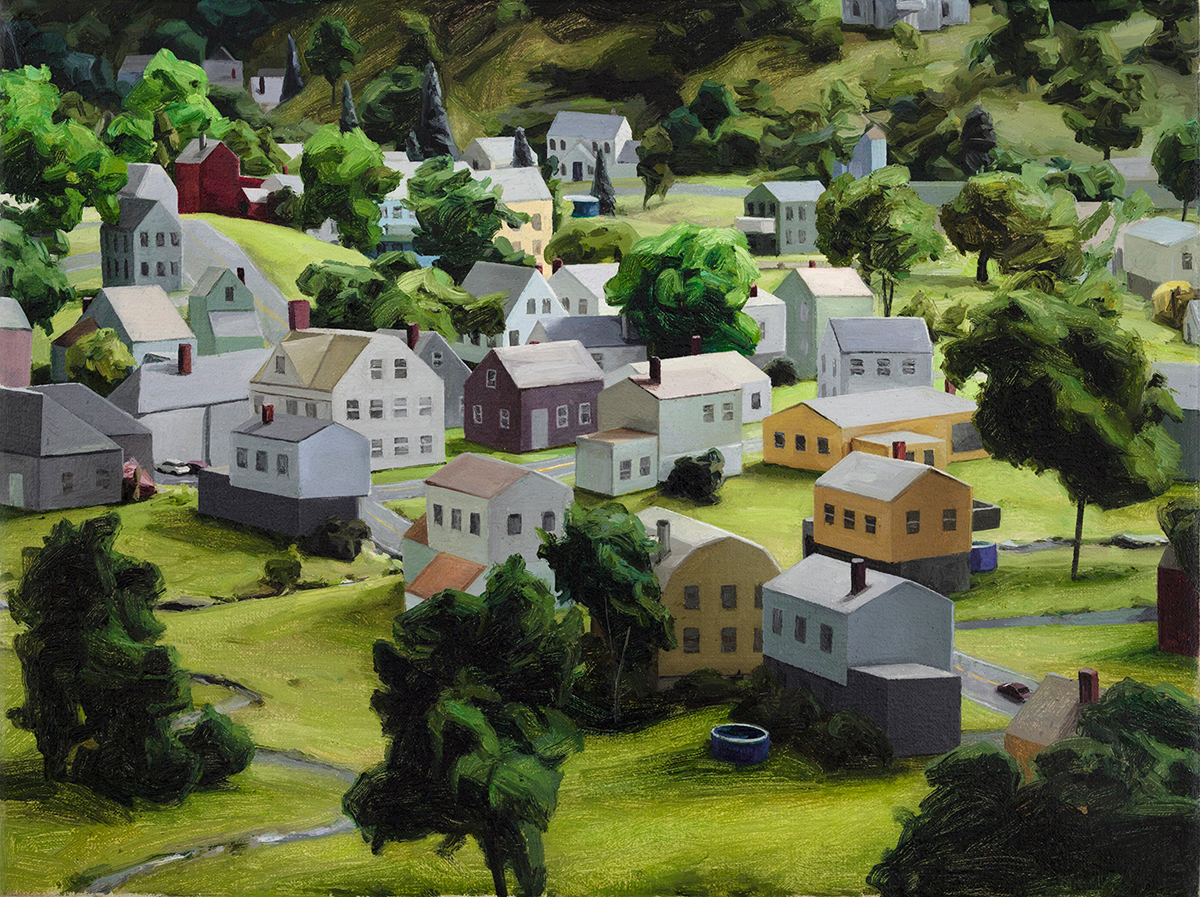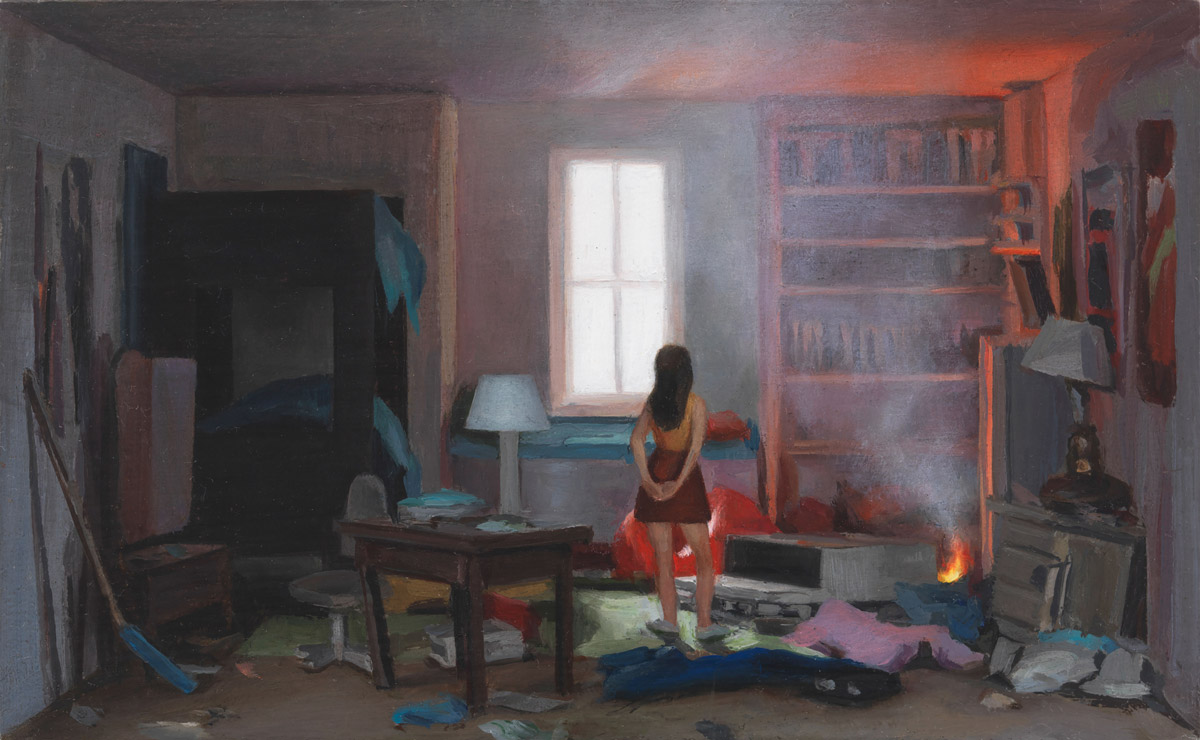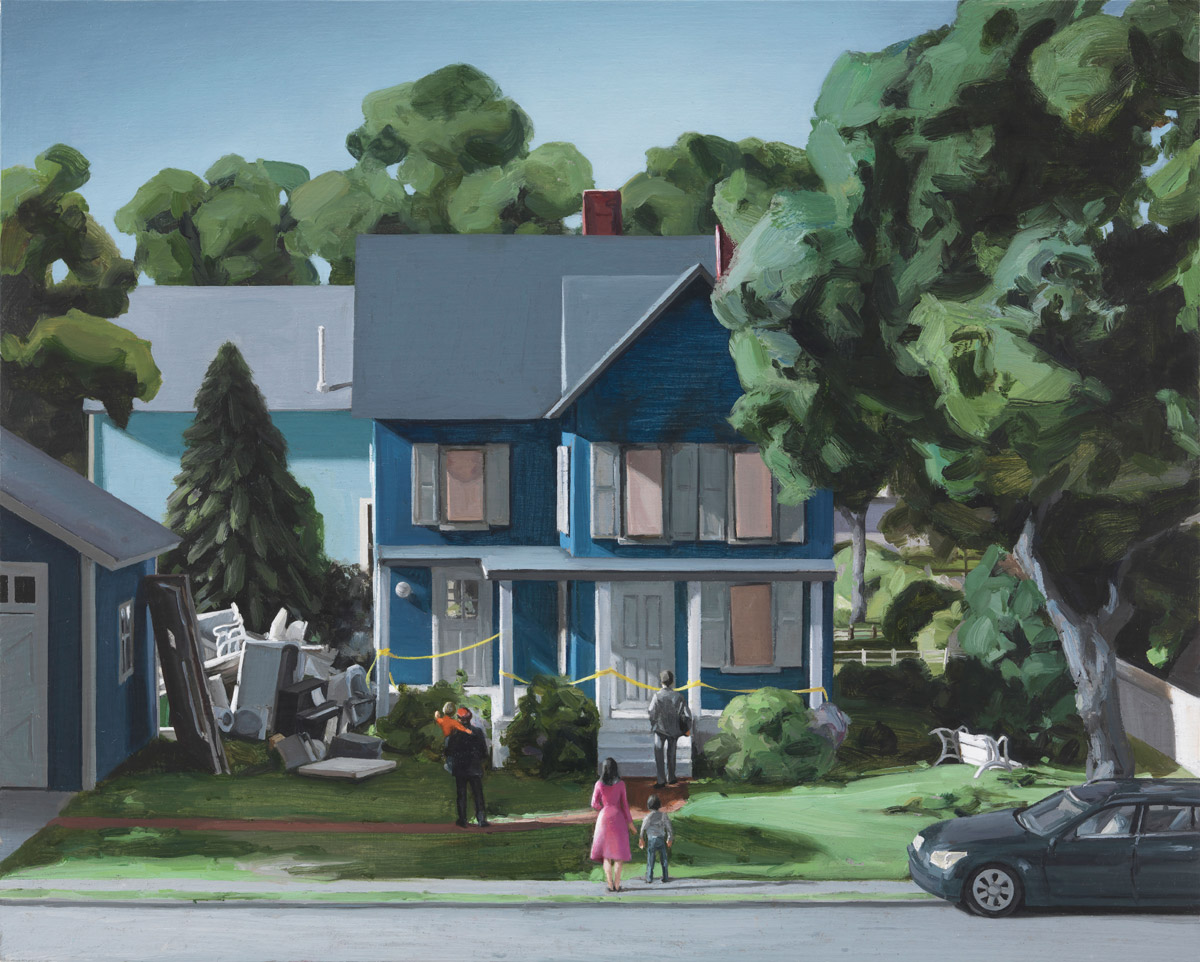 Amy Bennett is an American artist currently based in the small town of Cold Spring, New York – amybennett.com / instagram