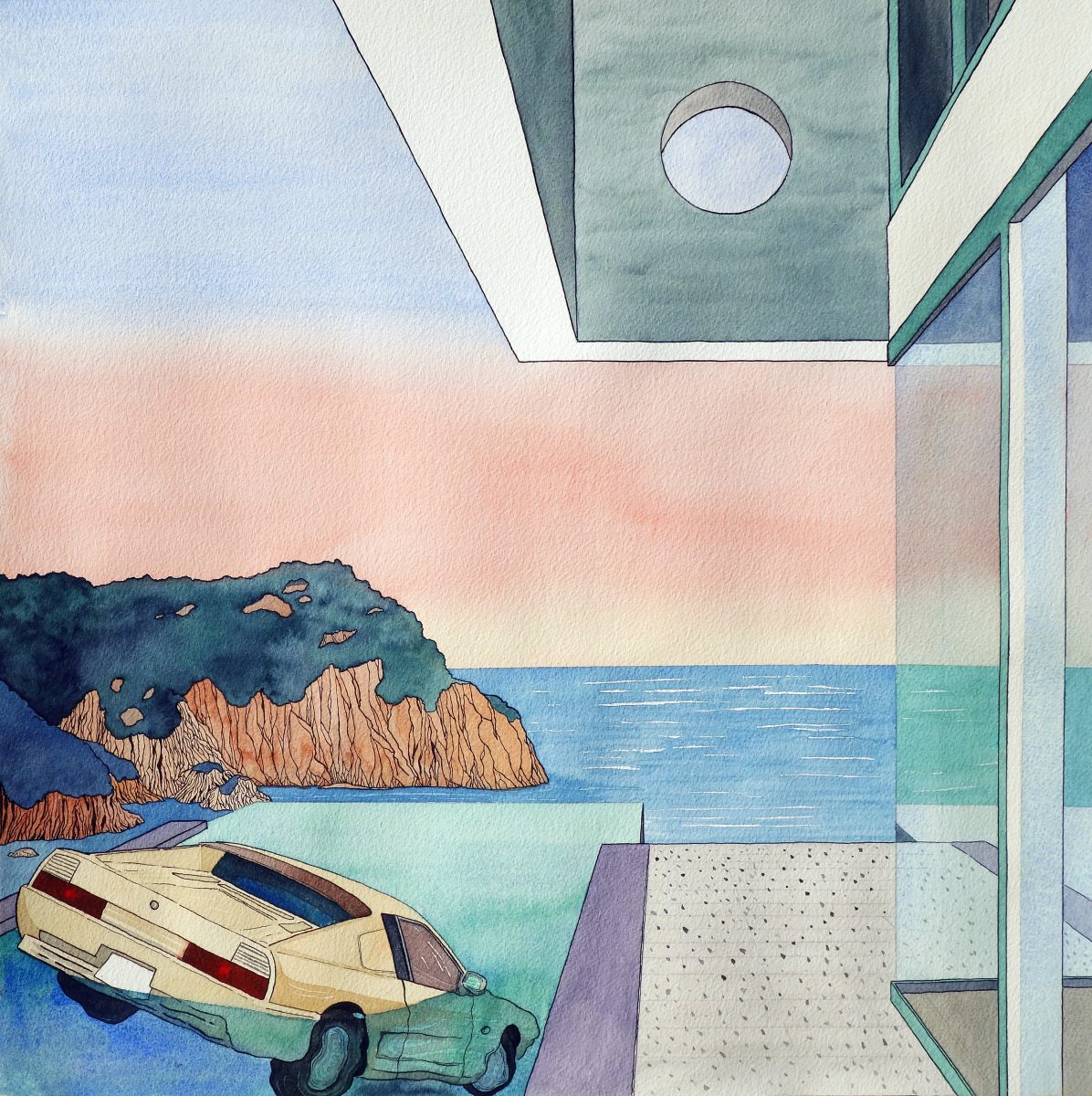 Be careful if you are driving close to a swimming pool.
Romain Figaro
ART . April 8th, 2020
Hi Romain, who are you?
I'm a french illustrator born and raised on the west coast before becoming Parisian at 19. Most of my work is about music album cover and touch several themes of illustration.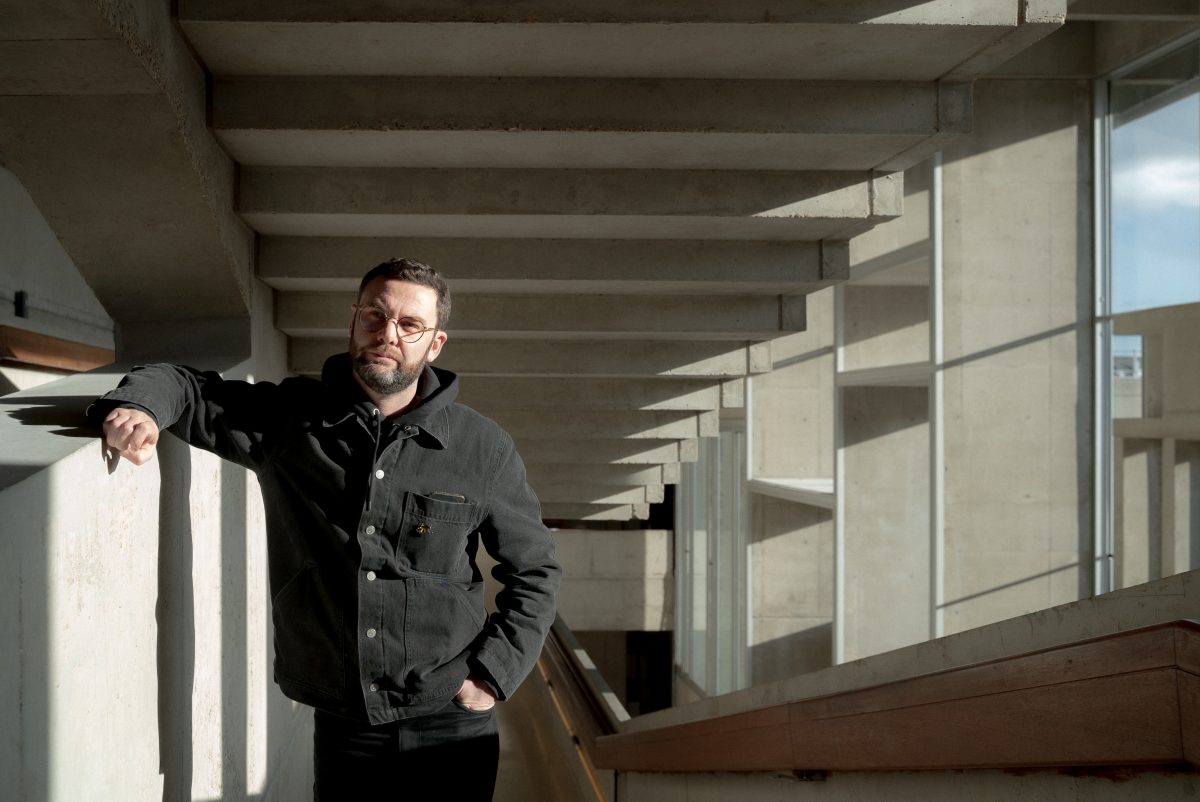 You were living in Nantes before, why did you decide to live in Paris?
I moved to Paris after high school to study Art. I did a preparatory school and then studied drawing and animation at the Arts Décoratifs de
Paris.
What's your favorite car?

It's hard to say which one is my favorite…but one sure thing: the perfect one has retractable headlights! My top three would be Lotus Spirit S1, Testa Rossa, and Ferrari 328 GTB for the most famous. But i'm a great lover of the Saab 900 turbo too, which is more easy to get than the others!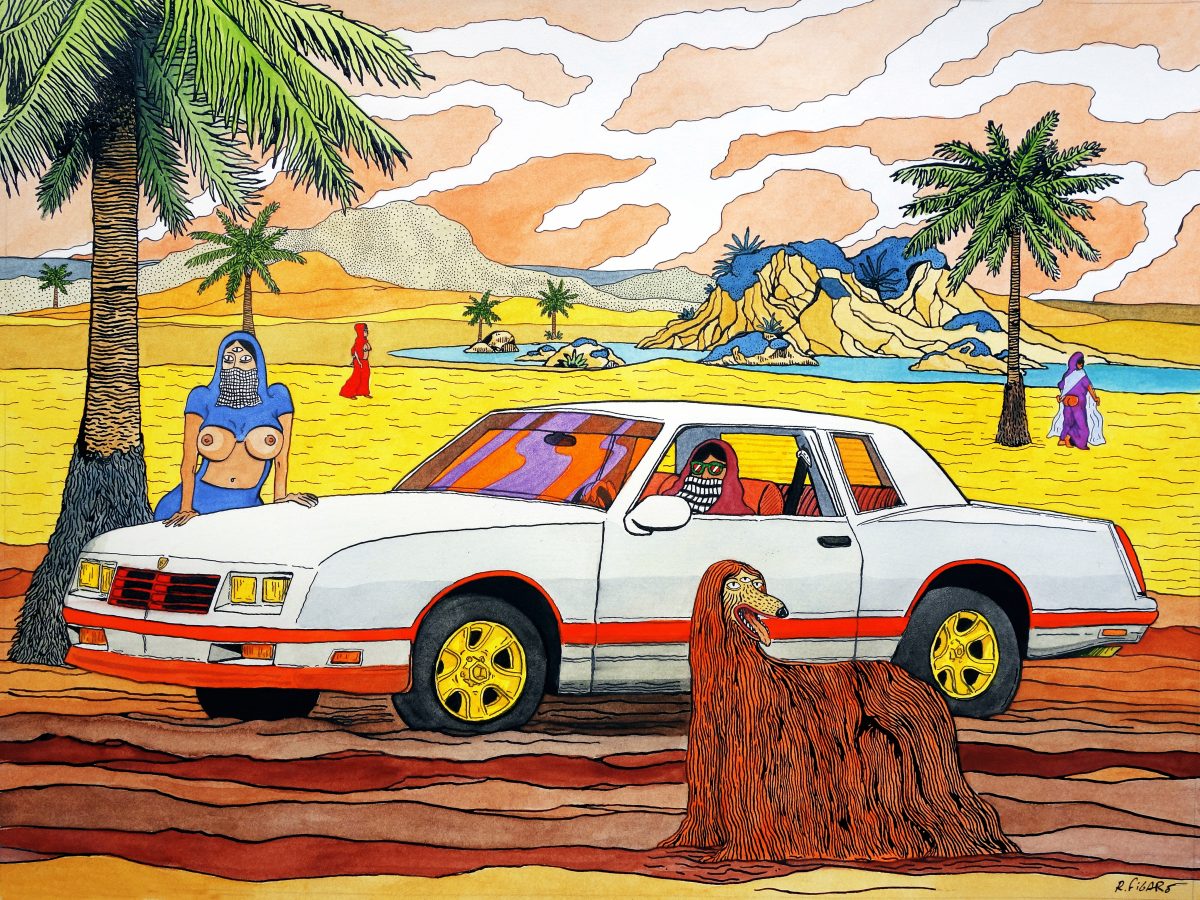 Are you the crazy driver inside each car you represent?
Maybe I am! For this series, I really wanted to create the image of a perfect accident, so I decided to mix my favorite cars with cool elements of architecture. This way I knew I would build a weird imagery around that theme.
What was the first comics book your read?

It's probably « Gaston Lagaffe »,« Tinitin », or « Asterix », but my first real crush was « L'histoire du corbac aux baskets » by Fred. The story and the drawing style were absolutely crazy and absurd. This is still a very strong memory that I have.

What can we find in your head ?

A dreamer, otherwise stuff that I can't even understand myself haha!
How did you know you wanted to be an illustrator?
I grew up surrounded by artists, like my dad and my uncle that used to draw and work together for a long time. I loved to draw since I was a kid, I could tell stories, create funny characters and bring them to life. I always saw him drawing and painting in his studio at home, and I guess as a kid I wanted to do the same in my room!
How did you develop your current visual style ?
I used to draw a lot of characters in my drawings, and at some point I became interested by using other elements I was attracted by, such as architecture, cars, science fiction… I guess I wanted to bring more absurdity to my drawings, and built a weird universe.
Who are you inspired by ?
Robert Crumb, J.M. Follon, Saul Steinberg, Bill Plimpton, Roland Topor, René Laloux and Reiser.
What's your creative process ?
I begin with a huge brainstorming with a blank white paper. I try different aquarel effect and then I start by listening the perfect music album. I like to listen to Oneothrix Point Never, Gigi Masin, John Coltrane, Mile Davis…
Do you have any obsession ?
Trying to get on paper exactly what i have in my head . Absurd things it's quite difficult to generate on paper sometimes.
What project took the longest to complete?

Maybe an order in 2016. The size was 2m by 1,5m. It was about a large view of the La Baule beach bay from the last floor of a building. This kind of size is hard to realize with aquarel painting, particularly to paint the sky, you have to do so quickly and it is a one shot action.
Which one of your recent projects are you the most proud of and why?
Obviously the « Mou » album cover « Bijoux D'Amour ». He gave me a few elements like the titles from the album, that's all. So I was totally free. And it is a musical project with a lot of really good friends of mine. :)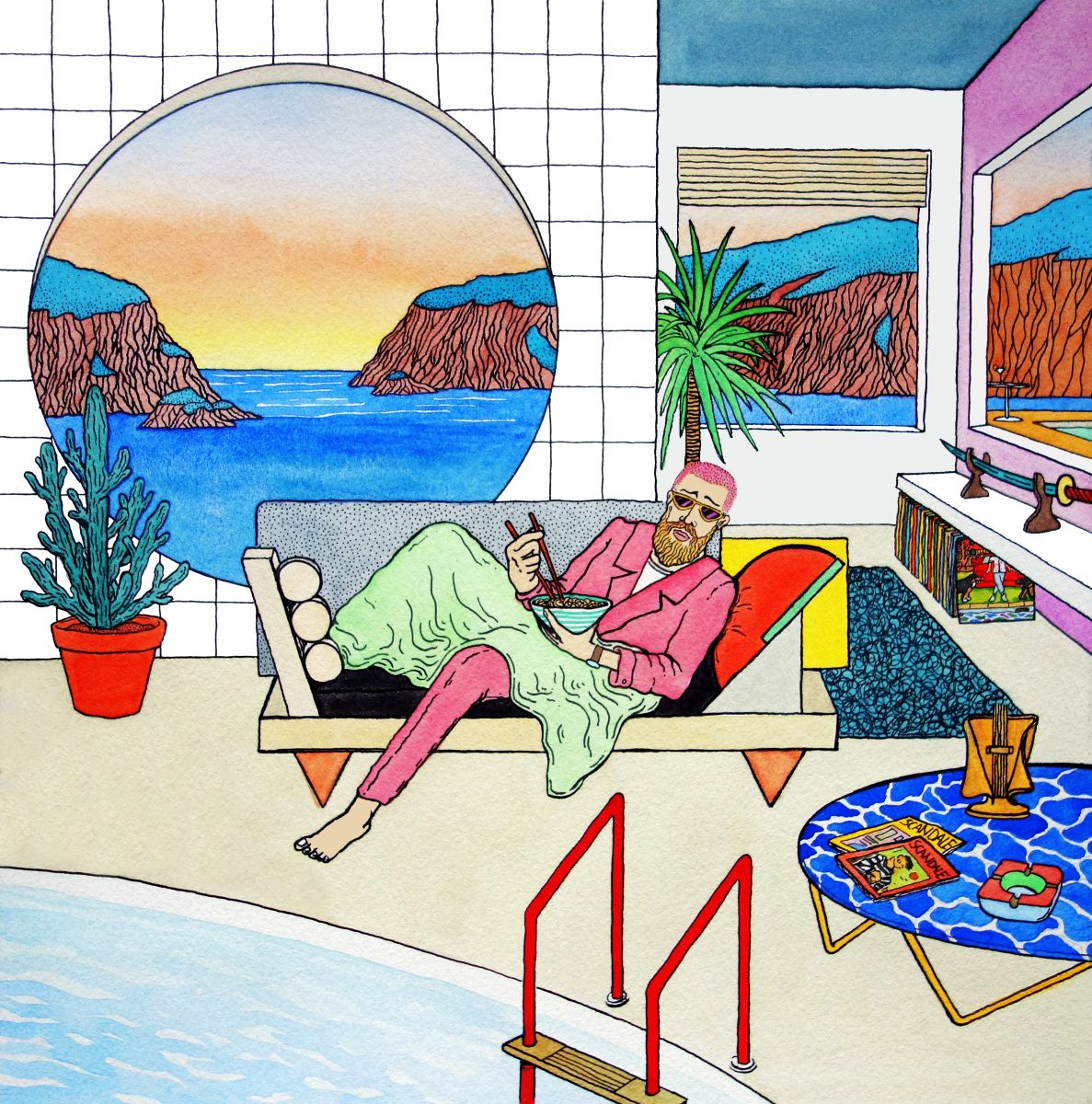 What do you want the viewer to feel?
Be careful if you are driving close to a swimming pool.

What would be your dream project?
I don't really know, maybe create a crazy video game with my musician friends. A contemplative procedural video game in a huge fantastic universe . Like a great interactive magic book. The future.
What's next for you?

Trying to reach the project in the question before haha!

What are you going to do just after having answered this final question?

Call my friends to speak about this project ! Seriously, go back to work on another cover album for « Bleu Toucan » .
Romain Figaro is a French illustrator living in Paris.
You can find his work on Instagram.