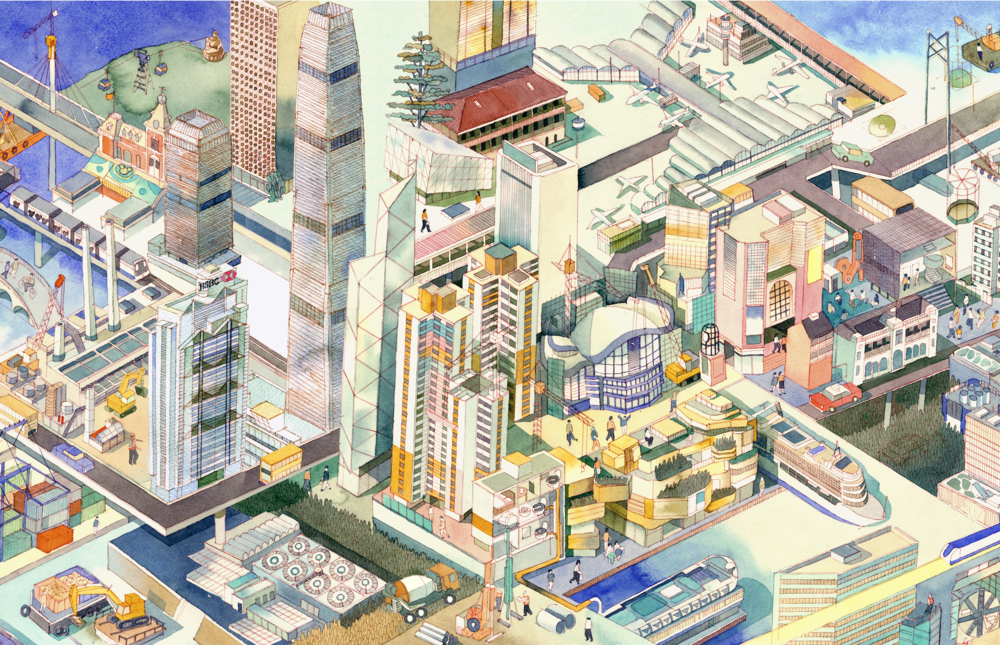 Hand-drawn watercolor urbanscape with community stories
Flyingpig
ART . November 25th, 2020
Who are you?
Wingshan Wong, Pat(aka Flyingpig), a post-90s illustrator who was born and raised in Hong Kong. I am currently pursuing a Master's degree at the Royal College of Art and based in London. I published my first illustration book "The Scenery of Old Shops" in 2016 and the second book "Once Upon a Time in Tai Kwun" in 2018. I have collaborated with various organisations including Tai Kwun, Hong Kong Museum of Art, West Kowloon Cultural District M+, Hong Kong Science Museum, and Hong Kong Tourism Board, etc. I held an exhibition "100 Faces of Tai Kwun" at Tai Kwun in Central in 2018 and the artworks are collected by the Hong Kong Museum of Art.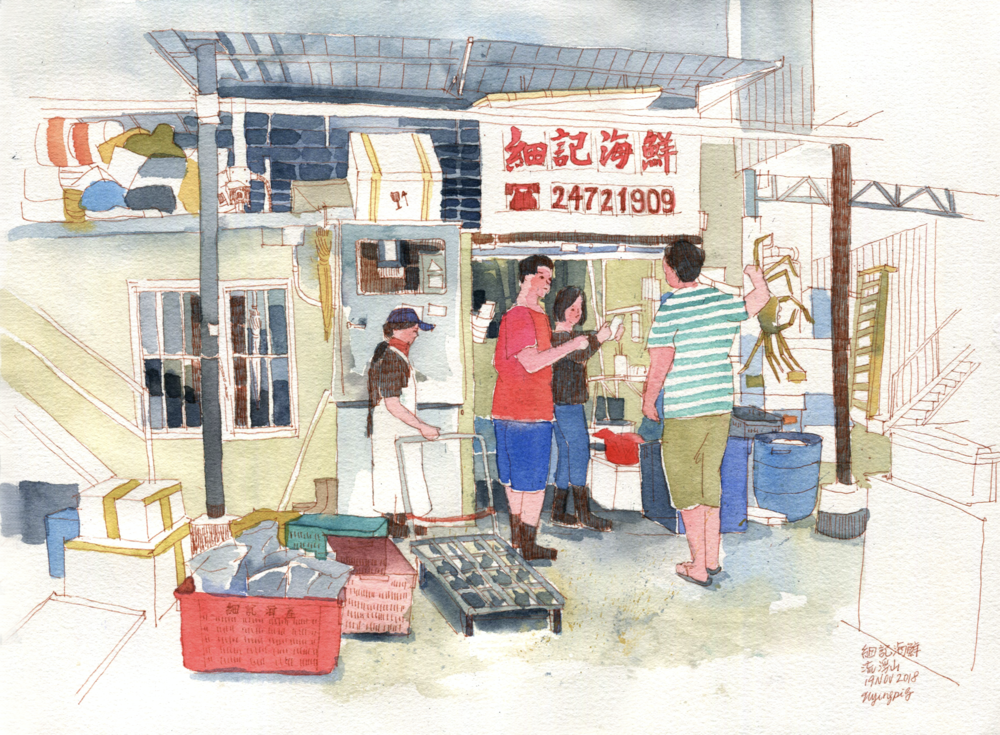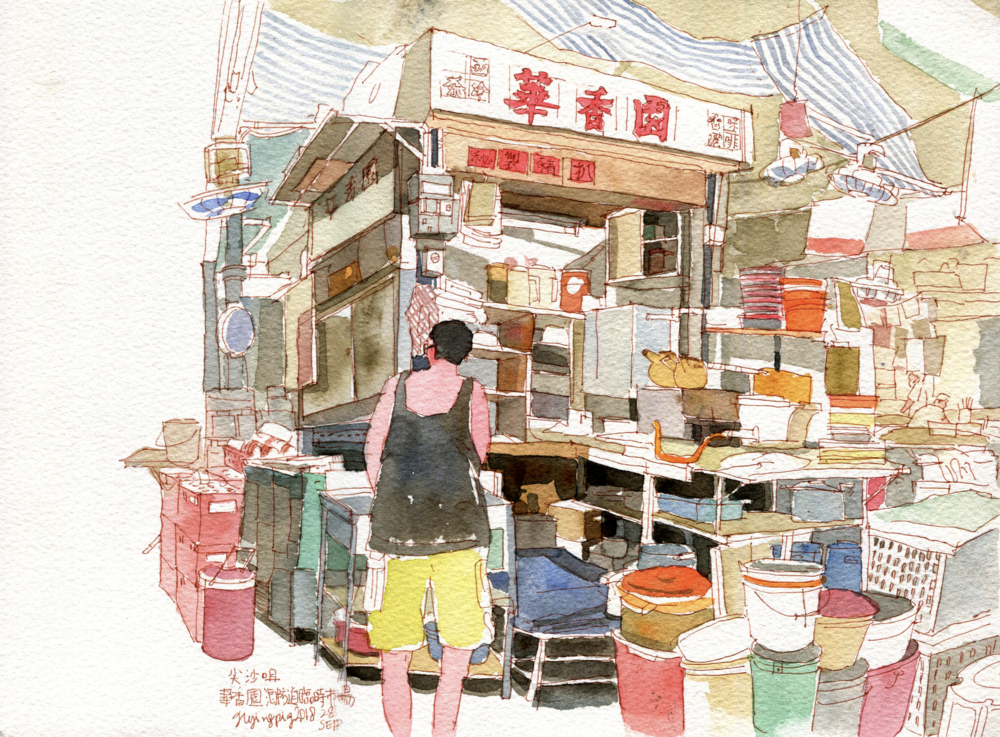 How would you describe your artworks?
Hand-drawn watercolor urbanscape with community stories.
What's a good spot for some street sketching in HK?
Yau Ma Tei and Sham Shui Po. These districts preserve the impression of old Hong Kong.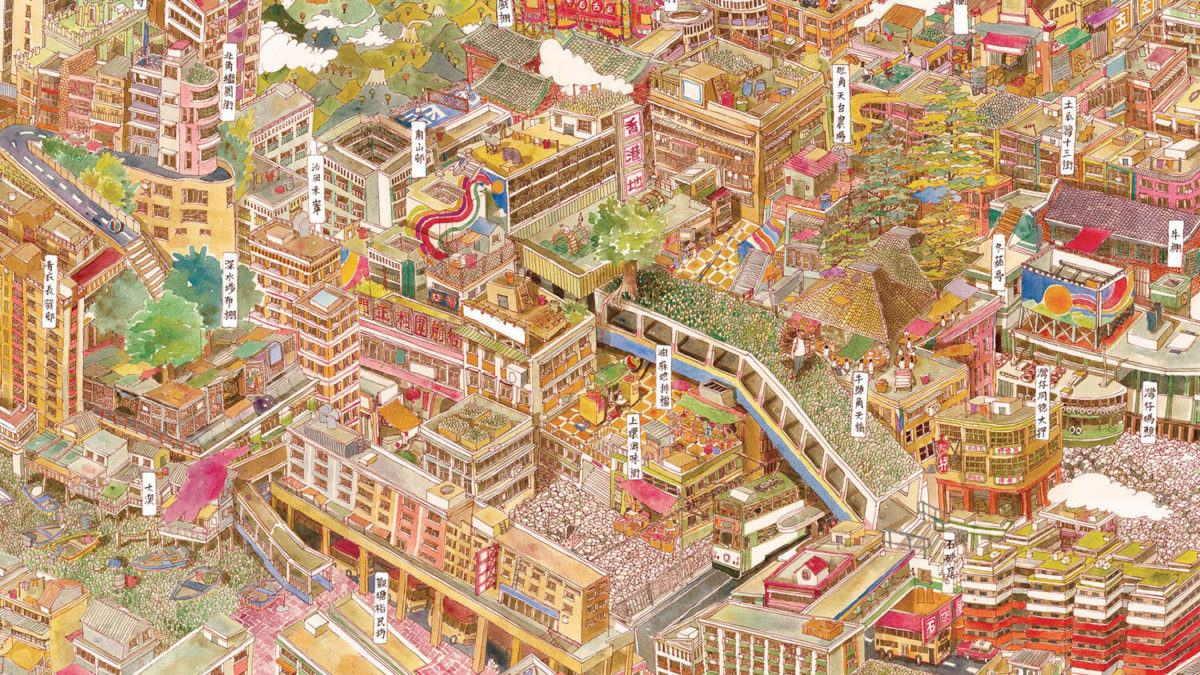 What are your main influences?
I think the social movement in Hong Kong influence me a lot, increase my belongingness and the recognition of identity as a Hong Konger. After that, I kept on sketching in the city, tending to preserve the temperature of the community and people's stories. Having this background, I become quite sensitive to the socio-political topic. Although I am now studying in London, I keep doing projects related to this subject matter, for example, "Barter Archive", about capitalism and gentrification in the billingsgate Fish Market.
What is the Barter Archive project about?

I do exchanges with the fishmongers of the Billingsgate Fish Market : they give me one of their memorable objects related to the market, in exchange for one of my observational sketch done at the market. I would like to build up an archive [photography, interviews, videos, illustrations…] with their collective memory because that fish market has to relocate in the next five years.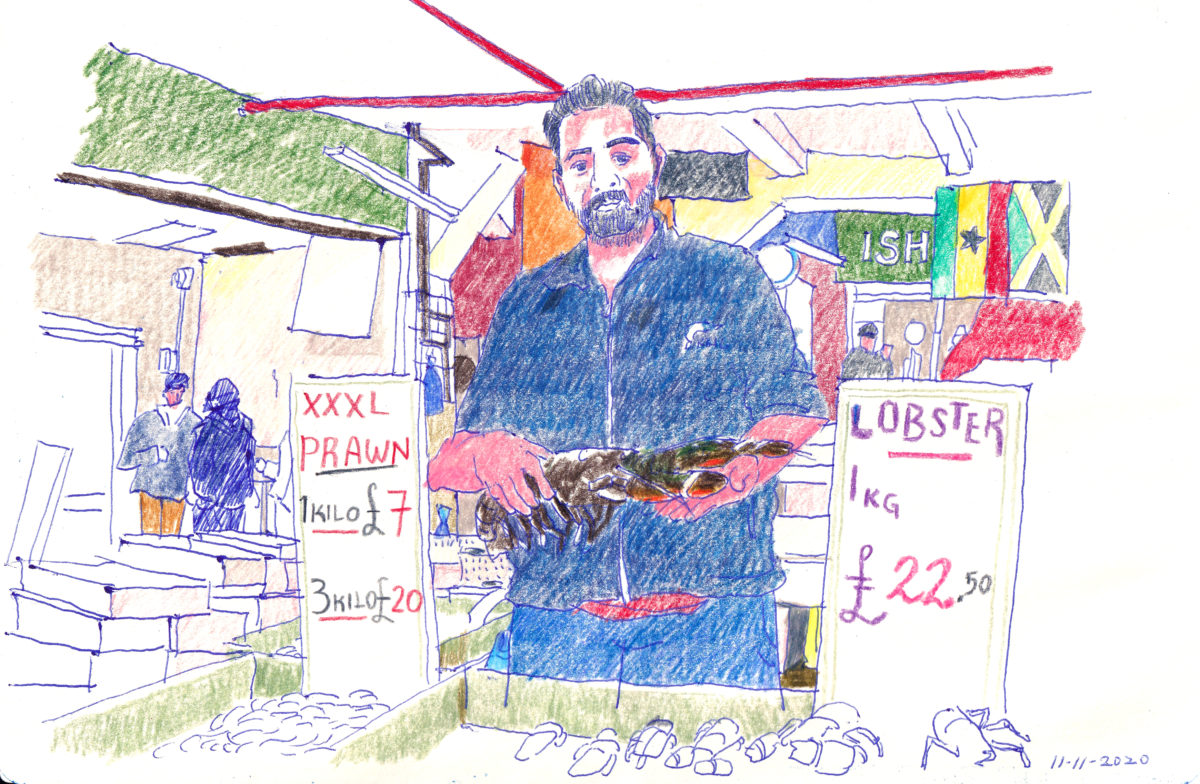 In October 2019, I began to immerse myself in the Billingsgate fish market every 5am (Tue-Sat). Through observational sketches, I opened up the conversation with the fishmongers. In total it will be two years of immersion, recording and documenting their stories and experiencing their strong community bonding. They stick together like a big family, while enjoying working together for years. However, there is a relocation plan to be implemented by the Court of Common Council, the City of London Corporation, which requires relocation to Dagenham in the next five years. The relocation is occurring due to the rapid city development in Canary Wharf. The fishmongers are aware that the whole environment will change, and the customers will also be different in Dagenham (an industrial suburb).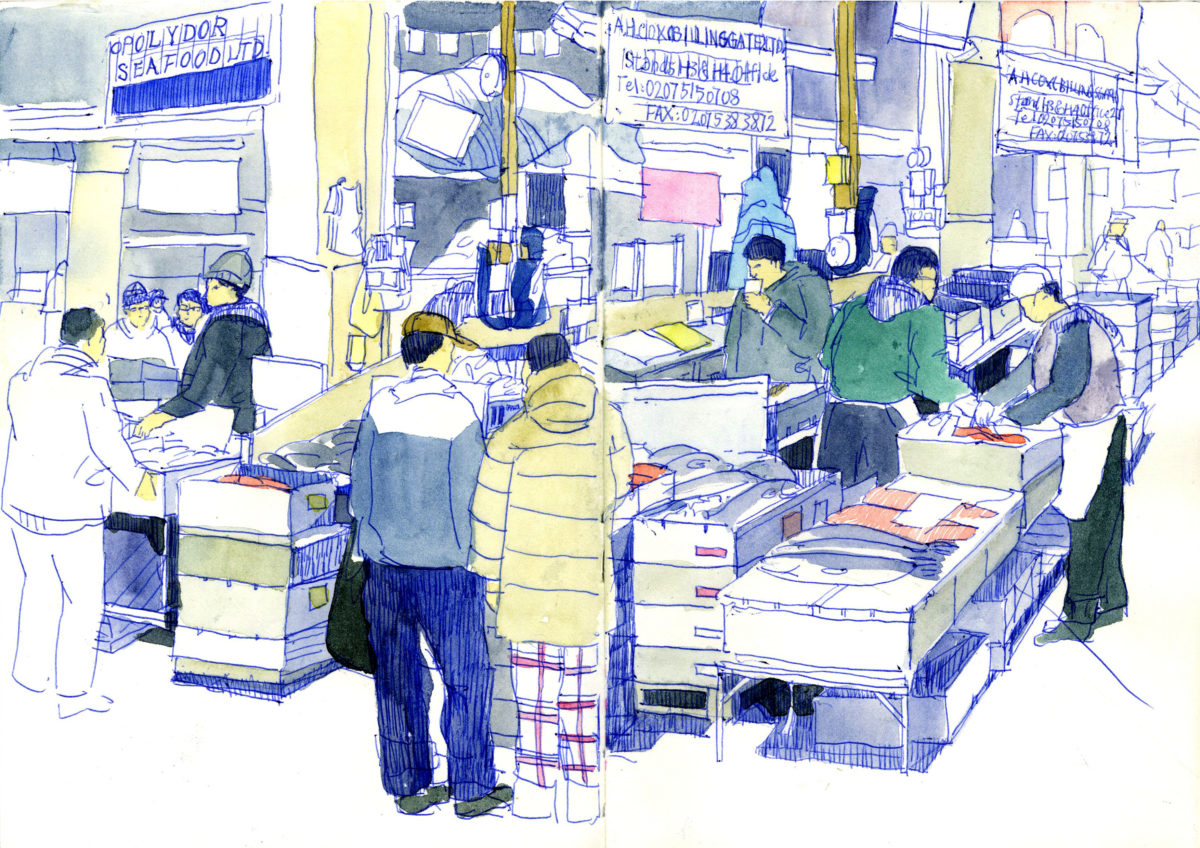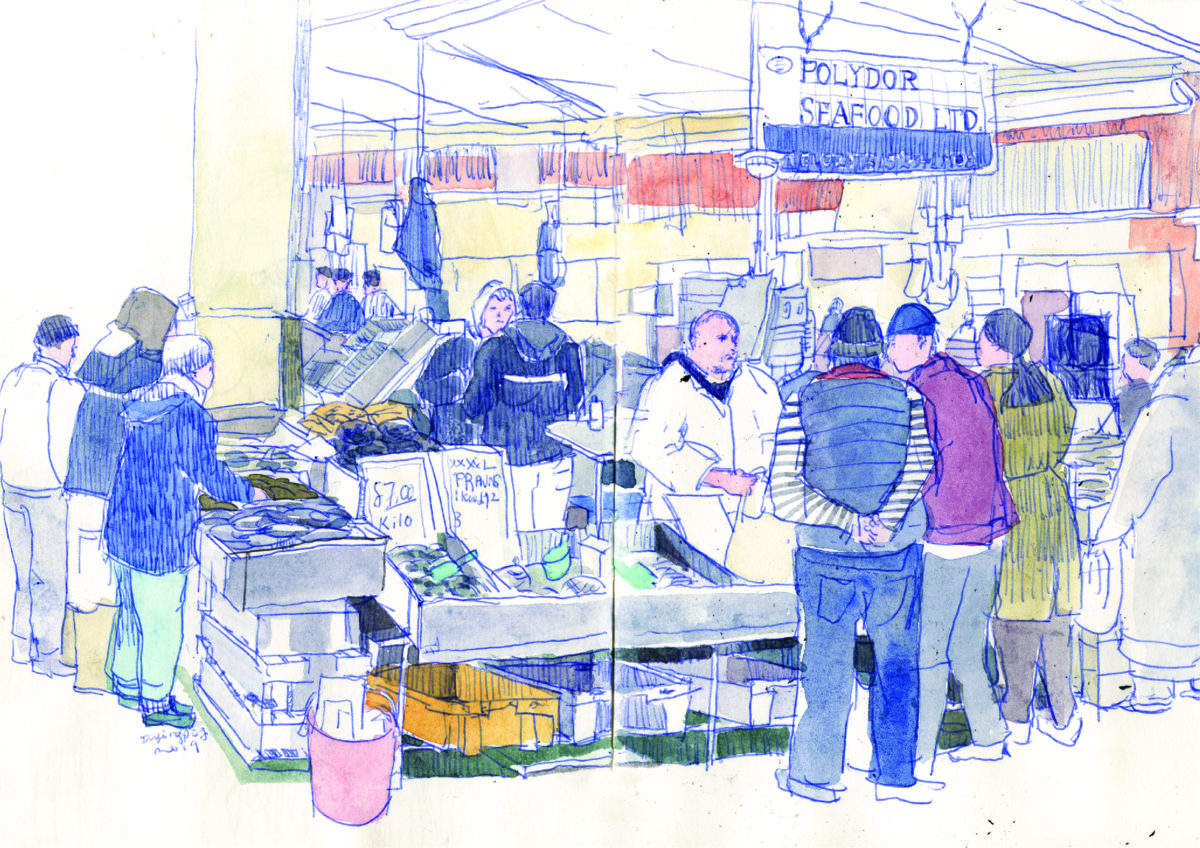 Archives are built to preserve valuable, unique things, which will disappear and be forgotten. After discussions about what should be archived, I chose to construct a collective memory archive of the people in the Billingsgate Fish Market. As the domination of capitalism becomes inevitable, I would like to challenge this universal value.

In this barter activity, I am using my subjective approach- observational sketches in exchange for their memories. My observational sketches are still only my interpretation, simplification, decision-making, and emphasizing what I think is important. My sketches are never equal to their memories, but it reflects mutual trust and transparent negotiations so that this barter process will include what they provide to me and what I am able to capture.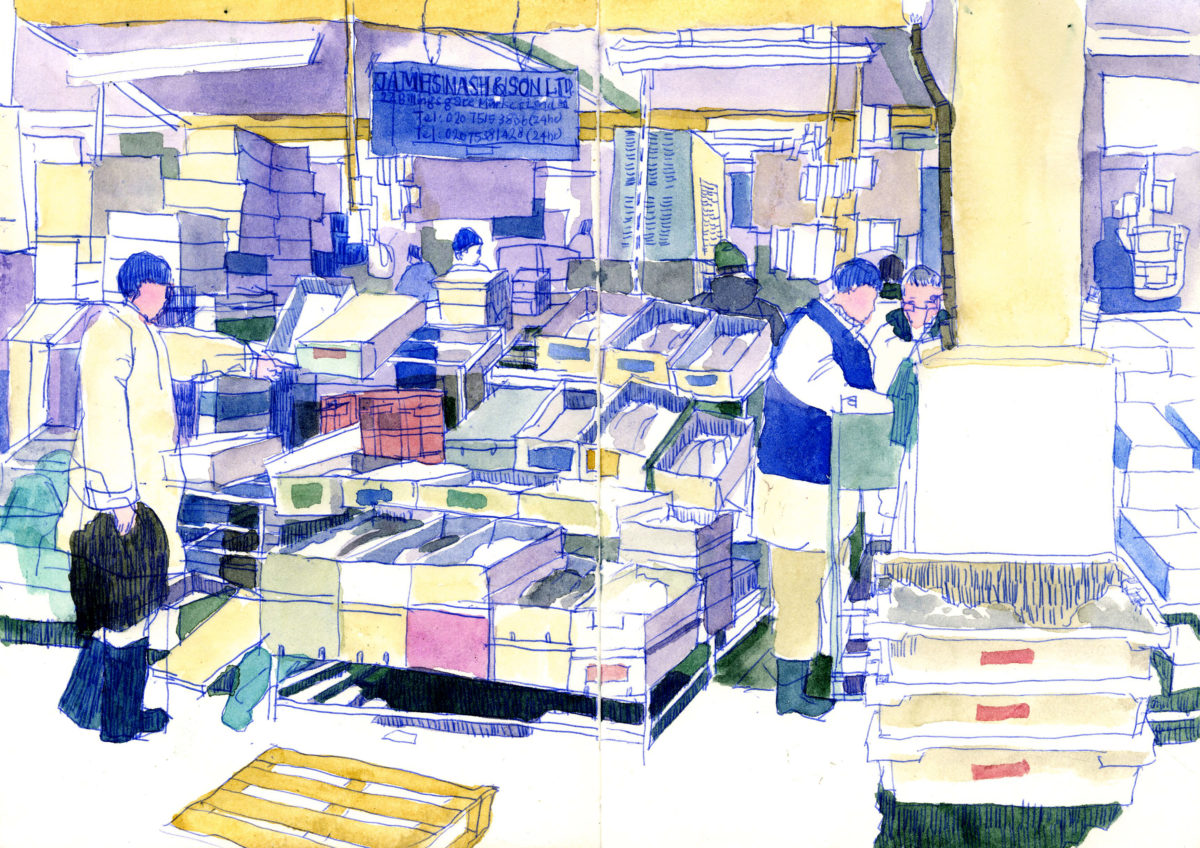 What was the most challenging project you've made?
The Barter Archive indeed. I have to wake up so early and keep visiting there every 5 am because the market closes at 8 am every day.

The language barrier is another difficulty. The fishmongers there speak with a strong East London or Scottish accent, sometimes I can't understand what they mean, so I have to prepare a lot before interviewing them.
What did the fishmongers gave you?

I received two hats, three working jackets and one boot.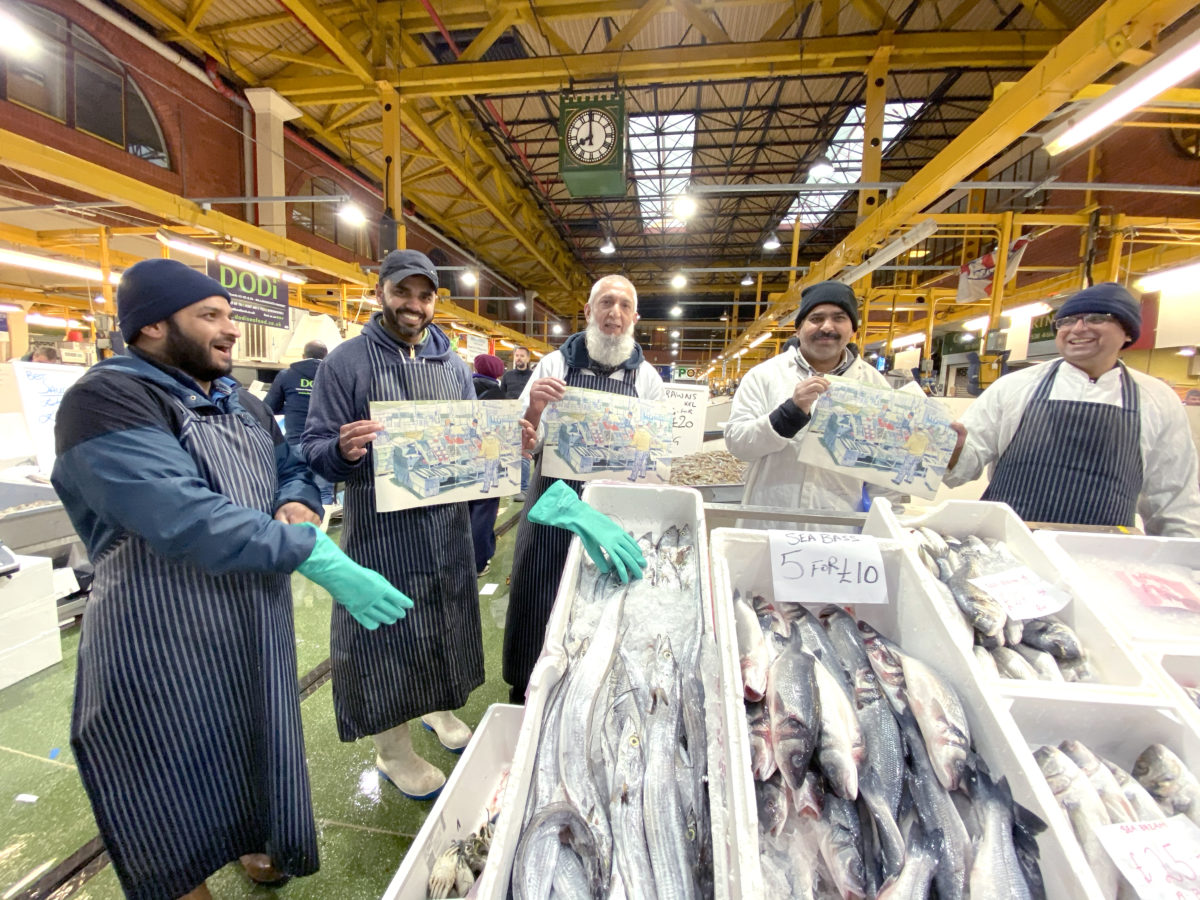 What is your favourite thing about drawing?

The drawing process is always more important than the result. I love doing an observational sketch to freezing the time and look at things in detail. During the process, I would have a chance to interact with the people around and experience the whole journey.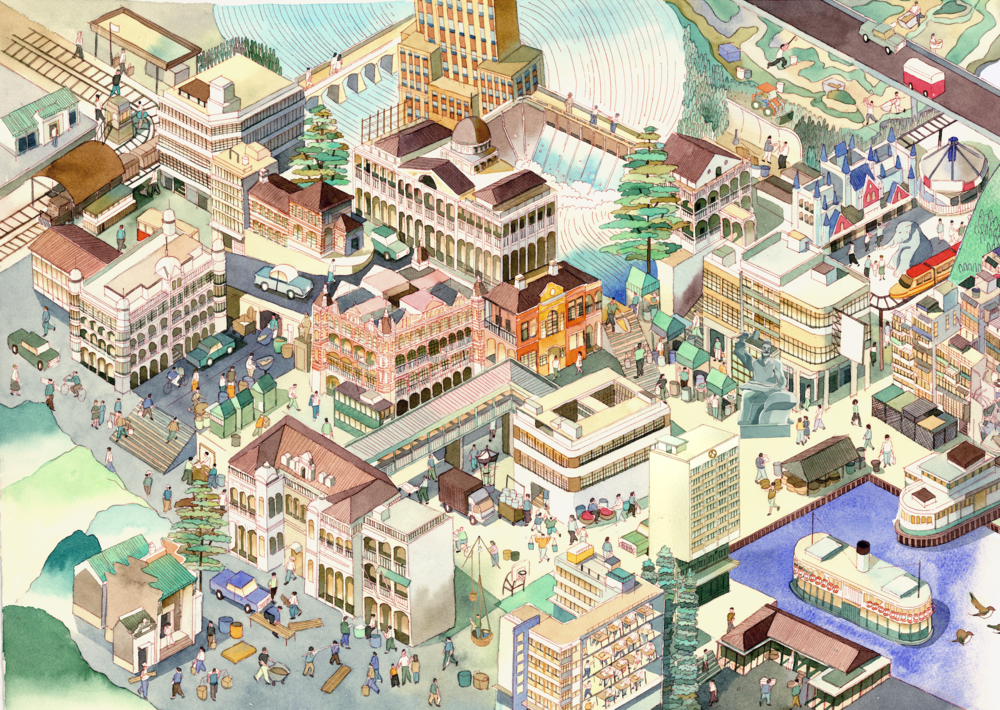 Any stories of special encounters during observational sketching?

When I am sketching in the fish market, the fish mongers keep on coming to see what I am doing. They are curious and also interested about how they will look like in the drawing. They sometimes share some food with me. I ate Mussel, scallop and even fresh fish.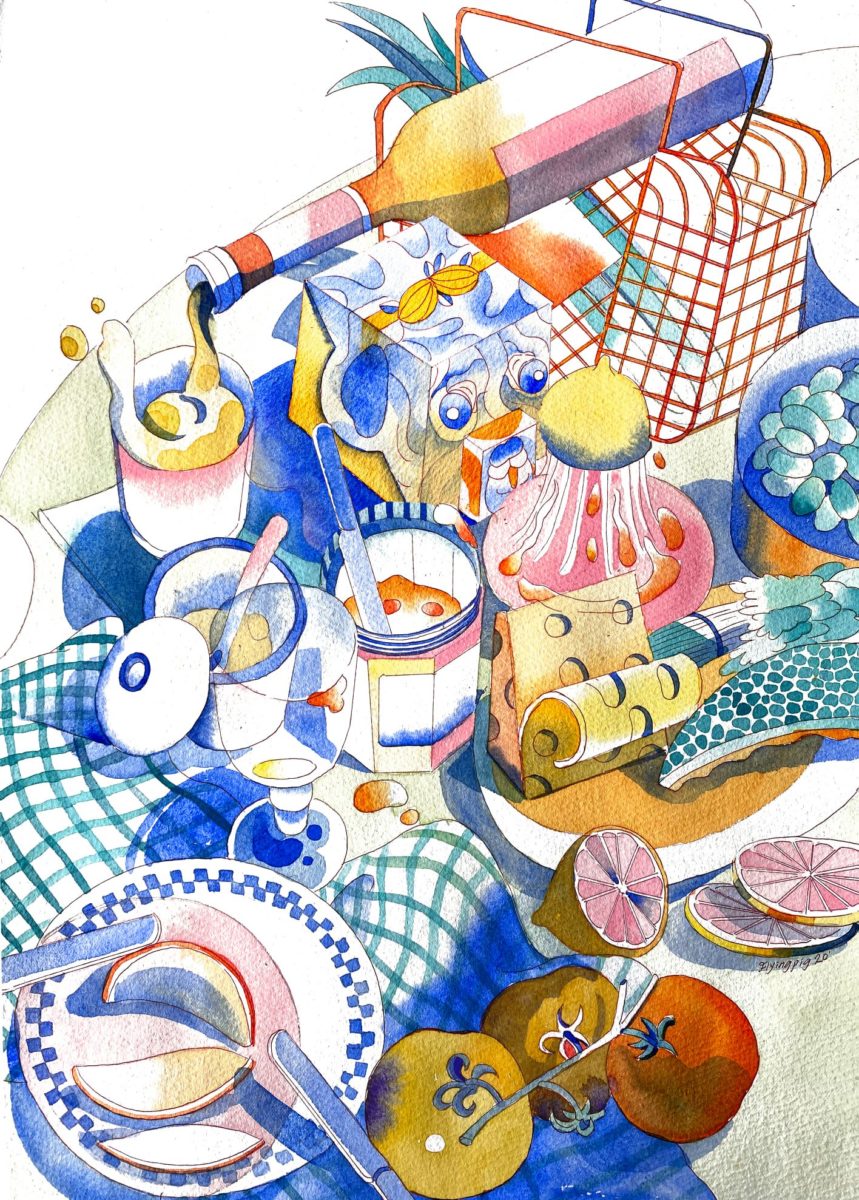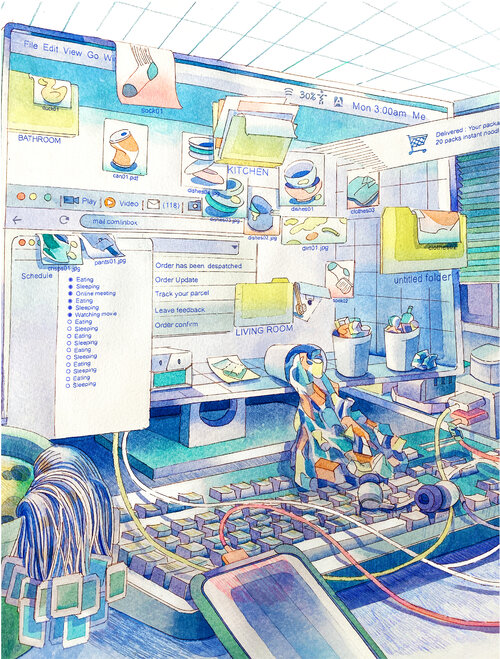 I remember every Saturday there was a long queue outside the fish market, so I had to wait for more than 30mins to get inside, a fishmonger recognized me and told me to get in next time by telling his name to the security. The next time, I queued again, he got angry and asked me dont queue anymore. So, I got inside with him again, and he went with me to tell security that I should get in without queuing. They are really kind for having me.
To finish, would you share with us some artists that inspire you?

' The Bank Job' movie by Hilary Powell and the "Making Space" exhibition of Jessie Brennan, about the Royal Docks of London.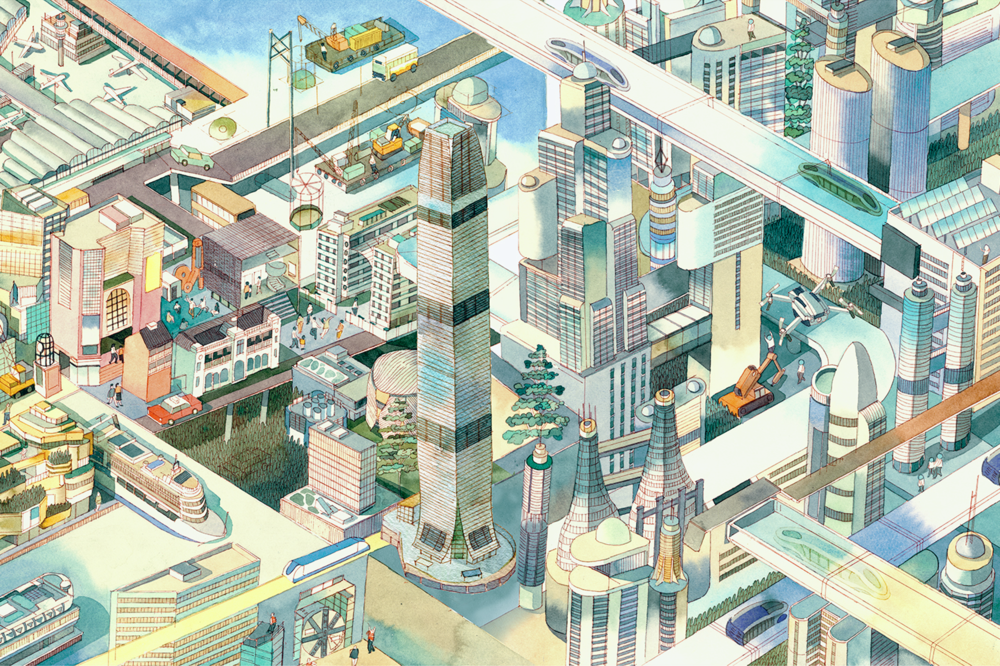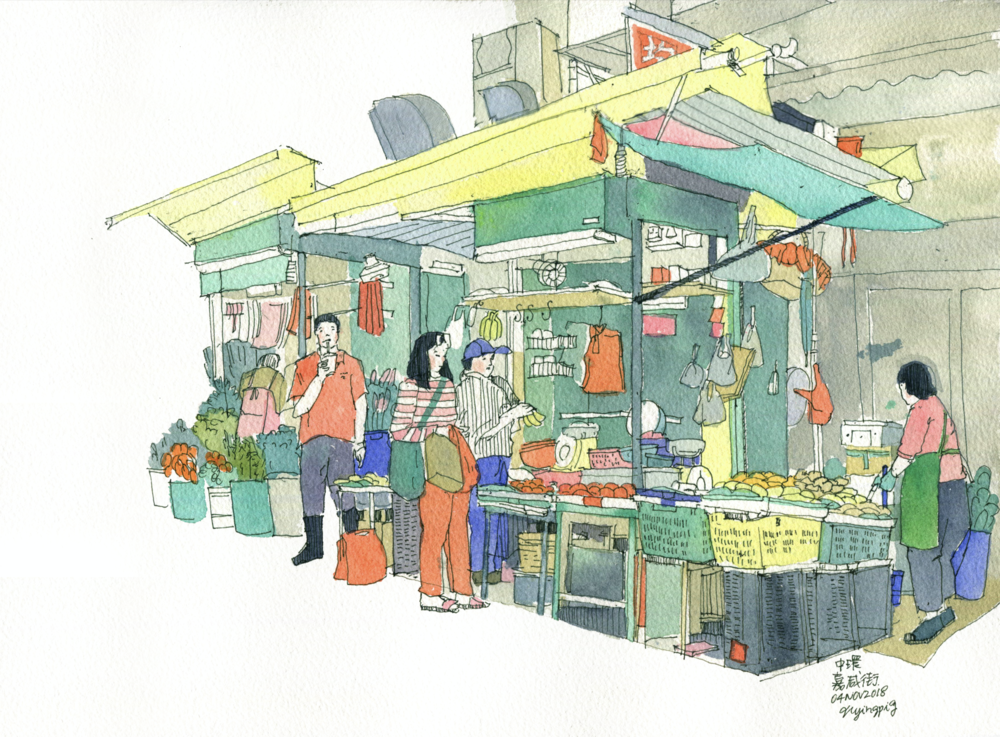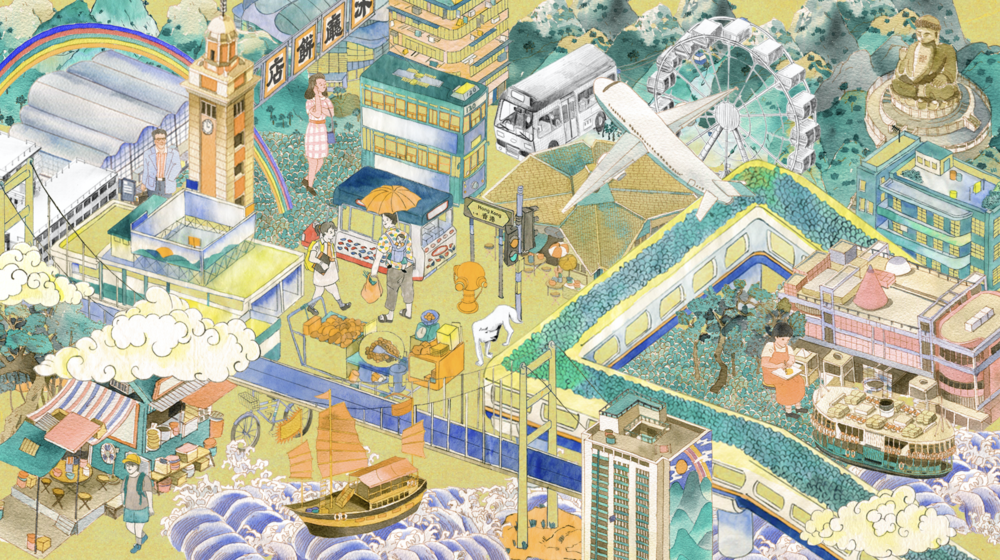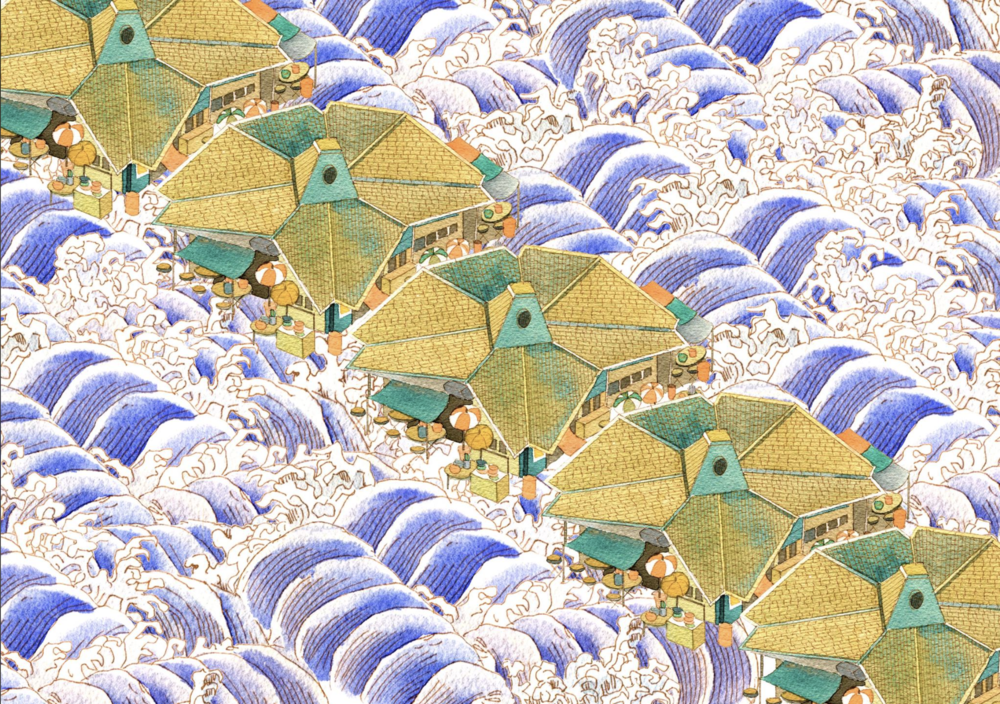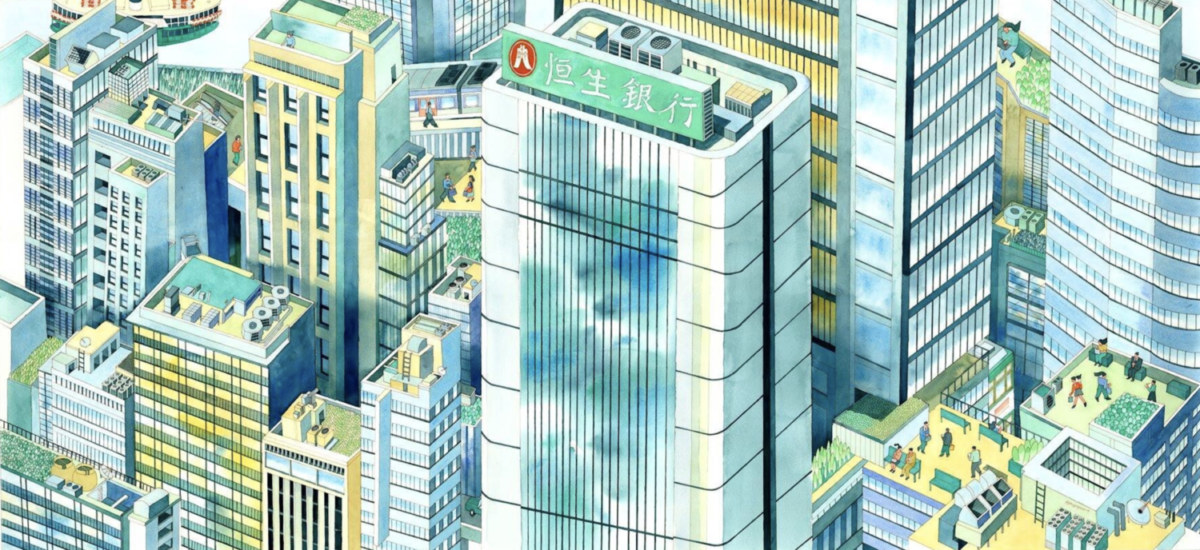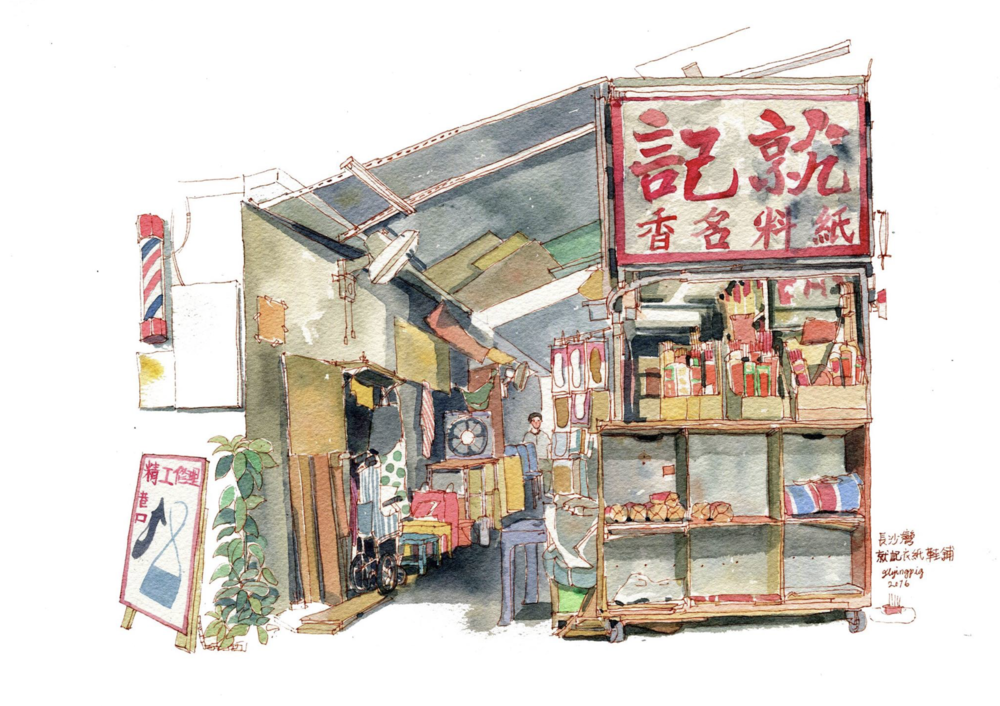 Flyingpig is an Hongkongese illustrator currently studying in London. You can follow her on instagram or check her website.