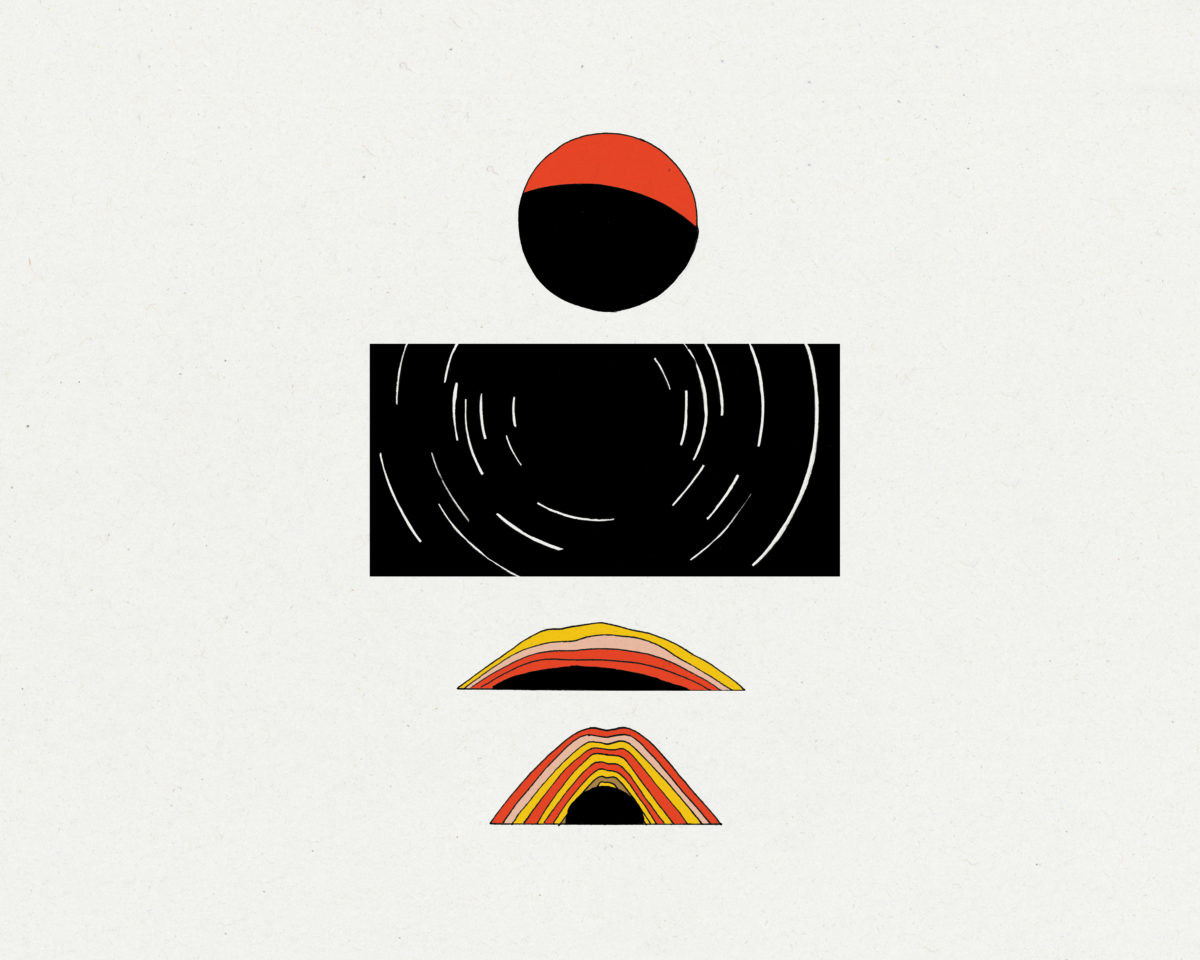 it's strange to think that this was once seen as the truth
Ella Webb
ART . September 11th, 2020
Can you give us a little intro about you?
My name is Ella, in my spare-time I collect rock specimens and Kodachrome slides. My drawings examine landscapes and the natural world; most of which are reminiscent of geographical textbooks.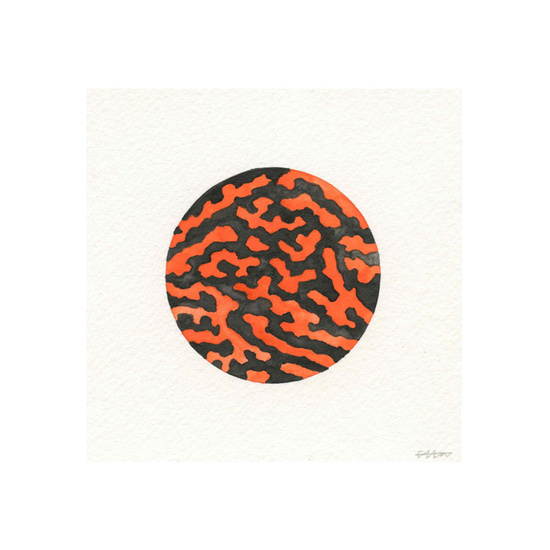 What would you recommend listening to while reading this interview?

I would recommend listening to Chysis by Green-House. Or I would listen to another favourite of mine which is Escape by H. Takahashi.
You're based in the UK but you seem to be traveling quite a lot. What's the best spot for rock hunting?
The best place I've found for rock hunting was just behind my artist residency house in Stöðvarfjörður! A short hike up to the mountain and there was an abundance. If you're ever there, make sure to visit Petra's Stone and Mineral collection too!
What's a good day for you?

Any day where I'm outside walking and/or hiking. There's also this incredible bookshop in Oxford which I frequently go to. If I'm given the chance I'd spend hours of my day there. Mostly due to the fact that they have an entire section dedicated to geology and volcanology.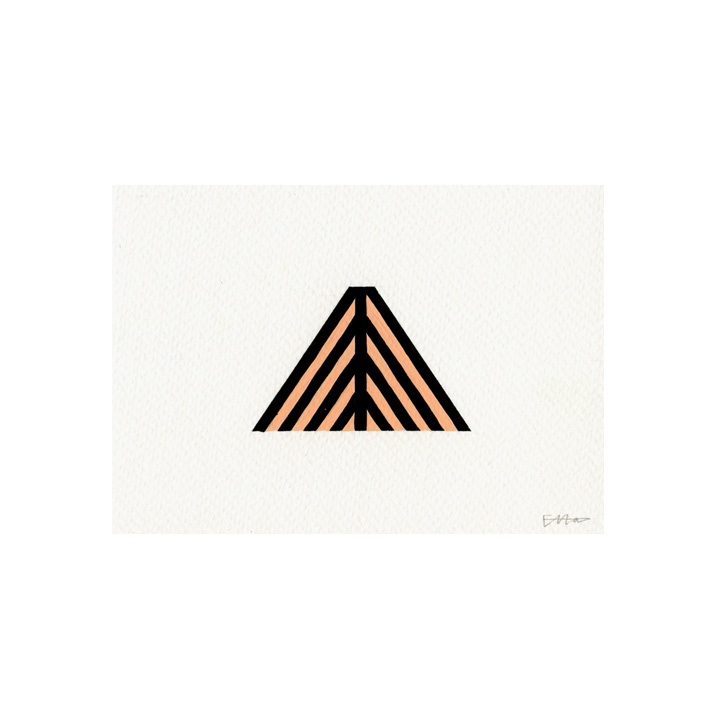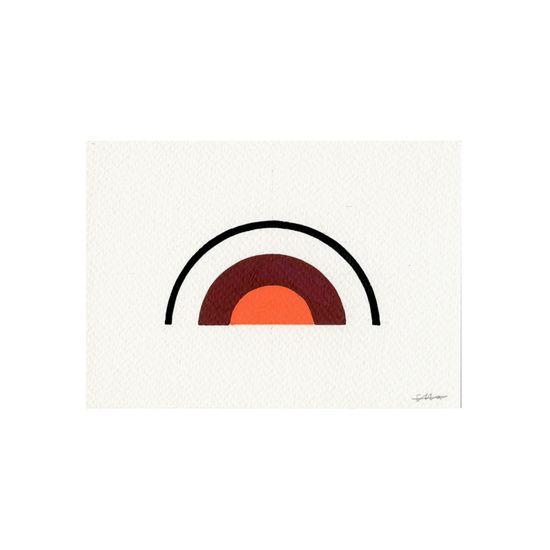 Your work is highly connected to geoscience illustration, such as tectonics plates and volcanoes. Did it all start with your science school books?

The natural world left a latent impression during my childhood, one amongst many. Apparently, my favourite book as a child was an encyclopaedia which my parents bought for me, so I suppose I was drawn to factual information from a young age. Over the past few years, perhaps more so than when I was younger, my interest in geological sciences has become my main focus.

Do you work as a science illustrator today?

I work as a freelance illustrator and graphic designer. The clients tend to vary, but often, their initial reasons for being drawn to my work stem from my series of diagrams. Although I love the idea of working solely as a scientific illustrator, I do really enjoy the somewhat more creative briefs from other clients.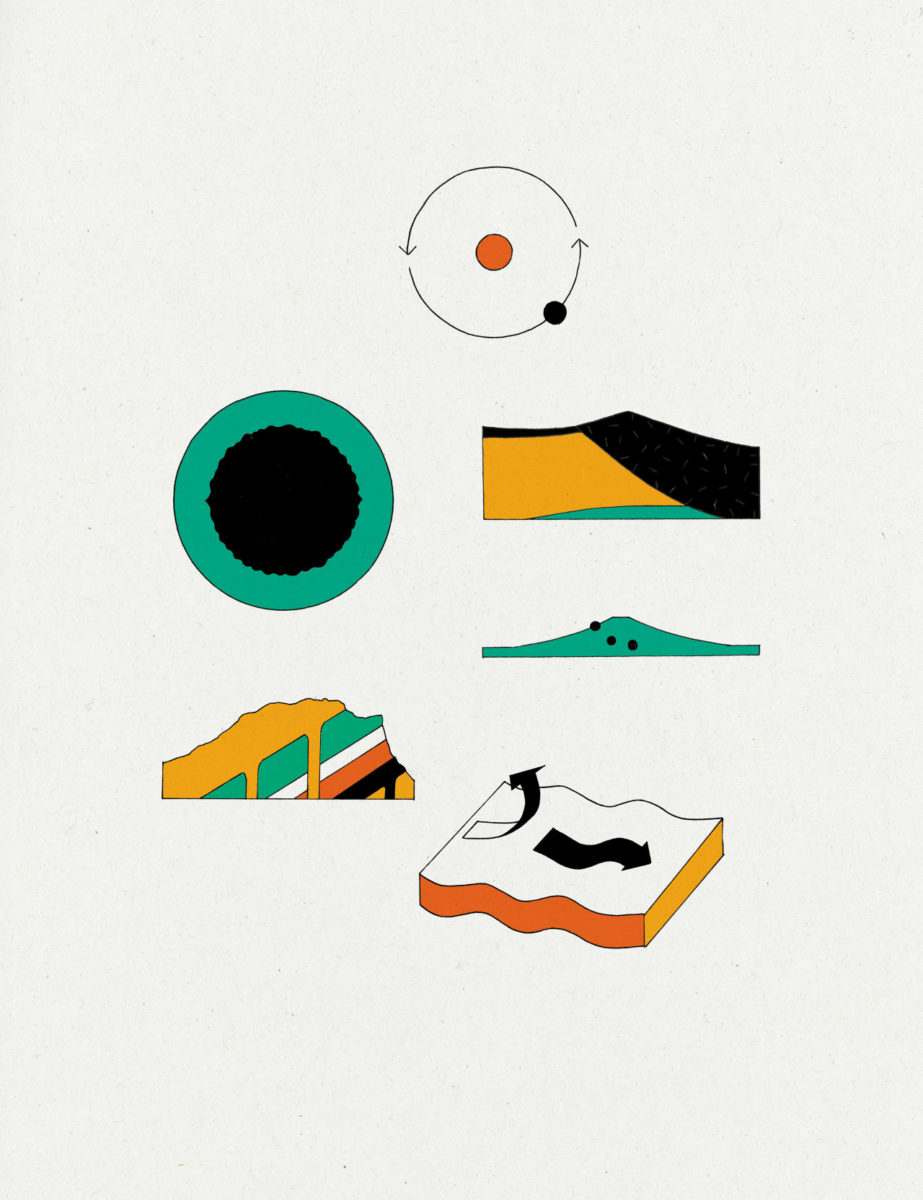 I guess it comes from both the colors and the lines, but your work reminds me of the 70's patterns somehow, but thinking of it, it might just be the case for scientific illustration in general… Are you particularly inspired by art from that time period?
I do tend to gravitate towards imagery born from the 1970's and 80's, it feels more iconic and leaves more of an impression on me than modern scientific references. However, I feel as though my work has elements taken from across a vast time scale, both aesthetically and in terms of ideas. I love reading early scientific discoveries of how the earth came to be. A lot of these theories have been disproven and because of this, all of those diagrams and illustrations which coincided with the research have become strangely abstract in form. It's strange to think that this was once seen as the truth. This is how the majority of humanity had viewed the world up until the point of a new discovery! New facts can completely change our perception of the world and that's something which I love to build upon in my own practice.

Oh wow, never thought of that. Is it actually what some of your works are, scientific theories that could have been existing in the past? Do you actually imagine the actual scientific phenomenon behind a drawing when doing it?

I have a huge collection of old 'outdated' books! I still read them even though a lot of them are technically scientifically incorrect. They inform a lot of my diagrams.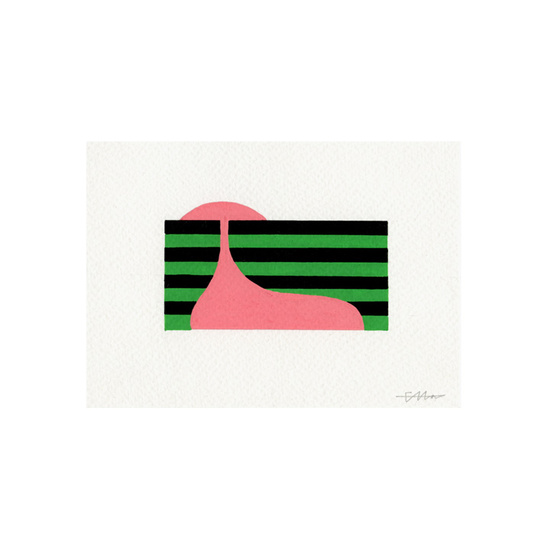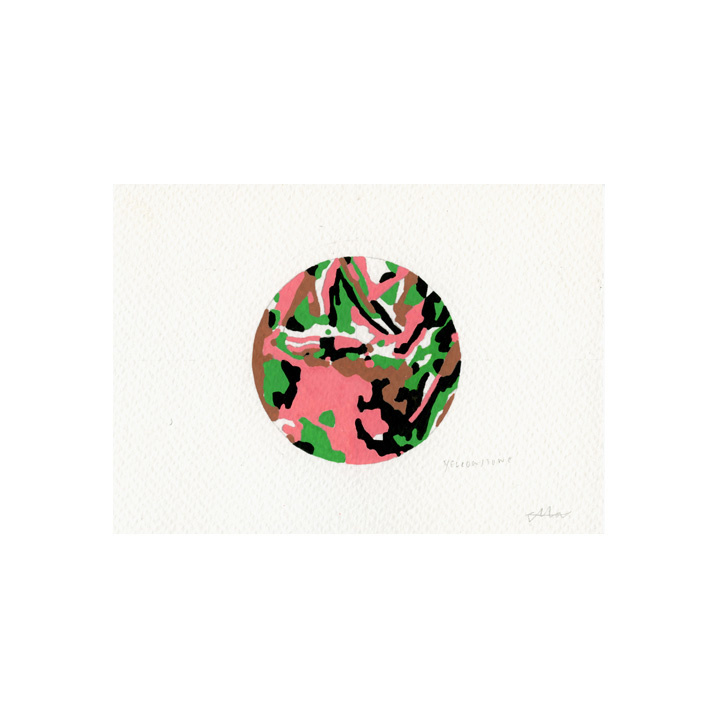 I also enjoy taking an illustration which I've previously created and essentially distort the image until it eventually becomes something else. It's all completely dependent on whether I've read something which informs my work, or whether I'm just quickly sketching a spread of just imagined diagrams which I then develop into final pieces.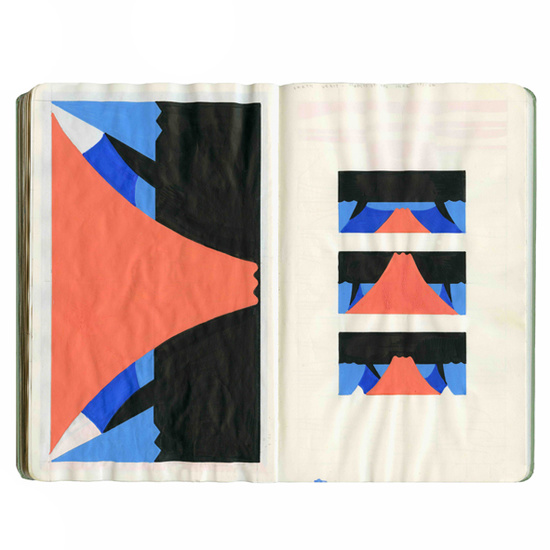 What were your favourite things to draw as a kid? And as a teen?
I can't remember much of the work I created as a child. The only work I can reference are the drawings which my grandmother has framed in her house. By the looks of it, I mostly drew plants outlined with black lines and filled with block colour. There were a few creations which I can definitely remember making with my grandmother though. We made a series of enclosures for insects, etc. I collected anything from caterpillars to snails, slugs and beetles. Naturally, a lot of them escaped and in a state of panic the caterpillars formed cocoons very quickly, they were all over the house!
For some reason or another, I was particular fascinated with arctic circle when I was a teenager, perhaps it was from reading books about Captain Scot's voyages to the Antartic Regions… but I gravitated towards drawing ships, maps and isolated individuals in vast landscapes.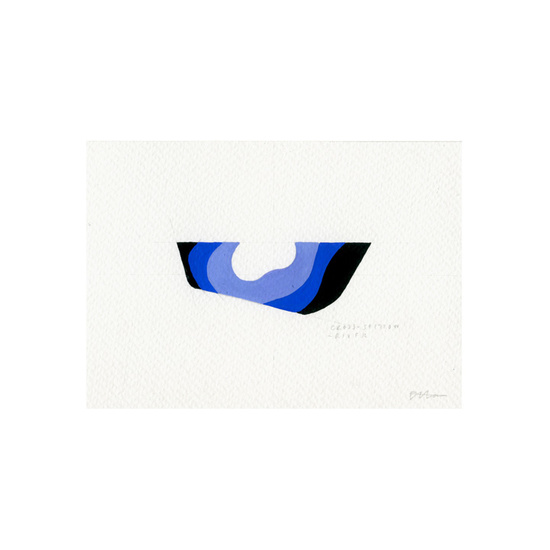 Where does your interest for Japan come from?

Titanic forces, normally invisible, occasionally present themselves in dramatic displays. The year the Thoku earthquake and tsunami struck, I was meant to travel with a small group of students to Osaka as part of an anthropological trip funded by the Sasakawa Foundation. We'd been informed that the trip might be put on hold as they were concerned about the nuclear fall out from Fukushima; there was a considerable lack of information provided by the government during that time, so it was unclear whether we'd even be able to travel. I essentially spent the entire time leading up to the trip fixated on the imagery of the destruction brought about by the earthquake and soon to be tsunami. I suppose the entire experience reinvigorated my fascination with tectonic activity and inevitably Japan. As I've become a bit older, the focus has shifted to a more rounded understanding of their culture. I can't pinpoint or put into words the exact elements which I'm so drawn to, however, there's a pull to return every year which is incredibly strong…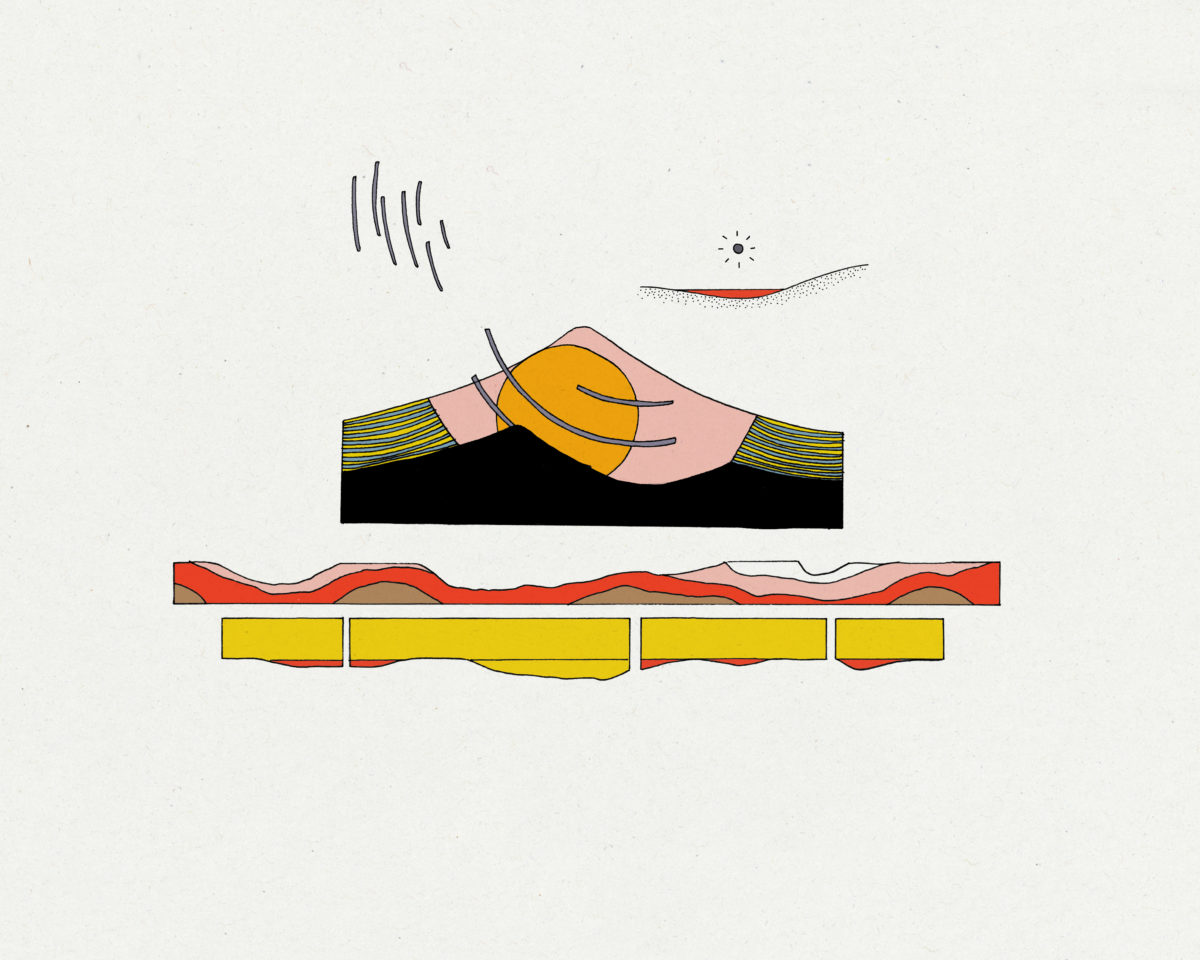 I guess the same reasons brought you to Iceland?

Definitely! Iceland is incredible to say the least. Being surrounded by a landscape which has very much been shaped by tectonic activity really drove me to produce a huge amount of work during my time at the creative centre Fish Factory in Stöðvarfjörður.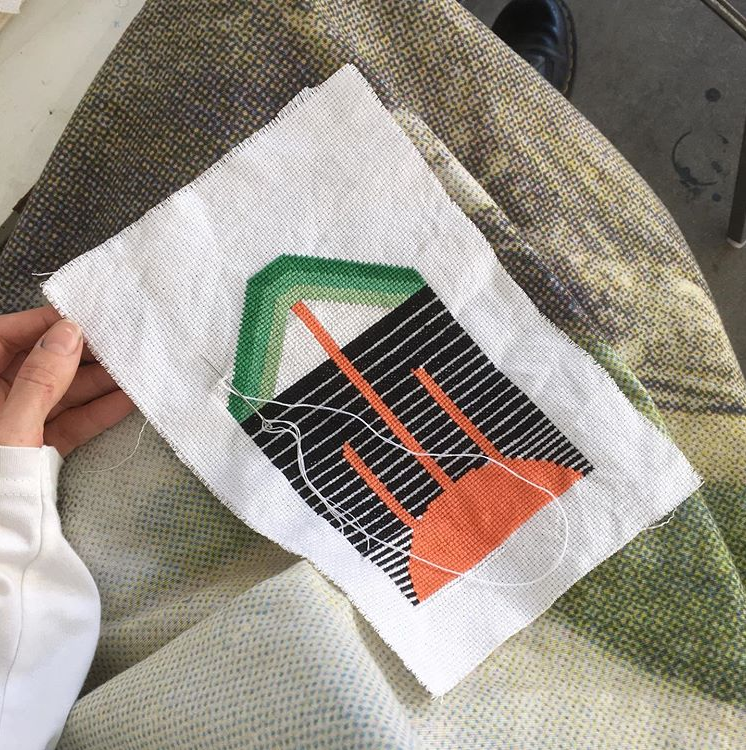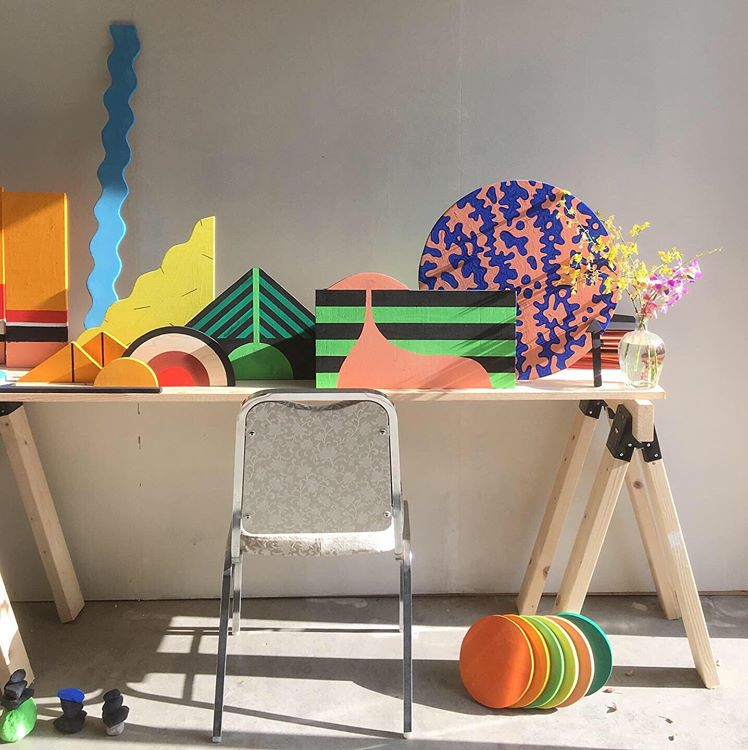 Your diagrams took some new forms lately, with crochet and sculptures. What would you like to do next?
During my final year studying at Camberwell, I start developing some branding for my own hiking range. So, at the moment I'm slowly beginning to design new patterns for a series of fleeces. Hopefully by the end of the year, my sister and I will have a few samples of the final designs. We're hoping to make these available on pre-order for next year.

Oh sweet. Actually, your sister designs beautiful clothes, as much connected to nature and landscapes as your work is. Do you often work together?

My sister and I are constantly working together even if it's a project which is self-initiated, I suppose we both have similarities in terms of aesthetic, but we each have developed our own practise. I completely trust her opinion and I hope that she trusts mine.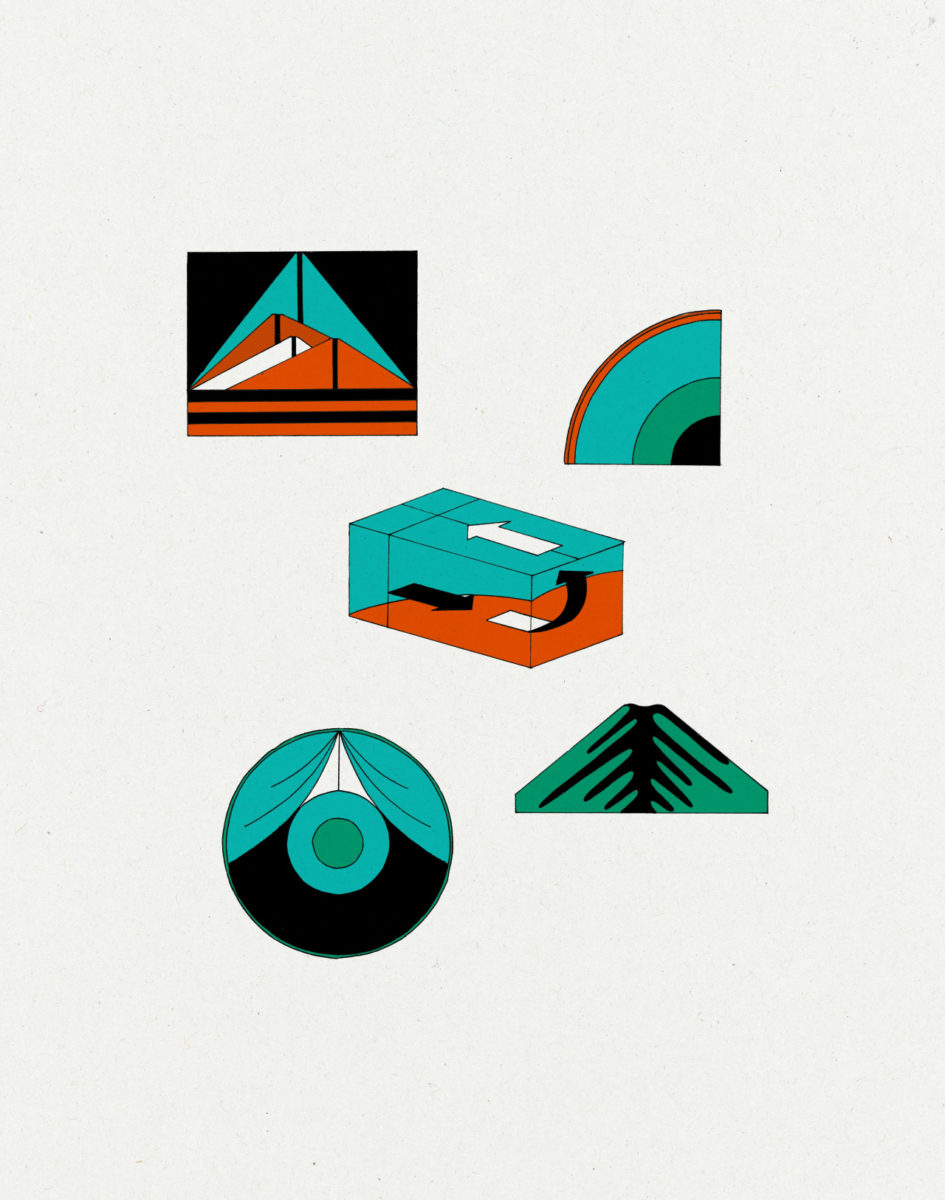 To finish, could you share with us some artists that inspire you?

In no specific order, I love Orra White Hitchcock, Isamu Noguchi, Hilma af Klint, Etel Adnan, Masao Yamamoto, Shota Nakamura, Mike Mills, Rebecca Salter, Linnéa Andersson, Jochen Gerner, Yayoi Kusama & Yoshimoto Nara.

I would also like to mention that a lot of my ideas are derived from or inspired by scientists and naturalists. Some of which are Clive Oppenheimer, Rachel Mills, Edward O. Wilson, Tamsin Mather, Myles Alan, Jane Goodall, Susannah Maidment, Anne Magurran, Richard Thompson, Nick Fraser, Geoff Palmer and of course, David Attenborough.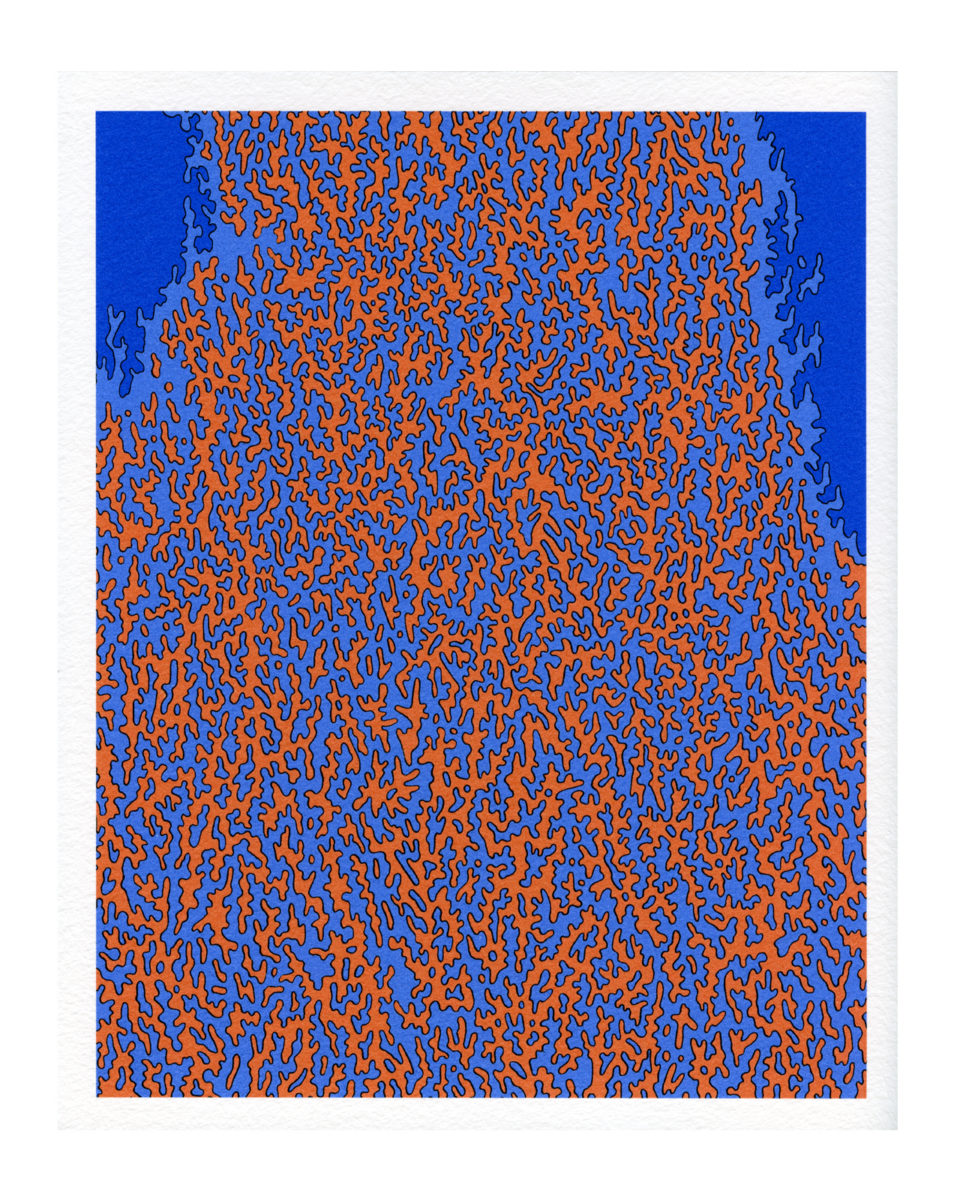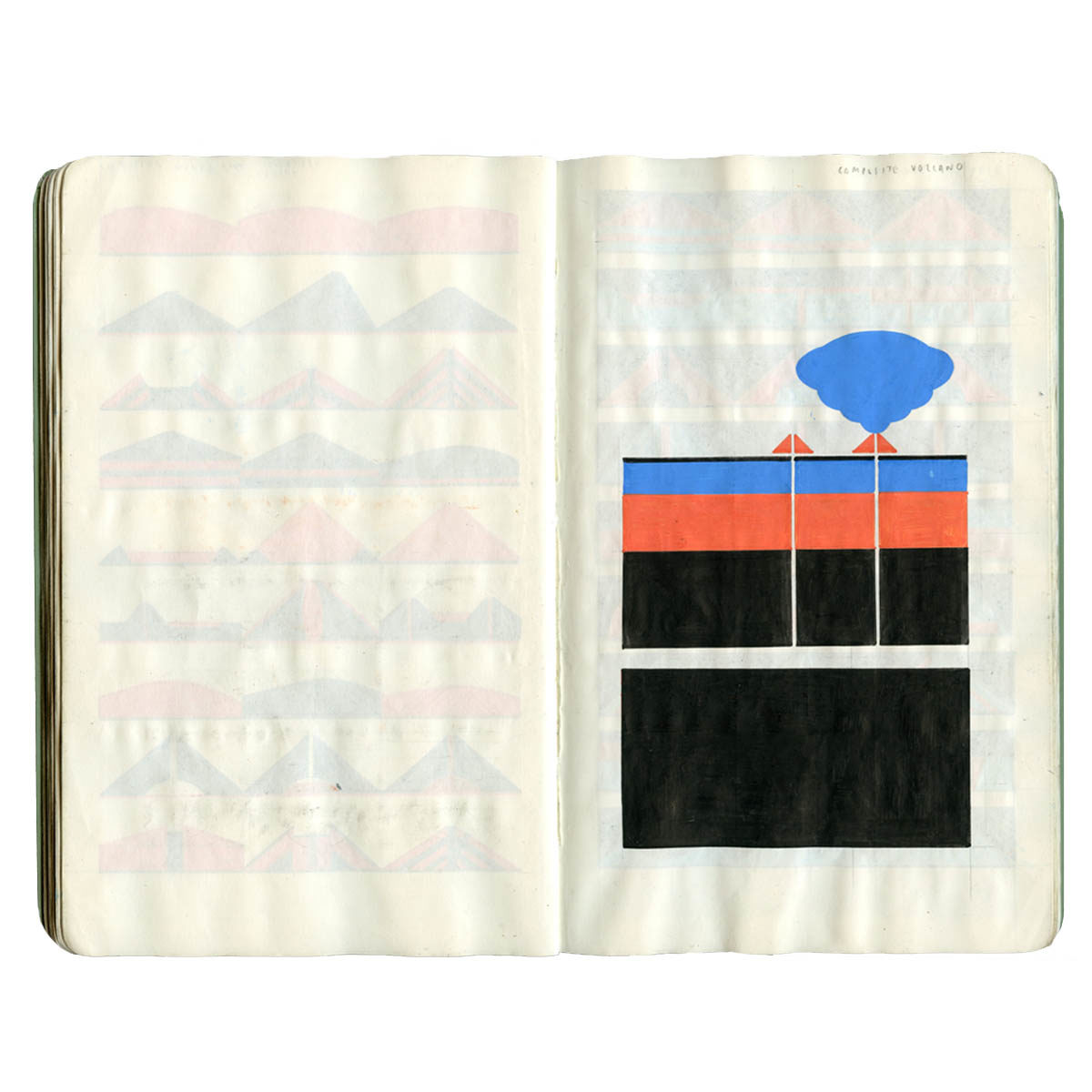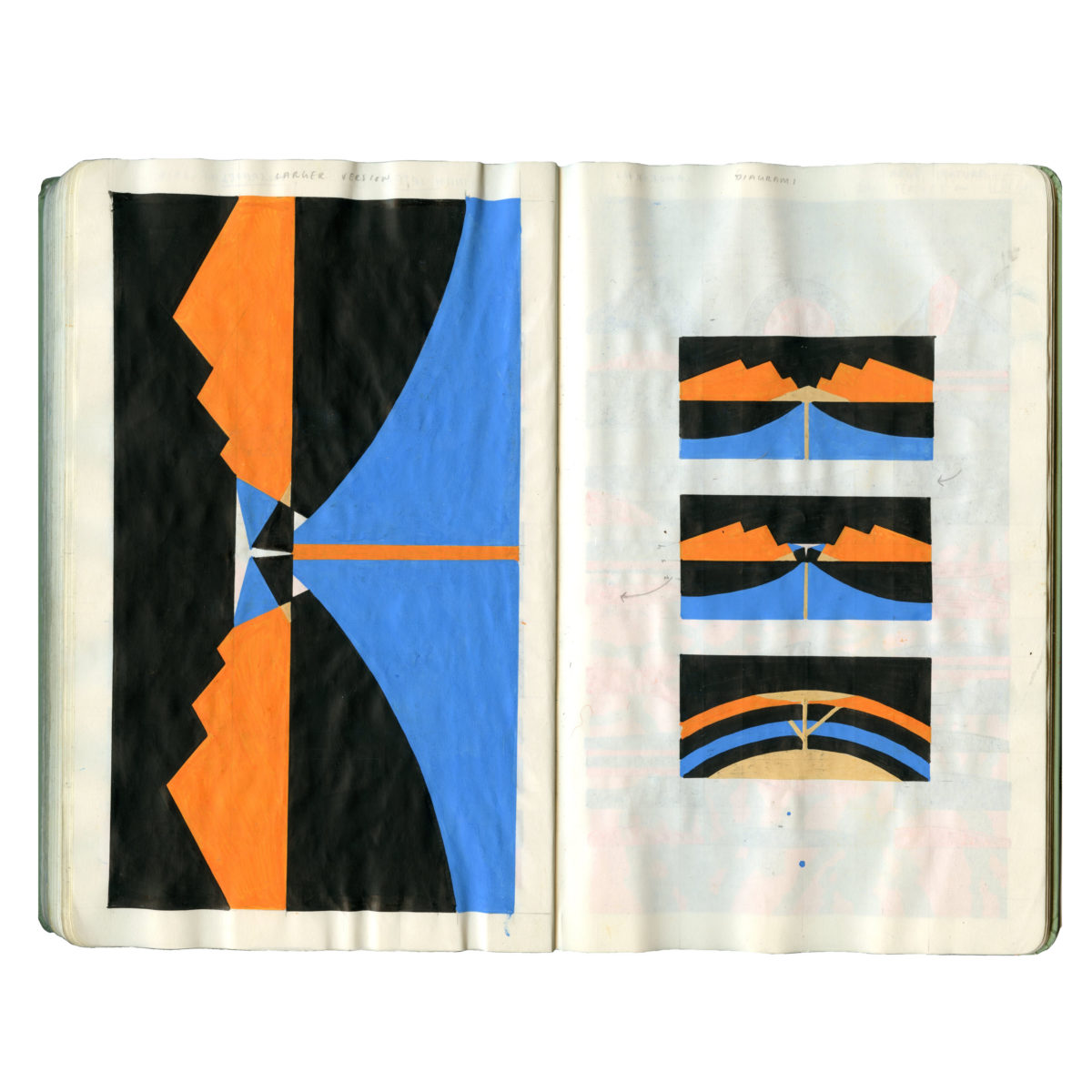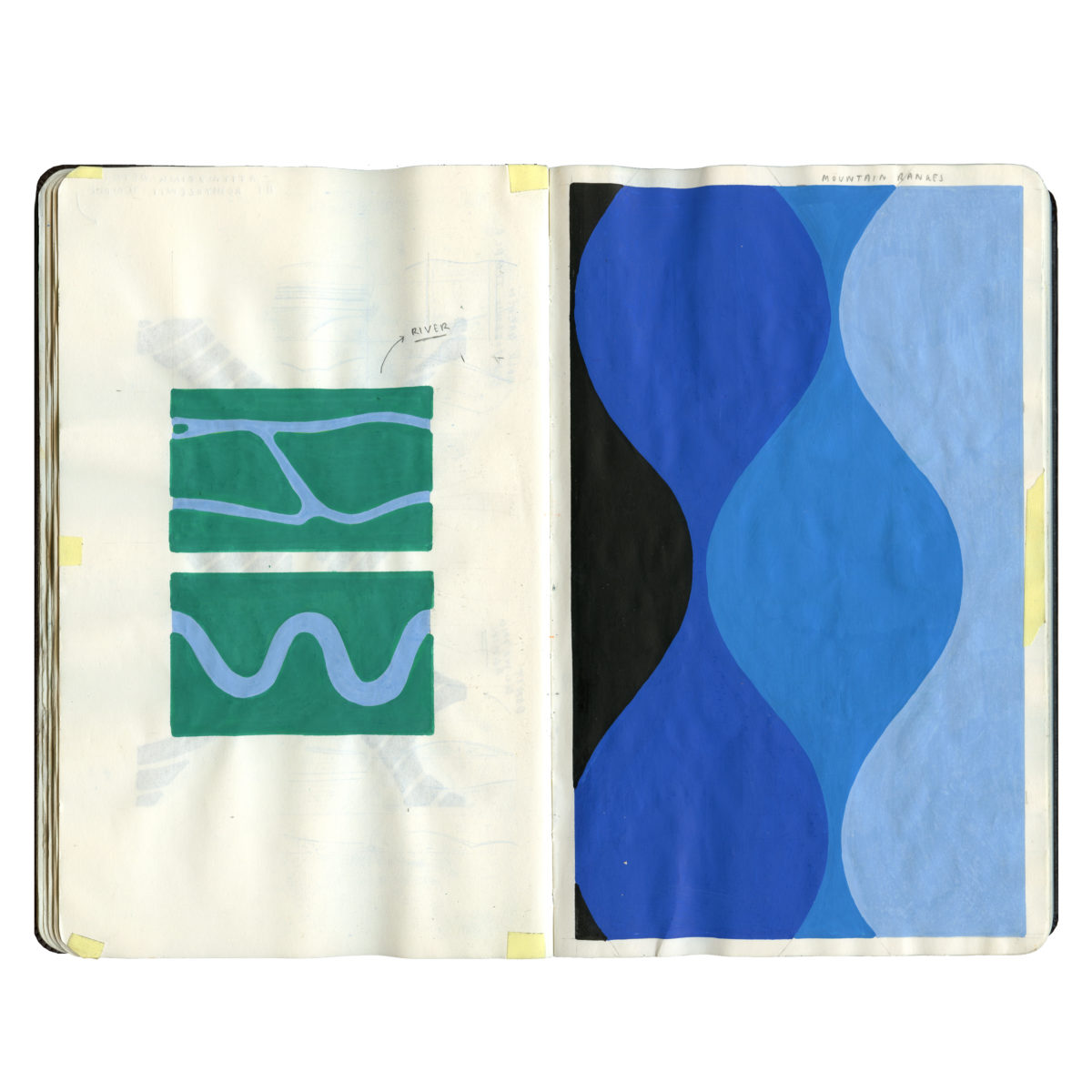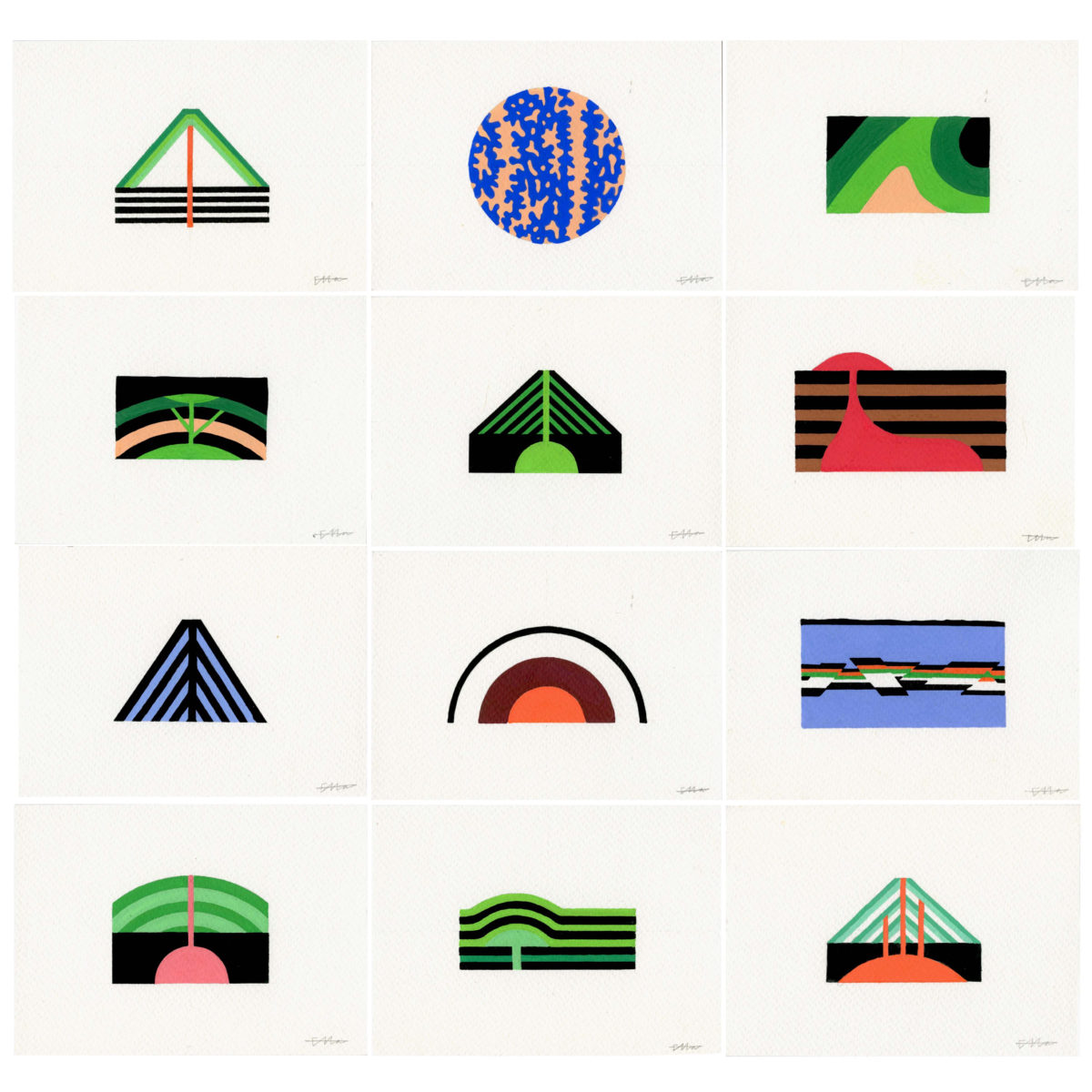 Ella Webb is an illustrator and graphic designer from the UK. You can find her on instagram and check her website.