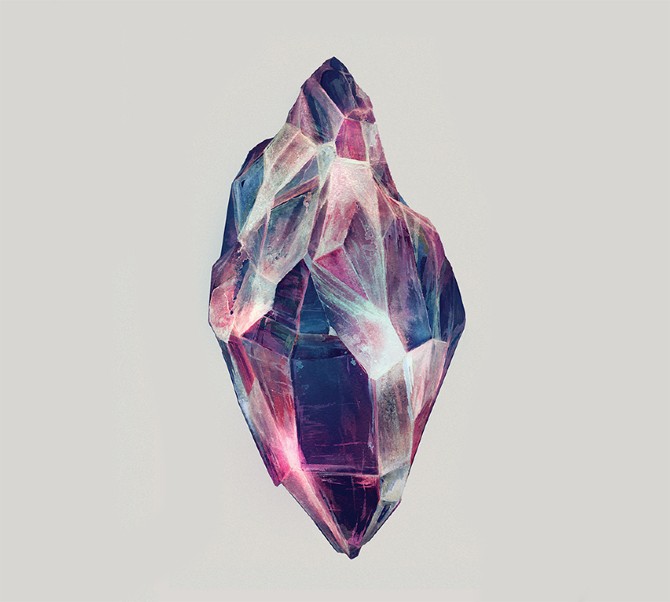 Where are you right now ?
I just moved to very clean and boring place, called Vienna.
You're born in St. Petersburg (called Leningrad at this time), then lived and studied in Sweden, Moscow and now Vienna.
What do you think of all these movements ? Can you feel the influence of all the cities you've crossed in your work ?
I was born in the late 80s, it was the last years of the times of the big country called USSR. Of course that heavy and strong background always makes you see a big difference when you travel around the world, and also my environment hadn't give a lot of Nature connections, which is a big inspiration for my work and kind of the most important thing in our life, as we are Nature ourselves.
When I was 19, I went to study contemporary art in Sweden, i lived in my own house in the forest, with rabbits and dears, the school was situated on the cost of the sea. Forest, sea, mountains and fields, there even wasn't any food store in the district, and after that "pure paradise" (Russia and Sweden are so different from each other ), I came back to a grey Saint-Petersburg.
Well, I think that was the moment when I started to come back to the Nature using my works, like a reminder of the fact that we live on a stunning and very rich Planet. And of of course if you live far away from it's beauty, you appreciate it much more, like I did.
Then I took a tabu of not drawing people.
Then I moved to Moscow, which is really aggressive in terms of environment, it is the fast huge and expensive Monster.
Now I live in Vienna, small and quite city with mountains and forests around.
I also spent this summer in the Mountains in Krim Republic, that experience had changed me a lot…
So as you see the environment and all this moves make big changes.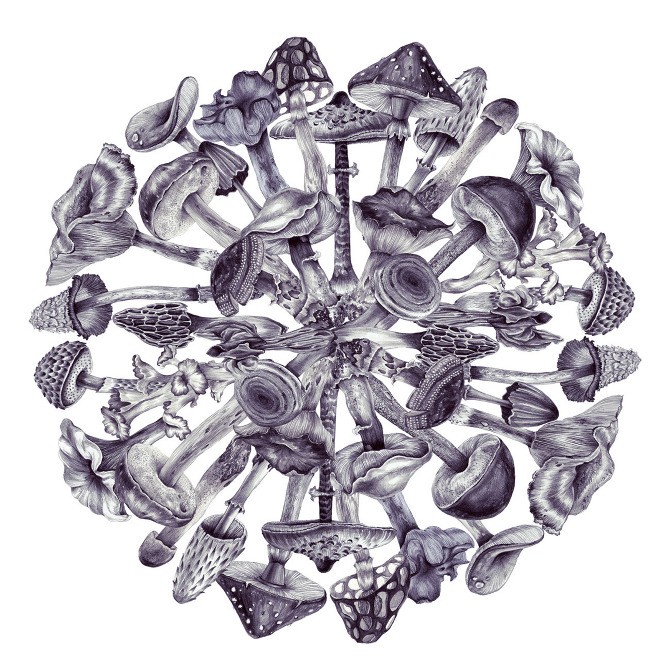 What's the best project you worked on and why ?
The best project I think is the one I made with my soul mate in Sydney, cause we painted Universe in a fashion store, but lived in the house, situated right on the beach… So it was just 15 minutes by car from the city centre full of skyscrapers to the wild Ocean!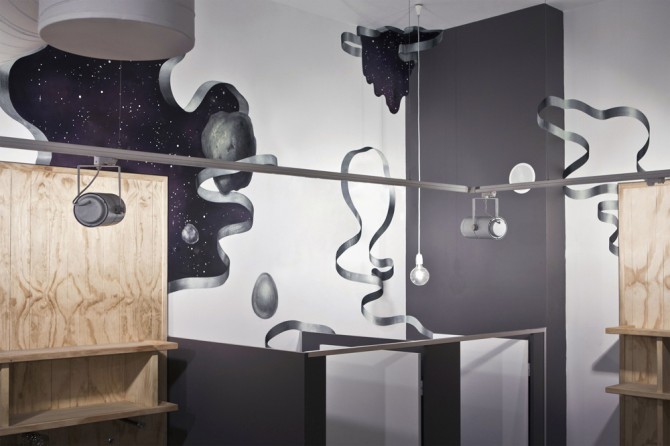 We also enjoyed working on the walls in a new brand hotel in Barcelona [see 2 images below] , spent there two months, amazing city!
For both of us, to travel and work at the same time is the best thing in our freelance creative professions.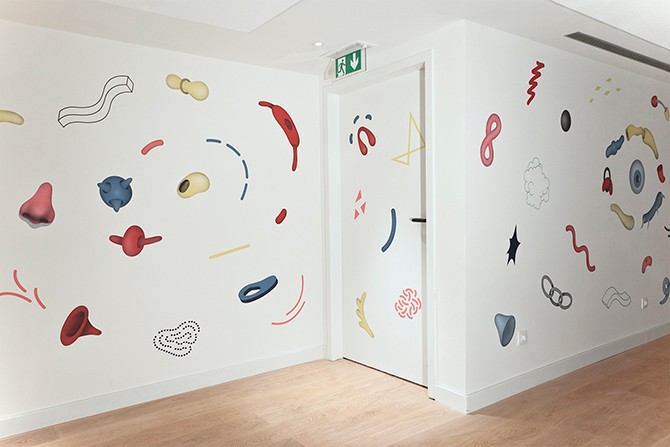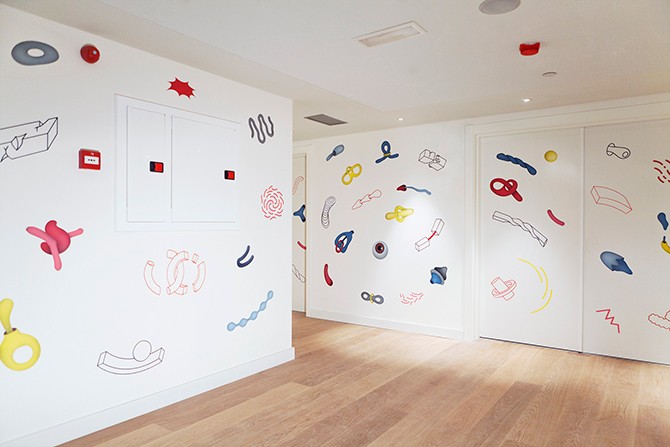 Can you tell us more about the creative collective you're in, Dopludo ?
Dopludo Collective was found in St. Petersburg in 2006. Word "Dopludo" comes from a phonetic transcription of french words "deux plus deux", which is "two plus two" in English. At the heart of the name of a creative trio lays the absurd mathematical formula "2+2=5".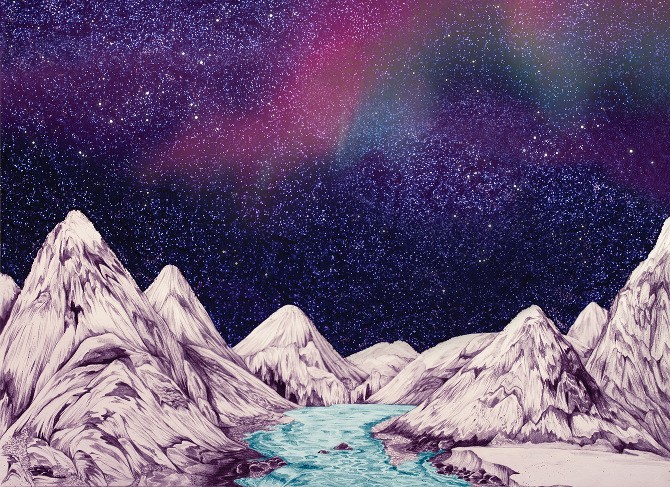 Do you believe in magic ?
Sure I do, cause I really appreciate the situations the Universe presents to me, after some stories that happened to me it is hard to think that only me control the reality.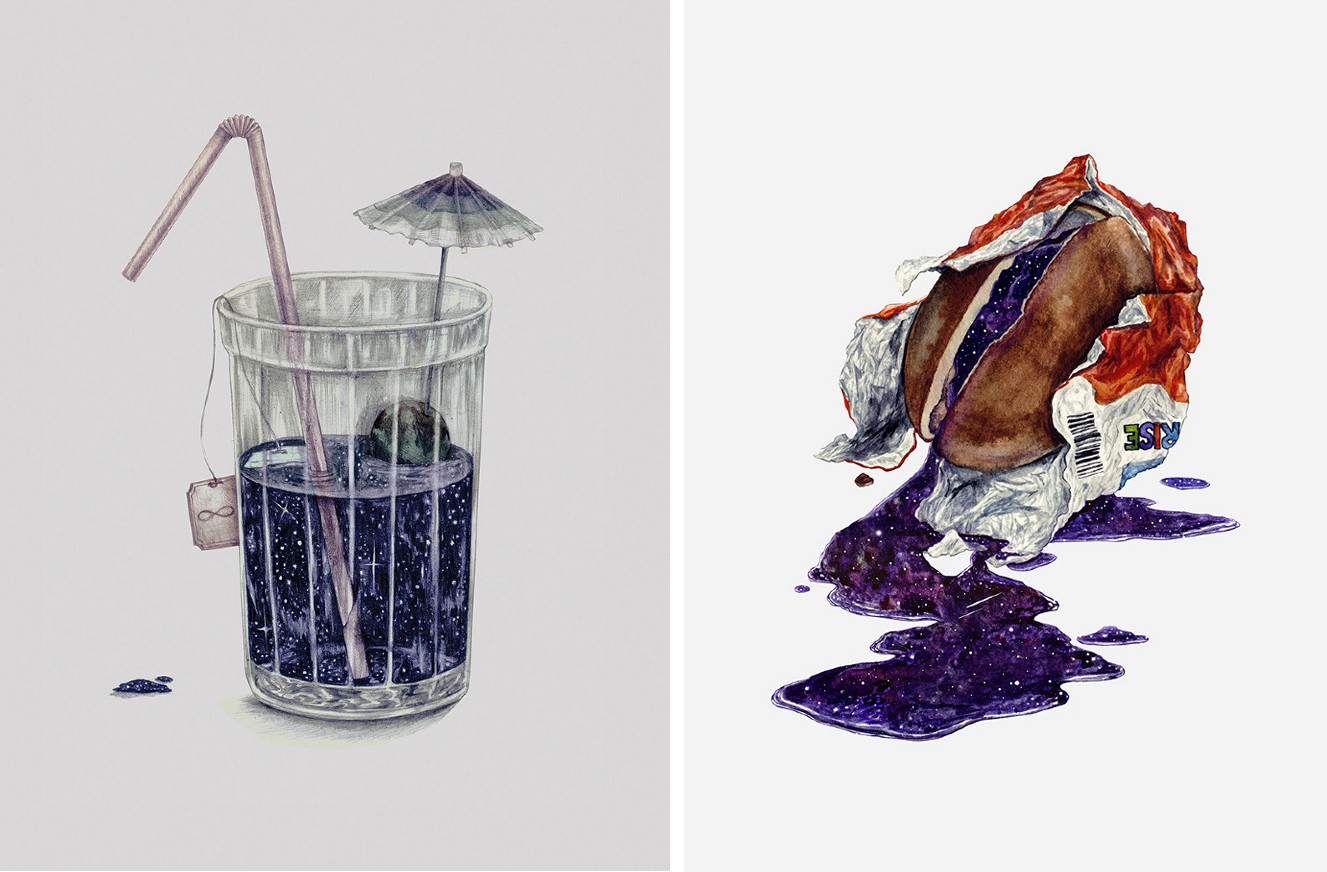 Give us a song you want to listen now.
Lot's of people say I look very similar to Charlotte Gainsbourg, so let's listen to her song : The Operation or Brian Eno – Music for Airports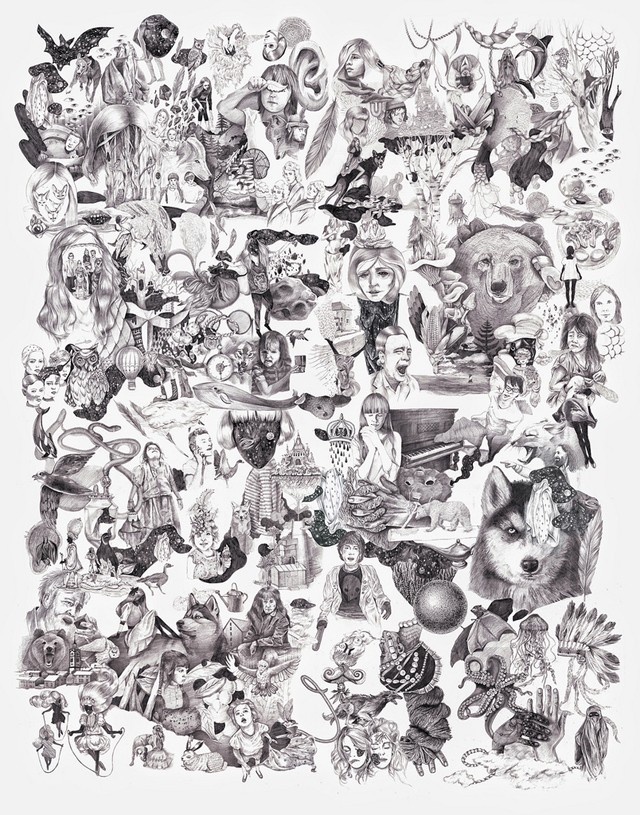 What are your current projects ? Or plans for the future ?.
I am working on a new children's book invited by me, so nobody pays me for that project, and I somehow survive doing only this for the half of the year already. It is about flower girl and in each scene she is in love with Nature,she is in love with fruits, vegetables, sun, sea, moon, bees…
I still don't know how to make it real, I haven't figure out how to find the publishing house, but I hope it will be a good and "healthy" children's book that will inspire kids and also adults to look on our Planet with eyes full of love, like flower girls eyes. I also want to write the text for it on different languages, and to have them all in one book.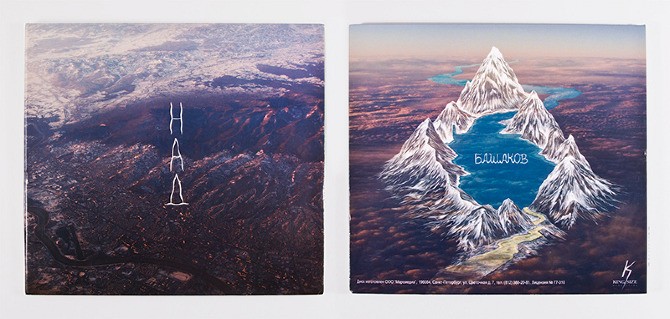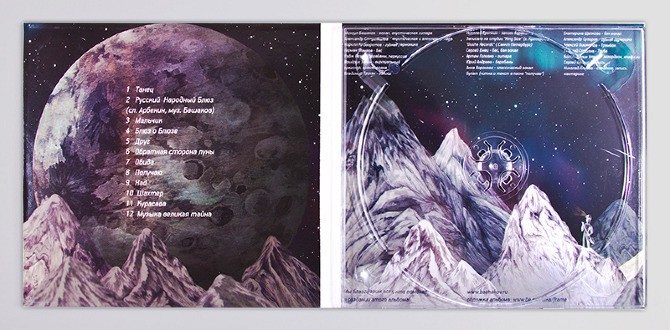 What are you going to do just after answered this last question ?
I am going to work on this book! I have to finish it somehow!
Thank you for your attention.
My website: floralanthem.com
My blog: eibatova-karina.tumblr.com
Thank you Karina!