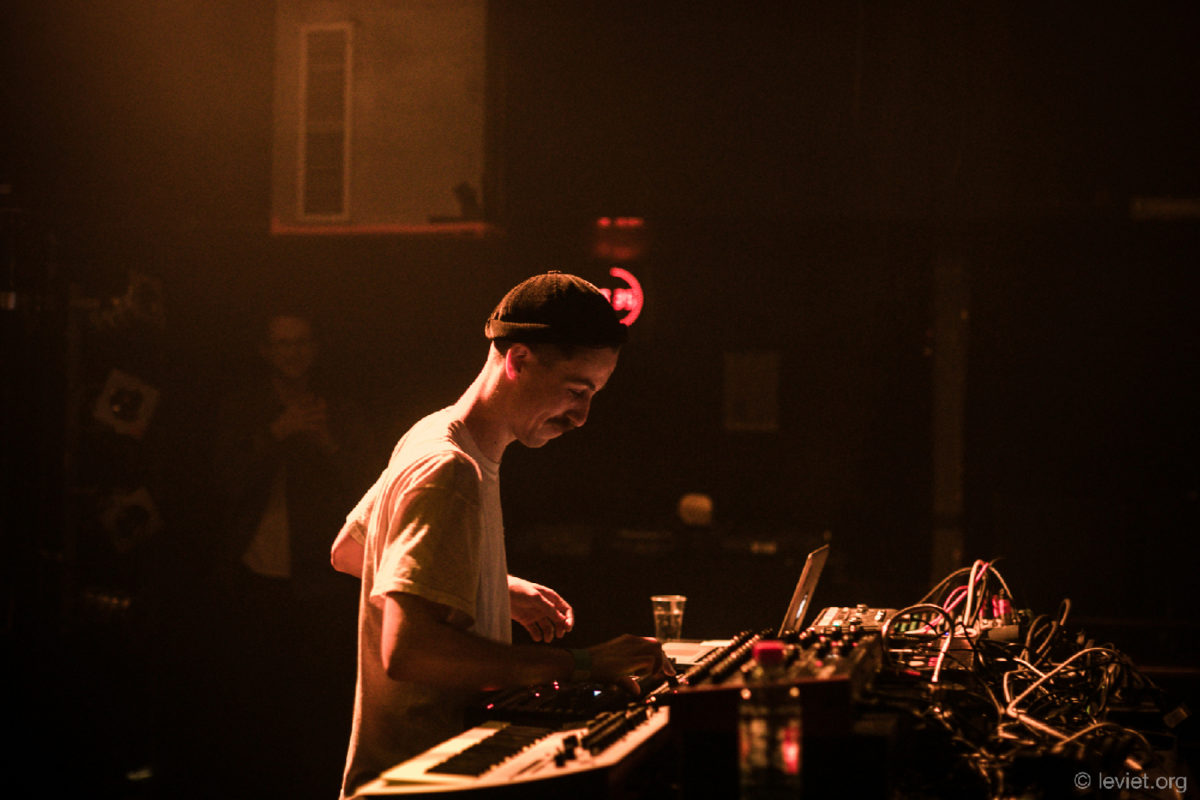 – and shit, it's just really fun!
Fasme
MUSIC . July 22nd, 2020
Fasme is a French music producer. Acid/electro/braindance tracks created with analog machines.
We talked with him during his lockdown time in Nantes.
What can we find in your head? And why this name, Fasme?
It's a little foggy right now, but isn't it for everyone?
Fasme is a nickname that my aunt gave me one summer on holiday at her house. I must have been 14 years old and she hadn't seen me for a while… I had grown quite a bit without gaining a kilo, growth, puberty you know. A bunch of years later when I had to think of a name for my graphic creations (graffiti / illustration) I had flash! So Fasme was born even before my musical project!
Can you guide us through the process behind the creation of your track "Big Deal"?
Haha! Produced and recorded in one day!
I turned on the set-up and I think that I started with the drum. I had just downloaded a shitty TR-707 sample kit that I transferred to my RYTM. I wrote a first pattern and then the bouncing bassline, a stupid one-note thing with the analog FOUR. Then, the chords with the Minilogue, the arpeggio with the Prophet Rev 2 and the lead that plays the main – and a bit naive – melody with the SH01a. In the evening I recorded several live takes, I sent them to my friends and I chose one that I thought I would work on the next day. Finally I liked it in its own juice so I shared it right away!
When did you start producing music? What were your early influences?
I started playing music pretty early. Around 9 years old I had my first drums and at 13/14 I had my first rock band! Until I was 19 y.o with my friend Alex we played mostly Hardcore Punk/ Death Core and other sub genres that end up with « core ». Then, as I grew up, more funky and jazzy stuff, sometimes even zouk and reggae! We had several bands together but they never lasted, in the end we were mostly a duo he and I! After that, unfortunately, I put aside the drums when I moved to Nantes for my studies. 17m2, you can forget the drums!
For 4 years I didn't practice music until the day I got interested in drum machines and synthesizers when I came back from a trip to Asia. No relation with the destination but I had been partying and enjoying electronic music for a while. I came across a live performance of Octave One on the Tube… it made me very curious and I didn't understand what all these machines were, so on the way back I said to myself: "ok I want to do that". I bought my very first machine (Elektron analog RYTM) and didn't stop since then!
For most artists, originality is preceded by a phase of learning, and often, imitating others? How was it for you?
When I started tinkering I already had a pretty dense musical background, which probably made it a lot easier for me to build up a song. I was listening to any kind of electronic music so I wanted to pick up a little bit of everything. Of course, the learning period of the Elektron's workflow and synthesis is really exciting but also laborious and time-consuming. I already knew pretty much where I wanted to go but technically I wasn't there yet. What's really stimulating and satisfying with this kind of machines is that you quickly feel like you reach a nice result- and shit, it's just really fun!
In the beginning it was Techno or Acid House, 4/4 with a big kick, a snare that slams, a close and an open hat, rimshot in all directions, a big bass line, chords here and there and a nice melody, that was my recipe instinctively. I was obviously inspired, but I never felt like imitating. I like the melody, which is for me the main vector of emotions and narration in music, so I worked a lot on it.
Give us some inspirations.
Very inspired by the Braindance, Electro and IDM scenes, artists like Quadratschultz, EOD, Binary Digit, RX 101, Ceephax, David Harleydson or James Shinra. Producers who juggle with ease between colored and melancholic pop, technicality and power, sung by warm analog synthesizers!
How would you describe your evolution and the transition towards what you do now?
More synths, more work! Tastes and ears are getting sharper, and that's normal! As time goes by, I master my gear better and I've enriched my music naturally. I had a real revelation when I discovered the Youtube channel Ballacid (Electro, Braindance, IDM, Italo, Acid Music, Breakbeat – on which you can find the artists I mentioned earlier). This is an inexhaustible source of inspiration for me and probably thanks to which I defined my sound identity. I bought new synths, worked and thought more but I kept a pretty freestyle production process.
While producing, do you go with the concept in mind and work over it until it is perfect or do you opt for a more raw and impulsive approach?
I have a rather spontaneous approach. Being more of a live performer than a studio man, I limit myself a lot to what my synthesizers offer me. Until now I produced songs with the main purpose of playing them live with all my machines, so the number of tracks was depending on the number of synths singing simultaneously on stage. But as I still have the attention to detail, I discover late the joys of sampling, so I start to superimpose more elements, it gives me more freedom. Although I also like to be limited, you go more easily to the point.
What do you think about the fact that there are many more DJs than live performers, especially when you know that the majority of them have managed to break through with their own music? Do you have an artist in particular that you would like to see live?
Ahah, there are less performers because it's a pain in the ass to lug 30kg of equipment all alone by train or plane! No, frankly speaking about the stage, both can or are part of the same job. To each his own entrance door and his own desires too. What's nice is to see that, because we work in the same niche, a DJ who proposes a live show will always be well received, just like a performer who offers a DJ set. You just have to hope that people manage to differentiate both… I'd love to see Squarepusher or Aphex Twin, I don't think I need to argue.
During your live performances, you seem to be very focused on the present time. Can you describe your state of mind before and during a live performance?
I'm stressed out before every concert! But when I go on stage and once I've launched my first patterns, the stress transforms into excitement and energy, I transform myself! And of course depending on the energy of the people, the atmosphere, the power of the sound system, my dance steps behind my machines vary ahah!
Is improvisation a key element of your live sessions or are they meticulously structured?
I would say meticulously structured, I like my performances to be straight-forward. I work a lot on each live performance, I'm going to spend a lot of time on the whole while trying to give a strong identity to each track, what kind of emotion I want to convey and at what moment, create a contrast. I make sure I know all my arrangements by heart, I like to know where I'm going, it reassures me! Being confident with my live allows me to let go of myself even more!
Is music your full-time occupation?
For more than one year I've been surviving with music only, but given the times we're going through it seems a little compromised..
These days, how do you handle this lockdown situation?
It's « Groundhog Day » you know the movie with Bill Murray. Every morning when I wake up it's 10:45 on my clock no matter what time I go to bed, and it's often very late. I eat, I make a lot of music, I play the playstation, I drink beers with the friends in video call but also without them, I go to bed and it starts again tomorrow at 10:45 am.
What are your plans for the future?
I'm working on a remix of a track from Para One next album! A proposal that, you can imagine, didn't left me indifferent! A really narrative album, of high quality in all its aspects, surprise surprise! Then a few tracks here and there for some V/A, and I'm preparing a solo EP on a maxi label that I can't really talk about at the moment. What I can tell you is that it's completely crazy and that the EP will contain my track 'ICI' released on Ballacid last year!
Apart from this, it's always the same desire, to produce music, to please myself, to please people, to continue to devote myself 100% to it and try to make a living out of it!
What are you going to do after having answered this final question?
I'm going to tidy up my apartment and do huge laundry before leaving in a few days for an artistic residency with the video team of Electronic Feeling and Puffin for three weeks!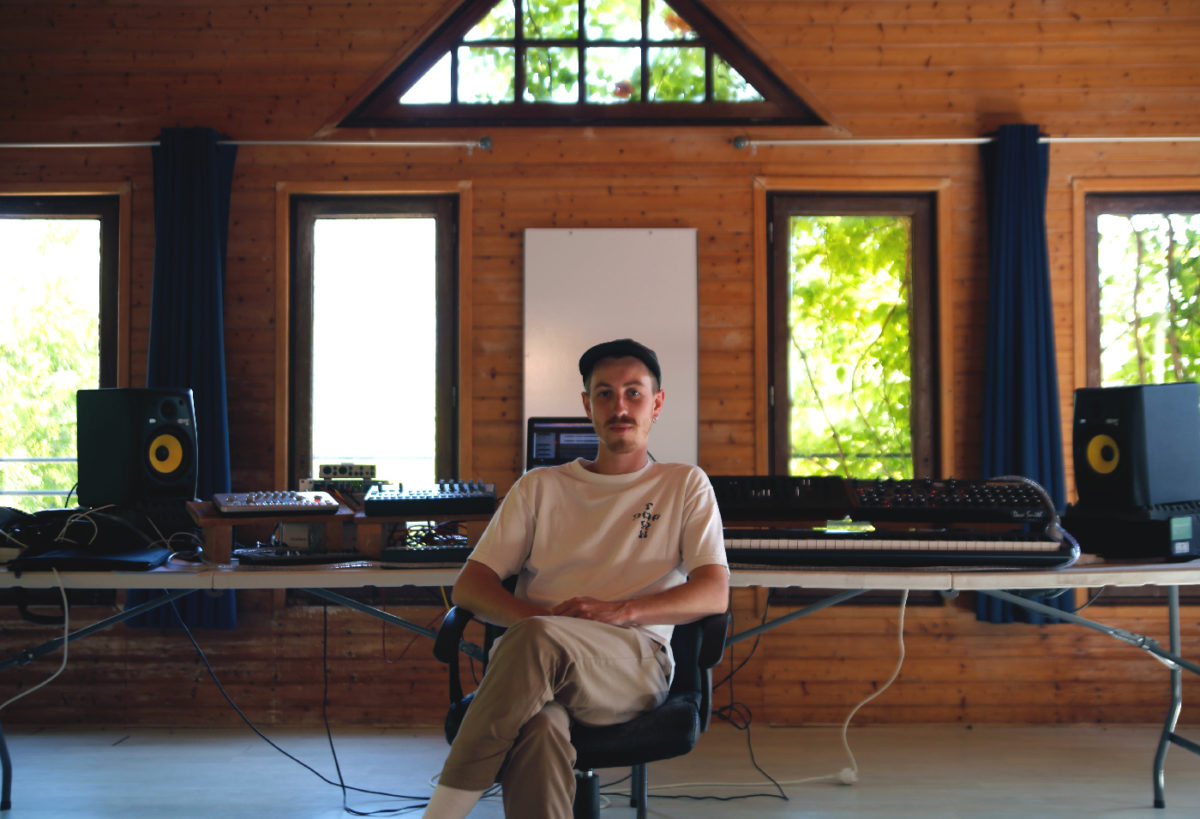 + Weeks have passed now, how was this residency? :)
3 weeks on the creation of an EP and the shooting of a documentary on the production of it! The co-creation, the production under constraints and in the context of a specific place. It was both intense and resourcing. I needed some fresh air after those 2 months locked up alone at home…and to join my friends around a common exciting project, really did me good! We shot a lot of video content. From our two respective projects and from new work we did with artists we met during the residency! We can't wait for all this to be edited, and to show you the result!