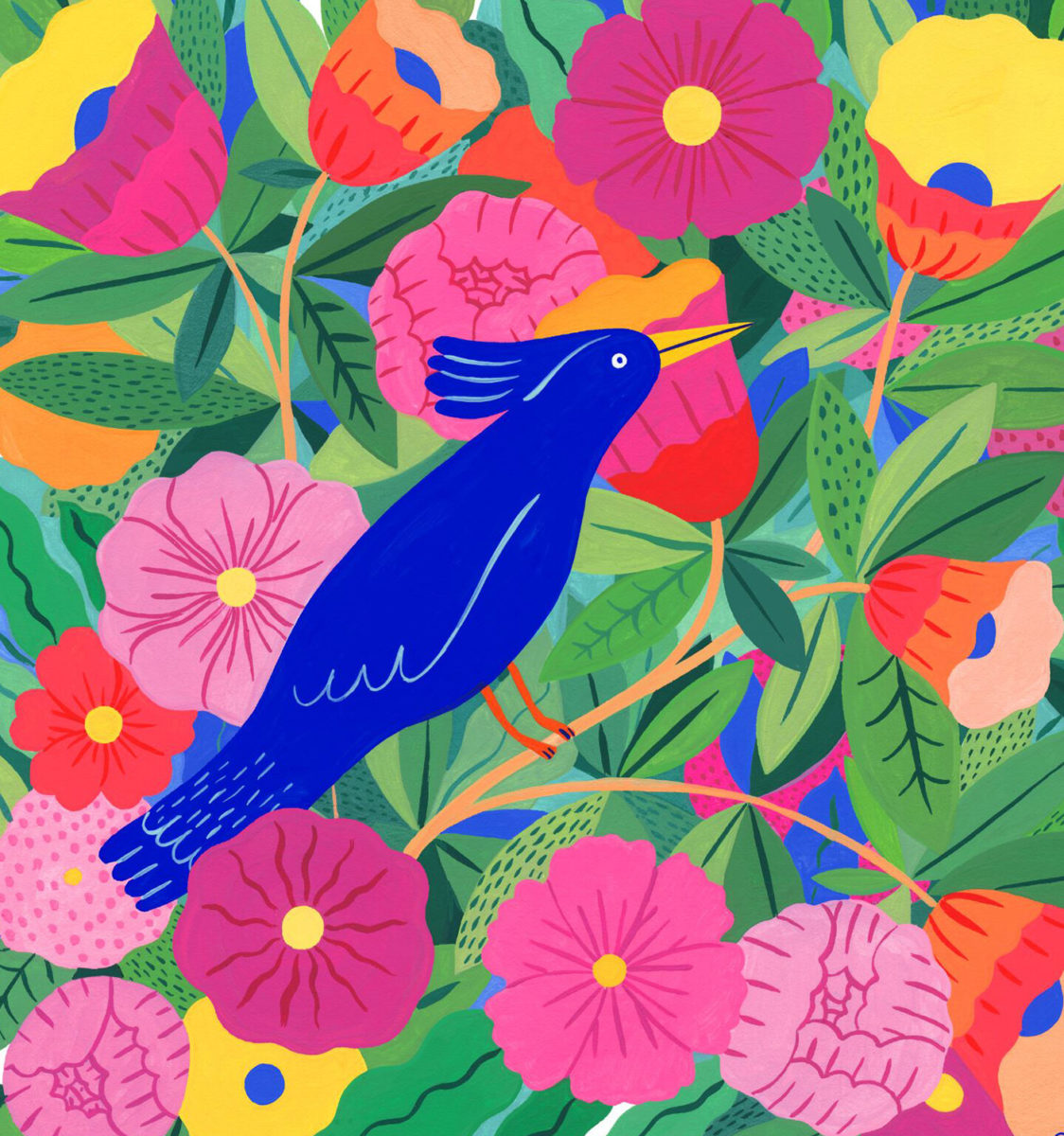 The expression of the hand can take on as much importance as that of the face.
Agathe Singer
Misc. . January 17th, 2021
Who are you Agathe?
Hi! I'm a 34 years old French artist. I was born in Normandy (took my first dip in the sea at 3 days of age), raised in Brittany and left for Paris to study when I was 17 years old. I live in a flat which I share with my husband, an Austrian photographer, our 5 years old daughter and soon a new baby for Spring. With 2 businesses and an online shop running from home it's started to feel a bit crowded here! I've been an illustrator for almost 10 years now after the shortest career as graphic designer. I work mostly with paint, my work is all about colors, fauna and flora. And a lot of women portraits.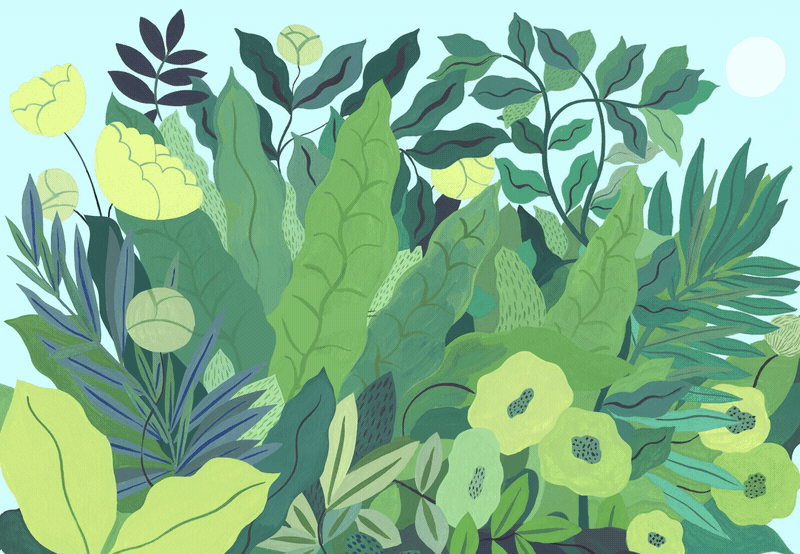 What can we find in your head?
Oh tough question, I would say a lot of project in progress and paintings I'd love to do and never find the time to start. New motifs, topics and colors I'd like to try… I think a lot of about a painting before getting at it – or not. Also I'm terrible at organisation so I keep thinking of what I might have or what I shouldn't forget. And at the moment there's an horrid song from Frozen that can't seem to go away.
Can you tell us about the hands postures and the importance it has for you?
I am very much influenced by classical paintings where the hands are exaggeratedly posed and expressives, I like the coded language that this adds to a portrait – we try to decipher its meaning, the expression of the hand can take on as much importance as that of the face. It's also a recurring element in fashion photos, which often have to feature a close-up of a portrait, while showing a hand full of jewelry or a watch… it often results in absurd, whimsical poses, which inspire me a lot. The hand is also a complex pattern to draw and simplify, it's a very interesting exercise to practice.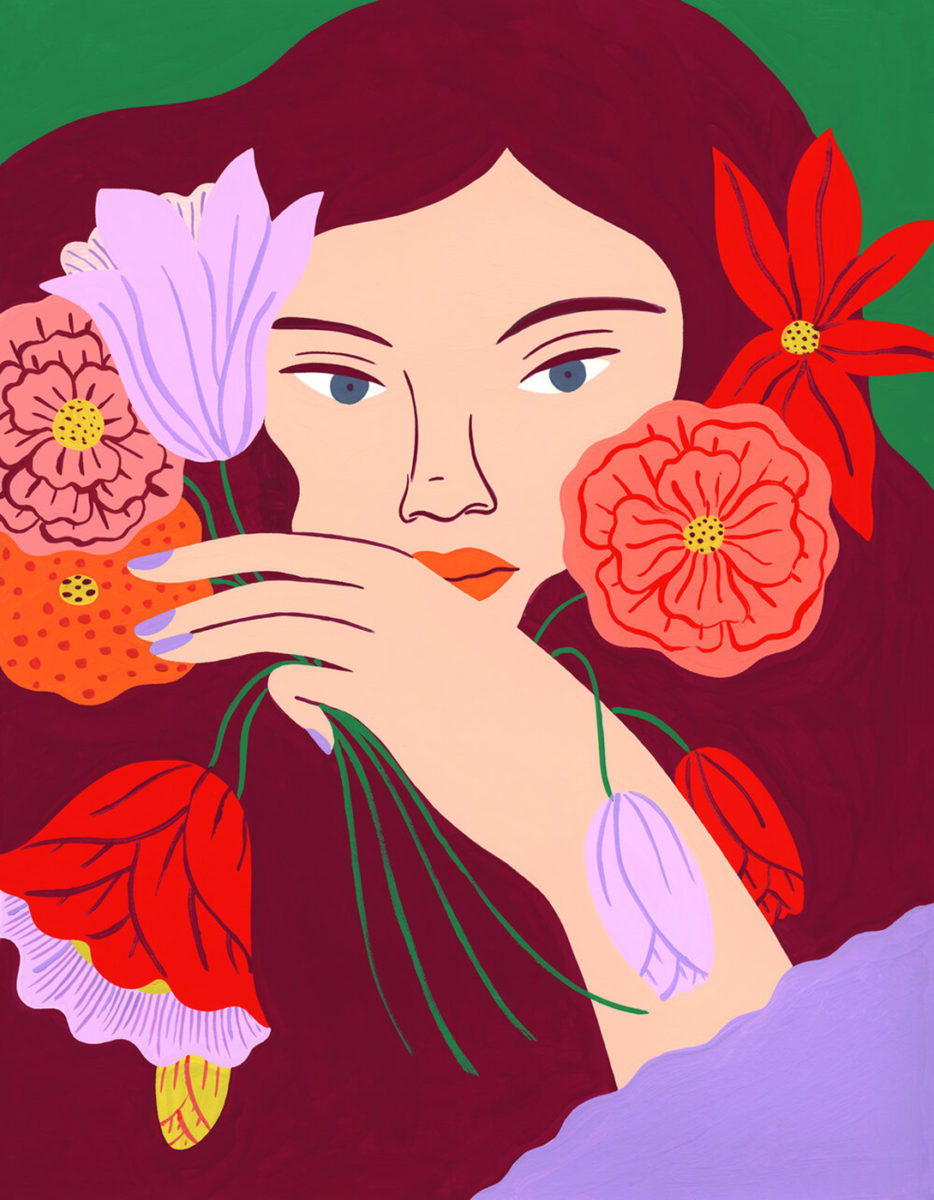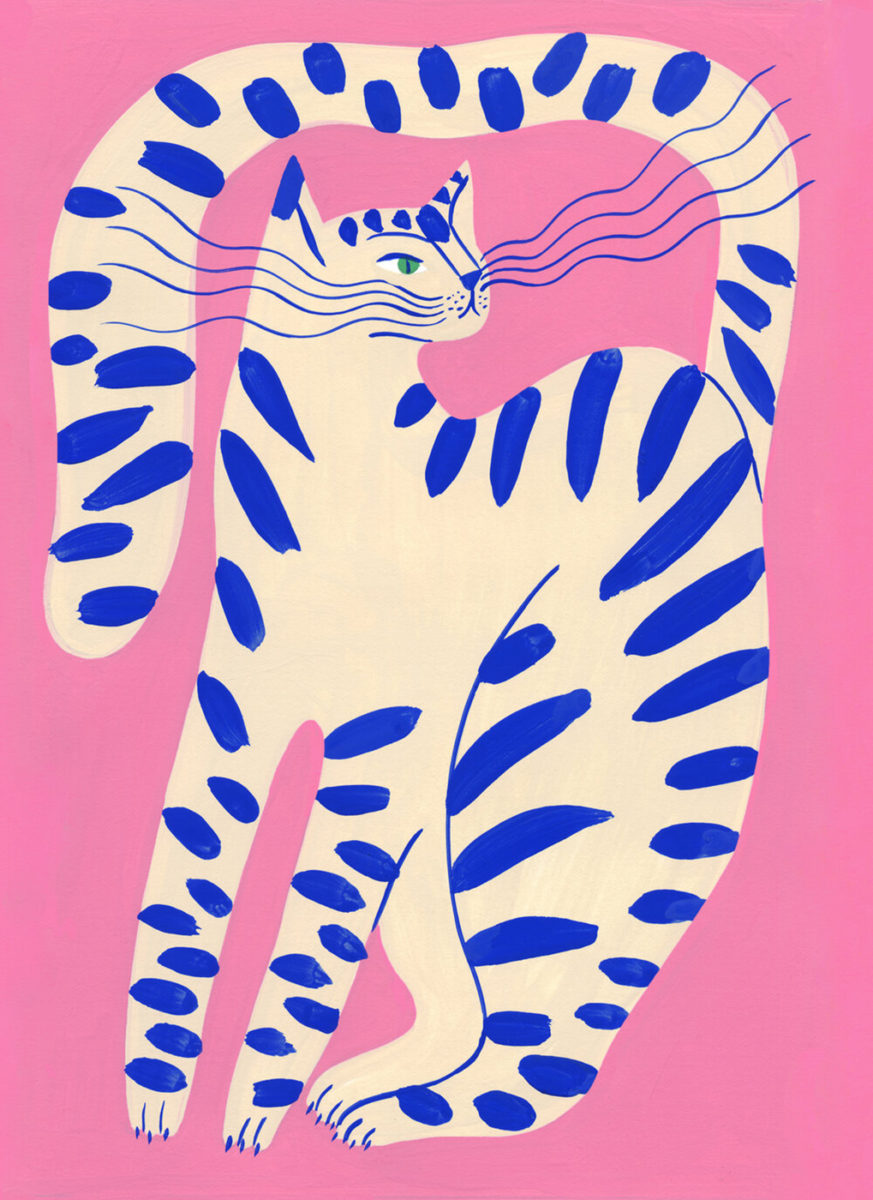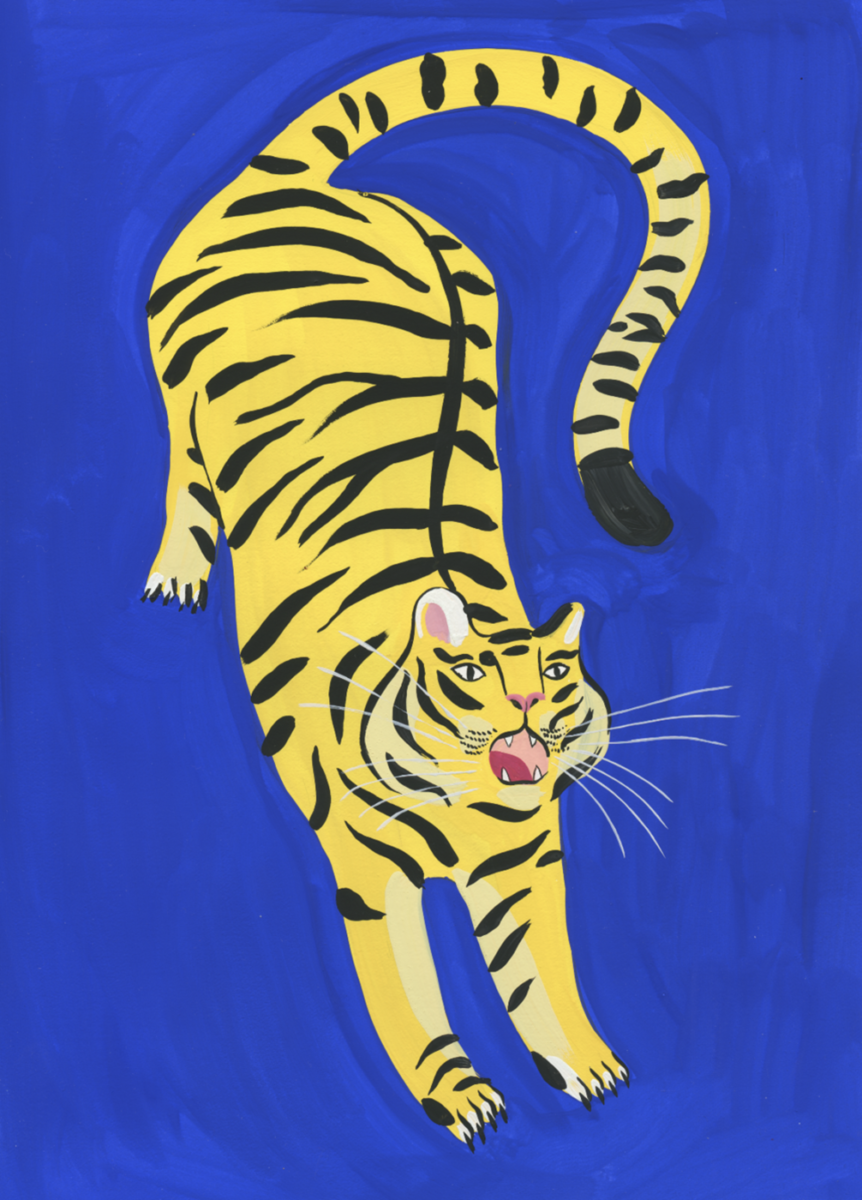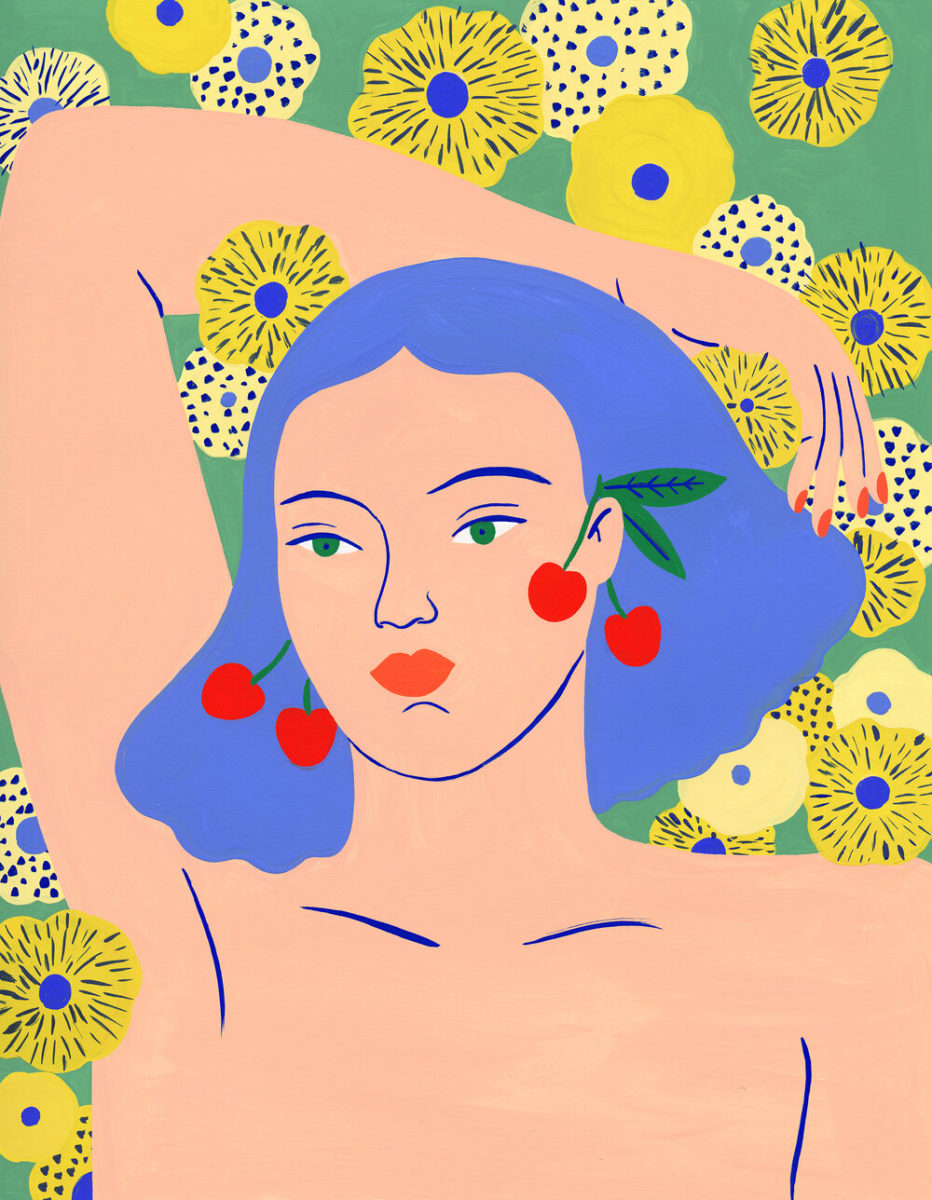 When it comes to characters, you mostly draw women. Is it only an aesthetical choice or is there more behind?
When I started painted I was mostly drawn to painting flowers, plants and animals. I was not very comfortable with drawing places or people so when I finally putted myself to it I started with what felt familiar, self-portrait, women portraits and women figure in general. I love drawing women as I would do with flowers, the round shapes with bright spots of colors. Women are characters that speak easier to me and I love to explore their representation. I'm not sure if there's more behind that but I'm still not really attracted to paint men at the moment.
Do you want to change the representation of women in art?
I don't think I can change the representation of women in art, but I can share female work, purchase female work, go to female artist's exhibition and educate myself and my kids (have you read the terrific Good Night Stories for Rebel Girls?) about it. That goes for any aspect of our society that pushed women on the side of history- science, sport, innovation, discovery, literature and so on, not only art. I think it has to be an active choice and there's much to catch on.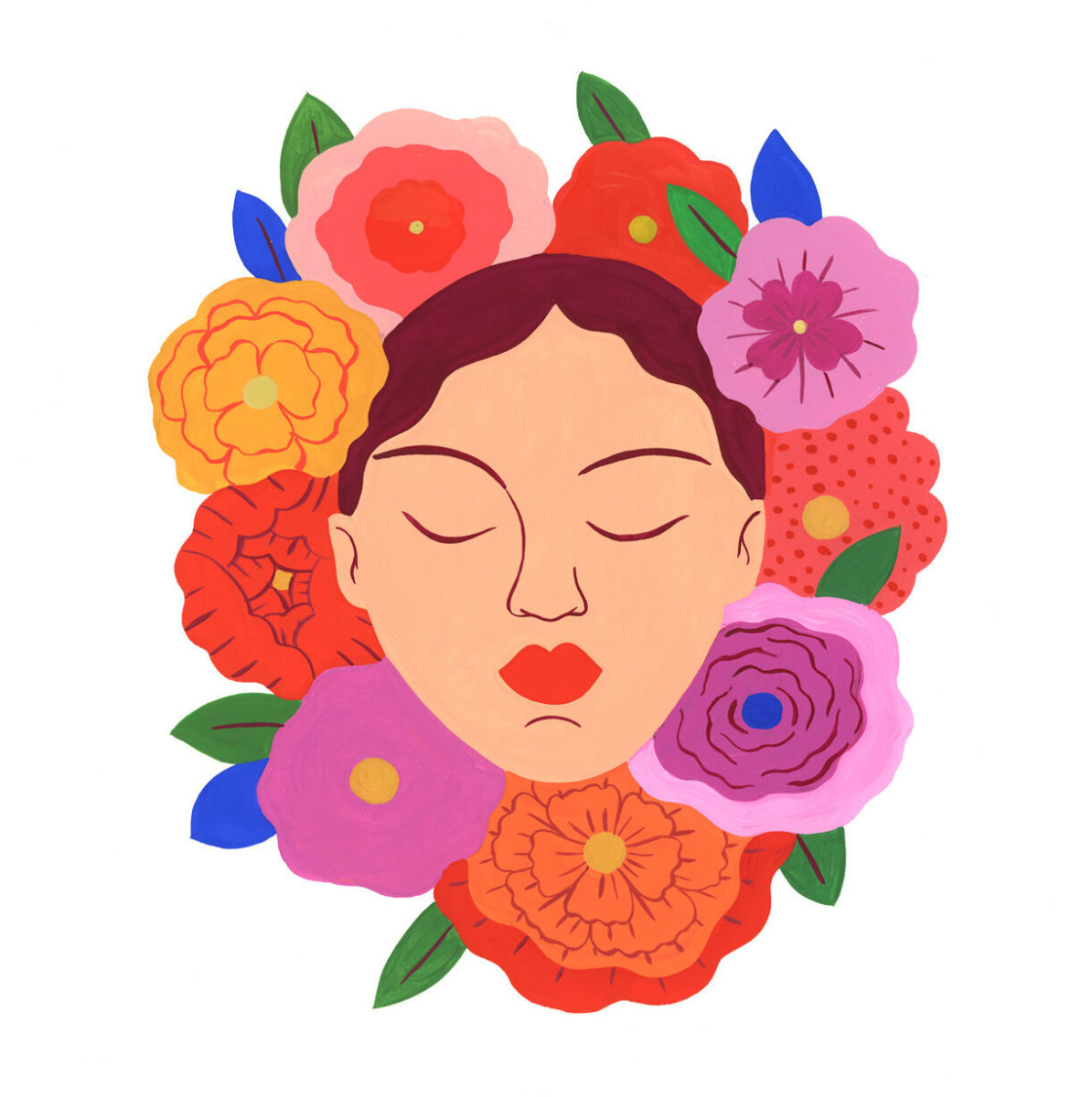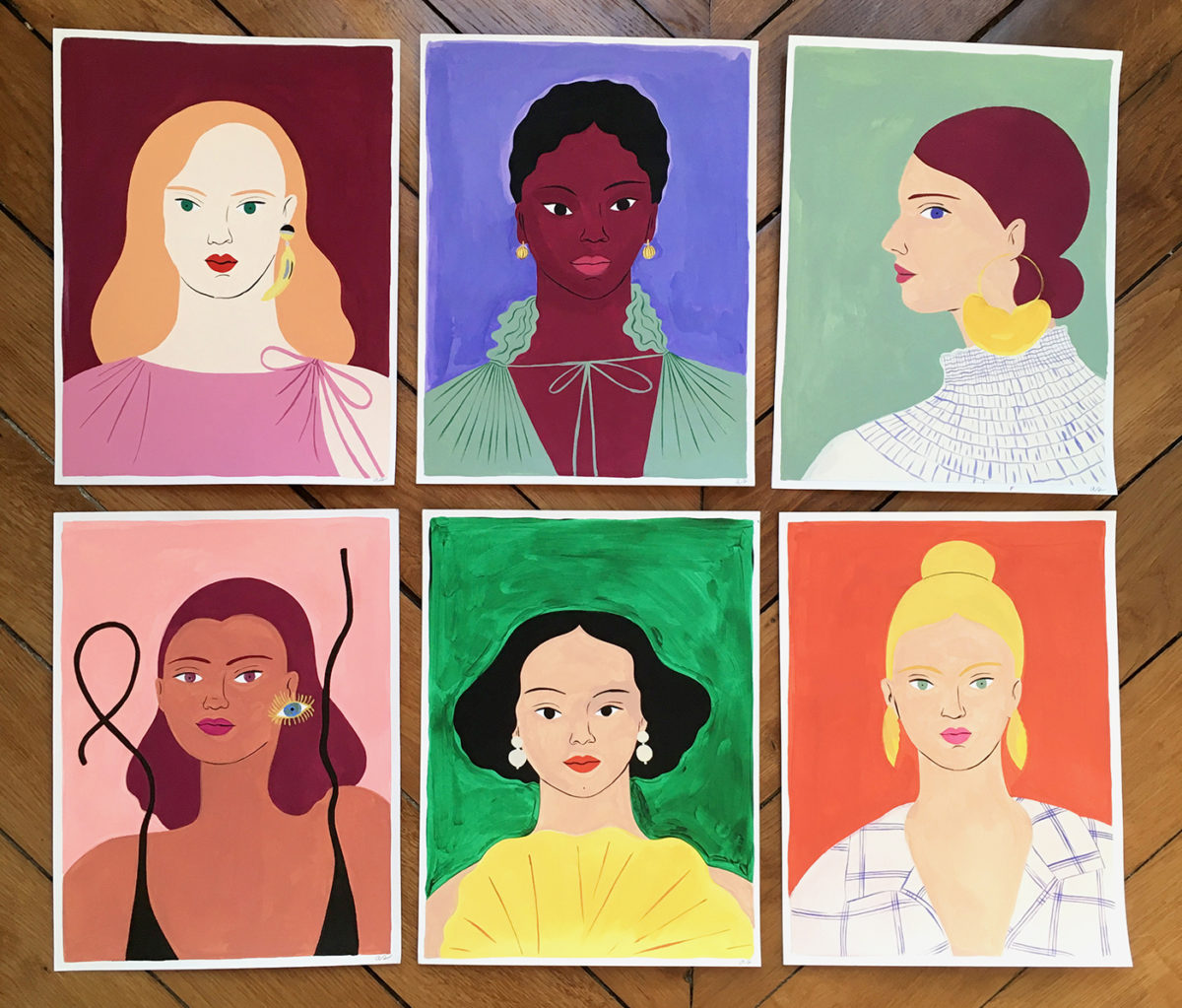 Give us some of your favorite paintings of women?
Girl portrait by Paula Modersohn Becker for the mysterious look and hand posture, La grenouille (the frog) by Suzanne Valadon which is a crude painting of a woman getting in her bathtub, Frida Kalho's self-portraits in general but also the portrait she made of her niece as a baby, Portrait of Isolda Pinedo Kahlo. I love those three paintings because they depict simple topics of intimacy but with a strange and expressive twist.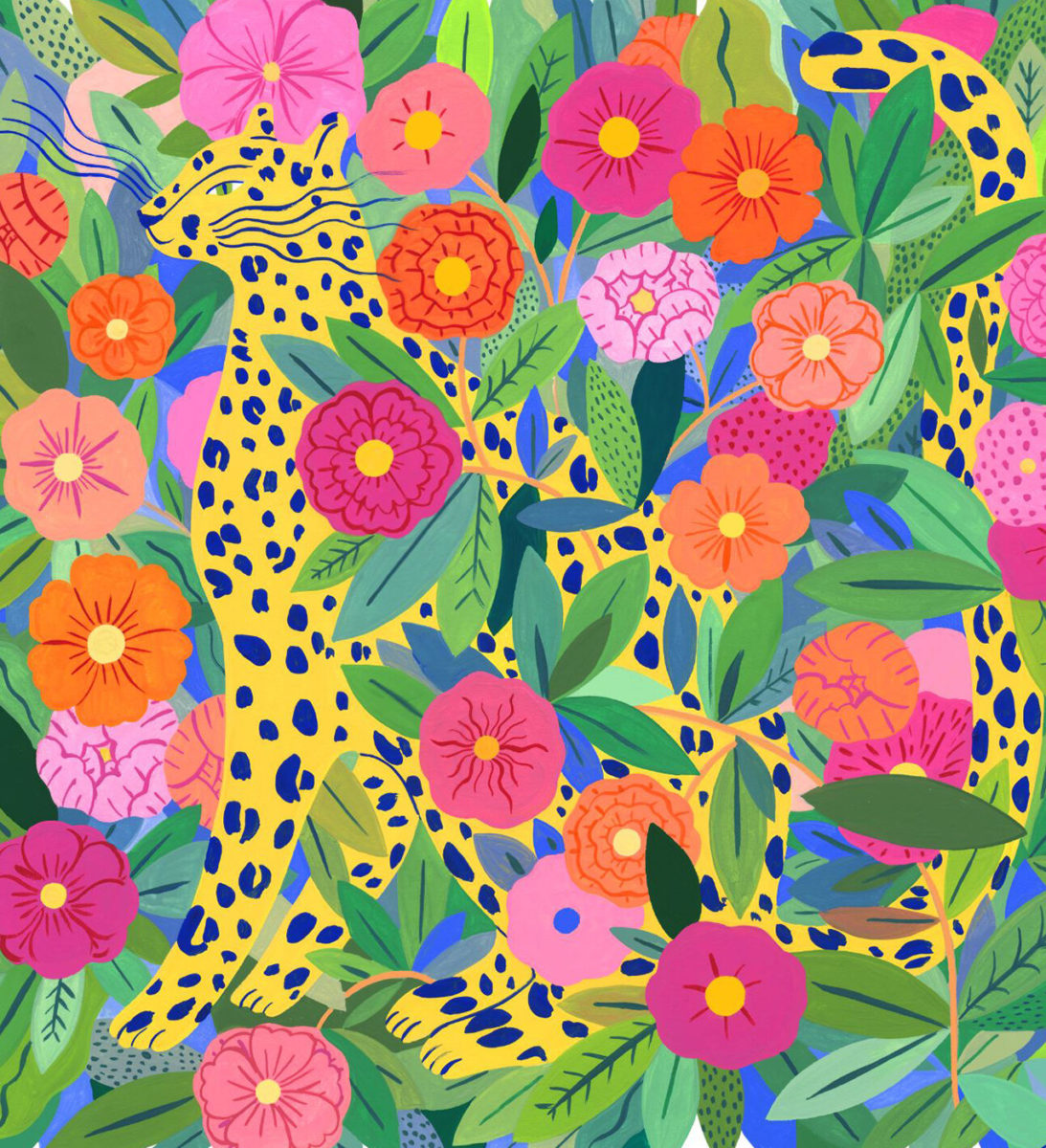 How does your workspace look like? What materials do you use?
My workspace is my living-room, I use a small desk by the window, or our diner table to paint – I have to tidy my mess at the end of the working day otherwise my daughter will start a painting session of her own. I work gouache and acryla paint on watercolor paper, with a wide range of medium paintbrushes for the bigger color swatch to small and super small paintbrushes for the details.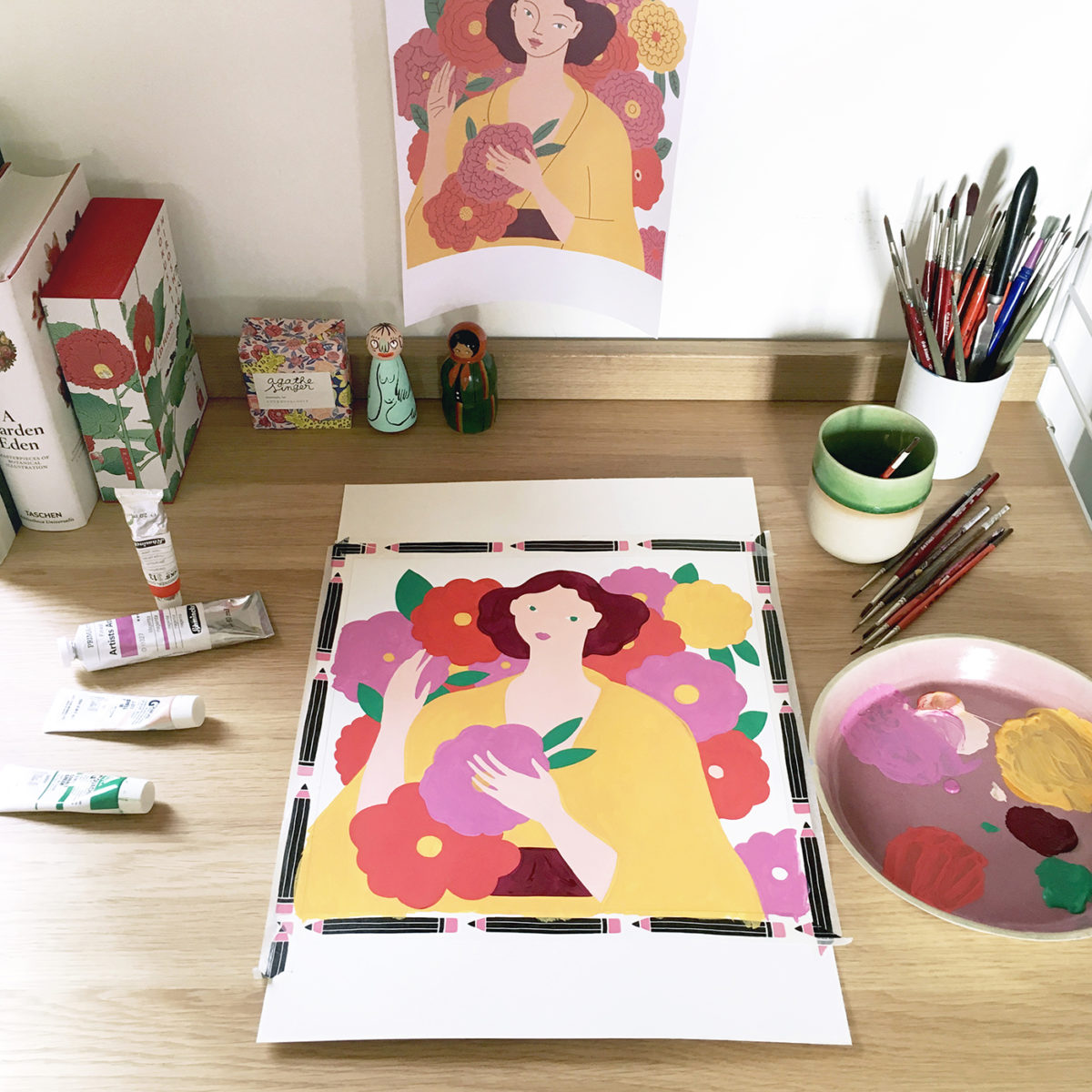 I have a separated desk for all the digital work and retouch which takes also quite some time, working on a Surface Studio computer for two years now which is the best digital tool I ever had, with a huge screen to draw directly on. I love the feeling of it (though I still can't manage Windows ergonomic at all and my desktop is the worst mess).
There's a bit of work material everywhere in the room, drawing cabinets full of prints and original paintings, boxes full of paint tubes and lots paper and notebooks – it's even stuffed under our couch. Plus a ever growing of photo books my husband collects.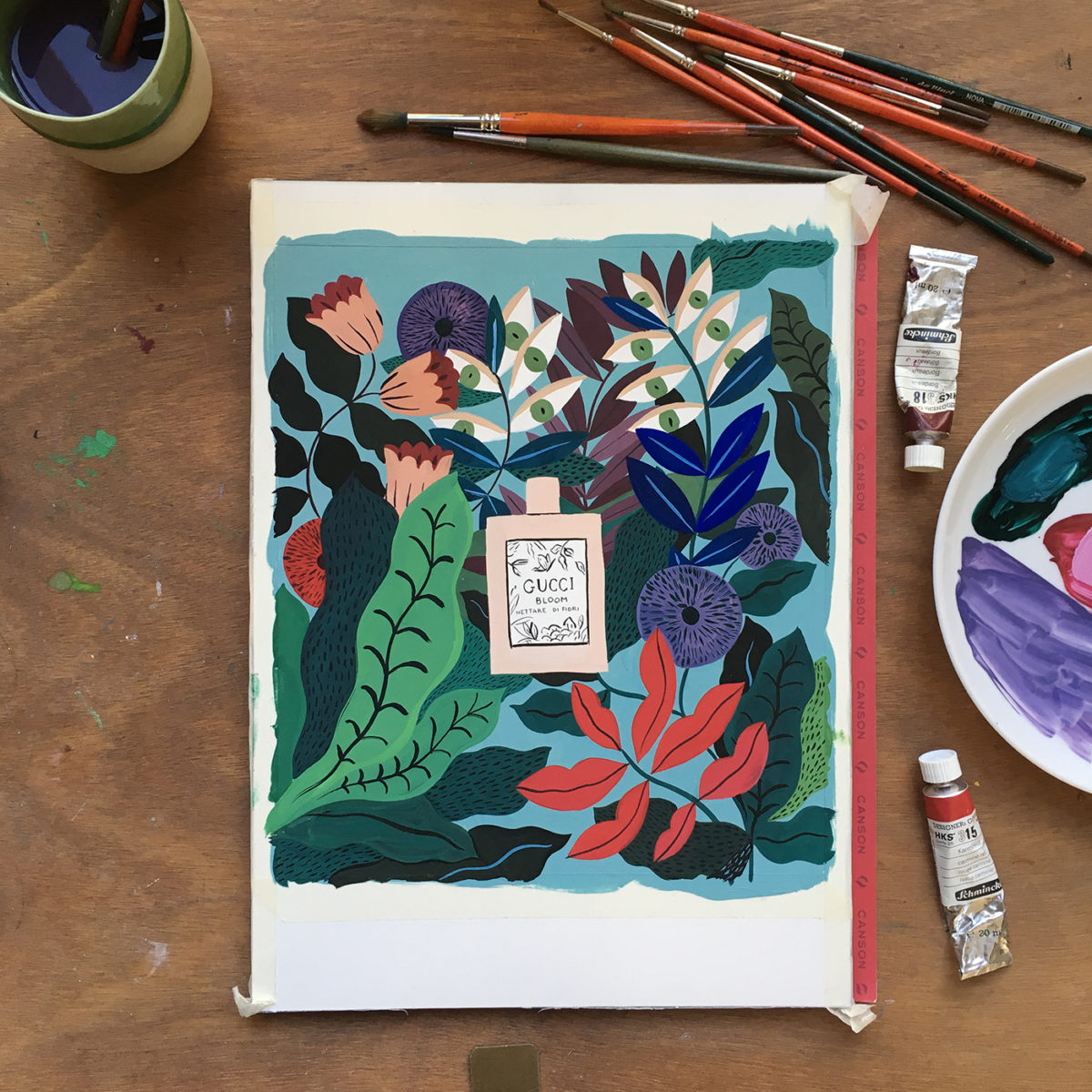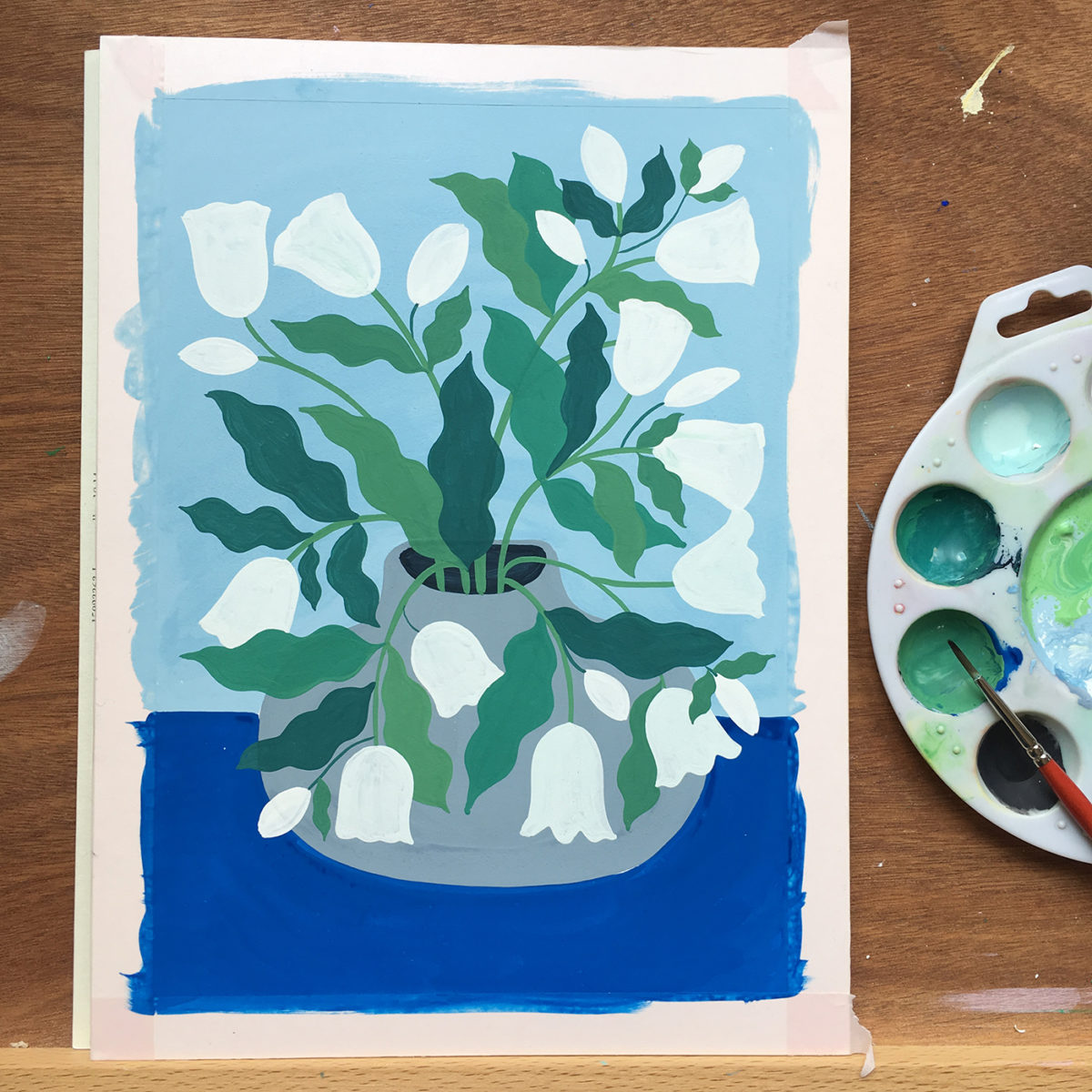 How do you create this impression of light with almost no shadows?
I'm not really looking for light in my painting but more to create a feeling through constrasts and color harmonies. I spend a lot of time looking for balance between the tones, using few colors so it's kind of a game, a playful result.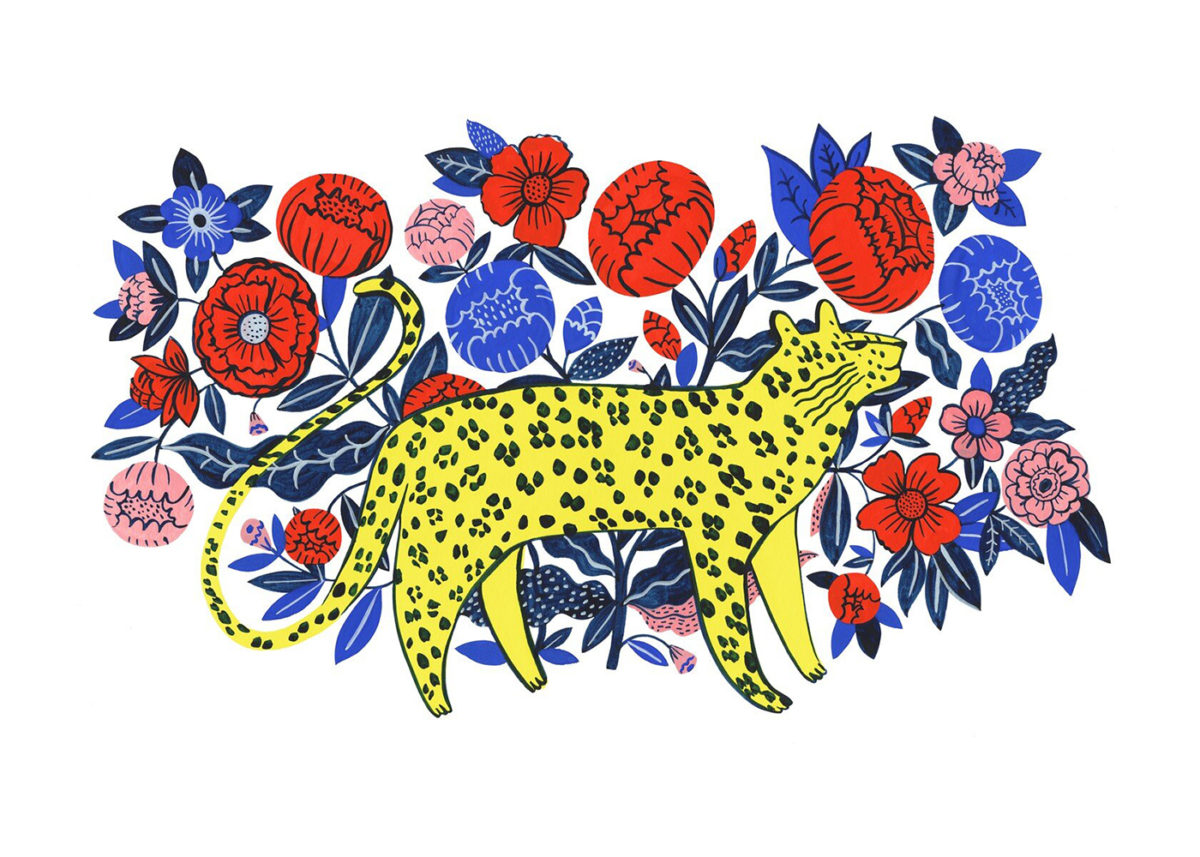 Who are you inspired by these days?
We've been stuck at home for a while now, and I miss traveling a lot and going to the countryside which has always been a good place of inspiration for me. Instead we're staying a lot in the flat and in the city, and I think my inspiration at the moment turns more around portraits and scene of intimacy – the way we are as a family, moments I spend with my daughter, portraits of her, bits of our flat…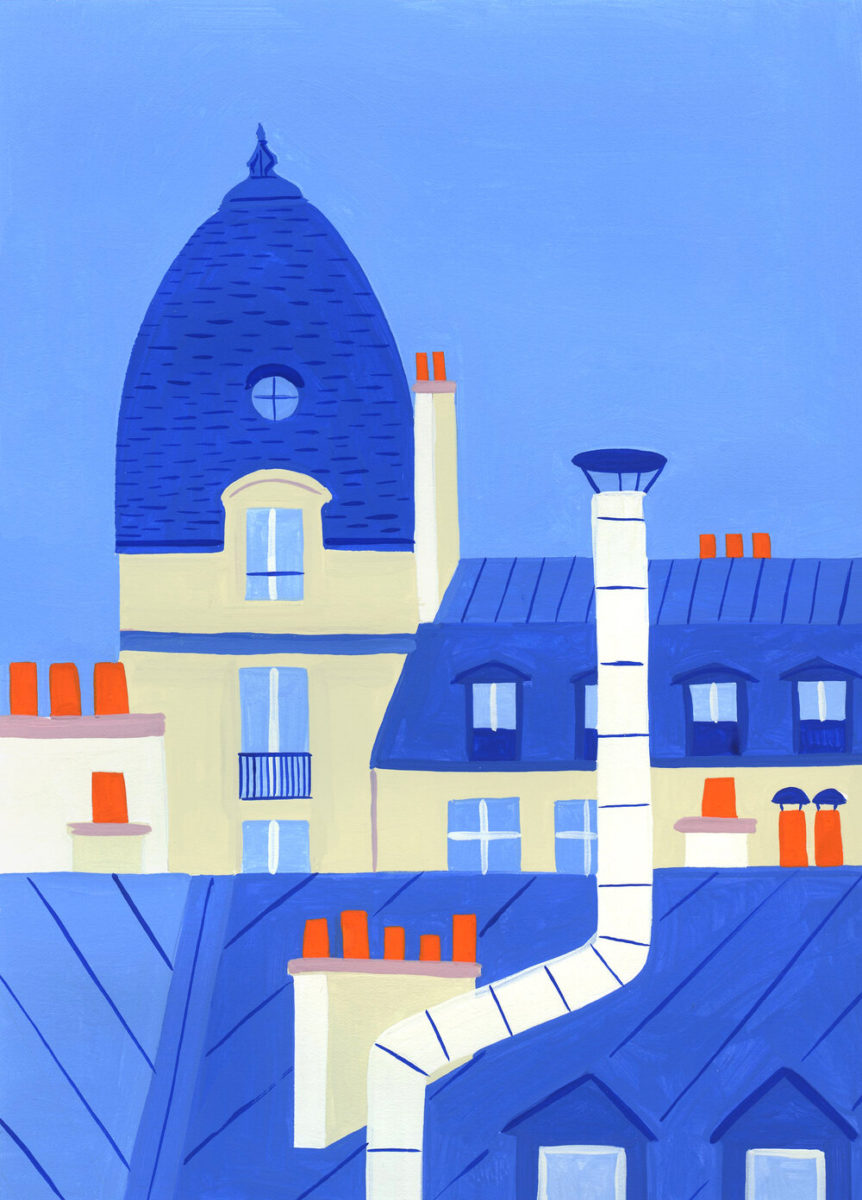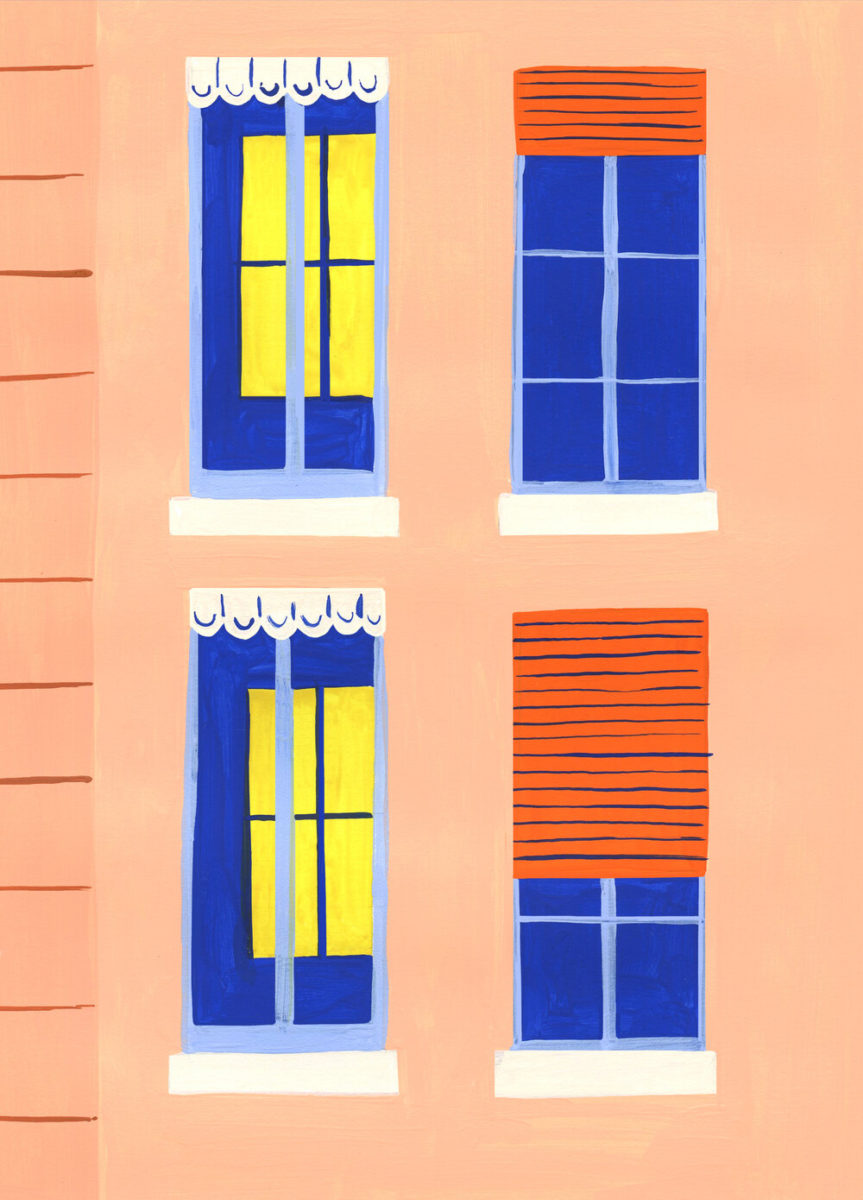 What kind of project do you prefer?
I love working on collections of home goods, apparel and fabrics! Seeing my artworks on objects that are used or worn by other people makes me really happy. At the moment I have a lovely collaboration with French editor Atomic Soda, with a bunch of big colorful trays that are my favorite.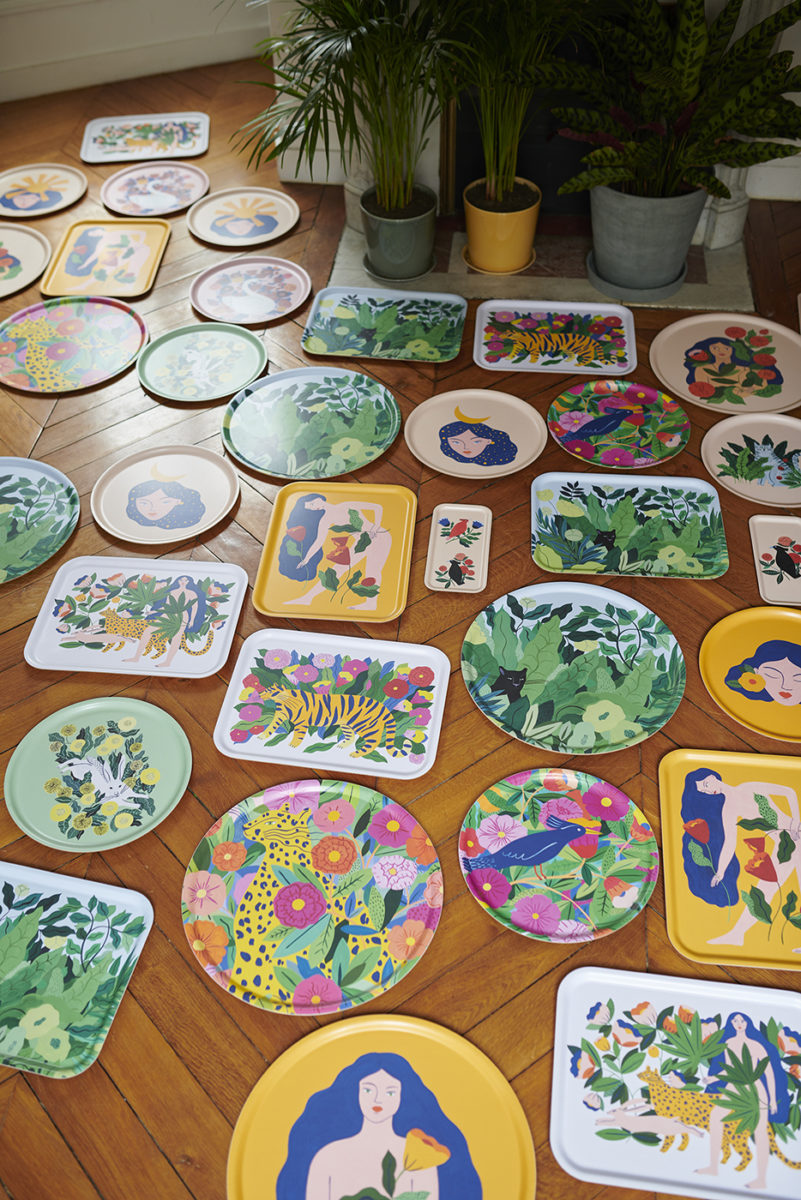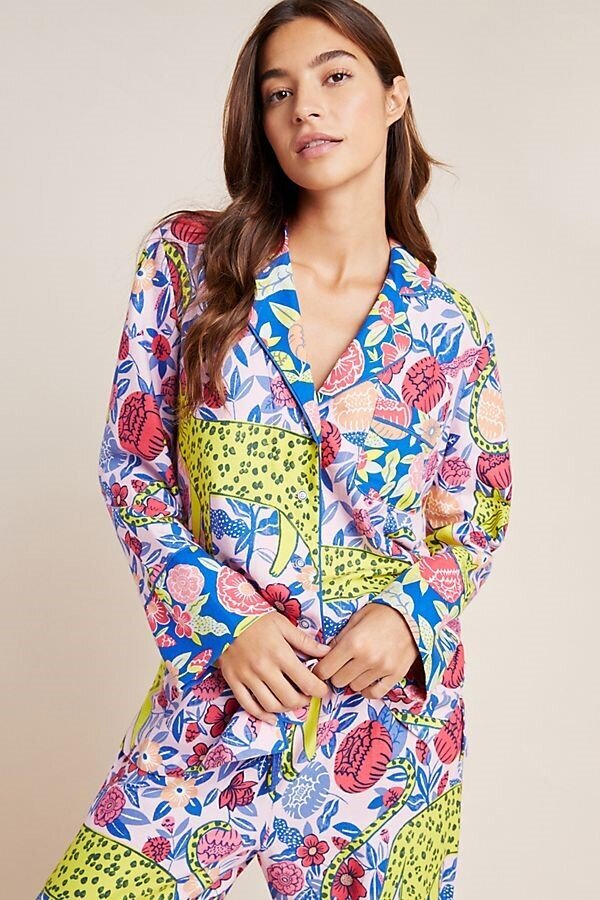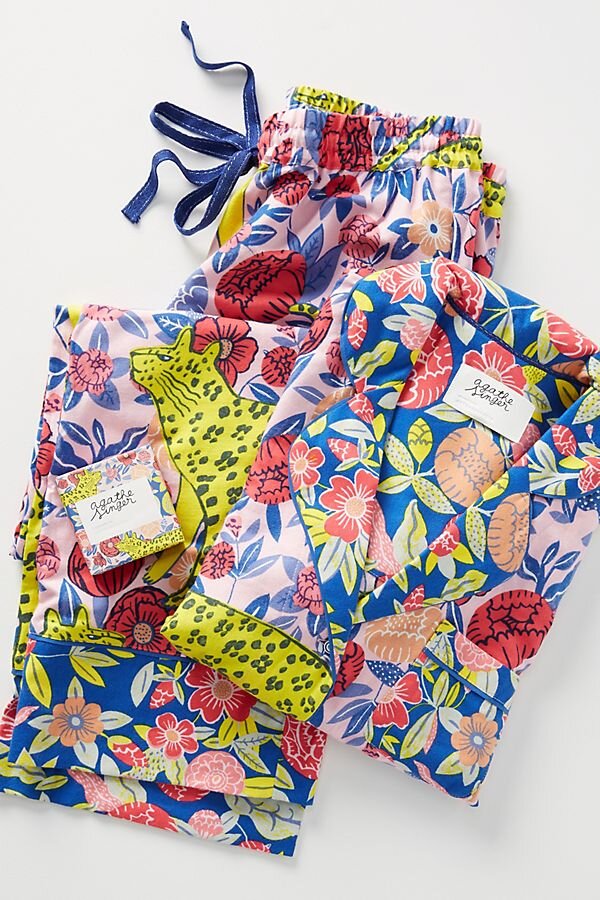 Which of your works are you the most proud of?
I'm very happy with my real first series of personal paintings, five years ago. At that time I was already working as an illustrator but my style was more adapted to clients needs, and I was using watercolor which gave it kind of a romantic side that was not so much my taste. I started to work with gouache and bolder colors about the time my daughter was born, and it was a very exciting moment full of creativity, very small nights, lots of baby screams… but out of this mess and what should have been the worst moment to work I made a full series of paintings about flowers, wild cats, birds, an imaginary garden… that turned into my first solo exhibition and a style I finally loved and wanted to explore more. I still love those artworks very much and I'm proud of them.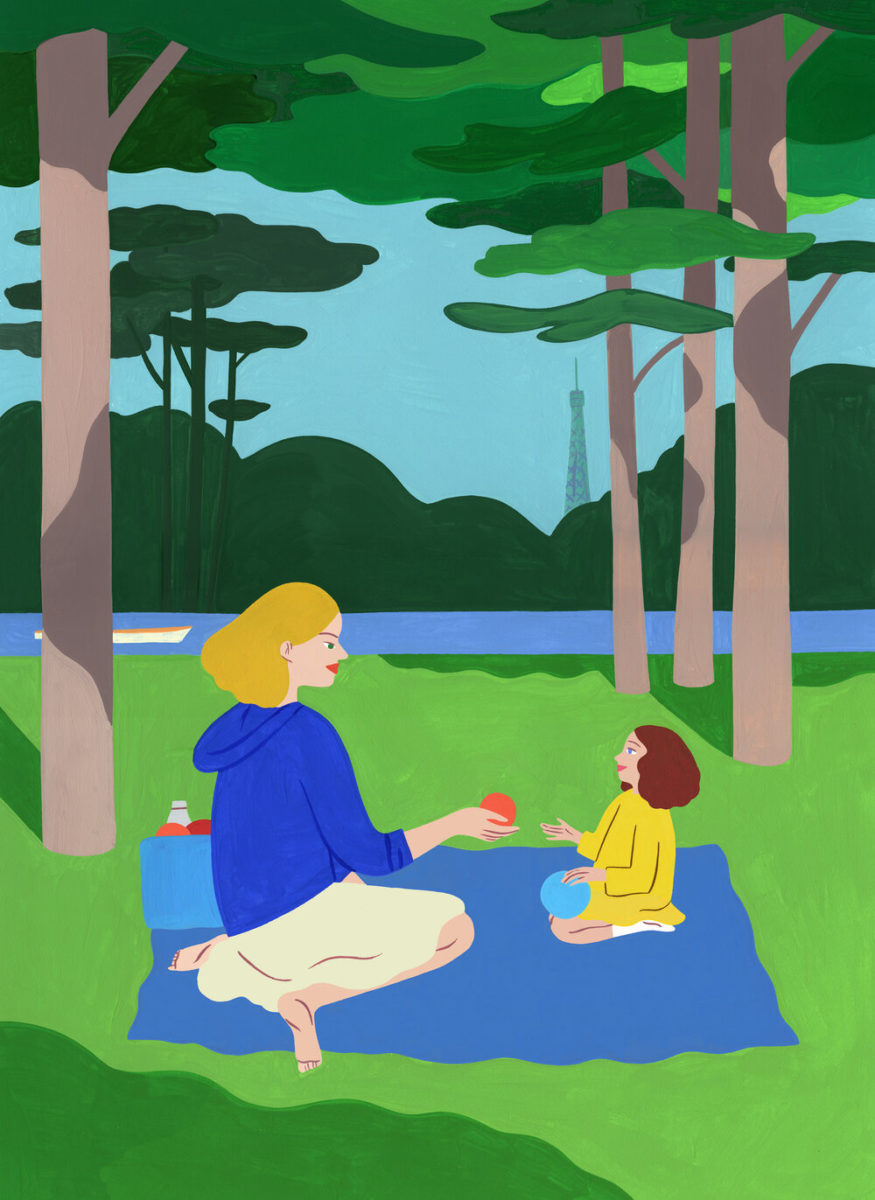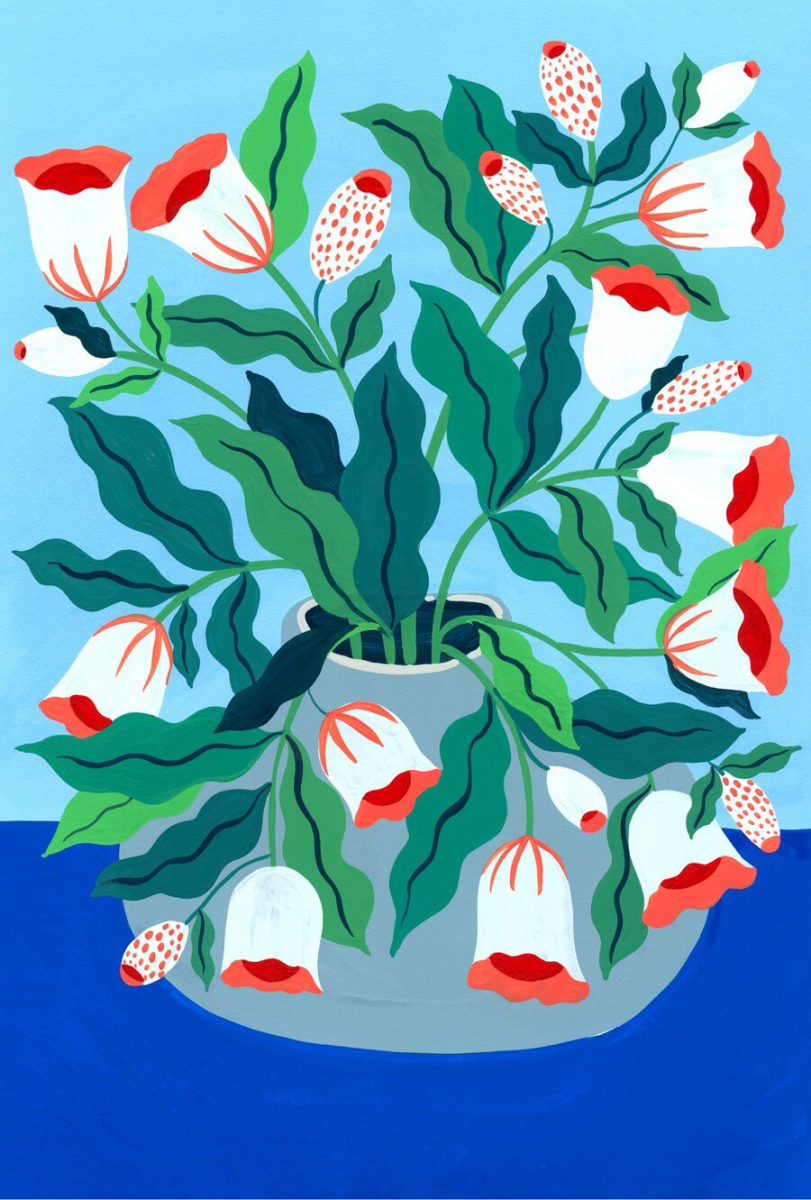 Do you draw with your daughter?
We draw a lot together and she's doing a lot of « client stuffs » on her own (my excuse she borrowed when she doesn't want to go to bed). We made a deal that she can take my paint and drawing stuffs but need to take care of it – it was nice to teach her how to use gouache properly, mixing the colors without turning it into mud. Drawing and making stuff is something I'd love to keep sharing with her.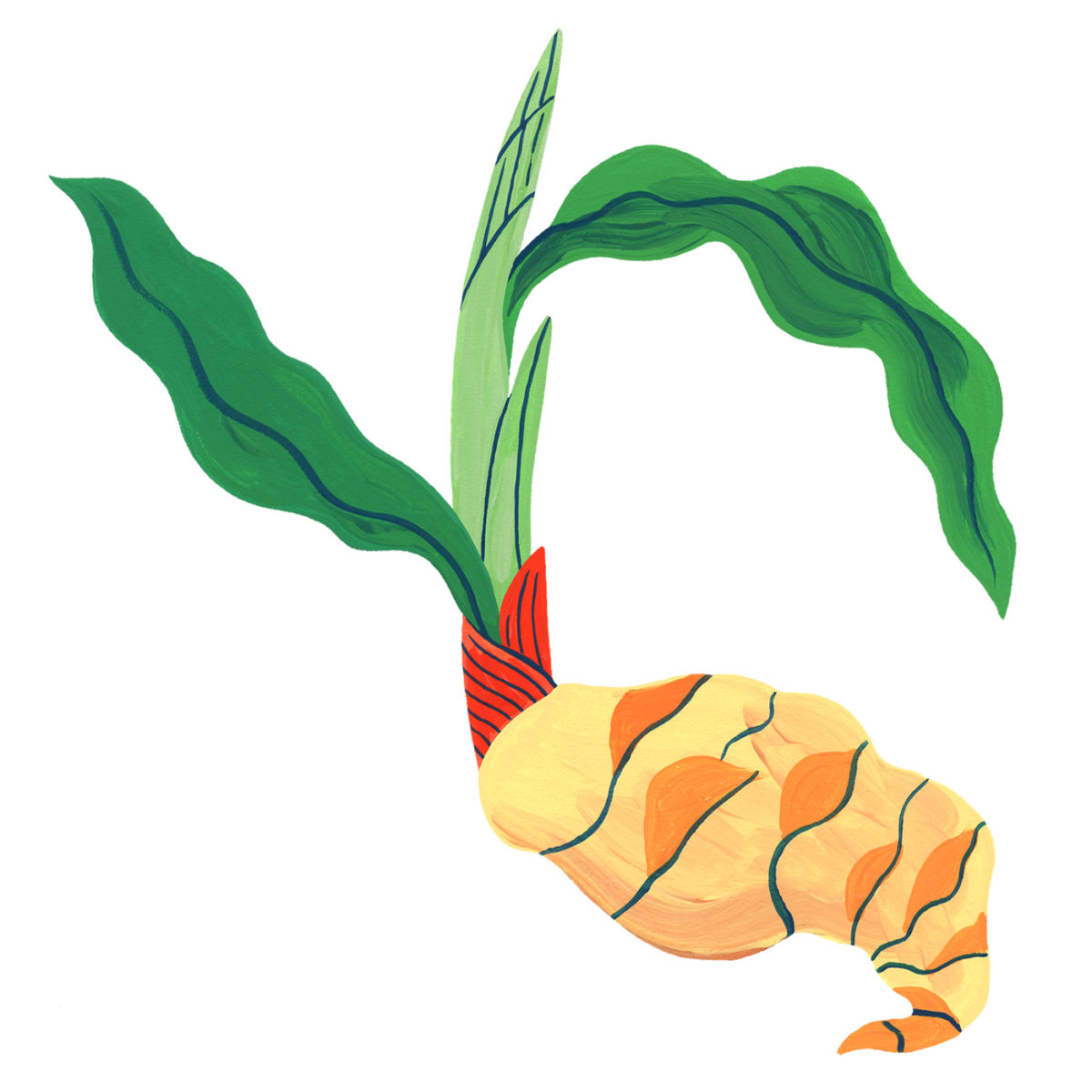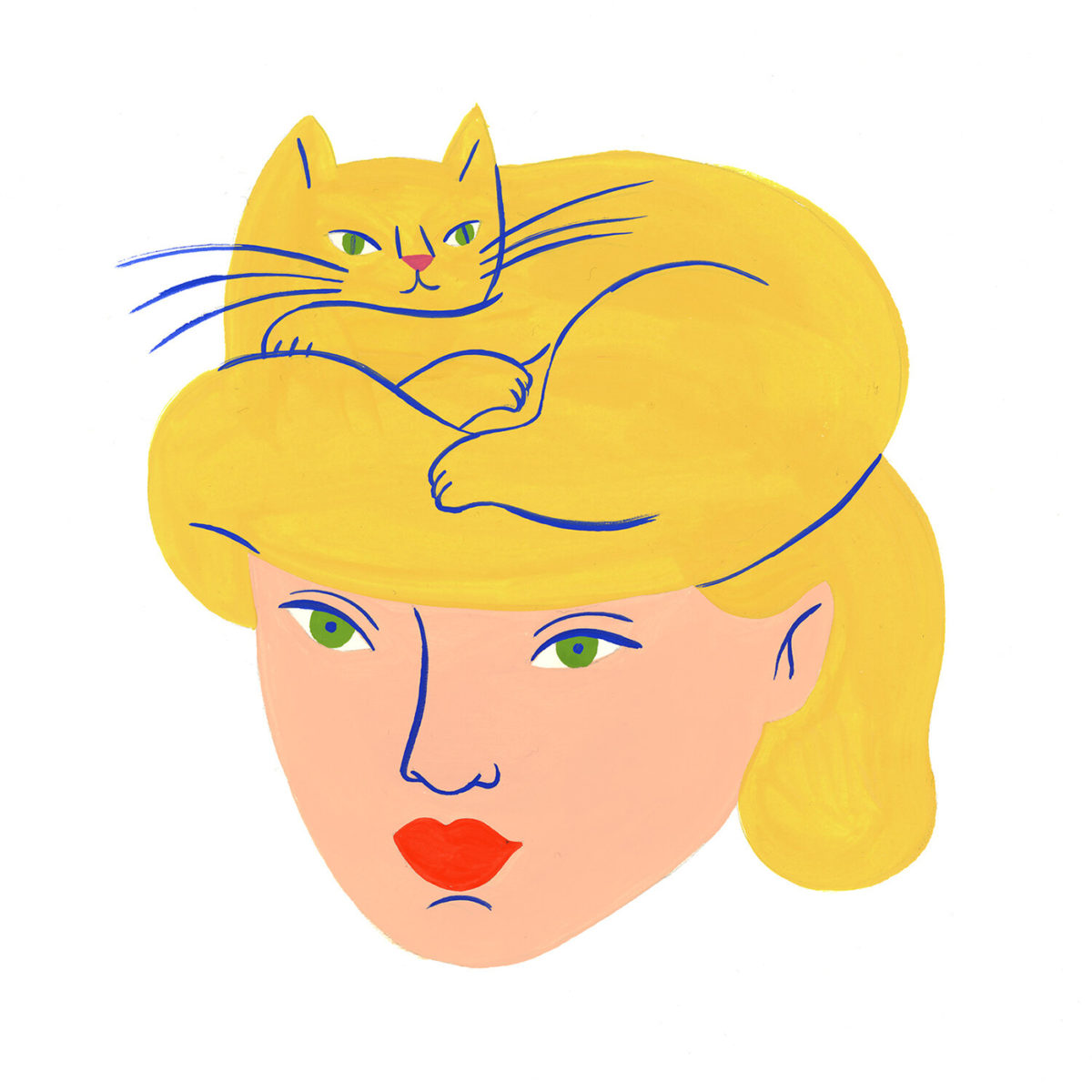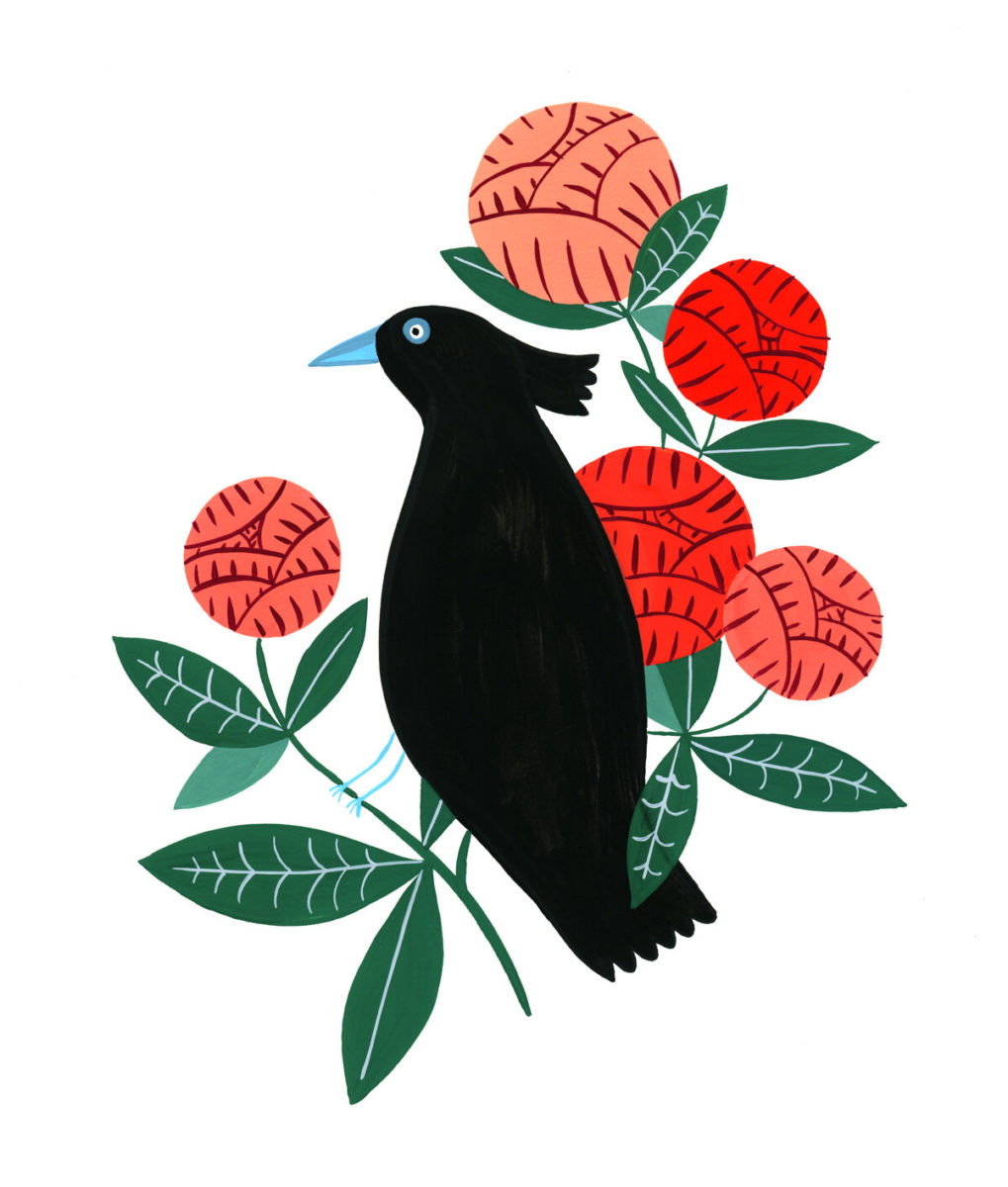 What was your iconic illustrated book when you were little?
I had a beautiful album about God creating the world in 7 days (or 6 days and a rest ?), and at some point he was creating a garden, a lush jungle full of hiding animals – very Rousseau-like. I was fascinated by the way nature was represented with intricate vines, incredible leaves, and the way the painter had play hide and seek with the creatures he represented… it seemed so mysterious to watch but also very playful and magical to paint. The jungle is a motif I've always loved to explore since.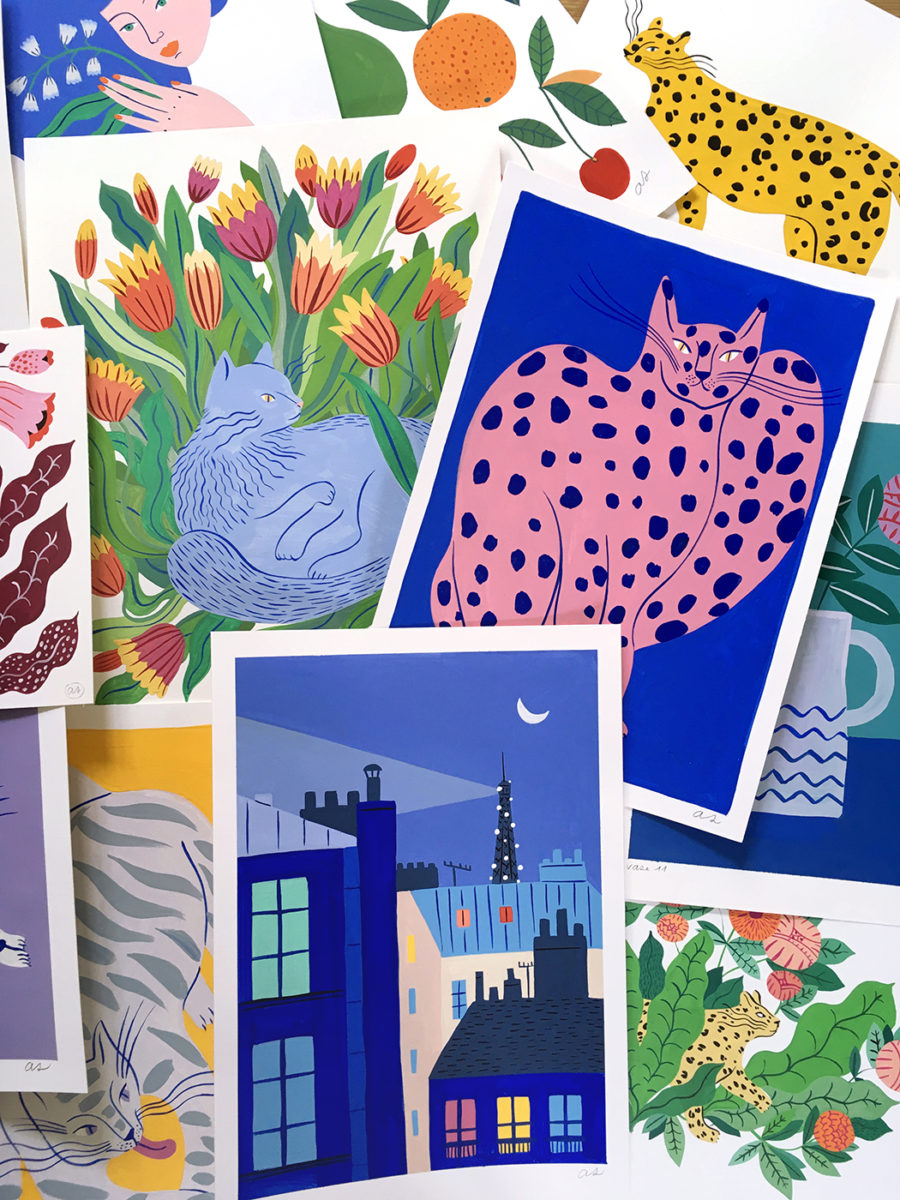 What are you going to do just after having answered this final question?
Going to bed! Or more staying in bed, I'm already in :-) I'm such a sleeper in winter, always trying to squeeze a nap in the day and to go to bed early under tones of blanket. Not to mention our current 8pm curfew – not much to miss outside. I can't wait for spring, light and longer days!
Merci Agathe :)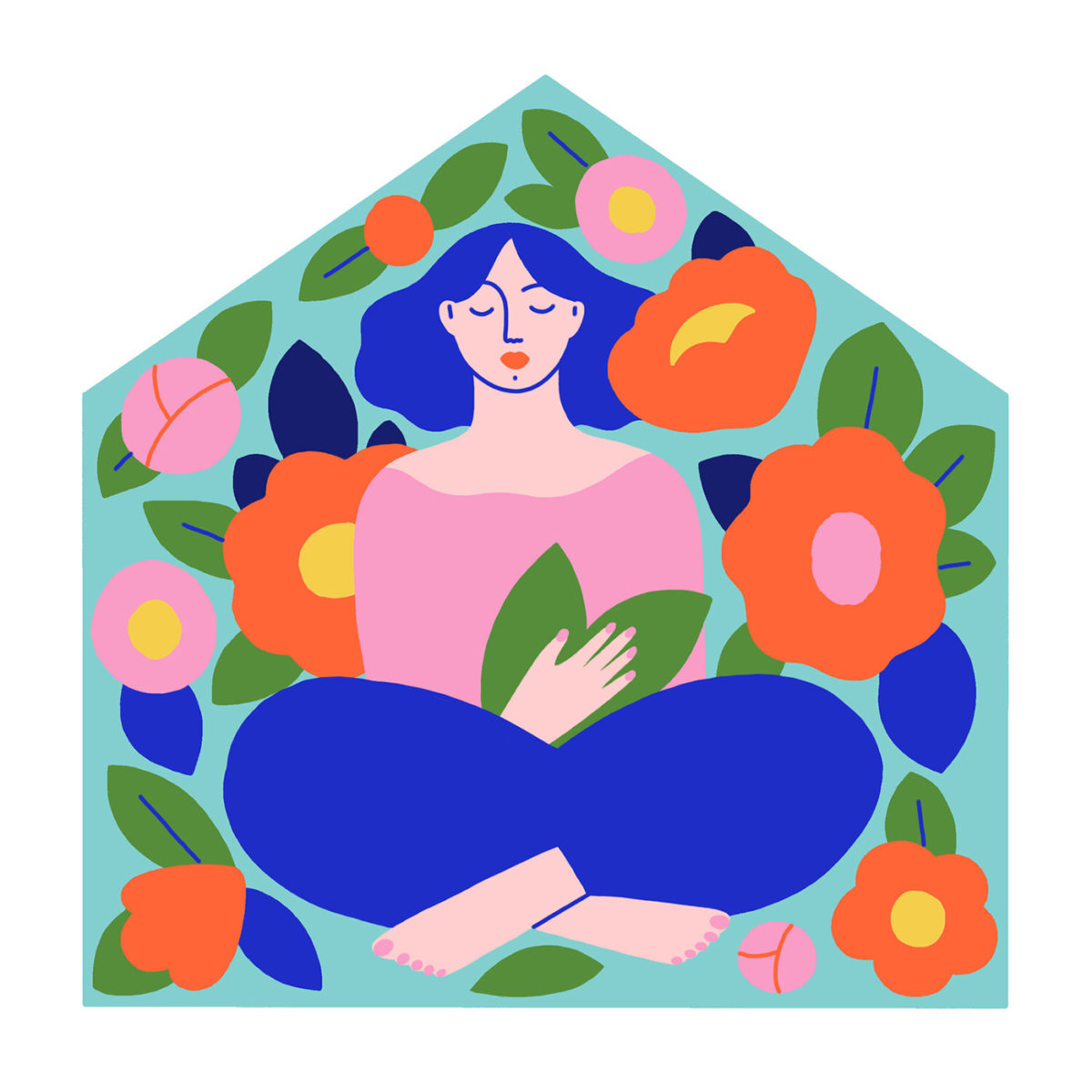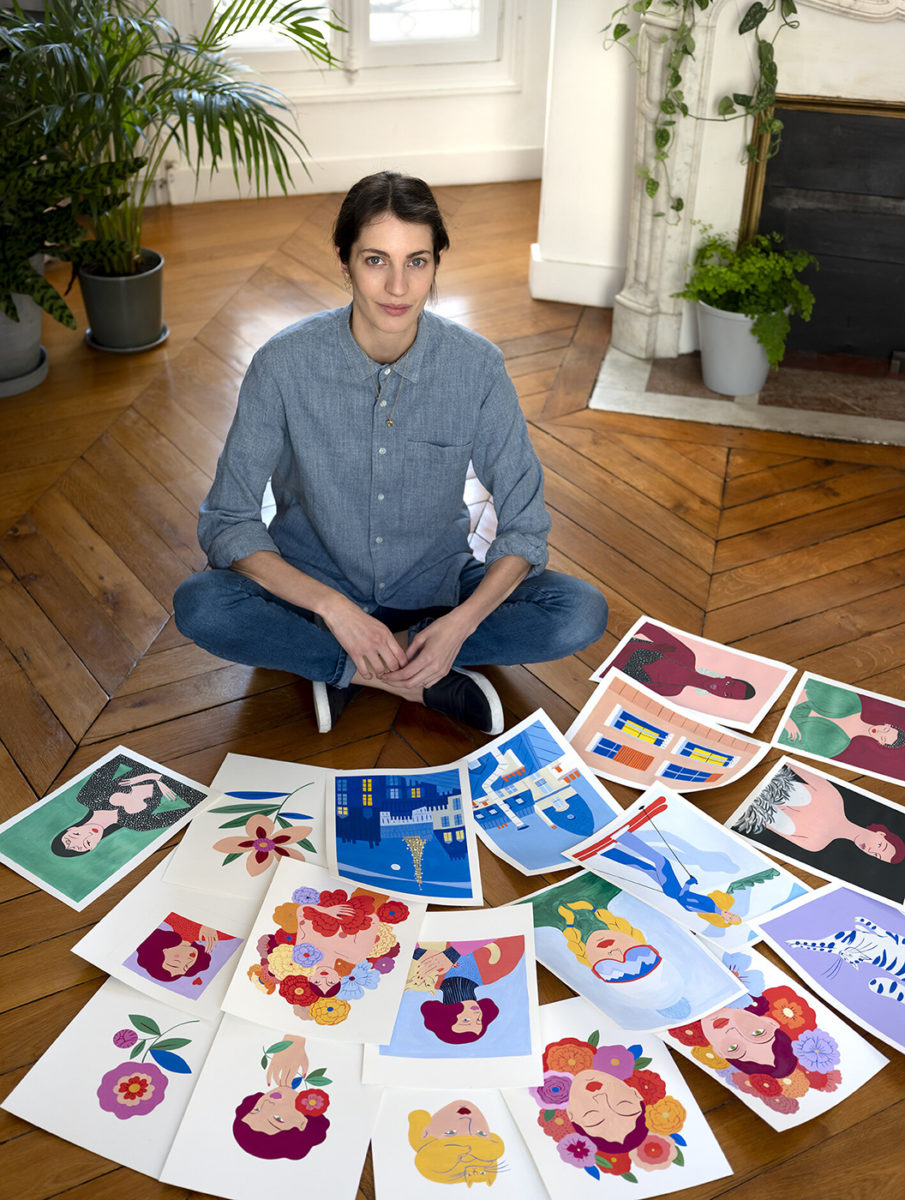 Agathe Singer is a french illustrator based in Paris.
> Discover more on her website or instagram.