– at the occasion of the release of his last album "Blues de Geek Manifesto". [ITW in French and English]
We hear many different influences in your album, as well as humor. How would you define your music?
Thank you for the compliment. I think "geek blues" could suit me. It is multilingual and old-fashioned. I like old-fashioned. It's like ugly – the pretty way. It may be what you perceive as humorous. Old-fashioned. I like when it sucks a bit.
On sent beaucoup d'influences différentes dans ton album, on sent de l'humour aussi. Comment tu définirais ta musique ?
Merci du compliment. Je crois que le terme « blues de geek » pourrait m'aller. Il est polyglotte et désuet. J'aime beaucoup le désuet. C'est comme du moche, mais en joli. C'est peut être ca que tu entends comme humoristique. Le désuet. J'aime bien quand ca craint un peu.
You play guitar, the piano, drums and on top of that you also draw chicks. What's your answer when being asked what you do for a living?
I am a musician, which is both a passion and a job. I earn my living playing music. Drawing is another passion, that sometimes ties in with my music. Yet it doesn't pay a lot. When my drawings are exhibited, I sell them – artists solidarity. Whatever I produce, I sell. Except if it's for a charity, for which I have played music and drawn. I don't ask myself whether something is creative or marketable – I think both are related. I care about my job as a musician, not as a status but rather as a discipline. If I could earn my living tomorrow drawing, I'd be thrilled.
Tu joues de la guitare, du piano, de la batterie, j'ai vu que tu dessinais des poussins aussi. Quand on te demande « tu fais quoi dans la vie », tu réponds quoi ?
Musicien. C'est un mélange de passion et d'emploi. Je gagne ma vie comme musicien. Le dessin est une autre passion, parfois en lien avec mes musiques. Cela étant ça me rapporte peu de pognon. Ce qui ne justifie rien, d'ailleurs. Quand j'expose mes dessins je les propose à la vente. Solidarité entre artisans. Si je produis quoi que ce soit, je le vends. Sauf quand c'est pour une action caritative. J'ai joué pour des actions, dessiné aussi. Je ne me pose pas la question de ce qui est créatif ou commercialisable, pour moi les deux vont de paire. Je tiens à mon métier de musicien. Pas comme un statut mais comme une discipline. Si demain je devais vivre de mes dessins, j'en serais ravi.
How did you compose your album? Do you write scores for all instruments? Do you play them all? Are you more of a "If you want something done right, you have to do it yourself" or "There is strength in unity" person?
I like both mottos. Both convey truth, I believe.
I always write the same way. I am in the middle of something, like cleaning or shopping, when all of a sudden I hear a song in my head. I wonder what it is and realize it's brand new music. I decide to record it. It may get lost in my head, like a morning dream one can barely remember. Sometimes I manage to and, when it happens, I'd better not be distracted. Then it's more appropriate if I play all instruments so that I can at best convey what's in my head. Yet, I haven't always been able to play instruments, like when I was younger for instance. I decided to learn lots of them to increase my freedom. That's what I did for this album, I played drums, then guitar, then keyboards, then sax, trumpets, and so on. That's what I needed for "Blues de Geek Manifesto". But I don't play the violin, so I asked Rémi Foucard to, then I asked Cléa Vincent to play the keys on a song, then Olivier Ikeda played tenor sax, Marius Duflot played bass, Victor Peynichou directed, Youssef Abado rapped in Italian, Valérie Hernandez sang, Youssef and Valérie wrote a song. So we're far from complete isolation. Indeed I sometimes like to record albums with many musicians, leaving space for the unexpected – as in my albums "Ballads" and "Sing the Blues". Both ways have strengths.
That being said, learning instruments is another of my passions. I love this encounter with another music instrument.
Comment as-tu composé ton album ? Est-ce que tu écris tous les instruments ? Est-ce que tu les joues tous ? Tu es plutôt du genre « On est jamais mieux servi que par soi-même » ou « L'union fait la force » ?
Les deux devises me plaisent. Les deux comportent du vrai, je crois.
J'écris toujours de la même façon. Je suis en train de faire quelque chose, comme le ménage ou les courses, quand soudain j'entends une chanson dans ma tête. Je me demande ce que c'est et me rend compte que c'est une musique toute neuve. Je décide de l'enregistrer. Là il arrive que je perde la musique, dans ma tête, comme un rêve du matin qu'on peine à se remémorer. Parfois j'y parviens. A cet instant là j'ai besoin qu'on ne me déconcentre pas. Il est alors préférable que je joue tous les instruments pour que je restitue au mieux ce qu'il y'a dans ma tête. Seulement je n'ai pas toujours su jouer d'instruments, par exemple quand j'étais plus jeune. Je me suis dit qu'il faudrait que j'en apprenne plein pour augmenter mon autonomie. Pour cet album c'est comme ça que j'ai fait, j'ai joué les batteries, puis les guitares, puis les claviers, puis des saxs, trompettes, etc. Pour « blues de geek manifesto » j'avais besoin de cela. Mais je ne joue pas de violon, j'ai demandé à Rémi Foucard d'en jouer, puis j'ai demandé à Cléa Vincent de jouer des claviers sur un titre, puis Olivier Ikeda au sax ténor, puis Marius Duflot a joué une ou deux basses, Victor Peynichou réalisait, Youssef Abado a rappé en italien, Valérie Hernandez a chanté, Youssef et Valérie ont écrit un texte. On est donc loin de l'isolement total. Car parfois j'aime aussi enregistrer des disques avec plein de musiciens, en laissant une grande place à l'improvisation, comme pour mes albums « ballads » et « sings the blues ». Les deux méthodes ont leurs atouts.
Cela dit l'apprentissage d'instruments est une autre de mes passions. C'est génial, la rencontre avec un instrument de musique.
What is your favourite track on the album? I personally love "I want U", it reminds me of Peter Frampton and David Bowie.
Thanks a lot. What a compliment! I don't like listening to a song more than to another in my album as I don't listen to my own music. When they're out, they live their own lives with the outside world. I am no client for my own craft. However, if you ask which one I mostly enjoyed recording, I'd say "Ad libitum melo". We recorded tons of tracks with Marius Duflot and Victor Peynichou from Midnight Special Records label. We ignored whether the song would be performed as folk, reggae, dance hall, trap or minimal. We decided not to choose and create a contemplative landscape embracing all these steps. My reggae drums fight against Marius' trap rhythms and acid keys. It is Marius who succeeded in this adventurous mix and it was such a pleasure to see the blending operating.
Quel est ton titre préféré sur l'album ? Moi j'adore « I Want U » ça me fait penser à Peter Frampton et David Bowie.
Merci beaucoup. Quel compliment ! Je ne préfère aucune chanson à écouter dans mon album car je n'écoute pas mes disques. Quand ils sortent ils vivent leurs vies avec l'extérieur. Je ne suis pas client de mes propres disques. Par contre si tu me demandes lequel m'a donné le plus de plaisir à enregistrer, je dirais « ad libitum melo ». Nous avons enregistré des tonnes de pistes avec Marius Duflot et Victor Peynichou du label Midnight Special Records. On ne savait pas si la chanson serait interprétée de façon folk, reggae, dance hall, trap ou minimal. On a décidé de ne pas choisir et de fabriquer un paysage contemplatif qui passe par toutes ces étapes. Ma batterie reggae lutte contre les boites à rythmes trap de Marius et ses claviers acid. C'est Marius qui a réussi ce mixage aventureux et c'était un vrai plaisir de voir ce tableau fonctionner.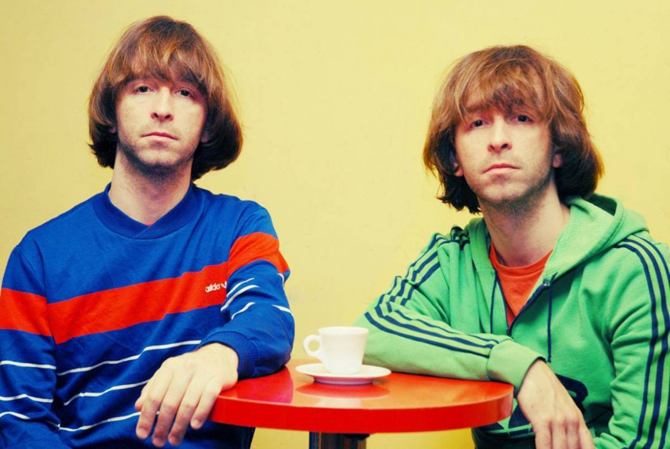 If you could perform a duet with anyone living or dead, who would it be? Besides, who's the pretty voice on "Old Borders Shaking"? and the Italian rapper isn't Pino D'Angio, is he?
A duet with Léo Ferré, whom I find fascinating. The pretty voice on "Old Borders Shaking" is Valérie Hernandez'. She is also the one who wrote the text for the song's English part. She has often written my lyrics since 2013. I am a fan of this musician since the 2000s, when she used to perform under the name Squeeze Me I Squeak. Her songs have been reissued on the Internet. She also sang with Tender Forever back then. She is singing in my albums « Ballads », « Dreamarama » and wrote lyrics for these albums, as well as for « Banjo Tape » and my single "Guuurl". Valérie Hernandez is also my girl. Concerning the Italian rapper on that very same song, it isn't Pino d'Angio, whom I love, but Youssef Abado, who is Arab and not Italian and speaks around ten languages. We performed together in the 2000s and he wrote some of my lyrics, such as the Italian and the Arab singles'.
Si tu pouvais faire un duo avec n'importe qui, vivant ou mort, ce serait qui ? D'ailleurs c'est qui la belle voix sur Old Borders Shaking ? Et le rappeur italien, c'est quand même pas Pino D'Angio ?
Un duo avec Léo Ferré. Il me fascine. La belle voix sur « old borders shaking » est celle de Valérie Hernandez. C'est aussi elle qui a écrit le texte pour la partie anglaise de la chanson. Elle écrit souvent mes paroles depuis 2013. C'est une musicienne dont je suis fan depuis les années 2000, du temps où elle jouait sous le nom Squeeze Me I Squeak. Une ré édition de ses chansons se trouve sur internet. Elle chantait aussi avec Tender Forever a cette époque là. Elle chante sur mes disques « ballads », « dreamarama » et a écrit des textes pour ces albums là ainsi que mon album « banjo tape » et mon single « guuurl ». Valérie Hernandez est également ma nana. Quant au rappeur italien sur cette même chanson, ce n'est pas Pino d'Angio, dont je suis fan. Il s'agit de Youssef Abado, qui est arabe et pas italien. Il parle une dizaine de langues. Nous avons joué ensemble dans les années 2000, et il a écrit certains de mes textes comme celui de mon single en italien et celui de mon single en arabe.
We found out you were hiding behind the hit "Les Clopes" ("The Fags"), can you tell us more?
I wasn't hiding in the secret sense but rather in the surprise sense. I wanted people to discover the song "Je fume des clopes" by chance, without knowing about it, so there'd be mystery. I often create avatars or disguised music. For the fictional band Les Clopes, I wanted to pastiche Lescop. Victorine thought of the name. I am fond of pastiching. At the moment I have a pastiche character of Léo Ferré, whom I love though. You need respect for a pastiche to work. I insist on that because I may have offended Lescop with Les Clopes, or so have I heard. Yet it was a kind teasing. I didn't much like their song, that's true, but I very much respect their career, like any musician's. That being said, we cannot dispense with satire or critical thinking between musicians. Later I released an EP for Les Clopes.
And now the boot is on the other foot because I played with satire but enjoyed playing French cold wave. I sure kept this voice of a weirdly involved singer with absurd lyrics, yet I suddenly felt emotional. Maybe like some French-speaking neo new wave musicians I may have mimicked. About twenty years ago, the same thing happened as I was satirically imitating guitar heroes in my first 90s discs. Suddenly my mood swung and I could experience emotions when it was my turn to play long guitar solos. The initial teasing had given me a new approach. It's what people clumsily define as second degree, but it's deeper than that. It is a seduction relationship between our ego and old-fashioned emotional tools. Our ego may rightly be suspicious in the first instance, but when mental walls and bridges blow, the lines are shifting. That's what I try to do when I use old-fashioned pieces in my English-speaking torch songs. That's also what I conversely try to do when I meticulously work on my pastiche songs to make them generously appealing. So is acting around the fictional band Les Clopes, which I still experience for the band is set and even plays on stage.
On a découvert par hasard que c'est toi qui te cache derrière le tube « LES CLOPES », tu peux nous en dire un peu plus ?
Je ne me cachais pas au sens secret du terme mais plutot au sens surprise. Je souhaitais qu'on tombe sur la chanson « je fume des clopes » par hasard, sans rien en savoir, pour qu'il y'ait du mystère. J'ai souvent des avatars ou des musiques masquées. Pour le groupe fictif Les Clopes, je voulais faire un pastiche de Lescop. C'est Victorine qui a eu l'idée du nom. J'aime beaucoup pasticher. J'ai en ce moment un personnage pastiche de Léo Ferré, pourtant j'en suis fan. Il faut respecter pour qu'un pastiche fonctionne. Je te dis ça car j'ai peut-être froissé Lescop, à ce qu'on m'a dit, avec Les Clopes. Pour autant c'est une taquinerie bienveillante. Je n'étais pas bien fan de leur chanson, c'est vrai, mais j'ai beaucoup de respect pour leur parcours. Et j'ai du respect pour n'importe quel musicien en général. Cela étant ça ne justifie en rien qu'on se passe de satire et d'esprit critique entre musiciens. Plus tard, j'ai sorti un EP de Les Clopes.
Et l'arroseur est arrosé car là où je jouais avec satire, j'ai ressenti du plaisir à jouer de la cold wave francophone. Certes j'ai gardé cette voix de chanteur étrangement investi avec des textes absurdes, mais je me trouve soudain en prise à des émotions. Peut-être celles-là même que ressentaient certains musiciens francophones néo new wave que j'ai pu singer. Il m'est arrivé la même chose il y'a vingt ans et quelques. Je singeais les guitar héros avec satire dans mes premiers disques dans les années 90 quand soudain il y'eut une bascule emotionnelle durant laquelle j'éprouvais des sentiments en jouant de long solos de guitares à mon tour. La moquerie du départ m'avait offert un nouvel angle. Ce qu'on appelle maladroitement du second degrès est en réalité plus profond que cela. C'est une bataille de notre ego qui résiste à se laisser séduire par des outils émotionnels désuets. Il n'a pas tort d'être méfiant, dans un premier temps. Puis quand sautent les passerelles et les cloisons mentales, les lignes bougent. C'est ce que je tente de faire lorsque j'utilise des éléments passés de mode dans mes chansons anglophones mélos. C'est aussi ce que je tente de faire lorsque, à l'inverse, je soigne méticuleusement mes chansons pastiches pour qu'elles sonnent généreusement. Voila ce qu'est le rôle de comédie autour du groupe fictif Les Clopes. Je continue à expérimenter puisque le groupe est aujourd'hui monté et qu'il a même joué sur scène.
Would you rather not being able to sing or not being able to play music?
What an awful question! I'd rather eat biscuits.
Tu préfères ne plus jamais pouvoir chanter, ou ne plus jamais pouvoir jouer d'instruments ?
Quelle horreur cette question!! Je préfère manger des biscuits.
Merci Kim!
Blue De Geek Manifesto on Bandcamp / Spotify / Soundcloud

Interview : Arthur Bernagaud
Traduction : Hortense Foillard