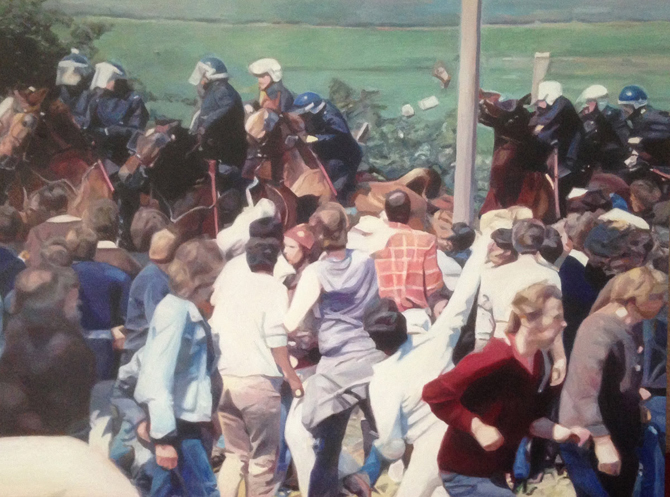 What's the background of this image?
(Re)view is inspired by a press photograph that captures a moment from what is now commonly described as 'The Battle of Orgreave'. Taking place on 18th June 1984 in South Yorkshire, UK, this event saw a violent confrontation between police and picketing mineworkers and is considered to be the pivotal moment which altered the course of the UK miners' strike 1984-85.
_________
Wayne Clough – British painter based in London
_ _
Following the confrontation, 71 pickets were charged with riot and 24 with violent disorder, however these charges were later dropped.
Most media sources at the time widely reported that the police had deployed self-defence tactics. This fed into the common narrative that strike action was unjust. The Conservative government of the time used everything in its power to successfully undermine and delegitimise the National Union of Mineworker's campaign to avoid pit closures and the loss of thousands of jobs.
Years later it has become clear that the police had used violent and excessive force and a 2015 Independent Police Complaints Commission inquiry reported that there was a false narrative from police exaggerating violence by miners and perjury by officers giving evidence to prosecute the arrested men. Furthermore, the recent unearthing of previously censored documents has revealed evidence that could shed new light on the events of 1984 and potentially lead to prosecutions.
Following a decades long campaign for justice by the mineworkers and their families, the current Conservative government have announced that there would be no statutory inquiry or independent review.
Wayne Clough Statement
"…an artist must be aware of the world and the society which he or she is part of.
…Painting is not a game, not something you do just for fun; it comes with a responsibility that I take very seriously." Wilhelm Sasnal
My practice aims to comment on historical and political events that occur beyond the studio. Whilst investigating what it means to be making work as a contemporary British painter, I also wish to examine representations of lived experience and take stock of how capturing a moment can culminate in the construction of historical narratives. Through painting I wish to explore how images may act as testimony to both past and recent events and in doing so, try to understand what is meant by 'collective memory'.