Above : Julien Gorgeart, Le roi du silence, ink on paper, 78 x 52 cm, 2018
ITW Julien Gorgeart, Wednesday, October 3, 2018 at his studio.
Hi Julien, can you please introduce yourself?
Hello, I am a French visual artist, I live and work in Nantes, France. It's been a decade that I have a daily practice of painting and for the last three years I also create videos. Before going back to school at the age of 25 to study at the Beaux-Arts in Quimper, I worked in the field of video and photography. It's at the Beaux-Arts school that I discovered painting. Being a figurative painter in a school of Fine Arts in the 2000s was not the simplest way. It was necessary to assert very strongly my position.
What is your process for creating a painting?
To build my paintings, I use the same method as in the cinema. Once I have the idea of the painting, I look around for the scenery and the characters that best match what I imagine. I pay attention to everything, the model, the outfit they wear, objects, lighting. Once everything is in place I take several photos, redo photo shootings if necessary and I finish by painting my composition on canvas. The painting process takes a long time. For example, for my last painting in progress Les veilleurs, I took more than fifty photos in three shootings in my garden. Then I selected a dozen pictures. From these ten photos, I am creating my painting.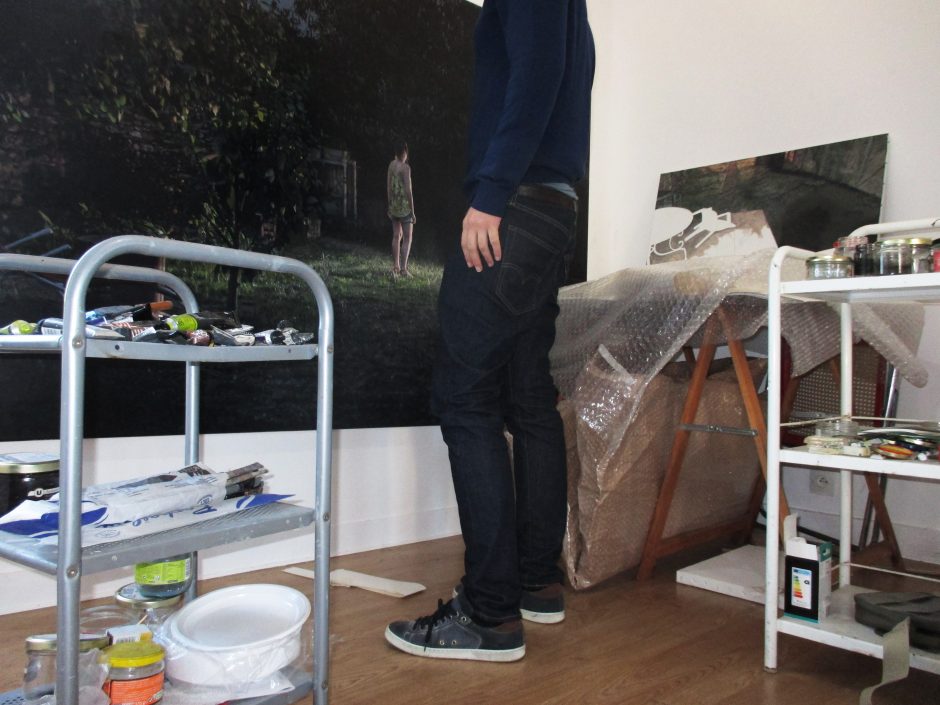 Photo : Julien Gorgeart painting Les veilleurs at the studio, photography, 2018
What is in your thoughts when you wake up?
I start with a coffee in the garden. My garden is just down the workshop. In my break times I like to maintain the garden, thinking about it. It is a scenery for me that I have been building for two years and I have been using it for several paintings. If it's a day where I paint, I think about the painting I'm working on, the composition, the colors, the different layers to apply. Then I go to the workshop, I usually have normal working hours, 9am to 6pm, but the working time can stretch when an exhibition is coming.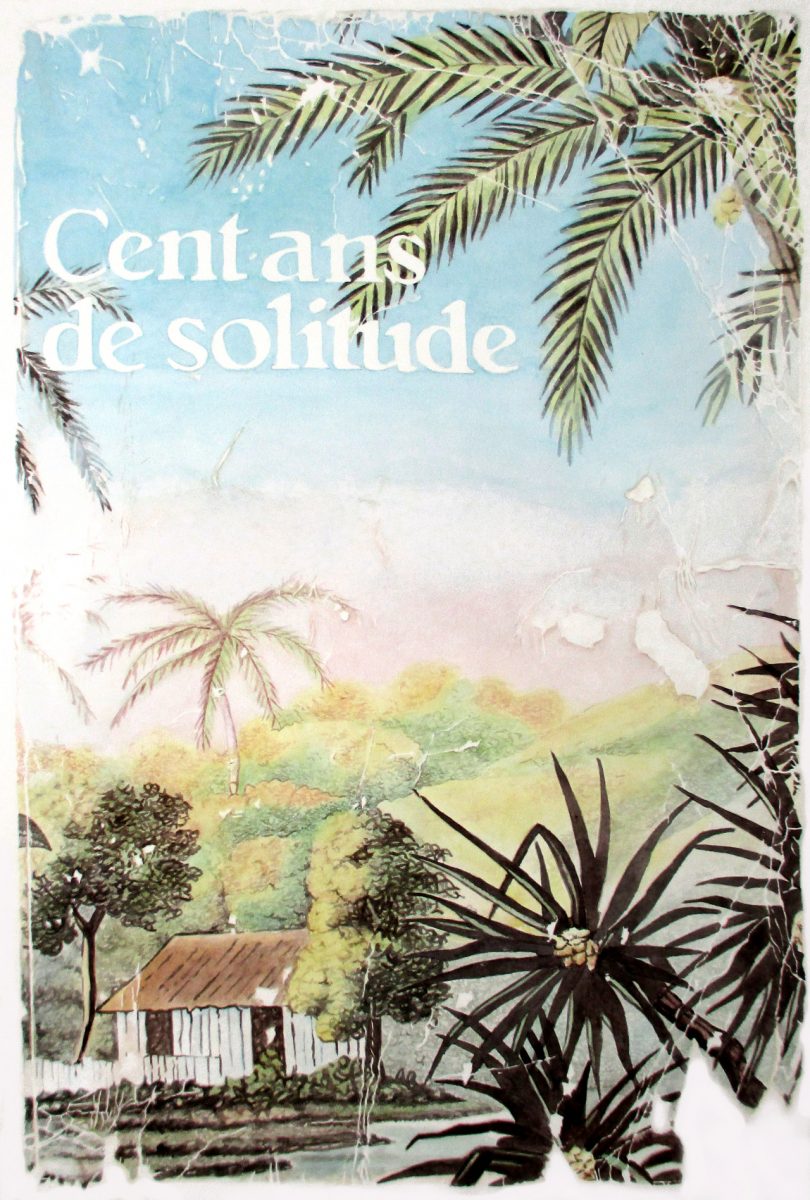 Julien Gorgeart, Cent ans de solitude, watercolor, exhibition Cent ans de solitude poster, 60 x 53 cm, 2016
What is the link between the literary work Cent ans de solitude and your work?
Cent ans de solitude is the title of an exhibition I did in 2016 at Galerie Net Plus in Rennes. Gabriel Garcia Marquez's novel was my bedside book when I prepared this exhibition. Cent ans de solitude is a book from the Argentinian literary movement called magical realism. It is the appearance of events that are perceived as magical, supernatural and irrational, all in a realistic environment. This type of narration inspired me several paintings for the exhibition. I keep in my work a sort of a bridge between the everyday, the ordinary and the symbolism or the surrealism.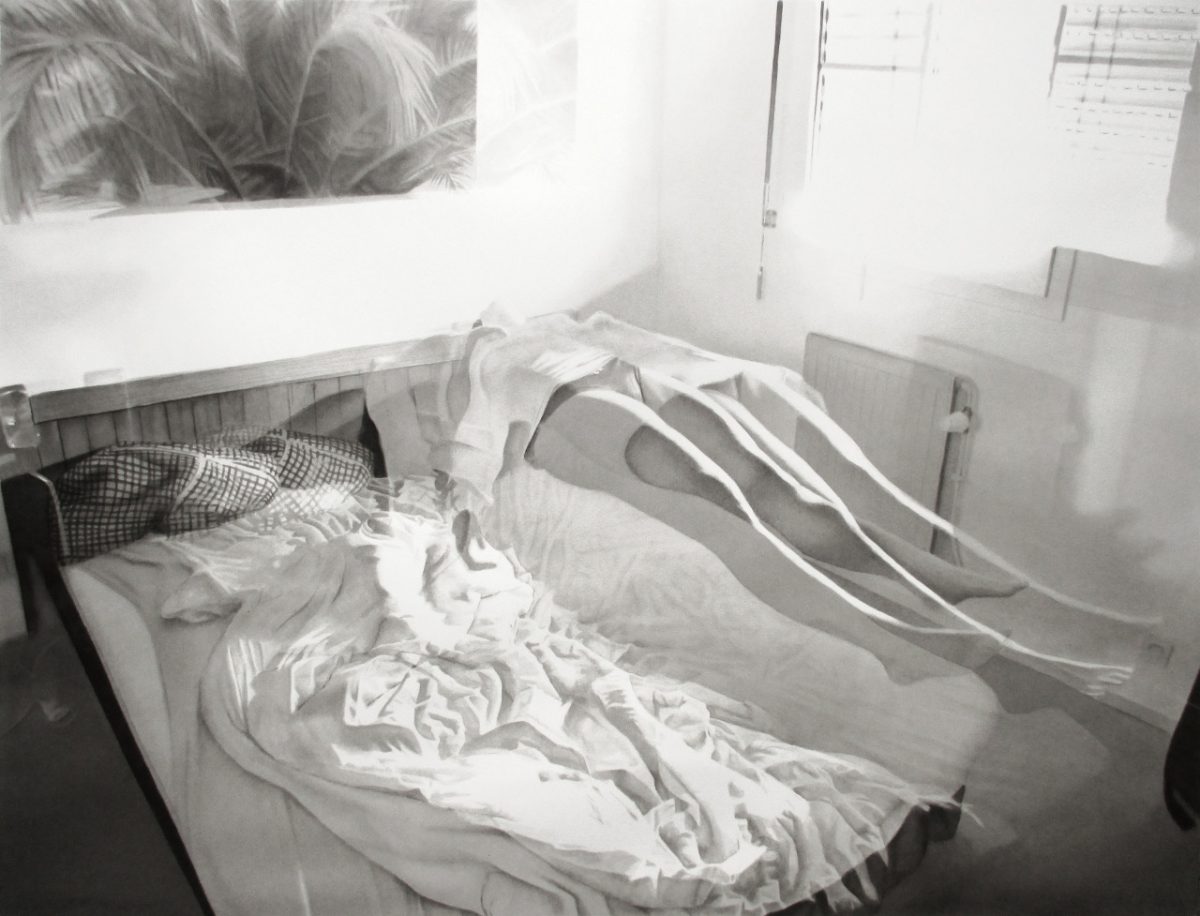 Julien Gorgeart, Archives #1 Lévitation, ink on paper, 71 x 55 cm, 2016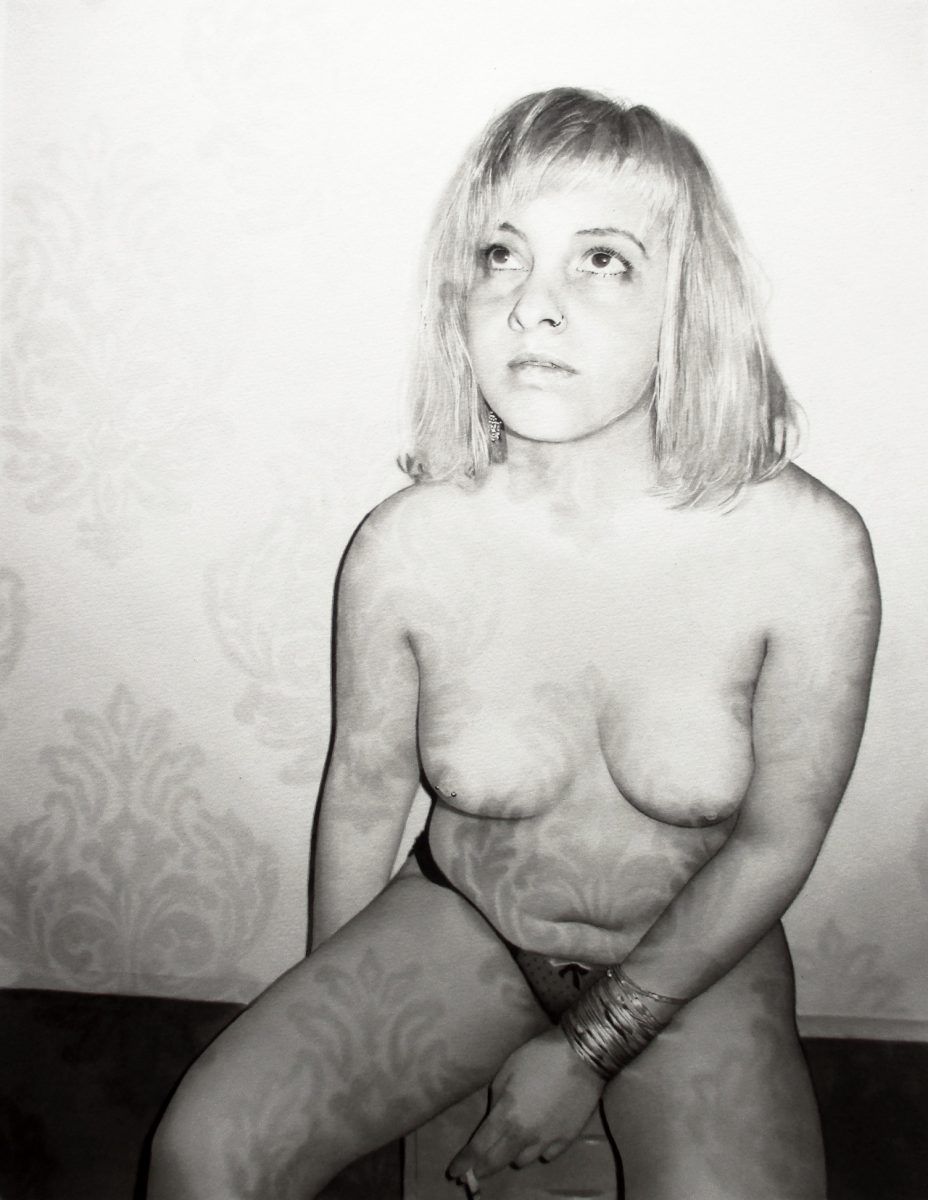 Julien Gorgeart, Motifs, ink on paper, 48 x 36 cm, 2016
What do you prefer to paint?
I do not have a preference, it depends on the subject I want to deal with. It goes from the portrait to the landscape, close-ups to the overall plans… I like to choose, however, sets that are neutral, that we cannot locate geographically so that everyone can take ownership, tell their own story.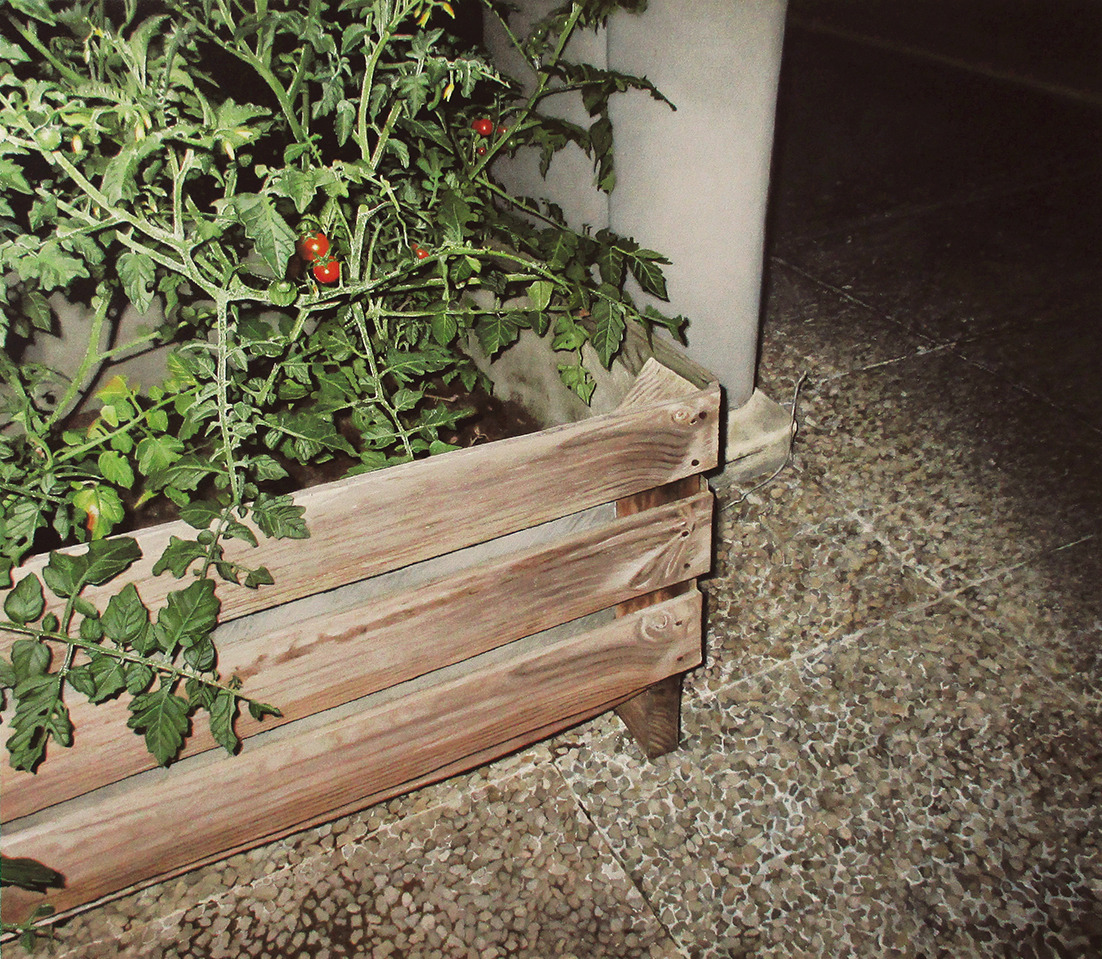 Julien Gorgeart, Hors champ, oil on canvas, 70 x 80 cm, 2015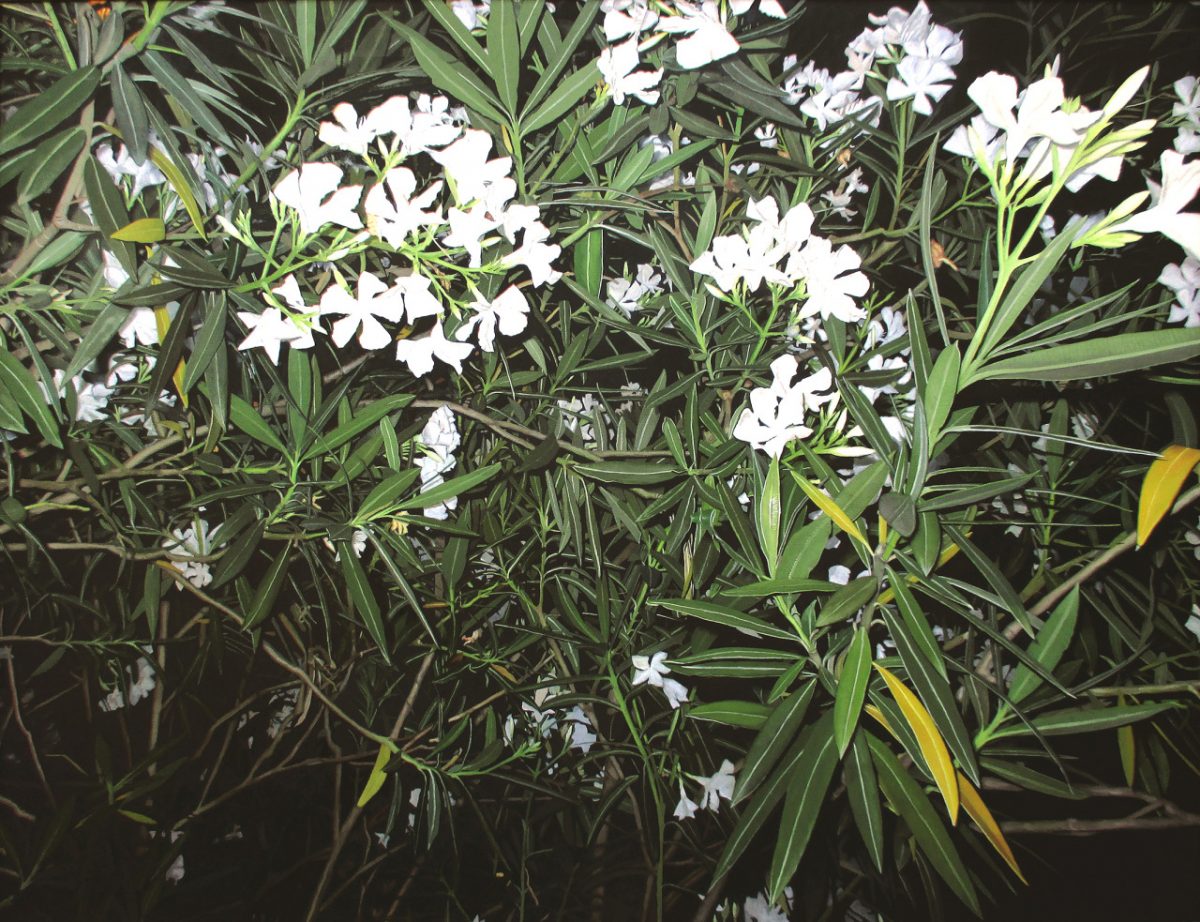 Julien Gorgeart, Balade, oil on canvas, 89 x 116 cm, 2016
Can you tell me more about this painting?
Balade, which I painted for the exhibition Cent ans de solitude in 2016. It's a nightime wandering in nature, the eye is hanging on something which is not grandiose. I like to appropriate myself the tricks of photography, here the flash of a camera, to tell a story in my own way, to play with this thin line between painting and photography.
Are you listening to music ?
I always work with music. I mainly listen to electronic music. I sometimes listen to the same music loop when I paint. For example when I painted Alphaville, I listened to the same two DJ sets for a month and a half, a Ricardo Villalobos mix for the morning and Richie Hawtin's 2016 Essential mix for the afternoon. It allows me to always keep the same energy, the same rhythm, the same intention.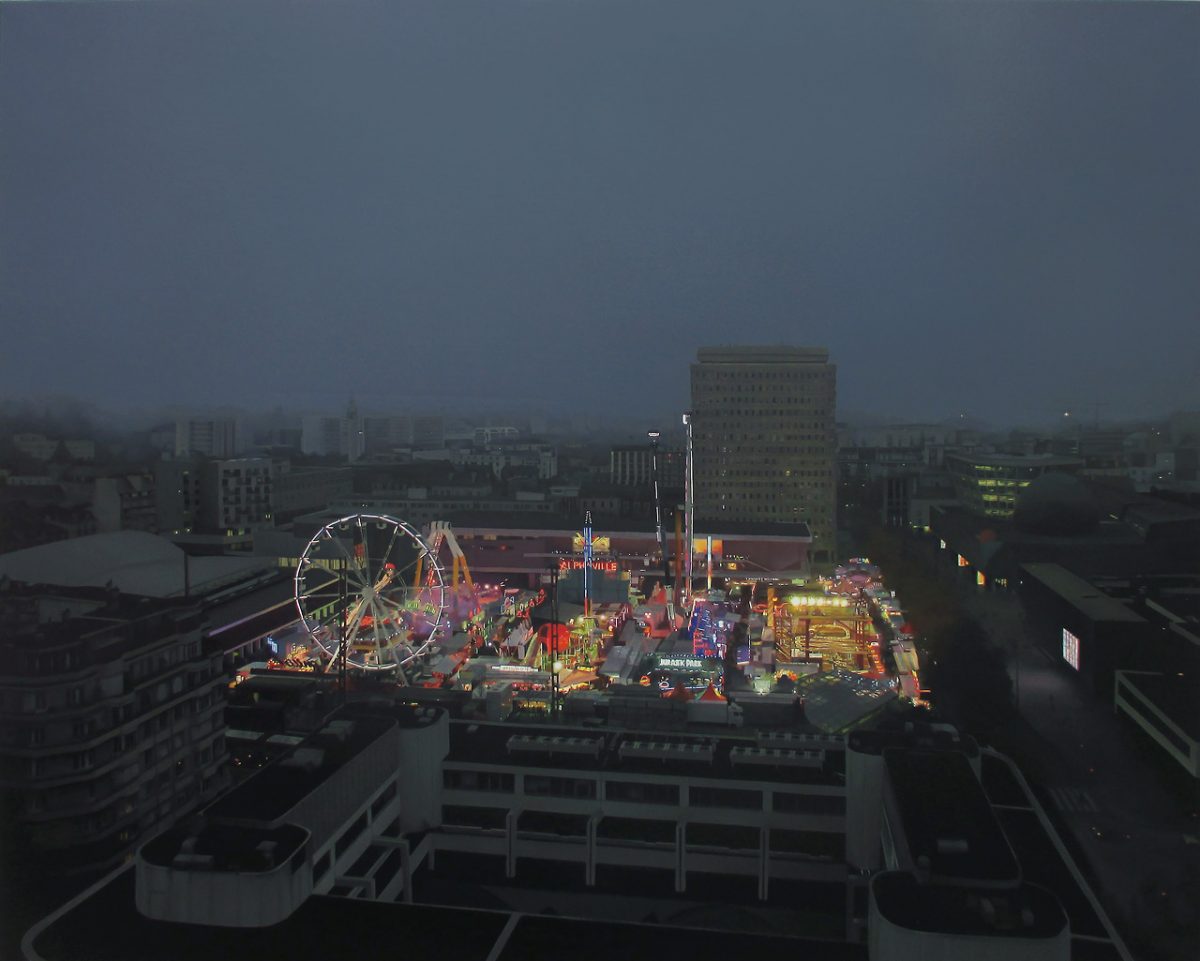 Julien Gorgeart, Alphaville, oil on canvas, 130 x 160 cm, 2017
A place to listen to music in Nantes?
At the Bras de Fer, they have a good musical programmation, sometimes with exotic sounds.
People who inspire you?
Philip Lorca diCorcia, Jim Jarmusch, Andrei Tarkovsky, Damien Cadio. In my work one finds a lot the influence of cinema and photography but of course I also look at many paintings whether classical or contemporary.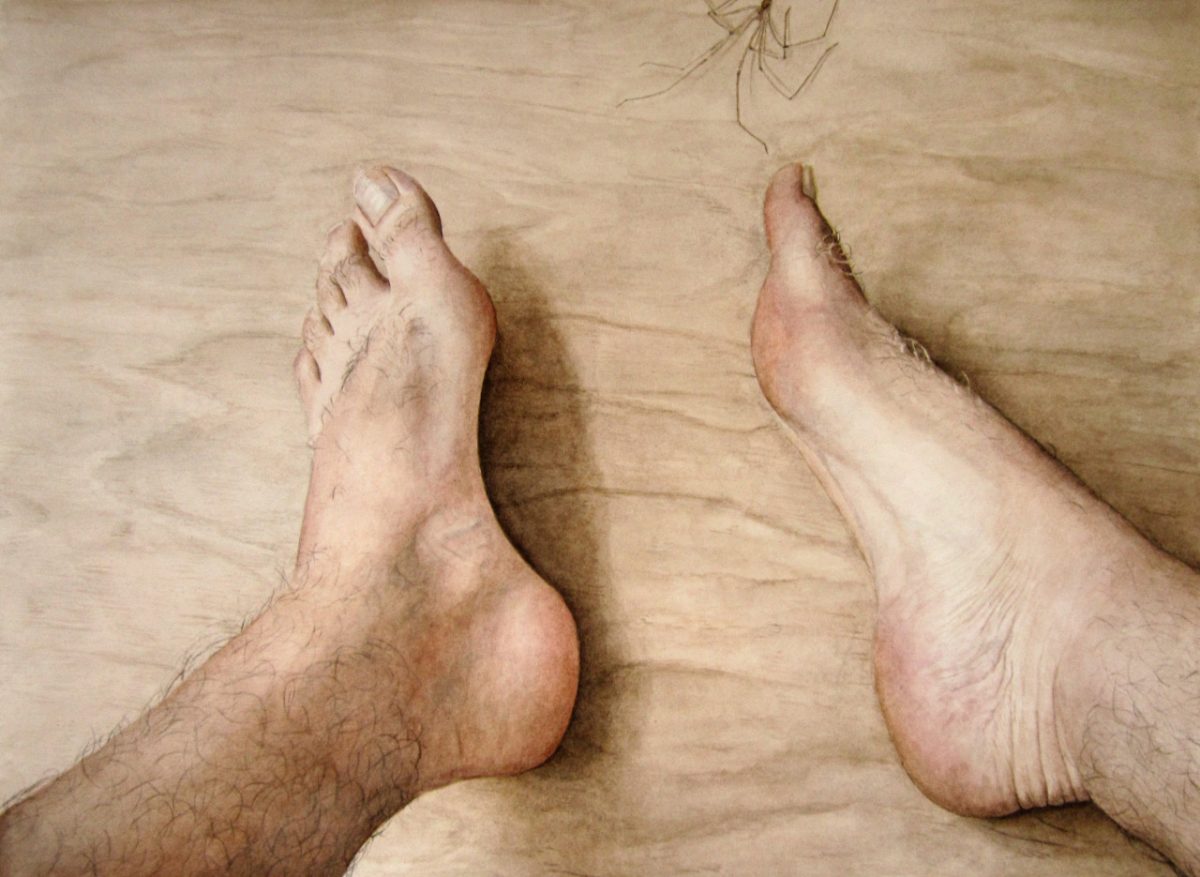 Julien Gorgeart, Climax, watercolor, 38,5 x 28 cm, 2014

When you were a child, what did you dream to become?
I wanted to become a stuntman. My dad was a stuntman himself for a short period of time in his life. And I was fascinated. That is still inspiring me. At the moment I'm actually working on a show filmed with two other artists Virginie Barré and Romain Bobichon called La Cascadeure. This is a six-episodes show produced by 36 secondes, a production company in Rennes.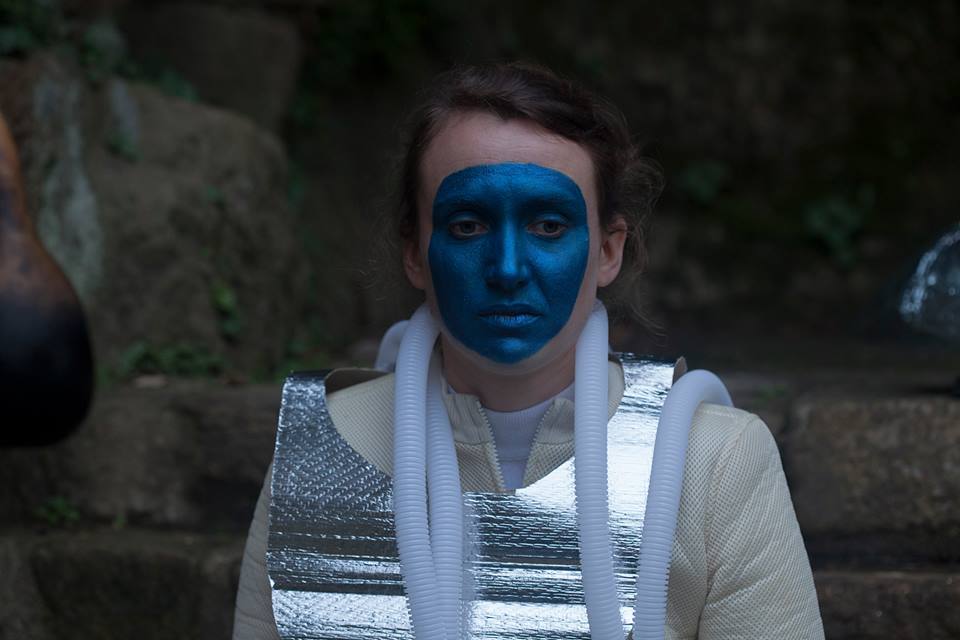 Photo : Julien Gorgeart, La Cascadeure, photography from the videoshow La Cascadeure of  Virginie Barré, Romain Bobichon and Julien Gorgeart, 2018
Is there a place where you would like to be exhibited?
I would very much like to exhibit my work at "Maison Salvan", the contemporary art center in Labège near Toulouse (South of France). I already have had the opportunity to go to see exhibitions there, I really like the atmosphere that they created, their programmation, the place's architecture and that it is in the area of a big city.
What can I wish you?
Continue to paint as long as possible.
What's next for you?
The release of our mini-series La Cascadeure, and an exhibition in early April 2019 in the exhibition space "La borne" in Pithiviers for which I create a painting especially for the architecture of the exhibition space.
Merci Julien !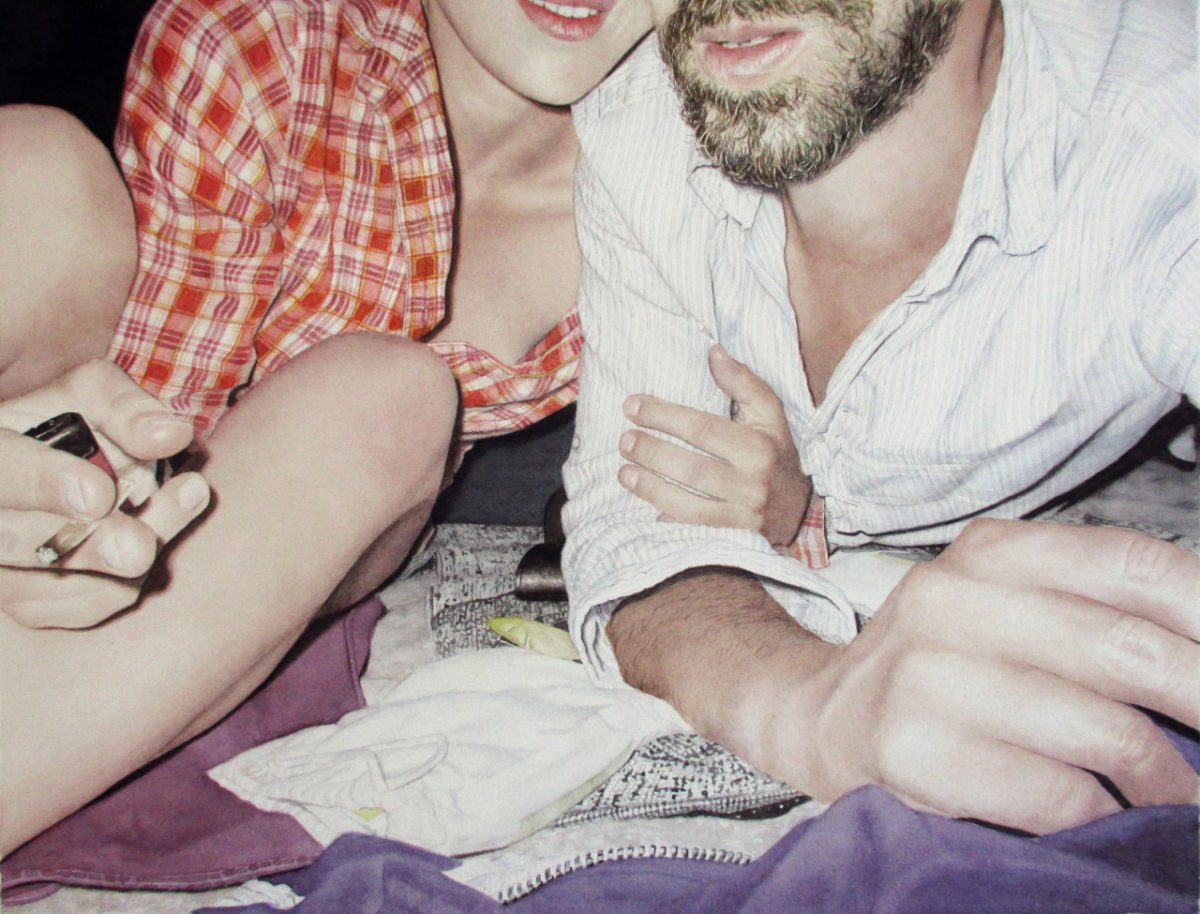 Julien Gorgeart, Qu'un seul tienne et les autres suivront, watercolor, 43,5 x 33 cm, 2015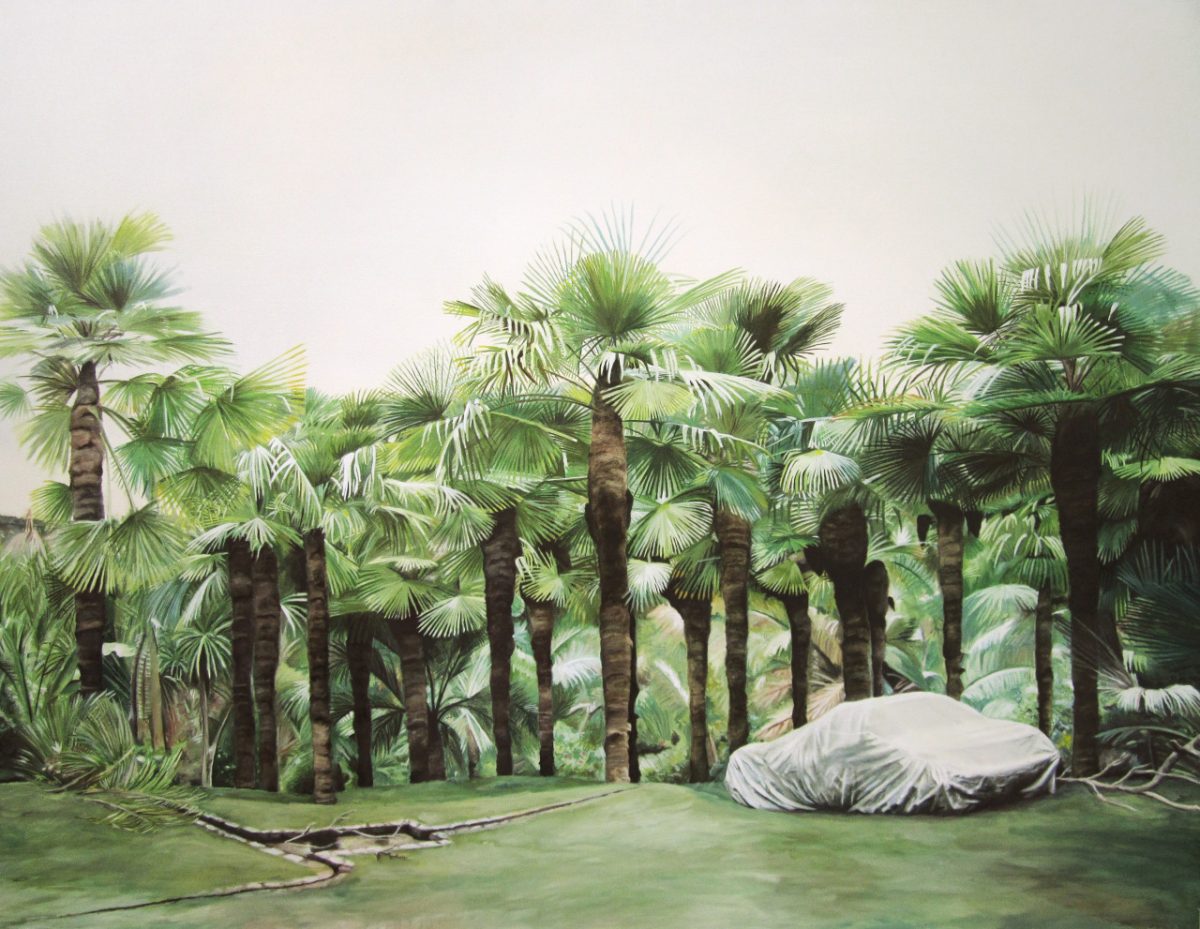 Julien Gorgeart, Jardin fantôme, oil on canvas, 110 x 140 cm, 2013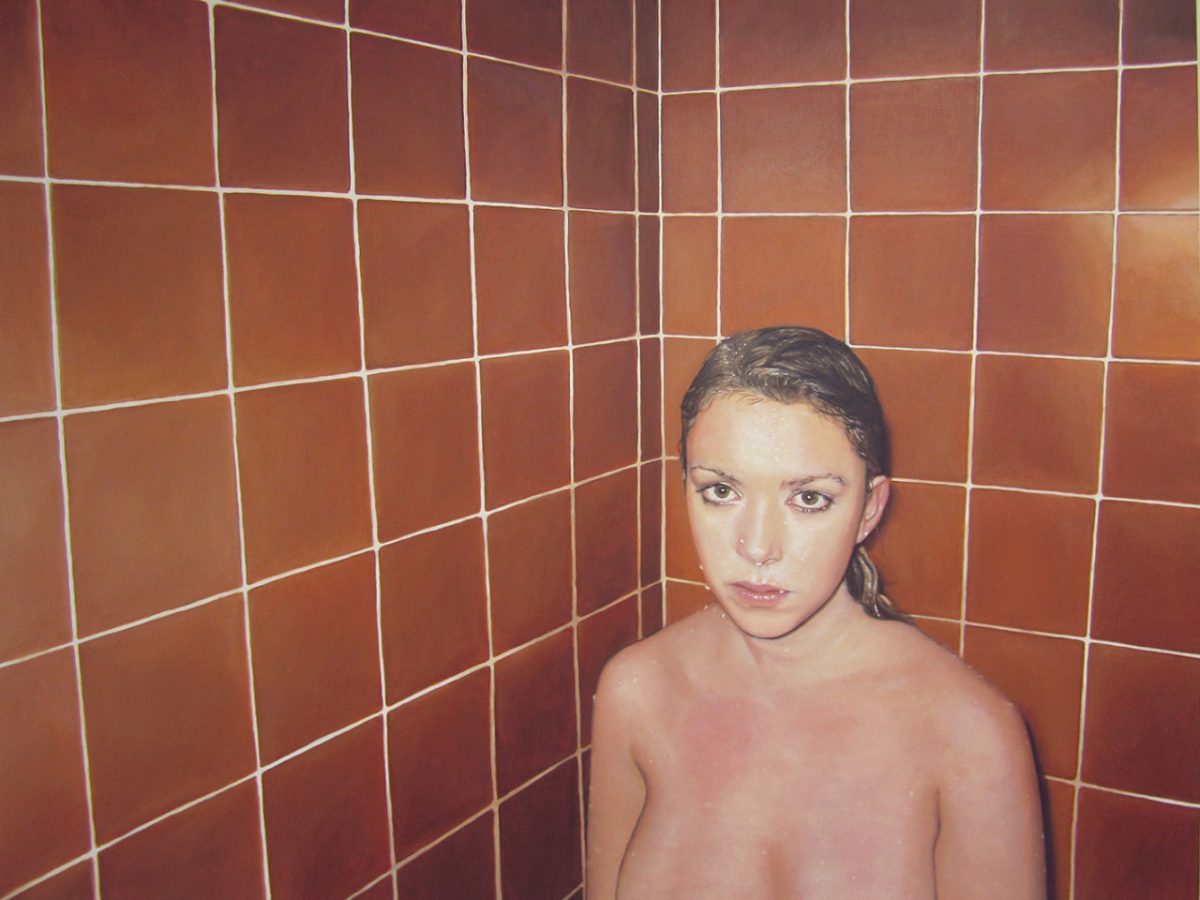 Julien Gorgeart, Motel, oil on canvas, 134 x 106 cm, 2014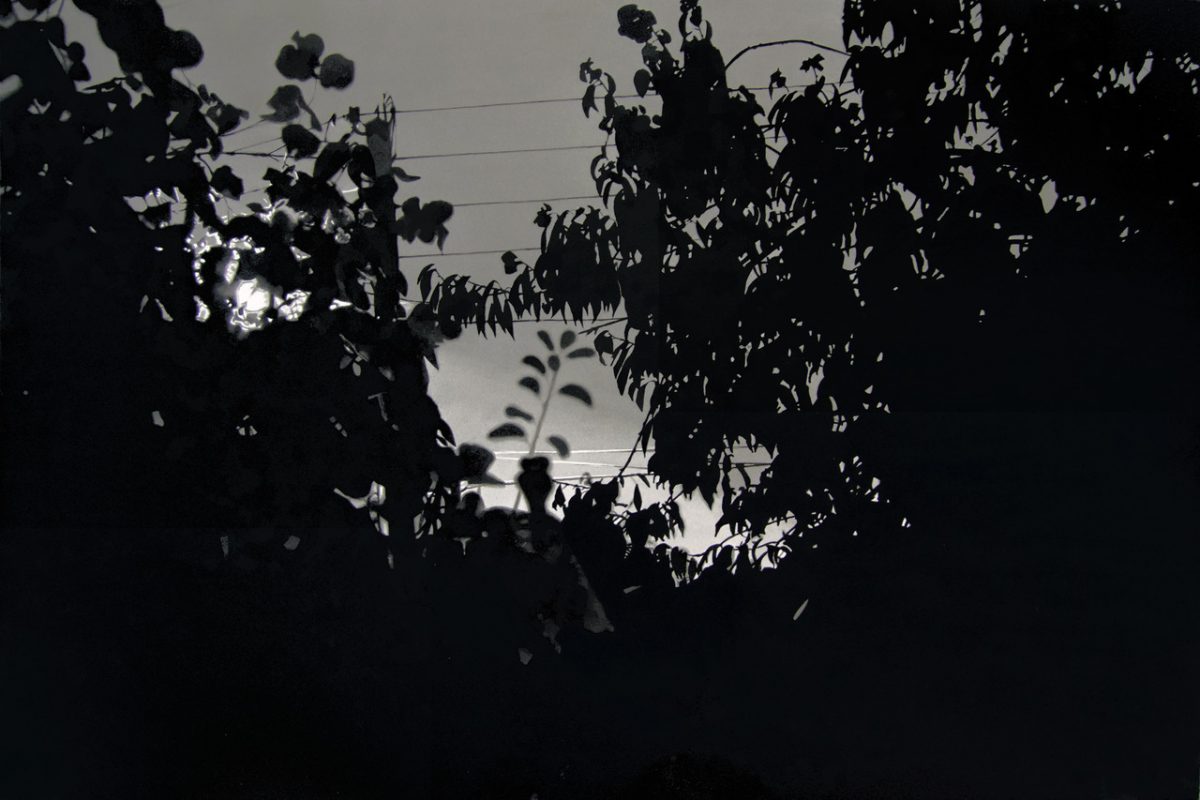 Julien Gorgeart, Juste après la nuit, ink on paper, 78 x 52 cm, 2018